Hipstamatic Oggl and Oggl Pro Windows Phone now available with Instagram posting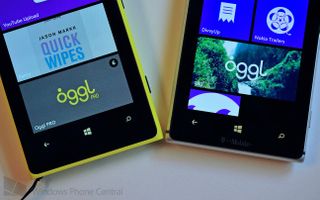 During Nokia's Lumia 925 event back in May it was revealed that Hipstamatic Oggl (hipstamatic.com/oggl) would be coming exclusively to Lumia Windows Phones, allowing the more serious photographer out there to share their images on the Hipstamatic network.
Previously available only on iOS and powered by filters and lenses, the potent photo network also allows users to post directly to Instagram via a deal reached with the company in mid-2012. Besides Instagram, Facebook and Twitter support are also included.
Now with the Nokia Lumia 1020 officially released today on AT&T, Oggl (for Windows Phone 8 Lumias) and Oggl Pro (for the Lumia 1020) will be available today as well.
What is Oggl?
Oggl is a photography app from the award winning company Hipstamatic that includes five pre-set filters, including landscape, portrait, nightlife, food and sunset. Described as "a community for creative people to capture and curate their lives through photography", Oggl is the latest expansion of the Hipstamatic brand into a more robust, photo creation network. You select the preset and snap away, saving the image to the device. Later, you can go back and re-apply numerous filters to it, changing it as many times as you want.
While Oggl comes with five filter presets, users can grab more "Gear" via the store. That gear includes additional virtual lenses and film types, giving your photos a very unique and hip look to them because you can mix and match. To get access to the more advanced gear, it costs $2.99 a quarter or $9.99 a year, but Nokia Lumia users get free access for 60-days to try as much as they like. The amount of extra "gear" is almost overwhelming, ensuring that you won't get bored with the service. After all, while filters are old for mobile photography, it was Hipstamatic that pioneered it years ago, so they have a lot of experience.
Once saved to the device, you have the option of sharing to the Oggl network, where you can have people follow you or you follow others. Likewise from the Share screen you can post to Facebook, Twitter and for the first time (officially) Instgram.
What's Oggl Pro?
Oggl Pro is simply the version for the Nokia Lumia 1020, announced just a few weeks ago. It's the same as Oggl only that it was built around the deeper Nokia camera SDK, meaning users can have full access to manual control of exposure, white balance, ISO and shutter speed, as well as an auto-level indicator and high-quality zoom.
Such features should sound like the Nokia Pro Cam app and indeed, that is what Nokia's camera SDK gives access too. Those who use Oggl Pro will get a more fine-tuned experience, giving a notch in professionalism to Windows Phone users who opt for the flagship camera phone.
Functionally speaking, Oggl and Oggl Pro are the same app, it's just the Pro version is a bit more sophisticated (it's also a bit more sluggish due to the 1020's advanced setting abilities).
Instagram finally comes to Windows Phone! Kind of…
Sure we have Instance already available to browse and upload photos to Instagram and another third-party solution is coming from Rudy Huyn in the future, but Oggl is the first commercial application that allows you to post directly to the famous hipster network with their blessing. Granted you can't browse the Instagram network, but for those looking for a legal and safe approach to posting to Instagram, you now have a solution.
That's because back in 2012, Hipstamatic was one of the most popular imaging apps on iPhone, having won app of the year in 2010. However, in 2011, Instagram won that title and instead of going head to head, Instagram allowed the popular app to post directly to the network. That carried over to the Oggl network launched in late May of 2013, the same time frame during the Lumia 925 announcement.
Interestingly, Oggl is available on iOS and now Nokia Windows Phones but there is nothing official yet for Android, making this a rare win for the burgeoning platform (we have a feeling Nokia played a role here).
We'll update this post as soon as we get the Store links...
Update: You can now download Oggl here and Oggl Pro for the Lumia 1020 here from the Nokia Collection.
Oggl
Oggl Pro
Daniel Rubino is the Executive Editor of Windows Central, head reviewer, podcast co-host, and analyst. He has been covering Microsoft here since 2007, back when this site was called WMExperts (and later Windows Phone Central). His interests include Windows, Microsoft Surface, laptops, next-gen computing, and arguing with people on the internet.
Probably they don't want "bad" cameras like the ones on Lumias 520 and 620 using their apps...

Lumia 620.. Camera fine, not bad..

have u forgot abt 720? its camera is much better than 820


Gets really hot even with 1 gb ram.

This app is just meh so far, imo. Definitely not a must have unless you're really into photography. Very slow and buggy. Had it time out many times before my profile was finally created. Also had to restart app a few times to get it to work. Bad first impressions don't go away.

Installed and setup within a minute on my 920, the only slight hicup was facebook connect, but that never works smoothly with anything on windows phone.

60 days free access for Lumia users from today or, as I hope, the day we install it? What about the pricing?

It's when you activate it in the app.. The features aren't available until you activate them..

Ok thanks. But is there some deadline to that or I can do it anytime? I rarely use filters though. :P

Never say never. I'd imagine they might stop it further down the line, but there's no details of that as far as I can see.

Yes, you have 60 days to take advantage of this. That's 60 days from the time you activate it.

Just read on Nokia Conversations, there's the August 9th deadline to free gear access. You have to create an account before August 9th. Not sure about activating the gears though.

The free app includes five lenses and film selections, but there's a whole closet full of "gear" that you can download, giving you many more filter options. You'll need to sign up for a $9.99 per year (or $2.99 per quarter) to unlock those extra filters, however, though they'll be free for the first 60 days" --The Verge

How do u know that? Got the links?

Available: http://www.windowsphone.com/en-us/store/app/hipstamatic-oggl/7e4e9622-6f64-4594-a921-72ff0930e572

Same here: I managed to get it on my 8X with this link.
It's great that there's a workaround some of the exclusive. My next phone will be a Lumia, but it's really sad how neglected people with other phones are. You can't blame Nokia for trying, but there will be loyal Samsung and HTC customers who will want to give Windows Phone a try, only to feel like second-class citizens.
Except for the exlusivity deal, this is a great application!

Got it on my Ativ s too, only pro isnt available.

I downloaded to the HTC 8X too, but the images it saves seems to be really lo-res and the app is really slow and even resets my phone.

Hipstamatic Oggl
http://www.windowsphone.com/es-mx/store/app/hipstamatic-oggl/7e4e9622-6f... -
Hipstamatic Oggl PRO

http://www.windowsphone.com/es-mx/store/app/hipstamatic-oggl-pro/c6e61a9...

Thats a good news daniel... U mst be happy with my commnt..

you were in daniel's naughty list.. just one good comment is not good enough to get back in the good list. you have to keep doing this till he is happy to move you.

I dnt wanna be in good list dude..

How lame? What about the 512 mb RAM users?

I have faith that a future update will make this app available for 512mb users.. Hang in there.

For an app like this it is totally nonsense this can't be for all phones out of the gates... I would blame MSFT for this nonsense really.

Why does this need 1Gb ram?

Link for Oggl (not pro): http://www.windowsphone.com/s?appid=7e4e9622-6f64-4594-a921-72ff0930e572%20

You can use Instagraph to share on Instagram from wp7 or 512 mb devices (next update of fb and Twitter too ;)

So none of the links work for me? Anyone else having luck?

Not available for the 521 (says the store) becuase it requires:

1. 1 Gig of RAM (wat. that's ridiculous)
2. Front facing camera (Which just screams narcissism)

Available and free on my htc 8x. Downloaded and installed.

It looks like it requires 1GB of ram. Having a 512MB device started to be a big problem.

I came from 7.8 to a 512MB WP8 device and I feel pretty much the same ad I did back then now. Gonna have to poor more damn money into a 920 or maybe 1020 if it comes to Canada

I recommend you the 820, it's great value/money.

My lumia 820 lens different that the other.. My colour lens is no colour, but the other have blue colour.. :'(

The same with me. I should have bought a 820 instead of a 720.

Wow. I'm seeing more complaints about having a 512mb device than I did with the 7.8 users! UPGRAAAAAAAADE

Some of them can't, and don't want, to upgrade because they just got their 512mb devices... It's okay if they expect a app like this to be compatible.. Now, if they were complaining about a game like Halo not running then I would tell them to upgrade too... Hopefully, in a future update, the app will be optimized to run on 512mb devices for these guys.

I think the biggest complainer will be the Lumia 720 owners, like I am.
We bought a mobile phone sold as perfect for photos, with a good front-facing camera and a very good rear camera. And... we cannot use a photographic app especially thought for Nokia Lumias.
It seems like we've been fooled, and that's not nice. Don't you think?

Totally agree, it must come to 512mb ram devices, especially our beloved Nokia Lumia 720

Fine. Are you paying for all our new phones? Especially those who would only need a 1GB phone for this one app. That's what you're offering...right?

Oggl installed fine on my VZW 8X. :) Definitely not only a Nokia exclusive (at least for now)...

Cool❕❕... I think it's the free 60 day trial to use the extra features that's exclusive... I guess they made it available to all, which is awesome, and smart.. CONGRATULATIONS❕... Lol.

Not for my Lumia 520. Cue sadface. Here's hoping when Instagram get their act together, they will create an app which everyone can enjoy.

How are you liking your 520?

Going great for me. This is the first app I personally have come across that I couldn't get which I somewhat wanted. I think excluding the budget phones will skew the company's view of Windows Phone user interest beyond recognition.

I just bought a 520 yesterday so that I could use some of the WP8 apps (I was using a Lumia 800). I didnt want to change my contract or plan, so I went for something inexpensive. Telus (Canada) has the 520 and 620, I didnt think the extra features of the 620 were worth the $100 extra, so I went with the 520. So far, I find it OK, im still getting used to it, it doesnt look or feel nearly as nice as my 800, but it should hold me over until I want to spend the money on one of the high end WPs - likely when 8.1 is released.

How is it in terms of speed,, compared to your 800❔

Some apps seem to open faster (ie - Facebook, Twitter, IMDB), some seem to take the same or longer (ESPN, Weather Channel). Overall, I cant say I am noticing a huge difference in regards to speed. I havn't had a chance to put the 2 down beside each other and test them yet though.

Same. I'm perfectly happy with my 520 and find its value for money for what you get astonishing to be frank when compared to other devices. Is it as good as devices 3 times the price? Of course not. But it suits me fine for what I use it for.

Non pro version downloads on Samsung Ativ s, but the pro is not compatible.

Pro is currently for the 1020 only❕❕... Read the article.

My bad!! But also says the normal is available for Windows Phone 8 lumias, but seems to be working fine on this phone.

I'm confused now.. Read that⬇ crap..

Its not compatible with my 928 either. Pro is 1020 only....I think.

No, it's Amber lumias only.

Pro is not compatibile with my 925 Amber too, definively 1020 only.

Stuck up at creating username..whatever I write it's saying"already taken"..Is it occurring only for me?..my username is very specific (venu238)..I use it in my social networking so what's the problem here?

Same here. Either taken or it times out.

Same here, I've tried over a dozen names. Some so unique that I guarantee that the name isn't used.

This is a whole new realm of quality for a WP app❕... It just shows how far WP has come.. This is the most elegant app I have ever seen❕

Then you haven't checked out "zoo booty puff puff" in the store.

Getting errors all over the place

I finally got it to sign up. First it kept saying passwords didn't match. Then it popped up a screen saying failure to create profile. Then it said welcome back and it timed out, trying to sign in. Ugh

i cant login nor register.......

Yep! I stuck up at creating username..but luckily I could register

Yeah my 3rd attempt on creating new account was successful tho

I guess they are working on it, let's wait for sometime...maybe only Asian countries are facing these problems..

Nope having same problems in U.S.

Evidently every username in history has been taken...

But I'm getting error for whatever I use

Same problem, went to their website and it has the first username I tried registered under my account, but still doesn't work in the app.

Just signed up with an email address, and created a username (iGeorge), so for me everything is working great. I'm on Lumia 920 btw, and I just linked Facebook, Twitter, and Instagram accounts in the app. It is working 100% for me.

Also worked on my 920. Having a problem linking Facebook though.

Downloaded on my Lumia 920. :)

Stuck at creating username. I get either operation timed out or the username has been taken, everytime.

Same is with me, where are you from? Is it location specific?

Same problem. Username taken or timed out. Very frustrating! L920 uk


I'm from India, now its saying "went offline for maintenance", maybe they are working on it

Lol, Instagraph went offline after one hour for maintenance too :P

I had the same problem here, but i restarted the app and now it works

Same here, USA.
Their website says that the first username I tried is registered to my account but it doesn't work in the app. Odds are you don't need to keep trying different usernames, its probably already accepted one but something in the app is goofed.

1GB only for a photography app? i start hating windows phone and considering going back to ios.

Larget programs file sizes do not mean quality

Please do go back to iOS, but before you go remember that Microsoft didn't make this app.

I don' t care who made it.

creating profile failed...this is frustrating

Honestly don't understand why this would need 1GB of RAM. Very disappointing.

Errors left and right, but I finally got it to work and the app is slow on my L290, app sucks!! not opt'd. so slow!!

Update: Uninstalled not worth the headache, they need to fix the bugs and optimize it!

Reinstalled it to give it another chance, now everything is working and running smooth...strange! my first impression was not all that good.

I had to reboot after installing and then it worked as expected.

The startup time for the app from launch to shoot is really long! And there's no way to edit existing photos with the app, unless that's how it's like with the original iOS version?

I noticed it too. I thought it froze while opening it, but it was just really really slow.

Getting an error while creating username.

Create Profile failed....


please make it available for windows phone 8 user with 512mb RAM.


How do you find other users? Search doesn't bring anyone up..

I don't see why should I regularly pay them if I can get almost the same functionality with much cheaper (in some cases free) apps...

Is only me that think this is not a beautiful app? I think the interface a mess...

I agree with you, don't like it at all.

512MB RAM users can't use it... As usual. Way to go, Microsoft.

I didn't know hipstamatic was produced by Microsoft... Oh wait, it's not.
Inferior hardware=Inferior app & update support.