Home automation app Insteon picks up Cortana integration in new update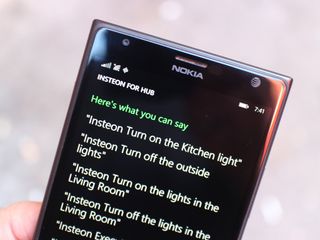 Home automation app Insteon received an update for Windows Phone yesterday. This puts the app at version 1.0.0.2, which might not seem like much but this is a notable update. This update brings Cortana integration into Insteon.
It was a little over two months ago that we reported Insteon would introduce Cortana integration. That time is finally here.
Here's a sampling of some of the commands you can give Cortana to control your Insteon connected home:
"Insteon Turn on the Kitchen light"
"Insteon execute scene Bedtime"
"Insteon Dim the Kitchen light"
Rocking Insteon to automate your home? Be sure to let us know what you think the new Cortana integration. Not familiar with Insteon? Check out full review and hands-on.
Thanks for the tip Paul L!
Windows Central Newsletter
Get the best of Windows Central in in your inbox, every day!
Great! Looking forward to two way communication using IP cams within wp app. I believe still not implemented.

Any word on Verizon and the cyan update??

Wouldn't be surprised if they skip it till Denim.

How about a video demo of this feature.

Can you guys do a video of this to see how fast and fluid It is?

Wow so cool. Next step is to buy an Insteon kit.

The integration with Cortana is the main reason I'm going to use Insteon to automate my home.

And what are you going to do after Nadella scrapped Windows Phone? Use Cortana on Android or iPhone?

I would expect Insteon (or even Nadella) to be scrapped before Windows phone.

First I highly doubt he'd ever scrap WP. Second, if he ever did, then I guess I'll just use it the normal way. Also Insteon is part of a bigger system, so if they go under I'll just switch my hum to ISY994i or something.

Maybe not Cortana, but I can absolutely use the Insteon apps on Android and iPhone. They were there before the WP ones and significantly better than the WP one. I appreciate Insteon partnering with MS, for both WP and Win8 but their apps are far behind what is/has been available elsewhere. We just havie nothing better, at this point.

Been looking into some automation. Pretty sure I'm going Vera instead. Glad Insteon got on board, but I'm not convinced (though Cortana integration is another pro on my list).

l swapped my Vera for Insteon. Insteon is a lot nicer and faster. Instant on/off where switching always has a delay with Vera/Zwave. Vera/Zwave has only an advantage in range when you have just few devices.

I've only used Insteon, though I've been looking at some kind of Zwave integration for my door locks. The only Insteon solution is a half solution that won't let you confirm status of the locks or anything. As long as you have a lot of devices, or at least everything is dual band and close enough together for the signal to be strong and you to have a small matrix, it works well. I did have a issue where some of my early purchases were the older single band switches and I somehow managed to stick all of them on one side of the house. The response time, if it even happened, was awful for software changes or triggers and such, until I moved one of my dual band devices in the middle and then it all smoothed out.

Would love to download and use as I have Insteon for a number of years but I made the mistake of being a VERIZON CUSTOMER ! It is obvious by now that neither Microsoft or Verizon give a hoot about existing Verizon Phone owner they just want to sell new ones well guess got news for ya that will be an I PHONE PLUS along wit a MAC .

I have been on WP 8.1 since April. But I share your frustration about CYAN. But I am definitely not getting an iPhone and will never buy a mac. Does Insteon not work on 8.0? I bought a Insteon IP camera. Works great. I installed the app my old iPhone 4 and couldn't get it to work.

I'm afraid you need Insteon Hub to get things on phone. Otherwise, IP cams will only be accessed from browser? The Hub is cool. It saves your setup in the cloud. No ddns provider needed. Enjoying here!

I don't have the Hub, just the IP Camera. I can use the Hub app on WP to access the camera, but it doesn't work on the iPhone. It may be because it is an older phone on an older OS. Was hoping to use the old iPhone just as a viewer for the camera in the house.

Hi toph, that is what I said. You don't get the app to work because you don't have the Hub. The phone app requires the Hub (hardware device).

To be clear, you need the Hub for the IP Camera to work with the iPhone app, but not the WP app. You weren't specific enough.

Ok! This app called "Insteon for Hub" will only work on any phone that is supported if you have Insteon's Hub. The app may launch and stuff but will only actually work under this condition. The Hub is not an app, it's a device sold separately. Insteon for Hub app is compatible with WP, android and ios. Visit Insteon site and take a look.

Not true. I have a Windows Phone and an Insteon IP Camera, but not the Insteon Hub device. The I can access the camera on my WP through the Insteon Hub app. I cannot access the camera from my old iPhone. The Windows 8 app doesn't work either. I haven't had a chance to call Insteon support.

Ok, didn't know. What I've heard of is that you could access the cams with your browser. Anyway, take a look at their site. The Hub will make things easier for you, otherwise there would be no reason for this to be implemented. My PC app works fine, I switch lights and access cams from outside my LAN too and my setup is saved in cloud (no need for ddns when installing either). Don't believe you have all these. Good luck!

What are you babbling about?

Its Verizon, not MS. Switch carriers to att. They are getting better at updating every update.

Stuff like this through Cortana is what will gain Windows Phone marketshare when they start advertising it.


Thats exactly my point why no prssure!

No Insteon products in Denmark from what I can see :/

God damn, this is sweet... I don't know, but the word we're looking for is JARVIS

I have Insteon set up in my house with over 30 wall switches, in-line dimmers, relays and remotes. It's pretty good, but there are a few holes in the implementation of the technology and software. To properly implement a large scale solution you will need House Linc to program the devices. It is also kind of strange that all the phone apps and the win 8 app (hub apps) can't access anything that is set up using House Linc and they can't control the non-load switch lights on the keypad units, so your scenes can't keep all the switch status' in sync. You will have to create completely separate hub scenes and you will have to manually add each device into the app, even though the hub sees every device on it's own. That said...I really like Insteon and I hope they fix the dual nature of their software solutions. They also need to allow switch buttons to execute hub scenes. The reason they say that they don't allow that is to prevent circular logic. However they could fix that by preventing switches from controlling anything else if it's controlling a scene. Also the hub knows what device executed a scene and could just eliminate any command directed at that switch while executing the scene. These have been issues for a long time from what I see in the Smart Home forums and it worries me that they still exist. I don't have any cameras (yet) and I have 3M thermosats that I need to use a browser app to remote control, they don't work with Insteon. The Cortana features worked exactly as I hoped it would. When I'm about to get home in my car I use the voice control in my car and say "Call Cortana" when I hear the tone I can say "Insteon turn home on" and all the correct lights go on. It also works great when I leave.

If I had one that would be great

CORTANA! The keyword has to be "Cortana"!

Great Integration but commands seems to be too superficial and odd..

I got the update this morning (BTW, the version inside the app says v. 2.0.0, even if the version in the Store says 1.0.0.2), but the commands do not work for me. The Insteon for Hub application doesn't appear in the list of programs recognised by Cortana and if I ask Cortana to do an Insteon actions, she Bings me. I've Cortana UK, does it make a difference, is this only supported in the US?

Hi shinsenai, try restarting your phone.

Nope, restarting has no effect. Actually also the other recently announced new feature of showing the meaning of words ("Cortana, what does xxx means?") doesn't work here. I really wonder whether server-side support for these features has still to come for Cortana UK.

I see. Yeah, Cortana UK might behave differently.
I've made some further testing and realized in my case, that to turn the led bulb on, I have to say "Insteon, turn led on". Anything other than this won't work. Interesting. Sometimes the choice of words is an issue here. Best regards!

I know it sounds silly but I would like Insteon to include the ability to control NEST and Honeywell Wi Fi thermostats at minimal. I don't plan to buy a hoge poge of different items; each with their own control programs. One good universal control program for each OS platform makes a lot of sense to me.

Hi, I can't figure what you mean with "at minimal", but Nest is already compatible with Insteon. Just my 2 cents.

SmartHome (the makers of Insteon) have their own thermostats (I think they are Verastar with some adapter if I remember right). One bad/rough spot with home automation stuff is genreally the big players, especially within protocols, tend to stick only with their products. You don't see much cross capability. Especially with all these new things coming out all over the place that require an iPhone or Android phone like the Nest, WeMo, Wink, etc... Most don't even have a good API to let devs make their own system or plugins to integrate it with their software :( That said, I don't see Insteon working a deal out with Nest or Honeywell because SmartHome wants you to buy their solution, Nest wants you to get all their things and it looks like Google may be trying to slip into the HA world, so they'd be opposing companies, and Honeywell is doing their own thing. My solution was actually to buy a Radio Thermostat thermostat, which has an public REST API. I can poll and store info from it and control it (though I've not put together the stuff for that yet) through my home automation software, PowerHome. Of course, the easier more plug and play way would have been to get the Insteon stuff instead.

This is pretty damn cool. Now I just need to wait another six months before Verizon stops screwing around and releases the 8.1 update.

I 'm with you except I won't be waiting 6 Mths my contract up march no update no verizion quite simple really!

Went to look at Insteon products yesterday at Best Buy. Not a word about them working with WP, but Android and iOS logos galore.
Windows Central Newsletter
Thank you for signing up to Windows Central. You will receive a verification email shortly.
There was a problem. Please refresh the page and try again.