Home Shopping Network website takes pre-orders for T-Mobile Lumia 635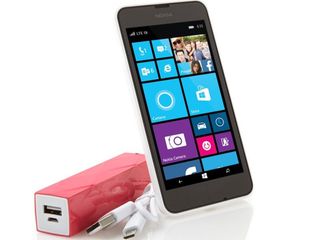 Ahead of its appearance Saturday on cable TV's Home Shopping Network, the HSN.com website is already taking pre-orders for the T-Mobile version of the Lumia 635, with a couple of extra accessories added to the mix
The site shows a July 21 ship date for the Windows Phone 8.1 device, for the price of $119.95 without a contract, which is actually $10 less than what Microsoft is selling the phone for on its own retail site. The HSN.com price also includes two extras; a car charger and a portable charger with a 2200mAh battery that can come in the same color as the Lumia 635.
Just a reminder: the Lumia 635 from T-Mobile will also be sold on the HSN cable TV network Saturday, July 5 at 6 am and again at 2 pm ET. The phone will also be sold Sunday, July 6 at noon and 11 pm ET. T-Mobile itself will sell the phone online July 9 and in select stores on July 16th.
If you are planning to get the Lumia 635, are you going to jump on this bundle deal that costs less and has two extra accessories?
Source: HSN (opens in new tab) via WindowsPhoneDaily
Windows Central Newsletter
Get the best of Windows Central in your inbox, every day!
That picture makes the phone look premium...

Is premium, is a Windows Phone

630/635 it's one of the most beautiful WP :D

No front camera, no thanks.

It doesn't have a front facing camera?! Whaa?!!!!

They don't want us to use Skype. It's basically a flip phone.

At least they're taking steps to killing selfies.

Wrong, they'll just be chopping their heads off when they try to take a selfy with the rear camera.

Can someone explain to me what's up with this "T-Mobile Lumia 635"? Is it different from other Lumia 635?

It's just pointing out that it's carrier locked to T-Mobile.

I want to know when this phone comes to AT&T. I'd like to use it on Cricket prepay.

Damn the white version looks premium. Really wish it had a 720p screen

Agreed. But why stop there? Why not add $50 so that MS has a real Moto G competitor by adding 720p, 1 GB of RAM, a front facing camera, a slight bump in MP for the camera and then a decent flash? 8 GBs of storage is fine given the low cost of fast microSD cards. Could all of that cost more than $50 and still have money left over for a good profit? Someone should sue MS for taking so long to get an off contract, 720p, mid-range phone to market.

What's that red accessory? Is it some new Nokia portable charger?

It is a portable charger which is being bundled with the Lumia 635 offered by HSN this weekend. It comes in three colors. Beside the wall charger, they're also including a car charger.

I have the Nokia Lumia925, but I'm really intrigued by this one, especially since its so cheap.

Tell Hsn to fix their Hsn app its shittyyy.

925 better for same price

Does anybody notice that the Lumia 925 is not longer online on tmobile?

EBay. Or amazon. Or newegg.

Great buy, great price. Seems like every time a new phone comes out, people start looking for reasons to complain. It doesn't have this, it doesn't have that. Just kick rocks if you don't like it or want it. This phone is very nice, and is gonna sell just as good of not better that the 521.