Custom Live tile creator Hot Tiles! is this week's myAppFree deal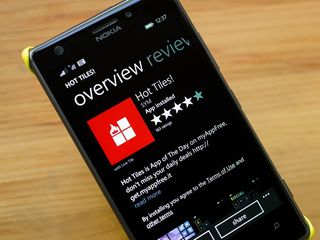 If you are in the mood to spice up your Windows Phone Live Tiles, take a look at the Windows Phone app Hot Tiles!
The app lets you create custom Live Tiles to launch apps and access your Windows Phone settings. It is also this week's myAppFree deal.
Hot Tiles! gives you the ability to create Live Tiles to launch apps, to give you direct access to a Windows Phone setting or to launch a webpage. You can also create a do nothing tile to act as a spacer or a group tile.
Key features of Hot Tiles! Includes:
The ability to search online for apps without waiting for the next update
The option to create your own icons from photos in your Pictures Hub
Translucent tile backgrounds
Transparent icons
Hot Tiles is the myAppFree dealof the week, meaning that if you have never heard of this game or tried it, you must do so now. Not only is it fantastic, but it is completely free and once you lock in that license, you are good forever! Hot Tiles! is normally 99 cents.
Let us know what you think of Hot Tiles in the comments below and r_emember if you enjoy the game please leave a review for the developer. Positive reviews and ratings help with Store rankings and visibility for devs!_
Hot Tiles! - Windows Phone 8 - 5MB - Free - Store Link
myAppFree
Windows Phone Central is proud to be partnering up with myAppFree, a free app and service that highlights special deals for software on the Windows Phone Store. Make sure you download their app to keep track of all the specials they run weekly, as you'll never know what you may find.
Incidentally, myAppFree was recently updated to version 2.0.0.5. The update increases the number of titles on the Featured Page, displays the number of new deals on the Live Tile and a Country leaderboard has been added to the mix to show registered users where their Country ranks globally.
Windows Phone Central is also highlighting select apps from myAppFree going forward as a benefit to the greater community. Stay tuned for more deals.
myAppFree - Windows Phone 8 - 4MB - Free - Store Link
Windows Central Newsletter
Get the best of Windows Central in in your inbox, every day!
George is the Reviews Editor at Windows Central, concentrating on Windows 10 PC and Mobile apps. He's been a supporter of the platform since the days of Windows CE and uses his current Windows 10 Mobile phone daily to keep up with life and enjoy a game during down time.
Thanks for the tip. Since MyAppFree updated their app (which removed the regular price of apps featured) I've stopped using it as much.

Doesn't seem to work on ie...

I got it when it came out... Free...

Umm.... Deal of the week? That's not true. They offer a new deal every day.

Anybody else seeing repeated text and these ( _ ) everywhere in the article? Am I crazy or just a poorly edited article?

Yeah, it's poorly edited.

They really need an editor. Love love love the site but they need to improve that.

Not just you. I'm not one to normally point it out since I know that they are busy and make mistakes just like everybody else, but I did notice some bad copy and pasting: "Let us know what you think of Hot Tiles in the comments below and r_emember if you enjoy the game please leave a review for the developer."

Yeah this particular article is pretty bad. Give it a couple minutes and I'm sure they'll sort out the typos.

Wish someone would provide a Tumblr tile! I can't find one anywhere.. The default one rolls through the same three photos and you can't turn it off.. So annoying.

There is also an app deals application that provides info about more than one app deals in a week. Check out app deals.

So wait.... Is this an app or a GAME??? @George_Ponder .....

It is still "copy cat" here, not changed yet!

Same here, but it seems to be free in the regular app store.

Not really an app for me (thanks to folders) but It's nice to see new customisability apps for the WP start screen

Already loving the up/down vote in comments! Good to find what's worth reading and what's not! (:

So how many of these "tile creator" apps do we really need? And why would we pay for one anyway, when there are plenty of good free ones to begin with?

Useless very useless. Better download OneStart.

Love the look of some of the black tiles with the many colors border, but how to achieve this I don't get.

I really like this app. I already liked Skinery a lot. Though I'd like this one to allow us to decide on the size of the tile to create because if you put a logo in a medium tile that will supposedly be a small or large one, that logo will look either too small or too big.

cool app - do you know if there is a way to create a shortcut to a particular app that is unique to your phone? this might be useful for different mail accounts to change the icon - currently they both have the same icon...

Doesn't seem to work very well on WP 8.0. None of the icon prefs seem to be applied, scrolling through the options seems needlessly difficult and often will get stuck, plus it could use a "save" or "apply" button. I guess I'll just have to wait for WP 8.1 to review it.

Good app however most apps need to start updating to the transparent tiles. Native apps like here drive and here maps still don't have the transparent tiles. This app achieves it. So its good for the missing transparent tiles in some apps.

Im sorry i just checked this out, tried it for Bing News. It did make the tile transparent but also it disables the Live Tile feeds which are very helpful to just see the top news. Why would i do such a thing, i'd then rather not have a Windows phone if it doesn't have Live Tiles.

Useless. Doesn't offer a transparent tile for OneDrive, Office and OneNote. I don't understand why these types of apps never offer these. Is there some legal issue with OneDrive and Office? Drawing that vector really can't be that difficult...

There is a limitation that makes it impossible for these types of apps to do this for OneDrive, OneNote, Office...etc.

I have a transparent tile for OneNote thru "Start Perfect." It takes some copying/pasting/following directions to setup the tile, but works nonetheless.

Yeah I saw that, but I have to buy it and I won't buy it just for OneNote. I'd buy it if it offered all 3.

This app is just like a normal app.. Do not deserve the so called app of the week..!!

Bye bye transparency tiles!
Windows Central Newsletter
Thank you for signing up to Windows Central. You will receive a verification email shortly.
There was a problem. Please refresh the page and try again.