Hotel Tonight on Windows 8.1 makes booking a room a breeze (Hidden Gems)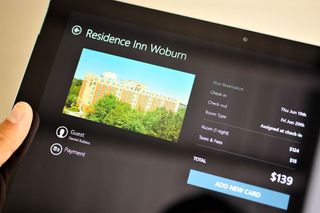 At the beginning of June, the popular iOS and Android app Hotel Tonight (www.hoteltonight.com) arrived for Windows Phone 8, allowing those on their mobile to book last minute rooms at a bargain price.
Now, the Windows 8.1 version has also been released, making this another universal app for Windows users in 2014. Let's take a look. And remember, if you leave a comment, you enter into our daily Hidden Gems contest to win a new tablet or phone!
What it is
Hotel Tonight for Windows 8.1 is very similar in design to its Windows Phone counterpart, due to Microsoft's new app-platform, which allows developers to share code between their Windows and Windows Phone creations. In addition, the apps are linked in the Store with an icon letting users know that the app is available on both platforms.
Hotel Tonight has over 10,000 hotel partners so far in 24 countries, making it ideal for those traveling worldwide. The app excels in its design for Windows and Windows Phone with its starkly minimalist and clean UI. Featuring an all-black background, apropos for that 'night' theme, Hotel Tonight on Windows 8 makes the inns stand out through their bright photos of the locations.
To use the app, you can create an account or login through Facebook, making registration stress-free. From there, you can let Hotel Tonight use your location to find deals in your immediate area or use the search to travel abroad. The search feature has an auto-complete, which makes finding those whereabouts very easy.
Once you have your area, you can further navigate by locales. Each listing will feature a snapshot of the hotel along with a price per night, user ratings and category e.g. luxe or basic. Tapping on a specific hotel lets the apps drive deeper, bringing up even more information including mapping, photos and details on the hotel. By tapping the easily identified 'Book Now' button, you can then reserve a room in seconds with a single click, especially since Hotel Tonight can securely store your payment options.
Fast, fluid but not information overkill
Let's cut to the chase: Hotel Tonight is a gorgeous looking Windows 8 app. It slick, fast, logically designed and it makes finding that last minute hotel a snap.
What I like about Hotel Tonight is that it provides all the pertinent information I need, without overwhelming me with ads, frivolous details or other distractions. For instance, once on a page for a specific hotel, the app breaks down the important things with bold headers and bullet points, including:
Why we like it – bulleted summary of the major selling points, including location or other unique features
Need to know – all important details you need to know, including ID, restrictions, etc.
The hotel – how many rooms, Wi-Fi, hot tub, etc. will be listed here
The room – size, mini bar and any amenities
The food & drink – Is there room service, on-site restaurants and more
The way the app lists hotel locations makes it very easy to 'glance-and-go' when looking for places. Windows Phone users will be very accustomed to the idea as there is no 'chrome' here, just the facts. There is no reason I would ever want to use a web-based hotel finder after using Hotel Tonight.
When you compare what Hotel Tonight has done compared to say Expedia and their 'web app,' you have to give a nod to Hotel Tonight. Not only have they embraced Windows Phone and Windows 8.1, but they made arguably one of the nicest universal apps yet. The apps are free, useful and represent the very best of the new Windows ecosystem.
As a bonus, if you have never used Hotel Tonight, you can type in ' WINTONIGHT ' in either the Windows Phone or Windows 8 app (under 'redeem promo code') to get $40 off your first booking. Not bad at all.
Because of all of the above, Hotel Tonight for Windows Phone and now Windows 8 earns our Hidden Gems categorization.
Have you used either app? What do you think? Let us know in comments and remember, by leaving a helpful comment (criticism or praises), you enter into our daily device giveaway!
Daniel Rubino is the Executive Editor of Windows Central, head reviewer, podcast co-host, and analyst. He has been covering Microsoft here since 2007, back when this site was called WMExperts (and later Windows Phone Central). His interests include Windows, Microsoft Surface, laptops, next-gen computing, and arguing with people on the internet.
Remember: Leave a helpful comment about this app, you're entered into our daily contest! Helpful comments include what you like, what you don't like and how it could be made better. Winners will be announced at the end of the month, so you can enter in at any time. Multiple comments allowed, but only one will be picked. Contest is open worldwide and the prize will be a Windows Phone of your choice! Need more info about our Hidden Gems series? Read our announcement post here.

i really like the app in my windows 8.1 update 1 pro - THE UI is asusal BEAUTIFUL , SMOOTH app nice descriptions about the various details , findings of rooms , hotel details + payments and guest i like . make app to use too easy to use !! on the go (y) <3 <3 disappointed that can't use it in lumia 720 because it's broked 2 weeks ago . ( missing lumia - my love )

they should improve it on start screen : ALL CITIES - I think best way to show is : ALL COUNTRIES then when we click on ALL COUNTRIES whichever country we select ( eg : UK ) then in THAT section it shows all cities as a sub menu in ALL COUNTRY

THIS IS USEFUL IN APP : why we like it * what we need to know * the hotel + the room and food & drink details really impressive . and the image quality gives attraction AND BING MAPS ( IN LOCATION ) is powerful feature to find path in the app . - they can improve and take more benefits of bing maps very easy to use and everything fine . THEY CAN INTEGRATE with calenders reminder in windowsphone 8.1 and windows 8.1 OVERALL IMPRESSION is really impressive . HATS OFF TEAM

Is there a reason you had to take up this much space to say this?

cant think of any...hmmm...

he was 'spacing out' while typing this

You just spoke my mind! Why in the world did he have to take up so much space???

lol.. what a try hard... i guess he's got the best chance at winning now....or the worst

Last I checked, the app didn't have 'India' as one of it's locations. Just saying. :P

I used the app when I was in Vegas. I got a great deal on a four diamond resort. The app is very smooth and worked like a dream. There was an issue with the company faxing over the check in info., but it was resolved very quickly and I wasn't even charged the $25 resort fee! Overall very impressed with the app and the service.

So i tired the app, it looks nice to have when traveling.
what i like is : Nice UI, it gives cool details about the deal (Wifi, gym, bar...) and provide photos of the room
what i didn't like : well actually nothing, it's really nice app
if the photos were real, daym the hotels here are real clean and nice for good price (Vienna)
but i want to know, why does it only let me chose for 5 days max ? what if i want more ?

Cool Beans for me. Up MSMobile!

Sounds very nice, but not available in Bulgaria yet, unfortunately... Do you have a plan to add my country?

First of all. Beautiful design. Didnt think it would have options in puebla mexico, but it does and very good ones. The extra info provided is very helpful. I would like to see pics and comments from the users but I guess with time that should improve. Congrats to the developers :)

Very smooth and beautiful Interface like Spacely said. I like it, it seems to have its sh*t together. Perfect for planning trips too Atlanta. Speaking of, the next time I go I can get an expensive room with this $40 voucher.. Extremely stoked about that.. One thing, I guess the app will automatically update the home screen when your in a different city.. Right now its just listing a bunch of hotels in my area which I don't really need...
Might edit this comment later. It all depends. So far so good though

Daniel sir can you tell me how the winner is selected.

Requires support for India... I barely go to abroad on trips...

Downloading on my pc, will give a detailed review once I'm done... And also on my phone. EDIT: Just as Dan already mentioned, it has partners in 24 countries, and it appears like it doesn't support Noida (India) yet, but I'll try some other city for the review ;)

First of all, thanks for creating such a *BEAUTIFUL* app. I've used the app for one hour both on my PC and my phone, and here are my initial thoughts. FIRST IMPRESSION (8/10) Although the app is simple, yet detailed, wherever necessary. I would love the app to show me a "TOUR" when I use it for the first time on how should I use the app to discover it to its fullest (because it has a lot to discover). Example: To explain the meaning of Basic, Lux, Hip etc without having user to go to help section (although it can be done by just tapping over it but a first time user can get confused as I did!), the way to choose no. of days to book hotels, etc.. India ain't yet supported by Hotel Tonight but I wish it does so, soon ;) ANIMATION + UI SET (10/10) I wonder if there's any other app available in the whole Windows / Windows Phone store that can compete against it with respect to UI. This is the second example of beautiful in-app transition after Magnify BETA, which works a bit slower though! but this one doesn't compromise on duration either. I salute the developer (Reminds me of Rudy) to redefine the meaning of "Transition" and "Fluidity" while keeping an eye on "Performance". WINDOWS PHONE 8.1 UPDATE 3 COMPATIBILITY (7/10) The app works just fine with WP8.1 but while Windows Phone 8.1 is coming out to more countries, it shouldn't be unobvious for me to expect a transparent tile for the app. It's not that I can't live without it ;D but you know, WP8.1 users usually prefer to have those apps on their start screen which has transparent live tile (Which benefits in two ways: for advertisement and for quick access). You can give option to user to choose a live tile right in the "Settings" page where there's only "location" toggle option available now. And by live tile, it should keep the meaning ;) it should show me my "Recently viewed" hotel images / info, my booked hotels info (like the time I should report there) etc… Okay, next thing is Cortana integration. I would love Cortana give commnds like "Hotel Tonight look for a Basic hotel in Chicago". It would be cool! WINDOWS 8.1 UPDATE 1 COMPABILITY (9/10) Again, everything works just fine in my Windows 8.1 Update 1 machine. But, after I installed the app, it appeared nowhere in the start screen. I had to go to the app list and pin it there. Would love it see it do automatically. Splash screen takes a while to load the app, should be faster. I've a PC with good amount of RAM and a decent processor, so it can't be due to..... Resuming the app after minimizing it for around 20 mins, takes even longer to show up. I guess a little tweak can fix this! (Its same with most of the Windows Store apps though!) NETWORKING + SOCIAL (8/10) It sure was easy for me to sign-up as I had a Facebook account. But I feel giving user this facility can add both to pros and cons. PROS: I loved that you made a "Suggested" category that shows the top notch cities / hotels in the world. I would also be great to have a search option right there to look for a particular hotel. Next, since you've facebook log-in possible, you can take some legal advantage through it. Like, you can see what user has "Visited Places" via FB profile page and show relevant place hotels. (If possible. I know that can be difficult, just my opinion!) CONS: Hotels can do their own rating (like those in "Photos") and can lead to misinformation. Secondly, it was good to see I could "Invite a friend" and save myself money if he joins. But, I was actually expecting to link me directly to Email with PROMO CODE written in there. One more thing, the text "PROMO CODE" should appear before or at the top of the code not below it. I was getting confused if my name was the promo code or not LOL! It would be also great if a user who's booked a hotel could write a review. This section could be included along with "why we like it", "need to know"... etc PERFORMANCE + BUGS (9/10) Impressive. Works amazingly great even on low memory devices like Lumia 520. It was really difficult for me to find out some bugs, honestly. When I tap a Hotel, it pops up quickly. But if i open the hotel pictures (those behind the hotel info, not "photos"), it has a slideshow. But it keeps on changing pictures even when they're not loaded! In such cases I just see a blank black space moving left direction. It should first load, then continue. Next, "Report" button could be changed to something like ( ! ) instead of (...) when browsing "Photos" of a specific hotel. And, "Taxes" and "Fees" could be brought to the short hotel info without having tapped "book now" to see at a glance ;) OVERALL: 8.5 / 10 Sorry for the typos! I'll add later if anything else / bug appears in my experience and would love to see it getting 10/10. That's all for now, hope you'll work on these ;) P.S: I tried to be honest at my best, and again thanks to the developer for creating this impressive, beautiful UI app in this era, where the world is going web-wrapping app culture, slowly. ........................................................................................................... EDIT: Looks like I just encountered a little bug that keeps displaying this image again and again. I understood what the message said but it looked like it wasn't responding. Neither "Remind me" nor Back key on my phone was working. I had to force close the app. Here's the screen shot.

Here's my review. Most of all I love how the information is presented/organized. Also.. oh forget about it, Gautam Kabiraj said it all. I'll let him win =)

looks like u r trying too hard for it.good luck man :P

@carlo_b @champ13
The thing is I'm a student and just finished my 12th grade, have a LOT of free time to spend before my college admission and i know once I'm admitted in there, I'll have a hard time getting back to life (Earth). And I can't do a better job than this right now while i can, so just putting some effort that barely takes an hour. And thanks for your wishes ;)

Hey..he does this anyways...12th haan bhai..science me ho kya?:P

Haan yaar, in Science (PCM with C++)... Applied for B.Tech (in Comp. Sc.) and now waiting for DU's cut-off lists... :P (Apologies to everyone for this off-topic conversation!)

Damn!!! WTH? Today DU has scrapped FYUG courses... I'm doomed :'( UPTU is my last hope now because either I'll admit in a Govt. college or its the end of my study for now. X(

I agree with Gautham. The app is awesome, guess better than makemytrip. I like the way UI designed, its not cluttered with junk information and pictures are neatly shown with a slideshow. Though there are no service in India, I tried some other locations to try how it works. I liked the section "why we like it" and disagree with Gautam for a con. Most others don't give a genuine review and just partner with them for a brokerage or commission for getting customers and don't bother about the services given. I agree there should be a section for the customer who stayed at the hotel to review it. I didn't see that anywhere and not sure if its under implementation.

relax my man... save some of that for the other hidden gems.. ****JUST DOWNLOADED****

Downloading on my Windows 8.1 Lappy.Will reply to this comment after I have used it for some time :)

Ok,so I tested this on not on only on Windows 8.1 laptop but also on my WP8.1 620.And I must say this app deserves a solid 10/10! :o One of the most fluid apps I have ever seen/used.The animations are really smooth and I like the smooth metro UI.Coming down to what's inside the app,The categorization into countries and then cities and then hotels is really really neat.The details of the hotel(what's there and what's not there),bulleting of important things I need to know makes me love this app.All the important info required is right here at my finger tips. Too bad my country isn't in the list but making it a universal app makes me like the dev's work even more.In the end,I would like to say,well done!This is a MUST HAVE app for the people who's country is supported in this app.Really liked this app.The UI was better than yesterday's hidden gem,no offence to the respective developer :)

P.S:An addition I would like to make is that I didn't expect the app to have Cortana integration or Transparent tiles as WP8.1 isn't out yet(except the preview) but a functioning live tile could be a welcome incusion in future updates :)

Nice app with nice idea. It helps me do personal stuff from my windows phone which helps make it most personal phone

I downloaded this when WPC first featured the app. As this article mentions, the app is fast and the UI is clean. It's a cool app because it caters to the procrastinator in me! I haven't had much use for it yet but will try it out next time I'm out of town and am in need of a last minute hotel.

Love the interface..elegant and metro inspired...love the fact its universal even more! Another example of a WP app done right and done with care and purpose taking advantage of WP features and aesthetics...bravo..welcome to the revolution!

Looking good !
Let me try it !
Downloading . . .

I tried this app last weekend on a road trip through Eastern Washington, and unfortunately, I found the service is limited to a few large cities. The app is not very useful at all until it can cover the whole country. I was pretty disappointed.

Haven't used it yet, but I definitely need to look into it. I travel a lot and am always looking for hotel info.

Any places on hotel tonight rent by the hour?

Really nice app and informational interface going on vacation soon so plan on using it over others

Just downloaded now. The app really does take advantage of Microsoft's design language and put all the information they need to display, in just the right place so it's not overwhelming, but not so minimalistic that it leaves out details. It's a really good balance with little to no compromise (from what I can tell after using the app for a short while). The same can be said for any Windows (Phone) app that really uses the system well. There's just something about information that can be consumed without frustration, which is more rare than we may lead ourselves to believe.

Downloaded just now on my laptop... Right time to plan for my next vacation when I am states side

Seems like a great app. Love the deals.

Okay, trying to be helpful here :D I think it's really complicated for them to add more cities/hotels, maybe some kind of partnering up with either hotel franchises or other online booking solutions would be good? Because for me (and most likely others) the selection of cities, especially in Europe, isn't good at all. The app is really nice in terms of UI and UX, but to me it's not useful - I just try it once, like the app but can't use the service.

I really like the design and ease of use of the app on both windows and windows phone.
So basically I can't say THIS is ugly or THIS doesn't work right....
I just can say it's very cool app and the developers should go on with this, whatever they want to do there.
I would change nothing except expanding the partners.

Wonderful design and Works great.Easy to navigate. In short,time savings and money savings. :)
Would be better if they add more hotels and small cities too.

Another great Universal app! The UI is really nice and easy to use. Too bad it doesn't really cover the Netherlands well. If it would, it would be a great app!

Lots of dollar signs listed in the screen shots. Is it restricted to dollars or does it pick up the regional settings from the PC?

Just downloaded on my phone. I love the interface. Will download on my Surface when I get home.

I actually love the idea, it's pretty easy to use and I like the images and the ratings on the hotels it pulls up. The one thing I am not crazy about is how far apart information is spread out. It feels like I need to scroll too much on the Win 8 app to see all of the information that is presented, it feels like the vertical space is under utilized, especially on the info page for each specific hotel.

This app works so well it's pretty crazy that it's free. Price points on most locations seem pretty good so far and the recent update means hopefully the developers will continue to take care of the app. Will definitely continue to use it.

I would suggest some sort of feature that could compete with hotels.com, which gives me a free night for every 10 that I book with them.

Great app to find really good rates (last minute).

These Universal Apps really need to be marketed prominently - its a major distinction from the other ecosystems out there. So many potential advantages from having the exact same app on my phone/tablet/computer - Macbooks and Chromebooks have no answer.

Not something I would really use but seems well designed. Also I like the hypocrisy in the comments with everyone making nice and articulate sentences to get a chance to win the WPC contest. No "seems faster" silliness :)

I'm glad Apps are coming out in pairs. It's nice to be able to use the same app on both the phone and the tablet. I haven't tested out if your information in this pair cross platforms, but I have seen in others.

A really helpful app if you travel a lot and has clean, fast and fluid UI and also available for many countries

Would be better if they didnt use fb for hotel ratings since some are to be trusted(artificially boosting their rankings)

Need to know... Tax for the locale Deposit Fees Penalty Fees Are reservations alterable? If yes, time frame? Other than that, for the traveling executive with their Surface Pro, very nice. Except that their assistant will be booking their travel on what is likely a plain old desktop = ( The aesthetics are very calm and appealing. Great interface. Lovely logo and splash screen. Purple is a hard color to pull off but when done correctly, it is fantastic. Not much to change there. But yes, the other data prongs are a must for anybody that does any serious amount of traveling. And the "Why we like it section" could feature a "needs improving portion". Any good and honest debate acknowledges both sides. A verified reviewers section would be a nice option as well. User input is great even with the strong potential many an experience may be manipulated. TRUTH

Twice during my years of traveling have I had the need to find a hotel room for the same night... Twice in roughly 15 years. I doubt that I will make space for an app that I may... MAY! ... use once every 5 years. I would guess that many would feel the same?

lol I second that very blunt assessment. But to offer an introspective, 15 years ago, most traveling was booked over the phone or through a travel agent...

I actually work for Marriott (who has yet to make an official app on WP8). While the layout is nice, as a hotel employee what I want to see are associate rates. I'm not sure if information like that could be integrated into this app, but it would be nice to compare offers with special rates included.

Awesome example of universal design. I was trying to use when i was traveling to greece, but it lacks of info about it. It is totaly cool app, but it needs to have bigger DataBase ASAP

Nice looking app, but not too sure how often I'd use this. Nice spotlight, though! Keep 'em coming!

I have not been out since I downloaded it so I can't comment on the actual booking process but the app itself is easy to get around and the deals seam to be good and it looks great.

Love the Metro UI in this app, works very well and looks clean. Major props for making it a Universal Windows App. We need more developers to convert/design apps using that model to take full advantage of the platform.

Well designed, works well on my Surfa