How to add your Starbucks Card to your Microsoft Band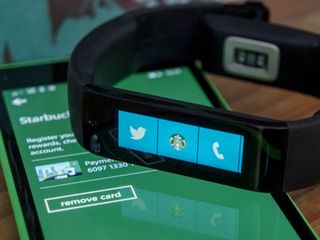 Despite there being no official app for Windows Phone, you are able to pay for your Starbucks beverages using your Microsoft Band. In fact, Microsoft even throws you a $5 gift card when you buy your Band so your first drink is free.
But it's not immediately obvious how you use it, especially if you just opened the box. But don't worry, it's incredibly simple and we're here to walk you through it.
Here's what you need to do:
Open up the Microsoft Health app on your phone. The process is exactly the same whether you're using Windows Phone, iOS or Android.
Tap the Band icon in the top right to open up the menu.
Tap on "Manage Tiles."
Scroll down until you see the Starbucks option.
First, make sure the toggle for this tile is set to on.
Tap on the pencil next to the Starbucks icon
On the screen that opens up, simply enter the number from your Starbucks Card.
And that's all there is to it. There's no option to recharge the card with credit, but every time you want to pay at Starbucks with your card just tap on the tile on your Microsoft Band and you'll get a little barcode up on the display to scan. Oh, and that's not my actual Starbucks Card in the video!
For more Microsoft Band tips and tricks be sure to check out our dedicated page here
Windows Central Newsletter
Get the best of Windows Central in in your inbox, every day!
Managing Editor - Tech, Reviews
Richard Devine is a Managing Editor at Windows Central with over a decade of experience. A former Project Manager and long-term tech addict, he joined Mobile Nations in 2011 and has been found on Android Central and iMore as well as Windows Central. Currently, you'll find him steering the site's coverage of all manner of PC hardware and reviews. Find him on Mastodon at mstdn.social/@richdevine
I've gotten so many ooohs and aaaahs paying with my band at Starbucks lol

Me too, its awesome when the iPhone folks behind me ask me how I did that.

Sadly, I'm sure they first ask if it's the Apple watch.... And then their second comment is "Oh, Microsoft? I'm not getting that"

"Oh, Microsoft? I'm not getting that" If you ever hear anyone say that, you have my permission to punch them in the face for being a massive bell end.

Funny, that's the same thing I say about the apple watch...

When on earth will the band come to this part of the world

The rest of the world, where people actually love windows phone, you know, like Europe, south America, south Africa, Russia, the middle east etc...

Stop pretending there are other parts of the world.

Starbucks should make a windows phone app. Come on its been years. An official app is in Mexico I believe from my research. Extend it to other countries if it is the case.

Yes, there is 1 for Mexico, and also Russia. I would change my country to install the Mexico 1, but I don't speak spanish, so I'm guessing that it would be pretty hard for me to navigate the app. (If anyone has done this, please let me know how it works, and is there an English option) Anyway, you can go to http://mystarbucksidea.force.com/ and request that an app be made for WP. I've done it, the only problem is there are 2 users there (DadCooks, and TKMossback2 ) that are total dicks and bash everything WP. They clearly thing that they are superior than everyone, especially WP users. So when you submit a request prepare for their shit. FYI. Everyone (all WP users, not just coffee drinkers) should go to http://mystarbucksidea.force.com/ and request an app for WP. You should also search for "WP" while there and vote up all of the requests for an app. Thanks

OK, so since I had time, I changed my region (on my phone) to Mexico andinstalled the app. It is in Spanish, with random parts of English. I thought I could just log in and use it to pay, and that would be good enough to try. But you can not log in. I went to the starbucks.mx site, and tried there also, but no luck. Apparently they all don't go back to 1 login server...Oh Well. Guess I'll just keep using mybucks until they finally cave in and make us an app.

I'm from Mexico and I travelled to USA and I couldn't pay with my Starbucks card, so I read Starbucks page and they tell you that each country has different data bases so that's the reason you couldn't log in, you could try to make a Mexican account and you can pay in the USA with your card, but no stars will be given... I know it sucks but its on their policies...

Great idea about appealing directly to Starbucks, and I see what you mean about the negative nellies. I will also follow your advice and upvote all the WP posts I can find.

Starbucks is like the iphone of "coffee" places anyway. People that know Windows Phones, should also know that there are better and cheaper alternatives to something silly like Starbucks just as much.

I agree. However, a treat nite and then is nice. Regardless, Starbucks is thumbing their noses at a customer base. No bueno.

For those that don't have a band and want to pay with your phone, I would suggest SBUX Card. It is a very easy to use app that will give you your star count and tell you about your free drinks and everything.

Anyone in Canada tried to pay with their band? I loaded it but I had to make a Starbucks US account. Yesterday I asked a few employees at my local Microsoft store that also have bands and they never loaded there cards. But said that it should work here.

How did you get your band?

I really wish Dunkin Donuts would support it as well. I have one right near my office and visit it daily.

Paying for starbucks with your band, neat idea! Possibly moving forward with other payment options. Let's see.

I'm from the UK and bought a Band when I was in NYC last month. Loaded the Starbucks credit onto my band and it converted the $5 to £'s!!! I went to the local Starbucks here in Kingston, Surrey and they scanned my band and I bought a 'free' coffee. The staff there had no heard about this so they were all amazed. What a great advert for the Band!!! If only they sold them here in the UK...

Haven't used mine in the UK yet but good to know you had no issues! I spent the free drink at CES.

Since almost all stores has their own gift cards, and with the MSFT band this may be a new way to pay.

The MS Store gives you a gift card

Now I just need MS to start selling in Europe, and then start drinking sh!try coffee.

Using the Band at Starbucks does draw attention, just a shame Microsoft didn't make it more widely available.

Still boggles my mind how MS would agree to the Starbucks app for the Band but didn't ask for one for WP.

Bring on the Tim Hortons Card app for Band and I'll be happy!

Starbucks answer to me when I asked about an app ----Please know that we have continued to look at the Windows platform and listen to our customer's needs. As we grow and evolve our mobile applications, we seek to develop on the platforms where we see the greatest opportunity. At this time we will not support the Windows platform but will continue to evaluate it as the landscape evolves.

Was this a recent reply, or something they sent you a while back? Also, where did you contact to get this reply? If we bombard them with requests all at once, maybe we can convince them to change their minds. Is anyone a frequent poster to any of the other WP sites similar to this? If so, do you think we can drum up some type of large request campaign between us. Not just for Starbucks, but for everytime there is an app that a store, or company hasn't made a WP app for that we want. Off the top of my head I can also think of Target, and Walmart to start.

Is not ridiculous there's no official Starbucks app for Windows Phones?

my local starbucks got rid of scanner. It sucks and I can't use the darn thing.
Windows Central Newsletter
Thank you for signing up to Windows Central. You will receive a verification email shortly.
There was a problem. Please refresh the page and try again.