6 ways to boost productivity by eliminating distractions from Windows 10
If Windows 10 is slowing you down, in this guide, we'll tell you six ways to remove distractions to boost productivity.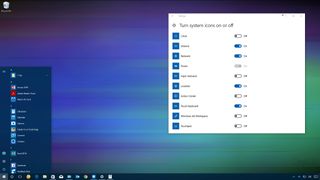 Windows 10 packs a lot of useful features to make your life inside and outside the office a little easier, and new ones are always being added with every major release. The problem is that while most of these features are meant to make you more productive, many of them are not for everyone, as they can add unnecessary distractions.
Thankfully, most features on Windows 10 are very customizable, and they can easily be turned off with a few clicks.
In this Windows 10 guide, we'll show you six tips you can use to remove distractions to help you focus more on the work you need to get done.
How to disable toast notifications
Although toast notifications can be useful, they also add distractions that can significantly affect productivity.
You can quickly disable flying banners popping from the bottom-right enabling quiet hours and removing the Action Center from the taskbar. Using these steps lets you suppress banners while allowing Action Center to collect notifications for later viewing.
Right-click the Action Center button in the notification area, and select the Turn on quiet hours option.
Open Settings.
Click on Personalization.
Click on Taskbar.
Under "Notification area," click the Turn system icons on or off link.
Turn off the Action Center toggle switch.
After completing the steps, banner notifications will no longer be a distraction, and at any time, you can view them opening Action Center using the Windows key + A keyboard shortcut.
Disabling notifications completely
It's also possible to disable the notifications completely using these steps:
Open Settings.
Click on System.
Click on Notifications & actions.
Under "Notifications," turn off the Get notifications for apps and other senders toggle switch.
Just remember that you'll still be able to open Action Center, and while you won't be seeing any alerts from apps and other services, system notifications will continue to appear. (You can always use this guide to disable Action Center on Windows 10.)
How to disable badge notifications
On Windows 10, badges are a new form of lightweight notifications that appear on top of an app button on the taskbar every time there is a new event you missed. For example, in the case of the Mail app, you'll see the number of unseen emails, or status glyphs in the case of the Weather app.
While badge notifications are handy, they can also be intrusive as they can cause you to lose focus every time the badge appear or gets updated in the taskbar making you less productive.
You can disable badge notifications in the taskbar using the following steps:
Open Settings.
Click on Personalization.
Click on Taskbar.
Turn off the Show badges on taskbar buttons toggle switch.
How to remove date and time from taskbar
While date and time are essential information to have in the notification area, sometimes you'll pay more attention to the clock than the work you supposed to be doing.
If the clock is a distraction, there is an easy way to remove it from the taskbar using the following steps:
Open Settings.
Click on Personalization.
Click on Taskbar.
Under "Notification area," click the Turn system icons on or off link.
Turn off the Clock toggle switch.
How to stop Live Tiles updates on Start menu
Live Tiles in the Start menu are meant to give you a glance of the things happening in your digital life without needing to open the app. However, sometimes you'll find yourself spending more time than you should in the Start menu, just because the extra seconds you spend checking new updates.
If you want an easy in and out from the Start menu, you can customize the experience to only show the app list, or you can also turn off live updates for each tile.
To show only the app list, you'll need to remove all the Live Tiles from the right side. You can quickly do this by right-clicking each tile and select Unpin from Start.
To keep your Live Tiles in the Start menu without updates, you can right-click each tile, select More, and click on Turn Live Tile off.
How to disable suggestions
Windows 10 also displays pop-ups in the taskbar and certain apps and apps recommendations in the Start menu. If you prefer not to be nagged by these suggestions, you can turn them off using these steps.
Removing suggestions from Start
Open Settings.
Click on Personalization.
Click on Start.
Turn off the Occasionally show suggestions in Start toggle switch.
Removing suggestions from Windows 10
Open Settings.
Click on System.
Click on Notifications & actions.
Turn off the Get tips, tricks, and suggestions as you use Windows toggle switch.
Once you completed the steps, you'll no longer see suggestions while you're trying to get work done on your computer.
How to disable Cortana's taskbar tidbits
Cortana is an extremely useful feature, but on the desktop, it doesn't stay still, every now and then, it'll bounce up and down to get your attention to lure you to use it.
If you don't want Cortana to offer thoughts, greetings, and notifications in the search box, there are two things you can do:
Disable Taskbar tidbits
Open Cortana.
Click on the gear button from the bottom-left.
Turn off the Taskbar tidbits toggle switch.
Remove the search box from taskbar
Right-click the taskbar.
Select Cortana.
Click on Show Cortana icon.
Using this option, you'll only prevent Cortana from distracting you, but you'll also reclaim valuable space in the taskbar to pin more apps.
Is there anything else would you turn off on Windows 10 to keep it free of distractions? Tell us in the comments.
More Windows 10 resources
For more helpful articles, coverage, and answers to common questions about Windows 10, visit the following resources:
Windows 10 help, tips, and tricks
Mauro Huculak is technical writer for WindowsCentral.com. His primary focus is to write comprehensive how-tos to help users get the most out of Windows 10 and its many related technologies. He has an IT background with professional certifications from Microsoft, Cisco, and CompTIA, and he's a recognized member of the Microsoft MVP community.
Some good tips, I still keep things turned on including tiles but I often have Quiet Hours on to avoid toast notifications during the day. A HUGE one for me was disabling the news feed in Edge for new Windows, that was a big fat distraction for me and turning it off really helped my productivity. If possible I think you should add that one to the article, I would often get distracted by articles I saw on there, now I just check the news app before work over coffee, and in the evening when I'm on the couch I removed Facebook from my phone too, and just keep Facebook Messenger on there - One thing I love about Windows 10 Mobile is that it's perfect for a distration free, or reduced distraction phone.

Agree on edge news feed, I can't count the amount of times Ive opened the browser to actually do something and have been distracted by a headline.

OR get a time machine and go back to 1995

lol up-voting to get some down-votes. Change is bad and some should go back further than 95. :)

There needs to be an option to set one notification when you turn windows on that just tells you how many items are in your notification center. As of now, I'll turn my computer on after being a way a few days, and it is 60 pop ups non-stop for the first three minutes of use.

Nice idea. If you submit feedback, share the link, I will upvote :)

Turn on Quiet Hours, and the Action Center icon to the right of your clock will fill in when you have a notification and show a badge with the total number of notifications.

I only want that action when I first turn on the PC. This shouldn't be that hard. Anyone with Windows 10 knows what I am talking about when I say you get hammer-notified when you turn your device on.

1. What I do is open Store and disable auto app updates, then run "Get-AppxPackage -AllUsers | Remove-AppxPackage" in Powershell. 2. Unpin the rest of useless garbage on the start menu until only the app list shows up. 3. Disable suggestions and everything under Privacy. 4. Install equivalent win32 programs to replace all default apps.

So then why not stick with Windows 7...

That is more or less what I did when I was using Windows 10, also replace the start menu with something decent and kill cortana well and trully, just by renaming the directoy it is in. If windows can not find the directoy it can not start cortana.

After reading the article, i would say install back win7

My biggest problem is a bug of some sort -- starting a few months ago (don't recall if it was with the original Creators Update or not), when the alarm goes off on my Windows 10 phone (Lumia Icon) it also goes off on the Windows 10 PC's. That's great. And if I cancel it on the PC, it also cancels it on the phone. Also great. However, if I cancel on the phone, it keeps ringing on the PCs... forever. I must cancel it on the PC. If I'm not around, it just rings and bothers everyone unless someone else goes to my computer and cancels it. It used to work where canceling it in either place also canceled it on the other. Now that only works if I cancel on the PC. Has anyone else experienced this? Any solution or work-around? I don't want to break the Cortana connection between them, because it's so useful overall, but the endless unstoppable alarm when I'm not at the computer to cancel it is really annoying.

Mauro, can I have that wallpaper, please?

Let's disable everything and stick to complaining there isn't new features.
Windows Central Newsletter
Get the best of Windows Central in in your inbox, every day!
Thank you for signing up to Windows Central. You will receive a verification email shortly.
There was a problem. Please refresh the page and try again.