How to customize the active pen settings for Windows Ink on Windows 10 Anniversary Update
Microsoft is making a big push on digital writing with Windows Ink on the Anniversary Update; here's all of the new customization options for the experience.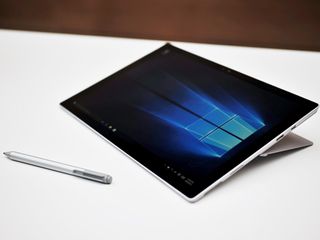 On the Windows 10 Anniversary Update, Microsoft is bringing a lot of new features and changes. One of the areas the company is focusing with the new major update is on pen support for touch-enabled devices, such as the Surface Pro 4 and Surface Book.
Microsoft is expanding its pen support through the new Windows Ink experience, which is just a fancy name the company now uses to refer to the existing pen support, but with new improvements. The new experience let you use your active pen more efficiently throughout the operating system, and to access three new features, including the redesigned Sticky notes, Sketchpad, and Screen Sketch that let you quickly annotate screenshots.
In order to make the experience more complete, the Anniversary Update also introduces a new set of customization options.
Pen & Windows Ink settings
The new options are available in the new "Pen & Windows Ink", under Devices, in the Settings app.
The new page is divided into three sections that let you customize a different set of options for your active pen on Windows Ink.
Pen
The Pen section gives you access to a number of essential and other interesting options:
Choose which hand you write with: Optimizes the pen experience for left-handed or right-handed use.
Show Visual Effects: Some active pens may show a ripple effect when pressing down, you can turn off this option to disable the visual effects.
Show cursor: If you ever used a Surface Pen or any other digital pen, you probably noticed that a cursor appears as the pen gets closer to the screen. This little element can be distracting, so now you can disable the cursor from showing when you're using the pen.
Ignore touch input when I'm using my pen: Disables responses to on-screen touch gestures when you're using the pen; this could be useful if you're having trouble with palm or fingertip rejection.
Show the handwriting panel when not in tablet mode and there's no keyboard attached: When enabled, clicking the keyboard icon in the notification area will open the handwriting panel instead of the on-screen keyboard.
Windows Ink Workspace
The new handwriting experience also includes a hub called "Windows Ink Workspace"; it features a list of suggested apps from Store designed to use the pen. Think of it as a Start Menu, but for your pen. If you don't want to see the list of recommendations, you can quickly remove it by turning off the Show recommended apps suggestions option (see above image).
The image below shows you how the Windows Ink Workspace looks with (left) and without (right) suggested apps.
Pen Shortcuts
The Pen Shortcuts section is meant to help you customize what happens when you press the pen's button. Of course, this is only supported on pens featuring a shortcut button, such as the Surface Pen. (Note that Bluetooth pairing may be required depending on the hardware.)
With this feature, you can configure three actions, including "Click once", "Double-click", and "Press and hold" (this last option is only available in certain pens).
In either case, you can configure the action to do nothing or to open a particular app. For example, you can select the Windows Ink Workspace from the list. Then a second drop-down menu will appear to choose whether you want to open "Home", "Sketchpad", "Sticky Notes", or "Screen sketch".
Specific to Windows Ink Workspace, you can also choose to open the experience even if the device is locked.
In addition, you can choose to open OneNote, classic or Windows Store apps.
Wrapping things up
Keep in mind that these new options are not just available for Surface tablets with the Surface Pen — they are available for all devices with pen support. Microsoft is still shipping the Surface app to let you configure more specific settings for the Surface Pen, so Surface users will have to use both Settings and the Surface app to fully customize their pen experience.
And while it may be obvious, it's important to note that the "Pen & Windows Ink" settings page will only appear on compatible devices.
What settings are you configuring on your touch-enabled device with the Windows 10 Anniversary update? Let us know in the comments below.
More Windows 10 resources
For more help articles, coverage, and answers on Windows 10, you can visit the following resources:
Windows 10 help, tips, and tricks
Mauro Huculak is technical writer for WindowsCentral.com. His primary focus is to write comprehensive how-tos to help users get the most out of Windows 10 and its many related technologies. He has an IT background with professional certifications from Microsoft, Cisco, and CompTIA, and he's a recognized member of the Microsoft MVP community.
I've configured the shortcuts for my pen (SP4 version, paired with S3) but they don't do anything. Pen is successfully paired through Bluetooth.

NEW Surface Pen only works with:
- Surface Pro 3
- Surface Pro 4
- Surface Book 1 not guaranteed to work with Surface Pro 2 or Surface 3.

Seriously? It worked just fine before Windows Ink. Ok, I couldn't customize the buttons in the Surface app but it did launch OneNote UWP. Also, S3 came out way after SP3.

Sorry I cannot saything else. this is all I know from my sources. If you are having troubles you can always visit a Microsoft Store or Contact Support (use the built in app)

Actually, I was now able to configure them and have it work. So I'm happy.

The Surface V3 pen works perfectly well with the Surface 3. The only issue is that your stuck with 256 levels of pressure do to the internal digitizer.

Will this work on my sp3 and its pen?

Progress is not always a good thing. Windows Ink has done away with Windows Journal.

Mauro, you write that you cannot use it without a pen. But I've read Daniel state you can override that setting... Somewhere :)

@wincentral: I really appreciate these articles, but could you collect all these anniversary update articles in one easy-to-find place, so that we non-insiders can find them once we get the update?

Exactly! I just updated today and can't find a list of all the features

Its it possible to use touch instead of pen? I would really like to use the ink workspace with my finger

I was able to activate the workspace by right-clicking the taskbar and enabling "Show Windows Ink Workspace button". But I can not use handwriting on the sticky notes.

Here's hoping they fix some of the bugs with inking. My biggest gripe concerns how W10 handles the ink keyboard/window

Ink keyboard in office programs. Sometimes it just glitches and inputs words before you even finish them. Plus I wish you could write directly into a word or excel document and translate ink to text like One Note. That would be a blast. I'm currently writing in one note and then transferring text.

What if I have only Show Visual Effects and Show Cursor? where can I download the update? (Surface Pro 4)
Windows Central Newsletter
Thank you for signing up to Windows Central. You will receive a verification email shortly.
There was a problem. Please refresh the page and try again.