How to cut the cable cord with the Xbox One
The Xbox One can be the center of your cord-cutting future. Here's everything you need to know.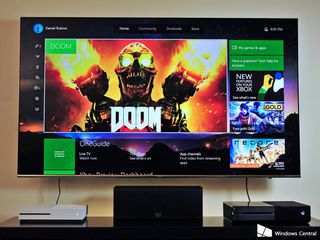 Gaming is the top priority when putting money down on a new Xbox One, but Microsoft's console is far more than a gaming machine alone in 2017. Thanks to support from Microsoft and developers alike, the Xbox One has a rich variety of entertainment apps at its disposal.
If you're indulging in the ever more popular cord-cutting, then you'll be pleased to know that your Xbox One can very much sit at the center of your home entertainment setup. So scrap that cable bill and hook up your console to entertain you!
Xbox One S and 4K
The next thing in entertainment is Ultra HD (or as you might know it: 4K). This means that the pixel count on screen has gone up from 1920 x 1080 to 3840 x 2160, or double the pixels across and double the pixels top to bottom. The net result is an image that's sharper and more detailed than the older HD standard.
The Xbox One S is 4K capable, while the original Xbox One is not. And you don't need to rely on cable companies to deliver 4K content, in fact, they're probably going to be the slowest bunch to get going properly.
The Xbox One S has a 4K Blu-Ray player inside it as well as the ability to play 4K content right now from Netflix (you'll need a sufficient Netflix plan to be able to get it though). The Xbox One S also supports HDR, so hooked up to a compatible TV and the right content, such as 4K HDR Blu-Ray discs, you'll have the best visual experience you've ever seen.
The best 4K HDR TVs for the Xbox One S
OTA TV on the Xbox One
While the OneGuide integration for your cable TV is terrific, it's not the end should you decide to do away with it. There are ways to get free, over the air TV onto your Xbox One that don't cost a lot to set up.
If you just simply wish to get TV back into OneGuide, then the official Xbox One OTA TV Tuner (opens in new tab) is what you need. It acts as a go-between from your digital TV antenna and the console, and will let you integrate your free-to-air channels into OneGuide in the same way you can cable channels.
If you're looking for a more full-featured setup, where you can watch TV on multiple consoles or other devices as well as hooking up a DVR, something like the HDHomeRun (opens in new tab) will be perfect. This little box connects your digital antenna to your local network so you're able to broadcast television right throughout your home. It won't integrate into OneGuide yet (something we'd love to see in the future), but there's an official app to view TV on your Xbox One that also supports background audio.
HDHomeRun is a solid choice for OTA TV on your Xbox One
Digital content
No pay TV doesn't mean you're locked out of the latest TV and movies. The Xbox One houses Microsoft's own store which sells all manner of video content, available to stream from the cloud whenever you feel like it. Where you'll benefit over a streaming service like Netflix (opens in new tab), is that you'll get the latest available to rent or buy when it releases, rather than waiting and hoping.
It's the same store you'll find on your Windows 10 PC and even your Windows 10 Mobile phone as well, so you've got a lot of freedom in what you watch and where you watch it.
To rent or buy content on the Xbox One, simply tab over to the Store and browse to your heart's content. You can't download streaming content to play offline on an Xbox One (a mild inconvenience), but if you're cutting the cord you'll want to ensure you have a solid, fast, and unlimited internet connection anyway.
If you prefer to grab digital content on demand rather than buy, that's fine, too. The Xbox One S has long been supported by the biggest players in the digital content subscription game. Netflix, Hulu, Amazon Prime, are all present and correct, as are local services in different regions like the BBC iPlayer.
Sign up for a free 30-day trial to Amazon Prime (opens in new tab)
Part of your home media center
The Xbox One isn't just capable of grabbing hold of live TV and streamed content from online providers. It's also a perfect fit for a home media server such as Plex or Emby. Both of these services have applications available for the Xbox One as well as other Windows 10 devices, and setting up a server with both is incredibly simple.
In conjunction with something like the HDHomeRun tuner, you can also create your own DVR on a local machine or Network Attached Storage (NAS) drive. Plex DVR, for example, is extremely simple to set up and very user friendly. You do have to schedule recordings directly from your server right now, but once content has been saved it'll show up on your Xbox One inside the Plex app ready to watch.
These are two examples of simple-to-use software for creating a media server, but require a subscription to get the most from. Even so, it's a lot less than you'll ever pay a cable company. Neither is just important for TV content, either. Any digital media you own that you can put onto your server can be viewed through the companion applications on the Xbox One. Music, photos, movies, TV, both Plex and Emby will handle them all.
Xbox One Media remote
Using a controller is OK, but it's not exactly the best solution for interacting with a home entertainment system. If your Xbox One is the heart of your setup you need a good way to make it do what you want it to. For that, there is the Xbox Media Remote.
Some modern TVs, like Samsung's new QLED sets, will support the Xbox One with their own TV remotes, so you have no need for a separate one. After all, one less remote is a good thing, right? But if you're not in that camp, fear not.
There are options out there, like an official remote from Microsoft or a third-party one from Nyko. They're nothing flashy, but both are a big improvement over trying to use a controller for all your media playback.
See at Amazon (opens in new tab)
The future
The Xbox One is already well supported to the point it's easy to integrate into your new, cable-free life. But it doesn't end with what we have available right now. The beauty of the Xbox One is that it's now available to Windows 10 developers building UWP apps as another outlet for them to build their apps. So the possibilities are endless.
One prominent figure that is currently missing but won't be for too long is Kodi. With the recent versions of Kodi, the development team began offering it through the Windows Store, making it easier than ever before to build a media center with it on Windows 10.
The experience has been so good, that with a strong partnership with Microsoft in hand, Kodi will be getting turned into a full UWP app at some point in the future. And with that comes its return to the Xbox, the console that spawned its very existence as XBMC back in the day. We don't know when, but Kodi's coming home. And we'll be waiting.
What is Kodi and how you use it on Windows 10
Your tips
Cutting the cable cord with the Xbox One is an easy thing to do, and it won't leave you short of content to enjoy. If you've any tips or tricks to share having done the same thing, be sure to drop them into the comments below.
Windows Central Newsletter
Get the best of Windows Central in in your inbox, every day!
Managing Editor - Tech, Reviews
Richard Devine is a Managing Editor at Windows Central with over a decade of experience. A former Project Manager and long-term tech addict, he joined Mobile Nations in 2011 and has been found on Android Central and iMore as well as Windows Central. Currently, you'll find him steering the site's coverage of all manner of PC hardware and reviews. Find him on Mastodon at mstdn.social/@richdevine
Would be nice to have a Groove-like subscription for TV and Movies.

I'm signed up for one: its called Netflix.

We've got Netflix, Hulu, and Sling already. On any of these "subscriptions" - want to watch Rogue One? Nope. Assassin's Creed? Nope. Doctor Strange? Nope. They work nothing like Groove does with content that just came out.

Depends on your region with these particular services. Some don't work in most regions and if they do then the library is no where as good as the US library. Why do you think people used to use proxies to access the US version of Netflix? :P

Regarding remote, you can also use a Logitech Harmony remote (and I'm sure some other universals). We bought our Xbox One primarily to be a media centre. It does lots of good things, and it's arguably still the best option, but there's one giant piece of the puzzle which never lived up to the expectations I had: OneGuide. It's pretty much useless. Of the media apps we use: Netflix: no OneGuide support NBA: no OneGuide support YouTube: some OneGuide support for genres, but nothing particularly useful like "Your Subscriptions" or "Recommendations" would be. CTV Go: no OneGuide support Vudu: similar to YouTube, nothing like a "continue watching" or even a "your TV shows" channel. Plex: no OneGuide support. TED Talks: has a channel for new talks, which is good enough. Yay 1 of 7! Then there's the general structure where the app channels don't appear in the same section as live TV anyway. If there was a useful OneGuide and a universal search, it would be my dream media centre, but particularly the guide because I really thought they were trying to do that based on their early marketing.

Netflix and Plex don't need to have OneGuide support, since neither offer live content.

My cable company is fighting my cord cutting with bandwidth caps and other under handed crap

There is no 4k Amazon support for Xbox One S. They need to change that.

Definitely. They have for most other 4k capable streaming devices and smart TVs, but not on the Xbox one S. Ridiculous!

As I recall, you can access the 4k contect from Amazon through the Edge browser which is available from the Store. Just browse to Amazon and log in. Start watching 4k shows.

MS needs to find a way to get cable companies and other ISPs to let go of cable tv and concentrate on internet services.

Microsoft shouldn't be telling any company how to conduct their business.

Also for some reason I can't cast oneguide/tv to my Windows pc while using another app or game on the Xbox one. They must have removed this feature in the new update.

Live sports continue to be an issue with cord cutting.

Truth. Always will be. In the UK we have BT Sport which is available with BT broadband, and Sky offers Sky Sports through NOW TV which is ridiculously priced but good for only paying when you actually want to watch something. Dunno if BT Sport made it to Xbox One yet but NOW TV is there at least.

Downtown the app "TV for Windows"...you'll get access to some live sports

Microsoft needs to realize that many of us bought into the "Xbox as a home entertainment hub" concept and are not hard core gamers. I could care less about the activity feeds and social aspects that they keep forcing down my throat with home screen and phone app updates. Where is the native DVR functionality they promised us?

Canned it and we're pretty gutted. From what I saw the Gamescom it was announced it was a slick little thing.

*couldn't care less. Unless you really still have room for less caring.

cut the cord and pay $80 a month to the cable company for your internet. Or keep the cord and pay $90 for TV and internet..

Getting rid of my Cable TV is going to halve my bill. But then in the U.S. the cable companies basically run the show, right?

Cut the cord and pay $70 for my internet. Or, keep the cord and pay $179 for TV and internet.

After a year that price will double

The Amazon app is almost as clunky as the whole XB UI.

Must buy when they add Kodi

For Ease Asia users, there's one app called Hello, TV app that can be used to watch live TV channels on Xbox One. Well, most channels are from China, but there are still many channels from Taiwan, we can even watch HBO HD channel with this app.

...and watch your internet service provider bill go up to compensate.

$50/m gets me unlimited data

Unlimited plans are common where I am. I've been on one for at least the last 10 years.

I have the USB TV tuner on my Xbox One and it works great. I also bought the Insignia (Best Buy) remote control for the Xbox. It has the normal controls on the front to control the Xbox and change channels with auto motion sensor to light up the buttons when it moves. The really cool thing about the remote is that it has a mini QWERTY keyboard on the back that uses a wireless USB connection for text entry which is also auto illuminated.

Unfortunately ISPs around me are price gouging internet only customers. Theey want to charge $75 for 25mbps. That's terrible!. The only way to get a better deal is to bundle it with TV.

Yep, that's my situation. Internet only $78+ for 25Mb

It's almost worht it for me to pay $10-$15 more a onth for TV and internet to get four times the speed. Still ridiculous that I have to have multiple services.

I guess the tivo is saving me more money than I thought. My bill has never been over$100.
Windows Central Newsletter
Thank you for signing up to Windows Central. You will receive a verification email shortly.
There was a problem. Please refresh the page and try again.