How to enable the new Gmail web interface
A fresh look for your inbox is just a few clicks away.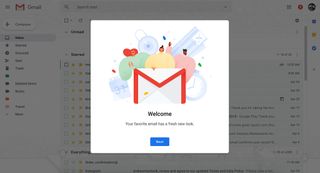 The new Gmail web interface that was announced just a couple weeks ago has launched, bringing both a refreshed design and also a handful of new features. The overall look is a bit cleaner, like what we saw in the Google Calendar refresh earlier this year, with lots of Material Design influences. There are new features like a "confidential mode," email snoozing, better integration with other Google apps, Smart Replies like in Inbox, an improved offline mode and more.
That's all great, but it's actually not enabled by default yet. Here's how you can skip the line and check out the new Gmail interface right away:
Load Gmail on the web and sign in.
In the top-right corner of the inbox, find the cog/gear icon and click it.
If it's made available for your account, you'll see an option for "Try the new Gmail" at the very top — click it.
After a page reload, you'll have to click Next on the pop-up and then choose a view for your inbox.

Most people will like "Default" because it shows the most information per message, but "Comfortable" is a good choice as well.
You can always change this view later at any time from the cog/gear icon.

Click OK and you're using the new interface!

If you want to go back to the "old" interface, repeat the steps from the cog/gear icon to return to it.
The option isn't available for everyone right away, and Google says it will be rolling it out to all users over the course of several weeks before finally enabling it by default. Most of the team here at Android Central has the option to enable the interface now, so there's a good chance you will too. One of the caveats here is that the "confidential mode" isn't available for a few more weeks — so don't be surprised when it isn't available after you make the switch. Google will likely be refining and improving small parts of the interface as it rolls out to everyone as well.
After enabling the new interface and giving it a try, what are your thoughts on the changes? Let us know in the comments!
Windows Central Newsletter
Get the best of Windows Central in your inbox, every day!
Not quite anything to do with WINDOWS

So many uses Gmail. So indirectly it has to do with Windows, because the users of Windows uses Gmail :)

Not available on Windows 10 for me

Easy: Go to outlook.com and sign in

I don't get it. Wasn't inbox.google.com supposed to replace gmail? Why do they have both?

Last I read they're getting rid of inbox

Keep integration is awesome! I find outlook so slow.. I try to use it but I hate it more and more. Even on my i7 (4th gen though) it struggles to load my emails. Even on my phone (outlook app), I click on the email but sometimes it even takes 20-30 seconds before it loads..

I think something is wrong with your phone and laptop.

Why is this article on windows central? I have a Gmail account, but never use Google's website to access. Never. Their stuff is crap, and only there to make a dime by using your information. Get a clue, use a real email / calendar program like Microsoft office. And again why is this article on windows central?

Because unlike most tech sites, Windows Central invites you to not live in a "Windows only" tech bubble. Personally I hate all Google services, but for the larger picture, it is important to know what is going on everywhere. Why? Because you cannot claim "Microsoft is best!" if you have not tried the competition. Basically EVERYONE makes this mistake. Claiming theirs choice is the only right choice. But when you ask ... for instance Playstation gamers, if they tried Xbox, most will say "No, why bother?" THAT is why.

I do not like the new interface because the left hand label section keeps jumping in and out. It is so distracting that I had to change back. It is also too busy. it was a relief to go back to quiet. Please do not enforce this change.