How to follow Windows Phone Central on Twitter and Instagram!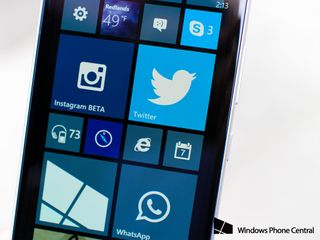 There are a handful of official apps on Windows Phone for all the various social networks out there. Google+ is of course notably absent, but why use that when we've got Twitter and Instagram. We have official apps for both Instagram and Twitter, but we also have solid third-party clients from the strong developer community on Windows Phone. Be sure you never miss a moment of Windows Phone news by following Windows Phone Central across your social networks.
On Twitter or Instagram? Be sure to follow us and give us a shout out. Leave your Twitter and Instagram handles in the comments below so we can see who you all are!
Windows Central Newsletter
Get the best of Windows Central in in your inbox, every day!
Instagram and twitter are for the most part here to stay but I just can't see myself using yet another social item.

Mine is wsourneon on both instagram and twitter. All my posts from a Lumia 1020 in san Diego Ca.!!

San Diego here too! Lumia 920 user.
@aaa6112 on Twitter
@aaa_6112 on Instagram

So we don't miss announcements about Flappy Bird being fake?

Come on now, think positive... It's Friday and the night is young.

I don't know what theme colour that is, but I want it...

Steel? Taken with no flash so its darker? I dunno.

It's not cyan; could be steel, with perhaps the lighting or a filter giving it a bluish tinge.

Looks like Paul needs to step up and get an Instagram acct

I'm @technoloay on both. Although I tweet in Arabic most of the time, I post in English on instagram (photos taken with my 1020).

Twitter handle @Mrun4Nk , already following WPC. I have some issues with my mobile nations username:/ contacted through email but no response. Hope you guys get me through Twitter.

Yes I have you on both. Thanks WPcentral.

Been following since day 1 of 6tag Twitter @audio0028 instagram @IGrindell all photos taken with Nokia 928

What? No Google+?
Darn, I really wanted to follow you on Google+... /s

Google+ is crap, my twitter handle is: Drayg00n.

Currently following WPCentral, Daniel Rubino and Mark Guim on Instagram, anybody want to follow me? Instagram name is lmzr_mick i love my 1520!

I thought this was another worthless article like yesterday "Tip: carry a pin on your key chain". Good thing it wasn't :)

I am currently following Daniel, Sam and WPC. My Twitter handle is anmol_gaming and Instagram handle is anmol_gamer.
Yeah, I am a game addict, A Tech geek and a Windows Phan. :D

I make awesome pictures with the Nokia Lumia 1020.
Follow me :)
http://instagram.com/marcustomero

@isingbass on Instagram with my Lumia 920

Been following Sam and Daniel for a long time now! It would be great if they could follow me too: @iSummerSmiles :-) Posted via the WPC App for Android!

Been following WPC and most of you guys with twitter handle @AsimanPanda. Instagram username is asimografer. Would love it for you guys to check out my gallery- all taken witha Lumia 720.

@evry1luvant on twitter @mtaraylz on instagram and XBL

@qillerz_95 both on twitter and instagram ! :)

Indonesia user here, and here's my Twitter and Instagram: ;)
T: @ThisIsEasss
IG: @Eas_Origins

Hi my handle is:
@elderjlward on both Twitter and Instagram - say hello. :-)
JLTechWord.wordpress.com - stop by. :-)
God bless.

Hi my handle is:
@elderjlward on both Twitter and Instagram - say hello. :-)
JLTechWord.wordpress.com - stop by. :-) All photos and video using Lumia 1020!
Also sporting Lumia 1520!
God bless.

Don't follow me on Twitter! @Nawzil8

Yes I have you on both.
windows mobile

@pkwesi77 on twitter and instagram

what's that app with battery and headphones and 73? Thanks

aashish_soneji twitter id- loves to play cricket and dubbing

Check me out on Instagram @southdallas40.
Windows Central Newsletter
Thank you for signing up to Windows Central. You will receive a verification email shortly.
There was a problem. Please refresh the page and try again.