How to get beautiful Start backgrounds for Windows Phone 8.1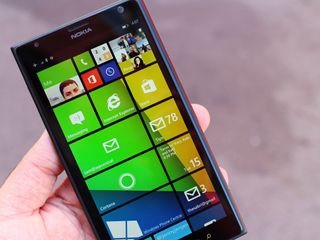 Start backgrounds are probably one of the more interesting changes we've seen in Windows Phone 8.1. It's another step Microsoft has made to allow users to customize and make their Windows Phone experience unique and personal. We happen to be very big fans of the Start backgrounds and have seen the community respond to them positively as well. A lot of you were timid and curbed your enthusiasm when Start backgrounds leaked a month ago, but the response after actually using it has been the opposite.
Today we're going to highlight some tips, apps, resources and images to make Windows Phone truly beautiful with a unique Start background.
How do I change my Start background?
It's pretty easy, but you might not know how to add an image as a Start background. Just go to settings > start + theme > choose Start background photo and voilà, your Start background is up and running.
What kind of images make a beautiful Start background?
These aren't rules, just guidelines we've been thinking about to make select some really great images for beautiful Start backgrounds. You're going to want an image that isn't busy. And by busy we mean an image that takes it easy on the contrast and amount of details. Like the metro design language, you're going to want so select images that are relatively simple and clean. Less really is more.
Of course that's just what we're finding that we like. Play around and see what works for your Start screen and layout. Up above you'll see the left and middle images as good examples, but avoid those Dragon Ball Z characters on the right ;)
Clump translucent Live tiles together for beautiful Start screen
This is pretty weird, but we're finding ourselves rearranging our Start screens to work with the background images more. To get a really beautiful Start screen you're going to want to move your Live tiles around and group translucent tiles together. Going forward we think a lot of developers will want to enable the functionality and rework their logo to work with the effect.
To get a really beautiful Start screen put groups of translucent Live tiles together. That doesn't mean you need to just automatically put every single clear Live tile towards the top and relegate your opaque Live tiles to the bottom. We're just suggesting that groups of translucent Live tiles will give you a better picture of your Start screen and we happen to think that looks really good. It can be as simple as a row of translucent Live tiles between sets of opaque ones, but it'll dramatically make your Start screen pop. Up above you'll see the image on the left has been a good example of how Start backgrounds look when you clump translucent tiles together. The right? Not so good looking.
Use apps to get images for your Start backgrounds
There are going to be a ton of different ways to find images for your Start background. Here are a three apps for Windows Phone 8.1 that'll help you make some a stunning Start screen. Feel free to share any app suggestions in the comments below!
PolyScreen
This is a brand new app in the Windows Phone Store that we found from this post on Reddit. You can use PolyScreen to generate wallpapers stylized with the low-poly look that's been popular lately. The app is simple, but can produce some really neat images for your Start background. You can control the size, padding and color to create low-poly images. Download PolyScreen from the Windows Phone Store. (Free)
Start Screen Customizer
This is another new app for Windows Phone 8.1 users to get creative with their Start screen. The app allows you to create either solid color images or gradient images. You can also edit your own photos to make them work better on the Start screen. For example, you can add a blur and add a color hue to a photo you've taken to make it look better on your Start screen and not contrast so much. Download Start Screen Customizer from the Windows Phone Store. (Free)
Zedge - Wallpapers and ringtones
This app just joined Windows Phone last week and we're already pretty big fans. Zedge (www.zedge.net) is a popular source of over 300 million ringtones and wallpapers. The wallpapers in Zedge are all over the map, but we've found some quality images that look great on our Start screen. Download Zedge from the Windows Phone Store. (Free).
Head to the Windows Phone 8.1 forums for Start backgrounds
There's no way we're not going to plug you, our community. There's a thread in the Windows Phone 8.1 forums dedicated just to covering wallpapers and images that look great as Start backgrounds. The thread is a great place share your own wallpapers and images. It's also great for inspiration and to check out how other people are getting creative with Start backgrounds on Windows Phone 8.1.
Head to the Windows Phone Central forums to check that thread out!
Great Start backgrounds from the community
Curious what images folks like Ben Rudolph, Major Nelson, and Daniel Rubino are using on their Start screen? Of course you are. Check out some screenshots below from some heavyweights in our community.
Daniel Rubino's Start screen - Source
Major Nelson's Start screen - Source
Ben Rudolph's Start screen - Source
Daniel Gary's Start screen - Source
Mary Jo Foley's Start screen - Source
Your turn
Now we want to know what you think about Start backgrounds in Windows Phone 8.1. We also want to hear your thoughts on how to make truly beautiful Start screens. Share your favorite wallpaper apps too. The comments are yours, so long as you talk about Start backgrounds ;)
Windows Central Newsletter
Get the best of Windows Central in your inbox, every day!
Mary. Oh Mary. She does do it always in a way to say, I love everything Microsoft but look I will make the worst possible one to show how ugly it is!

I don't know how you can arrange your tiles but for me, the best way is to arrange them is by grouping like apps together. Makes for easy access and work. Will send you a tweet to mine.

I don't know... The background is kind of bright and contrasty, but there's something about it. that feels inviting, like getting to peek out of an open window at the beautiful day outside. I kinda like it.

Looks like Daniel is an avid user of google voice as well. To bad we wont have google voice soon. :(

https://onedrive.live.com/redir?resid=F8432FB370691D3A!23659&authkey=!ANgbB5Ld5myIO5M&v=3&ithint=photo%2c.jpg

And, yes... it took a few tries to get the sun aligned with my Cortana tile. ;)

But it looks awesome on my phone as the Cortana circle pulses around the image of the sun... :)

Online Lock Screen is a great app automatically change the windows phone lock screen wallpapers. It has 10000+ wallpapers in lots of categories. DOWNLOAD

Can't decide if the metro tube tile works with my setup or not. It is really cool how the transparency works with it, though.

I'm going through the same thing... Not sure if it should be small or medium.

WPCentral update your shit!

Do you know how to setup your apps correctly? For WPC: Settings -> Live tile -> Configure live tile -> Iconic Tile

Some prefer the Flip Tile. I may be alone, but I rather have better tiles than tiles that just work with this effect...

OK, you have at least a choice then... ;)

Fully agreed. Maybe if the text on the iconic tile didn't spill over the right of the tile I might consider it...

That does not work for me. Always accent colored. Even tried a reinstall and repinning it.

You have to wait few minutes to get it transparent...

I love the live tile of the calendar. It shows a lot of data without compromising new design. Hope wpcentral can come up with something similar

I don't know what are you talking about, but they already did...

When third column is activated, the text in WPC app appears very tiny, almost impossible to read. Whereas the text in the calendar app looks fine.

It uses exactly same font size as Calendar tile, you are giving as a good example, and which you love... :D

No the font color is different and it appears blurry on my phone.. Wish I could upload a pic here..:(

It is exactly the same on mine phone. Upload it on OneDrive and post a share link here... ;)

https://onedrive.live.com/redir?resid=71A43662157EC164!2685&authkey=!AEW1ScpzMSOX0KY&v=3&ithint=photo%2c.png Here you go. What do you think?

Yes it looks like Microsoft have changed the resolution of their tiles with this 3 columns update. One more thing to fix...

Don't think so. You just have to set up your application... ;)

You didn't set it up correctly and you are using Flip Tile. If you want to have it right, then do it this way:
In WPC go to Settings -> Live tile -> Configure live tile -> Iconic Tile
Wait several minutes for Live Tile become transparent. :)

The iconic tile is transparent only when there is a number next to it, like if you have one new article. Once you've read everything it goes back to opaque, until the next notification.

Speaking of uploading to OneDrive --- I no longer have the option in WP8.1.
How does it work now? (It used to be a matter of selecting the image, then pressing the three dots and clicking on 'upload to SkyDrive'. I no longer have that option)

You no longer have to manually upload your photos to OneDrive (formerly SkyDrive). In Windows Phone 8.1 go to Settings and swipe left to the "applications" menu. Tap photos+camera. Scroll up and tap on "OneDrive". From here you can decide if you want your photos to upload over Wi-FI only "Best Quality," "Good Quality (via cellular network) or not at all. Same for Videos. My settings are Good Quality for photos Best quality for Videos. But if you don't have much of a data plan, choose Best Quality for Photos and Videos and it will only automatically sync all your pictures and videos to OneDrive when you get a Wi-Fi connection.

Here are some of mine http://instagram.com/pramodag/ Edit: I love typing using word flow :)

Cool. Thanks for sharing. Be sure to go to the forums and share your Start screen with your Windows Phone brothers and sisters :)

Sam, you should put up the link to our Official Start Screen Thread for 8.1 We've got LOTS of collections from many members shares! http://forums.wpcentral.com/windows-phone-8-1/271565-wp-8-1-start-screen...

Pssttt. I already linked to it in the post ;)

Where is Daniel's start screen that he showcased a few days ago? I need that one. Here is the link http://www.wpcentral.com/eight-tips-make-most-out-windows-phone-81

Where can I find the blood droplet picture you have in the article... Coundnt find it in Zedge.

I love word flow aswell, oh wait... My language isn't supported :(...

I prefer just a plain colour theme. I have plenty of colourful, non-transparent tiles, and three columns can look a little busy already. But there are certainly some beautiful background images. I especially like that third polygon one, and the wood one as well.

That reminds me...its time to go find my old energy rom wallpaper from the wm6.5 days...beautiful with really small polygons. may work well....again!!!

You guys stole my Dragonball Z lock screen picture. I literally set this as my background image before this article was published. I'm a trendsetter.lol

My start screen is Goku holding up hours spirit bomb! Looks awesome.

I have I picture of Paris , but can't take screenshot's because my volume button is broken.

I like GHOSTS :D http://imagizer.imageshack.us/a/img836/9734/uuec.png

Before having that beautiful start backgrounds, I need to update my phone to 8.1 first. Unfortunately I tried downloading the update for two times already and it throws up an 80070008 error code. Help please. What should I do?

download preview for developers

Dude are you stupid? Of course I've done that. That's why I was actually able to download; just not able to install the update.

Sir first of all don't call someone stupid because you wouldn't want anyone to call you that I'm a mother and sure wouldn't allow my son and daughter to call anyone stupid. Since you download the preview for developers make sure you download app studio on your windows phone. You have a Bless day and Take Care. Praying for you.

You don't need App Studio on your phone. :)

Jesus you're dumber than I thought. Keep praying Mom. Keep praying.

C'mon, guys, let's stop all the name calling. She just tried to help and was actually polite. Let's keep this place friendly.

and you are an ass. she was trying to help. Who is more dumb, the person that can't get past the error code or the mom rocking 8.1 already?

Oh God you are an annoying as hell person.

Yet she can behave in polite society while you appear to have been raised by someone intimately familiar with prison showers.

You may want to make sure you have plenty of free space on your phone so that it can unpack the update files.

This. You need space to download and unpack,it is quite a massive update

I had this very issue. I think it has something to do with the previous OS update not installing properly. Five times i tried, it didn't work. So i went ahead and just hard reset my phone as is. during the hard reset it threw an error and the phone wouldnt start (soft bricked). so i downloaded the "Nokia Software Updater for Retail" (google it) and performed a stock firmware recovery (your warranty stays intact). Follow the instructions from the site you download from carefully. the software is shy of 200mb i think and the recovery file is 1.31GB. it will boot the phone in amber version. dont restore your data or sign in using msft account as more data will keep your phone busy and also slow down migrate data step in further updates. from there update your phone once from phone updates. This will carry it to black (officially). after this go ahead and sign in to your msft account on the phone so you can use the store to download the preview for deveolopers app. then go ahead and install the pre 8.1 update and then the 8.1 update. dont fret when the preparing to install stops at 96% for a longer time or if the gears spin for long. after the update, go ahead and hard reset the phone again. when you hard reset this time, while starting afresh, you will be given the option to recover previous backup. then follow the usual grind. congrats. you have 8.1 ready to play with :D

or maybe you just need to clear space :P and i said all that for nothing :P but i had that issue so had to do all that :(

"Going forward we think a lot of developers will want to enable the functionality and rework their logo to work with the effect." You would think so, wouldn't you? Yet "Planetical" just got an update that REMOVED the transparency of the Live Tile.
Well, obviously the result of that with me was an immediate removal of the Live tile from the start screen and the throwing of the app into the "Photo Editing" folder. Normally that's the first step towards complete removal from my phone.

Haha, I only have two small non-transparant tiles pinned on my startscreen right now. All the others are banned to the "all apps" list. I like to keep my start screen clean. Hopefully developers will indeed rework their logo. BTW, does anyone knows if the lockscreen app from Rudy Huyn showed at build, is already available?

How do I get the tile for this app (wpcentral) to be translucent? You guys obviously did it but on my phone(8x) it still shows the accent color

I'm seeing the same on the Lumia Icon.

I've noticed it turns translucent when there's a notification then back to the accent once you open the app

Go into live tile setting in the app and select iconic live tile option and pin it, you have it!! Jay tweeted he would work on the update though..

That didn't work for me. Instead it uses the accent color as background.

Thanks. I tried that and it kind of works, it creates new tile which is not transparent but it renders the current one transparent (but as a count tile though)

THIS. I've been messing with the live tile settings but can't get it to work.

When is the app update coming? The Android app is so much sexier and the comments section is better organized.

My WPcentral tile was ok, then I changed my picture and opened the app and now it's solid again.

mine took literally a day before it turned translucent after i changed it to iconic

Yeah so you guys are right, if you pin the iconic tile it'll be transparent when you have notifications but once you no longer have them it goes back to a solid color. Oh well I'm sure the devs will update it soon.

Mine is currently a pic of a flat piece of bubble wrap

When I first saw the leaks, I was in awe and horror, the original leaks looked ugly. But as others got their hands on this feature, and showed how beautiful it is with the right image, I became very excited. Now I've got a background for my tiles, and I'm very pleased with the result. Old tiles look too boring now, haha.

I'm having issues with some tiles that I feel should be transparent but aren't. For instance, iconic or flip wpcentral I always solid, the only wpcentral tile that I transparent for me is the wpcount one that shouldn't be on the start screen. Also trivia buff, when I first pin the tile it's fine but as soon as it displays text it goes solid. Lastly the games tile is also solid, though given how they seem to be brushing the games hub under the rug this isn't surprising.

The developers has to work on their tile to make it transparent. Give them time! :D

This! A thousand times this! Time people!

Sorry, I didn't mean to sound like I was cranky or anything like that it's just that in the photos above it shows the wpcentral tile as transparent so I thought I might have been doing something wrong on my end.

Oh no problem at all and you didn't sound cranky :) I've just got hundreds of people asking me about this tile right now! :D the writers have disabled the live tile in these pictures to keep things transparent

Haven't had chance to look at the SDK yet. Have they made a nice memory-friendly SaveToPng method for us?

Not as far as I can tell, think I'm going to have to install the Telerik controls to achieve this one whilst still keeping our custom tile. Or I'll have to completely re-do the tile.

Oh dear. I thought for sure they would just add two new png methods to Extensions for WriteableBitmap. I used to use a png converter but as my tile evolved and wide tiles came about it just got out of memory so had to remove it. We need a light weight converter...i would think the Telerik assemblies would be too much loaded from a background task, but maybe not. I will also look into it real soon. Perhaps we can share findings. Good luck anyway.

These look great! Am sorting my tiles out now.. It's probably simple...but how do I get the WPCentral app to be a clear tile? I tried several times yesterday but it was either a solid colour or the tile where pic preview is shown.

I hope some of the tile making apps add an option to create a blank transparent tile soon.

Just can't make wpcentral app get transparent. :-/

The polyscreen app reminds me of the Galaxy S5's default wallpaper. Amazing stuff.

Check out the forums. There is a thread where we are posting wallpapers. This is my screen, also link to my contribution on OneDrive http://forums.wpcentral.com/windows-phone-8-1/271565-9.htm#post2470699

I went with the dark theme and made solid black using Start Screen Customizer App.

lol I was when I was younger, I think I grew out of that though. Plus that was an example of the types of images to avoid ;)

You are never too old for cartoons. Especially dbz. Actually if more adults had Goku's compassion the world would be a better place.

I don't have that many live tiles.. I need to get some more apps I see

Windows 8 style background graphics that would have spread to the app list view would have been so nice - hope it one day becomes an option

For the wpcentral app, use the basic ms SDK tile from the app, it will be in accent color the first time but it will be transparent later. I pinned the tile yesterday and this morning it was transparent. Edit: After the app is outer opened and the notifications clear it becomes accent color again

Yeah, for now it's transparent only when there is a notification.

Update's coming, I guarentee it. ;)

Here's my startscreen: http://instagram.com/p/mz-CSLlAXv/ I used one of the default background images but I think it looks good. I tried to put a couple of non-transparent big tiles to add some contrast to it. Let me know what you think!

How are you getting the WPcentral tile see through?

There are 2 tile types in the WPCentral settings if you look. One works as transparent, the other doesn't.

None of them is transparent...

Agree. None of these are working. When I turn off the tile and pin to start. the tile turns transparent but says "unpin me" Anyone from WPC care to share some light on this? Cheers.

It would seem you have to have both on the screen for the one to be transparent. So I got the WPC one on the bottom in a little box, and the Iconic one in the wide mode on top. https://onedrive.live.com/redir?resid=2A826DEF563B3E17!3059&authkey=!ADq...

You only need the iconic one, but it's currently broken. It's transparent only when you have a notification, like if you have one unread article. Then when you've opened it and the notification goes away it goes back to opaque, until the next wpcentral app notification. I guess they'll fix it soon.

Will all tiles eventually be transparent? Becauseeee that would be awesome

That's up to the developers, but I hope so!

I hope they give us the option... It's nice to have a couple of opaque tile to give some contrast to your start screen.

On a side note, does anyone know of a good weather app that has a translucent live tile?

Cortana's Weather Near Me. :)

Blue Skies is. All tile sizes

Thanks, that app is legit!

Guys, blurred pictures will look best.
They won't get in the way of icons and text being readable.

Yeah if only your app would stay translucent!! It keeps going from accent to translucent!

Here's mine and apparently its going to be mostly cloudy this evening. http://imgur.com/4lsWaWm

Here's mine. What do you guys think? https://onedrive.live.com/redir?resid=5EC8582A796BBDF7!12492&authkey=!AH...

I use glancescreens.com 's abstract backgrounds

Except for the Daniel Gary everybody else's start screens suck !

I have to breath, I must wait for the official release, this looks awesome and I'm dying to try this on my small 620, but I won't update yet

My phone lost the photo hub and video hub after the update. So I can't do any of this. Plus a lot of new features are missing. Nokia Lumia 822.

Dude! You shouldn't have lost them. They've just changed. Something's off if you don't have them or other features.

Shameless plug here, I made an basic app which might be fun to use to share some start screens with why you love Wp. Sorry it doesn't have the latest phones in there.. I couldn't find images for them. http://www.windowsphone.com/en-us/store/app/ethos-phone/3c4d52ed-ee74-4af6-a383-c39e934a426a

Trying it out. Hope you included 925. Edit: I see no 925 in there. :(
Please add it!
Here's my screen shot bdw:
http://i.imgur.com/3pIGPP4.jpg

I got Cortana in India...

without changing the language and region ??? or you have changed the language or region ..

Here is mine :-) https://pbs.twimg.com/media/BlQpxDGIIAAa4WJ.png

My wpcentral tile isn't transparent? How can I fix that?

Mines is a photo of a butterfly I took last year. Whilst it's a 'detail rich' image, I've found it with my new start screen layout has worked for me. Have totally rearranged the layout (with the help of the third column). I do hope other devs add the transparent background...or perhaps that we get an option to make those without a transparent background more transparent? I dunno. Anyways...this is one of the most striking features in the new update...and I'm very happy with it!

Soo, how long before the WPCentral app allows transparency :P

Two questions: How can I get wpcentral live title app to get transparent AND how can I make Cortana show me Te weather in celcius on live title???????

Same questions driving me insane

Is there an ideal resolution for photos that we should be using as background images?

I ended up finding that an image I'd had formatted at 640x1280 didn't need for me to crop it in any way, so I'm guessing that the native format for a picture would just be 2:1. Hope that helps!

Where did u get that super saiyan pic??

As far as sources for more images, I've found that the "glancebackground.com app" has a lot of useful and fitting background images, (in addition to the Zedge app and the others)that work great for the start background as well as the glance screen.
Check it out!
http://www.windowsphone.com/s?appid=ab235d3e-b1cc-476e-98de-016aee0c7f1f Oh and btw, your phone doesn't have to have the "Glance" feature to use this app (ala Icon/930) just simply use it to download the images... as if saving images off of the internet wasn't enough ;)

Solid theme colors for the start screen are now unlimited

I might like this. It would be awesome if I could make several templates to change background schemes and tile locations. A theme a day.

Some dev should start making "Theme Cycle" app.

Use blurred backgrounds for the start screen they look fabulous

the ffffpund app rules also

I think I am more concerned if the final version if 8.1 will remove the ability for me to have a third column on my 928 as the site says it is for 1080p displays only.

No no no. They just can't! They demoed it on stage while announcing that it is for everyone!

This is one of my favorite features of Windows phone 8.1, I find using simple pictures or at least pictures of a fairly uniform color looks great, but using busy pics with lots of colors makes it look chaotic and hard to read.

Do you think it will eventually become a requirement for apps to have a transparent tile?

Here is another tool http://www.windowsphone.com/s?appid=6191d0ba-0c69-43ab-8520-669a4fe0f89d

Nice but don't wanna waste space on my start screen. Handy tool nonetheless

My Paid WP central App isn't transparent like in some of the examples posted :(

Hey that's the Nexus background wallpaper!! hahahaha..... Finally, we can now show off wallpapers too on Windows Phones eh? :P

Polyscreen is the best yet! Live a bit of polygons oh my screen

funny that i picked this nexus's pic before u guys posted this article..xDD

I wish there was and option to force all tiles transparent. When you hold down a tile to rearrange even the colored tiles like Office go transparent and it is pretty cool. Sort of like looking at the background image through stained glass. They should make this a permanent look rather than wasting it on such a small scenario.

I dig it. I will be looking forward to when a lot more of the Live Tiles are transparent. And like all things, I like that I can turn it on or off as I wish.... Good job Microsoft.

Really love this feature! Don't know which of the three apps I should get..

I got all three..and some more

sorry off topic .. can anyone confirm whether CLASS 10 memory card is being supportted by 820 ? searched for it but got mixed responses ... so a bit confused ...

Someone make an app that stitches screenshots vertically. I wanna post my whole start screen in one image to people. Here's the first page: http://i.imgur.com/3pIGPP4.jpg

here is my start screen https://twitter.com/deanmuu/status/455849025665646592/photo/1 so love it now

Download Blank Tiles, tho useless but beautiful :)

That pic of Goku looks fantabulous!! :-o

Guys this is off-topic, if I just intend to look for contact number and not call, how can I do this, there seems to be no easy way to do this in wp8.1, I never had this problem before the update

How to pin data connection in notification center

Would love to have an option to make all tiles at least somewhat translucent. Kinda the way it looks when you are rearranging the tiles.

Will the wpcentral app be compatible with the translucent effect? because I have the live tile set on my accent colors and it still looks red.

I wish you could make tiles bigger down or up instead of just across. I would also like to be able to make tiles big enough to be 2 across or 3 across per row; like a combo of the 2 tile screen (old windows phones) and 3 tile screen (Nokia Icon).

That goku wallpaper anyone?

http://www.telephonewallpaper.com/artwork/goku_0_600.jpg

bing images are also a very good source for images. Insider might still be an app on WP8, I think, to get these images easier.


am i the only one who think backgrounds doesn't fit with current setup you have live tiles flipping and you have tiles that doesn't reflect your background sorry it looks random.

I use the same image as for lockscreen. I just blurred and colorized it to match accent color. Since I have changeable shells I made two of them. Makes for an interesting effect

Can we have different wallpaper for each tile?

No. But if you want that, I suggest you get Skinery Themes from the store. It will allow you to create individual tiles and eventually also transparent ones in the future.

What about the requirements of the used images? An image isn't endless, so if the startscreen is more long than the image what happens? The image is zoomed to cover all? Or finishes and the other tiles have a blank background?

I believe the background image is to customize, as well as make your live tiles stand out. For lack of better words, I'd say WIN, WIN! Oh and on a second note, my start screen is late night on Time Square NYC, simply amazing!

How about the one in the main/first photo of this post? Anyone know the source..?

Has anyone noticed a sluggish reaction to the power button on the nokia Lumia icon with win phone 8.1.. Anytime I resume from sleep it takes 4 seconds to turn on

I thought I would hate this effect...but I love it now! :D

Sam, will you guys be covering all these tips and tricks again in June when wp8.1 goes live for those not savy enough for dev. preview? I can hardly wait but since I am just a average user I'll need to wait for. Att and Nokia to finalize carrier specific firmware.

How about a tutorial for making the WPC app transparent and respond to high contrast?

We developed an app, Picturex, which easily let's you exchange pictures of an event with others in full quality: Upload yours (automatically if you wish), share it with others, download the pictures you'd like to keep. It's as simple as this! ;) I just thought, why not exchanging (WP8.1) start screens with all WindowsPhone fans (#WinPhan)? This is why I created an album (PicEx) for start screens. You could click on that link (to install the free app and go directly into the album): http://goo.gl/YRwl29 Or you could scan this QR code here: Please share your screen ;) Thanks. More information: www.picturex.ch

Anyone notice ram usage has been increased to 180mb in 512mb ram devices?

How can I get the Daniel's back ground. It's awesome

Great article! Thanks for the tips!

I get my backgrounds from 500px

That's an app which has the sexist photos ever

Yes but sadly I have no way of downloading them from WP. I have to go to the site from my PC, download the pic to my OneDrive and pick it up from my phone once its synced. Would love it if I can download it directly from my phone.

Good tips! Btw I thought the WP Central app was meant to work with the parallax view..? Mine isn't

Mine has a transparent background https://onedrive.live.com/redir?resid=A98BE1919D9398FF!4633&authkey=!AEBRbWexH-GiRnU&v=3&ithint=photo%2c.png

Windows phone 8.1 is > Android and Apple! (the only thing i hate is that for a 1 ram, there's not allot of apps available on the store >=| that sucks ..). But anyways, Hopefully everyone can throw there phone xD and make a switch to Windows! These update was the best! Windows is taking over! (cortana)!!!

Yeah we are the one where update really trends aft buying a phone. Like amber black, wp8.1 den cyan and the GDR updates. Android doesn't even get updates of os when a person buys that phone

My wpcentral pinned app isn't see through, like it is in the example pictures. Cannot get it to be no matter if I use iconic our custom live tile, big, medium, our small

I can't tag QR codes any more Cortana took my Bing Vision. Or, can I?

Okay found it as one of the lenses in camera. Still it was much convenient easier using the search button

Check this #WP81 Start screen and background pic http://t.co/K3y425lDdw

Sorry to be off topic but my Lumia hung twice till now. I know its on Feb preview mode or beta mode but i thought informing is better as developers would come to know.

How to get diagonal time on lock screen..?

By waiting until it's available..

Backgrounds pictures don't work well since they are faded. All light bright colors look dirty and unappealing.

Or try this
http://t.co/K3y425lDdw

This is all very well but I know it will be about a year till the official update is released! Why do we have to rely on carriers?! Why cant Microsoft or Nokia just roll out the update now??!

Just get the free 8.1 update now, as per link. https://dev.windowsphone.com/en-us/develop/devpreview Or download the app to your phone from the store; http://www.windowsphone.com/s?appid=178ac8a1-6519-4a0b-960c-038393741e96

http://s7.directupload.net/images/140416/zxwzdjfa.png

where is lock screen theme how to enable it ? which i show in joe belfiore phone during devloper preview summit

Games are laying too much in 620 after wp8.1 why?

Although I love this background on tiles, I'm a bit afraid all tiles will get too boring when all the developers make them transparent. I hope they will still show enough imagery and information. Not all tiles should be transparent in my opinion.

Hahaha, and I want all tiles transparent, how will they please all of us!

Apps should offer 2 tile modes in settings.

Where i can i find the background from the very first picture? The one from the article header...

http://googlenexuswallpaper.org/media/images/1/1/1893.jpg

You Sir, are awesome! Thanks a lot.

How to make WP central app tile transparent?

I'm stealing your Start screen layout. Haha, haha, HAHAHAHA.

I do charge, that's 79p please :-/s

Where can I get the one that's in the picture above the headline?

Ok, I found it http://googlenexuswallpaper.org/media/images/1/1/1893.jpg

This is awesome and unique, really, really ❤ it. But need all tiles transparent. Just me....

Can somebody help me. On my photos live tile there are so many images. But when i open photos they dont show up.

Would have been nice if they had included an online library to choose images from rather than the static built in gallery. Perhaps one day.

i have problem with my xbox games! everytime i opened it, it said "Couldn't open that. Try again. What the hell is happen actually?? i've shut down my phone so many times, in the end, the same thing happend again! i feel so uncomfortable for this matter. Please fix it! :( and i dun even like my games listed on apps list.. And why xbox music is no longer for live tiles?? is this windows phone 8.1 that we gonna face soon? even the preview looks sucks. i'm so regret for update it. anyone help me.. :(

To avoid getting off-topic, you could talk about this problem in the forums. There is already a discussion there about this Games Hub problem. Go to http://forums.wpcentral.com/windows-phone-8-1-preview-developers/276733-games-hub-not-showing-games-list.html .

This is mine after updating to 8.1! :) I really appreciate the extra row of tiles. http://s29.postimg.org/hkbk2ysg7/wp_ss_20140416_0002.jpg

<pre>
<img alt="" src="http://t.co/xOD4beeKVy" />Na na na na na BATMAN ! http://t.co/xOD4beeKVy</pre>

Why am i getting a screen with texts, when i open POLYSCREEN?

Need to fill up empty spaces on your start screen with transparent tiles (so your background comes through)? Check out the app Blank Tiles. You're welcome.

Stupid question: What is low-poly?

Here is mine! i think is cute and clear!! :) http://1drv.ms/1gFMTgD

Got a minor phone update for 520 india, 8.0.10532.166

Getting one more update for 520 india..i dont know it's wp 8.1?, It's taking time to download.

I'm sorry, but NO picture makes a good background. It detracts from the clean look--and readability--of the tiles. I'm sticking with regular color themes. All those examples look horrid.

Damn you for copying my Goku Supersaiyan image!But anyways i am keeping my current profile pic here as the background wallpaper and it looks far better than supersaiyan one.Still damn you for copying my style.


Love my start screen now with this feature.


I love the tile skinning the only downside is my most commonly used apps have a live tile or graphic on the tile so I cant see the background. I did some rearranging so I can actually get some solid peaks and consolidated the tiles that show the background. Maybe there is an option to force tiles to show the background instead of the stock image. I don't think there is though. I know some apps you can choose how the tile appears. Anywho, I like the backgrounds, just wish more of my commonly accessed apps allowed the background to show through!

Downloaded a wallpaper off of Zedge... I don't have my translucent tiles together really, but it looks great as is! :) Screenshot here...

This is mine. Can't go back to 8.0: https://onedrive.live.com/redir?resid=FD9763DDC12656CB!2554&authkey=!AHQ...

Here's my latest. http://i182.photobucket.com/albums/x219/juanitoriv/temporary-11.png

Why is the WPC app clear on his start screen but not mine........ :/

That start screen customizer is a great app. The gradient feature is fantastic and is a really cool action when scrolling. This should be a stock program in the settings as an advanced button in the background color options in my opinion it's that good. YCS

Why there is so much spare space on left and right side of the start screen when using 2 column tiles? IT looks just ugly! And how could I upload a picture on this site?

Liked polyscreen, got the theme to match my other OS devices:-)

I just want something SUPER simple. I'd like to see what the following look like
1. Corkboard
2. A starry sky
3. Metal floor like they had on Navy ships when I was a Marine
4. Screen full of green turf

I think the article did not include all the apps, for example this one: http://www.windowsphone.com/s?appid=9f27f317-30ac-42af-b2f4-4b96a0897f37 (Shameless plug, I developed it :) )

Love customizing my start screen it's awesome!

Batman is doing a grate job @ my wp8.1 http://1drv.ms/1eRKATB

Why is my WPCentral app not transparent like the pictures displaying the WPC app in this article?

something went wrong with my start screen. :S

https://onedrive.live.com/redir?resid=ED6DB08DF5C0177!43395&authkey=!ADD9Sgp-lfsRAqM&v=3&ithint=photo%2c.png A quick first attempt to make a start background. My phone for testing stuff is a 520, so the image is not as high res as it could be. :)

Am I the only one or not? Whenever I add a background, it always darkens it quite a bit. Loses all quality for the picture. Doesn't look vibrant, just dull. Is this how it is supposed to be?

Hi Sam Sabri, Can you provide a like to download the startscreen wallpaper used in the lead image of this article. I like it very much.. :-)

If you like superheros, as does my son, you might want to check his collection here - An example:

Link to background: http://kepfeltoltes.hu/140418/WP_20140418_1_www.kepfeltoltes.hu_.png I'm the creator

Awesome lock +Awesome lock free THE BEST

No mention of www.wphomescreens.com ? Hundreds of backgrounds there

Lock Screen
http://1drv.ms/1pMukNW Start Screen
http://1drv.ms/1pMuBQV Go Go Godzilla!

How about this? <iframe src="https://onedrive.live.com/embed?cid=A23A37FC3BA62169&resid=A23A37FC3BA62... width="192" height="320" frameborder="0" scrolling="no"></iframe>

oh my god, I love everything Microsoft Get free Article http://bit.ly/1QouTFH


Where can I get the wallpaper of the first image (this: http://www.windowscentral.com/sites/wpcentral.com/files/styles/large_wm_...)?

Just like this here you find :
http://www.windowsphonesusers.blogspot.com

Hi. Thanks for your post. Was inspired to have a go myself. New to Windows Phone so started with the usual mess of tiles. This is my first attempt at something better. Comments welcomed. Https://flic.kr/p/A3cvd9 Cheers, John