How to get your iTunes music on your Windows phone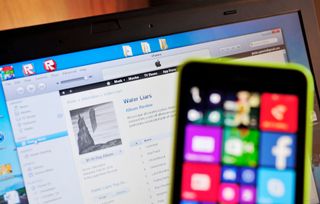 Beginners' Tips Series!
Let's say that you have been an iPhone user for some time and recently decided to dip your toe into the Windows Phone waters. Chances are that one of the first things you want to do is get all of your music onto your new phone.
As an iPhone user, you either downloaded all of your music directly your device from iTunes, or moved it onto it by using the iTunes desktop application. Now what? You have all these tunes sitting in an application that doesn't know what a Windows phone is.
This situation was bound to happen, so Microsoft put together an easy way to pull your music and playlists from iTunes and onto your Windows phone.
One thing to keep in mind is that files that are DRM-protected will not be able to be ported onto your phone. There are ways to convert these files to unprotected versions, but we will not be discussing that here.
On a Windows computer
This first method is probably best to use if you want to continue using iTunes to manage your music collection, or if you consider yourself to be a novice when it comes to technology.
First, you need to download and install the Windows Phone app for Desktop

(opens in new tab)

.
Click on Settings in the top right corner. (Alternatively, upon installation, the program may walk you through this process automatically the first time)
Under Sync music, videos, and more from, select iTunes.
Your music and other media will show up in the Windows Phone app for Desktop, allowing you to choose what to sync with your phone.
Next, make sure Sync music has a check in the box next to it.
Check the boxes next to the genres, bands, and/or albums that you want to sync with your phone
Click the Sync button and watch the magic happen.
If you are making a clean break from iTunes and/or want to manage your music with another application, or just as files in folders, then this is quick and easy. You will need to know where your music files are stored.
Chances are, you will see them in your Music Library. If your music was all purchased from iTunes, you may also find it in C:\Users\"your name"\My Music\iTunes\iTunes Media.
Locate the place on your computer where your music is stored.
Open Windows Explorer (on Windows 7) or File Explorer (Windows 8 or 10).
Your Windows phone will show up as a device in the left pane.
Click on your phone on the left, then on the hard drive icon.
Inside you will see a Music folder.
Copy/Paste the files from your music folder on your PC to the Music folder on your phone
On a Mac
First, download and install the Windows Phone app for Mac

(opens in new tab)

.
Now connect your Windows phone to the computer.
In the sidebar of the Windows Phone app, choose Music
Choose what you would like to sync, then click Sync
Similar to the second method described above in the Windows instructions, you can also drag and drop files manually from Finder to the sidebar in the Windows Phone app.
There are plenty of things you will want to set up and tweak when making the move from an iPhone to a Windows phone, but it should be reassuring at one of the most important things is easy to do. You can also use the apps and steps above to move other things like videos, podcasts, pictures, etc.
If you've already made the move from iOS to Windows Phone, what do you wish you knew how to do? For those of you early in the transition, is there anything we should cover? Let us know in the comments section and we'll do our best.
Get the Windows Central Newsletter
All the latest news, reviews, and guides for Windows and Xbox diehards.
will it work if my songs are in .aiff format?

Gotta love the Roblox icons on the desktop... mah brodah.

Yeet! Gotta love that ROBLOX.

Being able to save all my pictures on my computer without having to click on every picture. So pretty much a button to select all.

...which is why we're explaining how to switch from it and not to it.

Hi Dan, I am currently using the Windows Phone Desktop App to sync iTunes media to my Windows Phone, and so far it works flawlessly. I am looking to probably upgrade to the new Lumia 830 and leverage the microSD card to store all my photos and music on that device. Does the Windows Phone Desktop App support microSD cards, or am I stuck with storing all my content on the built-in storage of the phone?

Ovrkast: Lets say the app is not compatible. At worst you would load your songs onto the main memory, then move them to SD with the "files" app. Alternatively, you can go into storage sense and set to SD card.

So we tried that same scenario and if you have the SD card installed and it set as default for new music (Settings > Storage Sense) it should copy to the card.

There are other option burn & rip or strip the drm.

Don't worry, it has a drop down like menu to change where you can choose your storage.

I bought an 830 last week - my first Windows phone - and last night I synched my iTunes library with it using the Windows Phone Desktop App. The phone has a setting to direct new music, videos and podcasts to the SD card. Separately it also lets you direct photos, apps, and downloads that way. When playing the music, you have to direct the music app to look on the SD card as opposed to the phone, which I thought sort of weird, but not a big deal. MOST but not all of my 7000 songs successfully synched - haven't had time to figure out why not all did. Also the majority of the album cover art did not transfer, haven't figured that out either. But the specific issue of the the music going to the card worked fine. Wish list: setting to compress larger music files to 256 kbps; ability to store HERE maps to SD card.

Even having an Xbox Music subscription I get music from iTunes Store sometimes.

Cause the price are less :P
Although cant buy Xbox subscription because am outside USA

Yea, but it can handle Audiobooks and make proper use of ID3 tags which is more than I can say for MS' native crap. iTunes also remains the only vehicle available to load or rip Audible Audiobooks through their DRM. It has it's faults but not enough of them to make me use three different programs which is what I've been having to do.

I don't get all the negative comments toward iTunes, especially when they aren't qualified. Why does iTunes suck? I love my WP and my Windows 8.1 OS, but I have not found a media app that works better than iTunes. I am not in love with iTunes...Lord knows I have lamented its many faults...but other apps (desktop and mobile) are even worse. I would appreciate some constructive comments that might help me understand the differences.

It's really unstable and resource hungry. Stick with Foobar2000 Winamp or Media Monkey

Thank you for posting a valid critique. Yes, those are two of my main complaints. I used Winamp for years but found it to be just as unstable. Media Monkey was very sluggish on my desktop. So, again, nothing seems to be fantastic. iTunes gives me the overall best experience, including an online store that supports Paypal.

Try Foobar2000. Hands down best media player I've ever used. (Honorary mention for AIMP)

I love foobar and xmplay. Those were my first two choices outside of Wmp. I never liked winamp because it sound tinny.

I prefer Media Monkey myself. Love its encode on the fly capabilities and its library management. For a quick sync, sometimes I'll use the old windows media player which is far easier than the windows phone desktop app.

iTunes sucks because of a lot of reasons--awful UI, lack of features, and, most egregiously, the complete lockdown Apple has over the entire thing. I buy music, I should be able to play it wherever I want. I despise Apple for what they did to digital music, and it is mind-boggling that the service is so popular. Consumers are so dumb.

Hmmm...the UI is not awesome, but better than most. It's funny because most other media players seem to emulate iTunes so it is hard to criticize their UI without damning the whole lot. What features are you missing? I find the opposite to be true, but maybe I am not using the same features as you are. I'll give you points for the lockdown policy, but that is not iTunes, that is Apple. I can use iTunes to play all my DRM-free media so I can bypass Apple if I want. That said, say what you will about Apple, but I give them credit for bringing digital music into the mainstream.

I can't speak for other forms of media on iTunes. I only purchase music. But I don't have an issue using it on other formats or devices. Sure, that wasn't always true. But for the most part, I buy a song off of iTunes and simply add it to my WP through the WP app

I completely agree with you. I have not found an alternative yet. The new iTunes interface makes me think Xbox music should be just as clean and easy to use. Everything I need to do with my music is in iTunes except for syncing to my Windows phone.... That's where "Windows Phone app for Desktop" comes in. Daniel, I think you guys should give a tutorial on "Windows Phone app for Desktop". IPhone prior moving over can keep their iTunes until Microsoft releases something for us on par.... I'm an iPhone user from the beginning of the first iPhone. I was completely lost switching over to my Lumia 1520. None of the Microsoft store personnel were able to assist me properly. I had to do tons of research... That's how I found this site. Change is not easy for iPhone and Android users switching over to Windows phone. The hardware is perfect but the software needs lots of features to keep users sticking to Windows Phone. I've thought of switching back many times but for some strange reason I love my Lumia 1520. I want Microsoft to come through for us.

I never used an iPhone or Android phone. Prior to my Windows Phone I used the Palm Pre. So am very familiar with the lack of love for the underdog platform. Palm, to their credit, tried very hard to get the Palm Pre to sync directly with iTunes. Then Apple kept updating iTunes to block the Palm Pre. It finally became a pointless battle so users had to use other (more complicated) methods for syncing their media. My point is that even though I did not switch from a mainstream device, I completely agree with you here. It seems that the kneejerk response from many in the community is to just say anything from Apple/Google sucks and totally dismiss the reality that there is a huge population of potential Windows Phone users who might be persuaded to come over if they had a better pathway.

For me, iTunes is a HUGE memory hog on Windows. Maybe it works great on Macs but on Windows it is extremely bloated and the services it runs are not efficient either. I've used iTunes forever but I'd rather deal with Windows Media Player.

"Qualified." Hilarious assumption on your part. They very well be iTunes users and therefore, qualified. Ask nicely and perhaps you will get the data you seek...

Actually, the "hiliarious assumption" was on your part. You assumed you knew what I meant. In context, the word "qualified" meant that the comment was not followed up with reasons that backed up the assertion that "iTunes suck". In truth, I fully expected these people to be users (or past users) of iTunes. Thus, my invitation to submit constructive feedback...and some people have done just that.

Where to start. ITunes is bloated, requires constant upgrades, is unstable, and worst of all is a nightmare for maintaining a library if you don't buy your cutz from Apple (and I refuse to buy from Apple because of their DRM practices). Having to manually import my new music, and have it break links as I move songs from store defaults to my folder structure is a nightmare, even for stores like Amazon that try to add to iTunes for you. The perfect solution was Zune. Unfortunately Microsoft abandoned it...

@DonBakke
Well said bro... When XBox Music and other apps too suck!!

I find iTunes on my Windows 8.1 computer to be very slow to load and to respond in operation. I also think the new v11 interface is a big step backward. I really don't like it. It also tends to lose backups of my old iPhone and iPad, and finally refused to back up my phone (I refused to back up to iCloud because I didn't trust Apple with my data). But ALL my music is there and I don't want to start over with another paradigm so I live with it.

I use Itunes for copy cd to my pc. best program to find the idtag tbh Dunno why microsoft wm suck so much at Idtag, Danish cds is way of in WM Idtag. And i do hope they keep the Bing Music Search In Windows Phone (mobile) . But i mainly use Winamp Lite to play music on my pc. i dont sync my Nokia Lumia 920 to anything , just drop and drag to the music folder, it work flawless. I do not use sync with any folder. mind i got like 1.5 terrabyte of music on my pc mostly mp3 format. Now i have to get a new phone. My 920 sim slot got filled with water?? dang, and after hours and hours on the radiator, it still will not find the sim card :-( well 640 xl.. here we come...

Still beter than Xbox Music ;)

Yeah. And Xbox Music is stellar....pffff

With three friends who just recently purchased 1520s I'm sending them a couple tips every day. If you're not one to spend a few hours curiously poking around your new Windows Phone, there is so much that you're not even aware of that your phone has or can do.

Very true. I gave my wife my spare 1520. It was my backup in case mine broke. She is learning, but needs to put more time in. Interestingly I managed to rescue her from iPhone. She had gone to the dark side while I was away for my Ph.D. residencies/colloquium (NO funny comments) She found the windows phone to be complicated because of the very long app and settings list. In addition, the folders were a bit surprising to her because of the way they open up (8.1.1). All in all she is assimilating, but it took time for her to break away from apples dirty grip.

What about transferring audio books from iTunes?

You have to rip them to mp3 and assign all the tracks to a playlist in the order you want. MS on desktop and WP doesn't support the multiple disc ID3 tag. Another reason I'm looking to get off this boat.

Why would I want to use itune on my 1520? I want nothing to do with crapple.

You should probably really read the article. I mean, I get it, you get to use 'Crapple' in a comment post, getting in your Apple rip for the day, it's all very cute. But this is written for people who are switching to Windows Phone and would like to transfer their collection. It is not, as you imply, an article to get you to switch to using iTunes.

Kick some arse Danny Boy...

Love the Windows Phone App (Desktop), Its quick, clean & effective.
Syncs all my playlists & just as quick as iTunes Sync (with ios device) if not quicker.

Seriously? I dont need to love that app but i would like to learn to like it, because it never syncs properly, if i sync 5 playlists, it will sync4 (with doubles) or it will sync non selected ones. I definitely find the experience horrible, so if there are tips on how to use it so it works as effectively as you say, then i beg of u plz share! I currently create playlists on zune and sync through the desktop app, just discovered a way on Media Player which actually works really well but i need to recreate my playlists since zune playlists arent compatible with WMP.

Come to think of it, "Love" is a bit of overstatement, my bad ...
That's odd, I never had the issue with Not Syncing all the selected playlists ... I sync 8 playlists (out of 18) & it syncs them everytime. As for the doubles ... I think its an issue with the Xbox music app on the phone ... if you leave it be for a while, it sorts it self out ... It happened with me before.
I'll be honest with you, I never used Zune & I try to stay away from WMP & Realplayer ... I manage all my music through iTunes now lol. Have you tried Exporting Zune playlists & then Importing the files to WMP? I do that with iTunes & Xbox Music on my surface rt
______
For a really horrible experience, try the Motorola Sync App (MotoCast or what they call it now) .... It drove me nuts lol

Wow, lucky you, I really wish it would just once do what I want it to do! I had the syncing issue with my 920 and thought maybe my phone was just getting old (i bought it the day it came out), just updated to a 930 last week and I was syncing 5 playlists, one of the playlists had 237 songs, it synced the songs onto the phone but playlist was 0, i removed all my playlists and synced just that one playlist but same thing, the playlist listed 0 with zero song on the playlist. I left it for a while and nothing changed, then I synced my other playlists which appearred and later updated with more songs, so I guess it's as you said, it takes time. To my surprise a playlist I synced 2 days before that and had removed (because it wasnt appearing), all of a sudden showed up...2 days later even after removing it. It's really very strange and I'm surprised MS hasn't given this app any attention; it seriously should be getting as much attention as any of their other apps, it's part of the experience; ontop of everything, we can't even create playlists, nor can we even see which songs are in the playlist and syncing is proving to be a pain. Zune was an absolute beauty to use, it was simple, seamless and quick with a very nice UI. Create playlist, drag playlist to phone and it syncs...that's it. Till this day, I create my playlists on Zune and then sync using WPDA. I haven't tried exporting/importing, I guess I should try that because surprisingly Windows Media player works really well for syncing with WP. It's like Zune minus the nice UI (matter of preference). You create your playlist by draging music and then you just hit sync and it's on your phone...no double listing and the whole process is done in one place, as it should be, rather than having to create a playlist on one app and sync on another. Lol not, haven't tried the Motorola Sync app, always loved my Nokias. Anyhoo, enough of my babbling and thanks for your tips will definitely try out the export/import and you should give Windows Media player a shot, it's actually feel more tailored for syncing music to WP than the WP Desktop app. UPDATE: You can't export from Zune and renaming the extentions from .zpl to .wpl doesn't work =( Oh well guess I'll just have to recreate them

The issue I have is if you have and SD card in your phone, does it copy it to the SD card or to the phone?

There will be an option in 'my computer' when you click on the mobile and an option whether you want to copy on phone or in memory

I can copy using File Explorer, I know that already but the Windows Phone for Desktop does not distinguish the difference between Phone memory and SD memory (yet)

WP8.1 copies the music to the SD card if you have it set as the default under Storage Sense. Just tried it.

Thanks Dan for the tip, I didn't try with my 1520 did it the old fashon way. Getting the 830 for my daughter so will give it a go. This way of updating music makes it nice and easy. I agree with a previous article where the 1520 is big (but slim) I do find it hard to go back to the 920, seems small.

Under STORAGE SENSE on your WP, you decide where YOU want things to go; to the phone or the SD card. After that the WP desktop app will let the phone decide where things go per your selection.

Perfect! That answers my question. I thought we had to set it somewhere on WP Desktop App but I couldn't find the setting. Now I can look into getting the Lumia 830 and using my microSD to store my content. Thanks guys for the info!

You should also know that STORAGE SENSE allows you to move your apps off of the phone memory, to the SD card. So if your low on phone memory, move your apps to a nice big high quality, SD card and your WP will love you for it. My past experiences with Android phones never really let you use SD's like WP does; the right way.

I knew that about the apps, but I wasn't sure how the WP Desktop App would transfer the music from my iTunes library to the microSD card and properly associate my playlists. Now I am elated to upgrading my phone...woohoo!

On your phone under STORAGE SENSE you decide where you want things to go; phone/SD card. After you make that selection on your phone, thats where WP desktop app puts things per your selection in your STORAGE SENSE settings.

Does using iTunes or Windows Media Player to sync build the music database on the phone, or does it just copy the music over and Xbox Music builds its own database once it scans all the music files? (I'm assuming the latter is how it works) I'm pretty sure most of my issues with Xbox Music would be eliminated if it allowed other applications to build the music database (whch would have the correct artist info, artwork, etc.)

Don't know if I'm missing the ball on this one but I do believe you guys should set up a dedicated page for articles on "how-to's" for new users. Just a thought. You guys are great anyway

They do have a How To section and this post is under that section. :)

Oh well I only see this through my phone and it happens to be under the "I just opened the app and scrolled down" section lol

I need Cortana in mah iPhone 6!! Just like it is in mah 520/820!! Siri sucks big time..!!

I just drag and drop my music bollocks to itunes

The steps don't show up in the Windows Phone app fyi

All I do is use the new Windows phone software. Add Music, Select the folder, and the software appears to do the rest. (It looks like it converts the tracks, then adds them. As it took a while). I've now got about 8GBs of iTunes on my Lumia!

The desktop app doesn't work very well. Better to use Windows Media Player.

I disagree. It works well now since Microsoft updated Xbox music this month. All of my album covers now display correctly and the duplicate playlists are gone too.... For me anyway, might be different for others.

I believe Windows Media Player converts the files into either MP3 or WMA, so the advantages of using M4A are lost. The desktop app performs no conversion.

My wife and I have a Windows 8 machine configured as a server. All of our devices have the music libraries pointing to the share on the server as the default. This includes iTunes. So, if either of us buys music it goes to that library. It is sync'd in the cloud as well, so the music is available everywhere. Easy.

Just wish Apple would support MTP argh!

So how do you remove the DRM? And is it legal?

Illegal that's why they're not discussing it

For some reason I was thinking that it was legal after Apple was made to drop the DRM from their music, but guess not. Sigh.

Most iTunes songs come DRM free.

There is a way to do it through iTunes that involves deleting the music and re-downloading it. The new download will be DRM-free. I am no expert when it comes to iTunes, but I came across it when doing this article. Just Bing "iTunes remove DRM."

Hmmm...I thought you had to pay extra to get 'em in MP3 format...like 30 cents per song or something. It would be an interesting article on the iMore site on actually doing this. I bought like 5 songs from iTunes and I remember trying to get them in MP3 format and Apple trying to charge me. It'd be interesting thing to see if they changed this.

Any way to get music from Xbox music to India?!

Xbox music is not working in India really wanted to buy some songs but the ₹ sign dosent appear in the website Try it in Mixradio atleast ₹55 for a week of unlimited song downloads

But subscription of mix radio is down... No vouchers , online payment...pure ingnorance of an awesome app...really missing mix radio....

Of topic but I just wanted to shout out at Seth and his awesome use of a Propagandhi quote in his mini-bio. Nice guide BTW. :D "But nothing surprises me these days."

All those methods are rubbish! The win phone desktop app is rubbish because you can't choose individual songs from an album, you either have to have the whole album or nothing. Using windows explorer is time consuming and tedious. The metro app is better than both those methods but due to the way out displays song names is also rubbish because if you have different remixes of the same sing the name gets cut off right at the important point meaning you can't easily pick the right one. The simplest and best way is to add your iTunes folder to your music library. Load windows media player. Plug you phone in, switch to the sync tab then drag and drop songs from the list of music which you can filter and view with ease. Finally press the sync button. Curse Microsoft for making stuck Crespo tools when their own Zune media player synced with windows phone 7 with no issues and had a half decent user interface

Windows phone for Mac is not that great an app
Needs a bit more work done to match iTunes

Needs more work on the PC side too... Microsoft just needs to add the features necessary to make it into a full blown music app organizer

It needs a godsend to match iTunes.

Bet that toe that dipped into WP waters is cold. See article if you have no idea what I'm writing about.

I am a long time user of iTunes for my iPod. All of the CDs that I ripped were to Apple Lossless. I have yet to find a music app that can play them. I have no problem loading them into my Windows Phone, just can't find a reliable media player. Any suggestions? I haven't looked for some time now and am busy and didn't have a chance to read all of the posts so I apologize in advance if someone already asked the question. Any advice would be greatly appreciated.

They should do an article on how to get Xbox music purchased content on your phone. I can't seem to get an album I purchased. Try using microsoft supoport on Windows Music. They are a pain. If it was for me I would have give up, however it is for my daughters.

Syncing your music from iTunes on a Mac is easy, but whether or not Xbox Music will read your music metadata correctly is the problem. I have to use MixRadio exclusively for my collection because tracks go missing on Xbox Music or are mislabeled while MixRadio finds everything perfectly. Moving my tracks over to my Surface and then syncing from that doesn't solve the problem either.

Ways to convert protected files please someone??

Guys, I have a problem with windows phone desktop app.it never worked in my pc,now I am unable to uninstall it so that I can reinstall it and give it another try. It doesn't appear on program and features or in installed software list. But when I run through cc cleaner it appears but unfortunately from cccleaner also I cannot uninstall it. Requesting help. I use windows 8.1 in my pc.

Try using an uninstaller like Revo Uninstaller.

It installs in two different folders. C:\Program Files (x86)\Windows Phone & the hidden folder C:\Users\username\AppData\Local\Microsoft\Windows Phone (This is where most of the settings are stored). I deleted both folders and was able to reinstall the app.

Thanx a ton roatan......its done.

for all my itunes songs, I used a mixture of a free desktop app called YTD (YouTube Downloader), and also RealConverter (RealPlayer), to convert from .m4a to .mp3 files, then transferred over to my micro SD card - I switched off my phone, removed the card and inserted it into a USB card reader which dramatically increases file transfer times.

I hate that I can't use Strg-A in the artist pane and deselect individual items :-|

Its good to see articles like these for people who may be coming over to wp from apple or android. I actually use itunes as our household main music library especially as the wife has an iphone. Having gone through the various issues on wp8 with missing album artwork, ID tagging and syncing etc. I've finally settled on a solution that works for me, using itunes to rip in mp3 format, and embed album artwork within the file properties of song. Then syncing the music across to my lumia 820 using file explorer. If I do have any songs in aac format which do not have drm, windows automatically asks and converts it when copying across to my phone. I've given up on the wp desktop sync app because of the sync inconsistencies. Personally I really like the look of xbox music in windows 8 but until it can provide the level of manual control like itunes and other media library software out there its a no from me. What would be really great is to have the facility to sync within xbox music like we used to have in Zune.

"What would be really great is to have the facility to sync within xbox music like we used to have in Zune." BINGO! That's what I's waiting for. I currently use iTunes and have an iPod Touch to go with it for that. I'd be willing to get rid of it whenever we get this feature on XBM.

I cannot for the life of me get my playlists working since I upgraded to the 8.1 Preview for Developers. The music itself is saved to my phone and I can play the songs individually by selecting them from the song list. However, when I try to play a playlist, those same songs are grayed out with the note that says, "Sorry, this song is not available to play on your phone. If you would like to play it here, please copy the song from your PC to your phone." I get the message on the same group of songs even though all of my songs are MP3 format and I can play them outside of the playlist without issue. I don't use an SD card and I've even tried creating a pullout on the phone itself by selecting the songs from my song list on my phone and I still get the error. I listen to my music all the time and this is REALLY annoying me. I end up having to select party all songs and then delete the ones I don't want to hear from the now playing list every time.

I synced all my musics and playlists from iTunes to my Windows Phone using Windows Phone Desktop Software...

Step one: Get rid of iTunes.

Be able to play music through my Ford. Sync says it won't play!

Show us how to get Android apps on windows phone, it will be great

Playlists don't show up in Xbox Music on the phone. Only the playlists I created on the phone. All music seems to have synced over.

Sure it will work, but I'll have 3 copies of each song -Thanks MS

I try in my imac using the windows phone app, the files are transferred, but the covers, informations, stars, etc , don't are transfer.

I'm having a problem on OS X where not all of my music is saved to my phone like I'll have only 7 songs instead of 15 for some albums anybody else have this?

Itunes rock besides the WP desktop app the worst shit ever made

This APP seems is not longer working with Mac; would it be fixed or should we get rid off windows phones?

This is an outdated post. Please include instructions for Syncing WIN10 mobile and OS X.