How I turned my Samsung Galaxy S8 into a Microsoft phone
Microsoft loves mobile, as long as you're using an iOS or Android device. In fact, turning your Android into a Microsoft centric phone is pretty easy.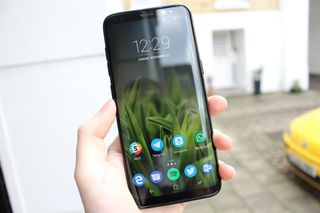 Microsoft's new mobile effort revolves around bringing the best of Windows 10 to Android and iOS. Now that Windows 10 Mobile is all but dead, it's time to start embracing Microsoft's new goal; making Android and iOS better for Windows users. Timeline, Cloud Clipboard and Continue on PC are all Windows 10 features that aim to tie your Android or iOS device to your PC further, and vice versa.
I recently went out and purchased a Samsung Galaxy S8 with the intention of turning it into my new Windows phone. Now, calling it a Windows phone isn't entirely accurate since it's not running Windows; so I like to call it a Microsoft phone. It's a smartphone that's loaded up with Microsoft software and services, and outside of live tiles and UWP apps, it has everything my Lumia Windows phone had, and that's fantastic.
See Samsung Galaxy S8 at Amazon
Microsoft has made switching from Windows phone to Android or iOS incredibly easy, so much so my Android phone feels even more connected to my Windows 10 PC than my Windows 10 Mobile device ever did. Things such as Microsoft's own Android Launcher, Edge, Cortana, Outlook and OneDrive bring all the features and functions I need out of the Windows experience on my phone.
I've even reprogrammed the dedicated Bixby button to launch Cortana instead, using an app called bxActions. When I press the dedicated button, it launches the Cortana app. If I hold the button down, it takes me immediately to voice mode where I can say commands and have Cortana do things. It's super handy having a dedicated Cortana button on the side, as it makes adding things like reminders or checking the weather super convenient.
Using Edge on Android is a nice addition, as it syncs your bookmarks and form data across your PC and phone. I don't care that it's using the Chrome engine underneath, because I don't have an issue with Chrome's engine. I use Edge because it uses my Microsoft account to sync data, not because of the underlying engine. Being able to continue files and web pages on my PC from my phone is also super convenient, more so than I was originally expecting.
More to come
This will improve over time, too. With Timeline and Cloud Clipboard in Redstone 4, apps and things you copy will also be transferable across devices. Near Share is a new feature in the works for Windows 10 right now too, which will undoubtedly be coming to Android phones; allowing you to share files, photos and more instantly between your PC and phone directly from the Share UI on Windows 10.
The only things I need from Microsoft to complete my Microsoft experience is a dedicated Phone and SMS app. Once I'm able to make cellular calls or send SMS texts from a dedicated app on my PC and phone that sync that data across devices, my Microsoft smartphone experience will be complete. It'd also be nice to see a Movies & TV app on Android or iOS, but that's not a priority for me.
The beauty of Android is that it's an open platform. Sure, most Android phones come bundled with Google services, which isn't ideal if you're someone who isn't into Google's ecosystem; but the good news is you can essentially replace all of that with Microsoft's own offerings. You can set Edge as your default web browser, Microsoft's Launcher as your default home experience, OneDrive as your photos cloud backup solution, Outlook as your default email and calendar client, and more.
You can also download package disablers, which I don't actually recommend unless you know what you're doing. Package disablers allow you to disable some software and services that Google and OEMs bundle onto Android devices. For example, I used a package disabler to disable some of the things Samsung includes on the Galaxy S8, including Samsung Cloud, TouchWiz, Bixby and even Samsung's built-in keyboard. I don't want or use Samsung's services. Of course, most people, even Microsoft users, won't want to disable these.
I also personally like to disable pretty much everything Google on my Android, outside of Google Play Services and the Play Store. I disabled everything from Chrome to the Google Assistant, as Microsoft offers alternatives in that regard. If Microsoft has an app that does something Google or Samsung offers, then I'm absolutely going to be disabling the Google and Samsung offering in favor of Microsoft's.
Windows 10 Mobile is no longer the best choice for Microsoft fans
If you're still using Windows 10 Mobile because you think Windows phone still offers the optimal "Microsoft" experience, it's time to re-evaluate that thought process. Microsoft has put so much work into making Android and iOS 'the' platforms for Microsoft software and services on mobile that Windows 10 Mobile simply doesn't hold a candle to the integrations and features Microsoft apps have on other platforms anymore.
Redstone 4 will see this trend continue. Microsoft is building features into Windows 10 on PC that tie directly into the apps and services available on iOS and Android. This is not something that is happening on Windows 10 Mobile. As we have reported in the past, Microsoft is leaving Windows 10 Mobile behind with feature2, with no new features in development. Windows 10 Mobile doesn't have an ecosystem to support it anymore.
Sure, Windows 10 Mobile still works today, and it will continue to work for a long time. However, Microsoft isn't going to be building experiences that benefit Windows 10 Mobile and PC integration anymore. That focus is now on Android and iOS, and that's incredibly exciting. If you've decided to remain on Windows phone, just know that your tight integration between your PC and phone is now matched on rival platforms, and will quickly find that over time, Android and iOS phones will have better integration compared to what Windows 10 Mobile can offer.
Get the Windows Central Newsletter
All the latest news, reviews, and guides for Windows and Xbox diehards.