How to improve your Xbox One audio with Windows Sonic for Headphones
These are the steps to improve the sound of headphones on your Xbox One, with the help of Windows Sonic.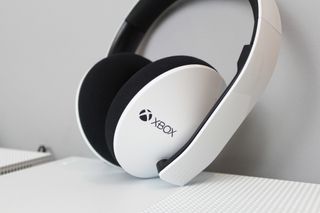 (Image credit: Matt Brown | Windows Central)
Windows Sonic is a new way to experience audio, providing various improvements to both directional audio and general clarity. The technology is now available on Xbox One consoles and can provide notable enhancements to both games and movies. We've broken down what Windows Sonic means to the average gamer and how you can experience it today.
Read more: Best Xbox One headsets
What is Windows Sonic?
Windows Sonic is Microsoft OS-level solution for spatial surround sound support, which adds a new level of depth and positioning to audio outputs. Similarly to technologies such as Dolby Atmos, the feature is driven by object-based technology, which allows applications to output sound into a virtual three-dimensional space. This allows for a new level of precision, with improved positioning and depth to audio. Being driven by 3D technology, spatial sound can also emulate overhead positioning, essentially adding a new dimension to the audio output.
Set up Windows Sonic for Headphones on Xbox One
Windows Sonic was made available to the masses with the release of the Windows 10 Creators Update, which rolled out to PCs and Xbox One consoles this spring. By providing virtualized spatial sound, Windows Sonic can be used with any Xbox One stereo headset and can even deliver enhancements to entry-level accessories. Most importantly this is a free-to-use solution, rather than the $15 license required to utilize Dolby Atmos through headphones. Here's how to enable support for Windows Sonic for Headphones on any Xbox One console.
Press the Xbox button to open the Xbox Guide
Scroll down to the Settings tab, indicated by a gear icon.
Select All Settings. This will open the console's settings application.
Navigate to the Display and Sound tab.
Select the Audio output.
Choose Windows Sonic for Headphones under the Headset format section.
If using an Xbox One headset connected via HDMI or optical audio, check the Using HDMI or optical audio headset checkbox. Those using headsets hooked up via a controller or USB port can skip this step.
By enabling Windows Sonic for Headphones, any applications that are capable of rendering to 7.1 channel formats will now treat your headphones as a virtual 7.1 device. While scaling high-channel formats previously combined them through a process known as "downmixing," Windows Sonic's virtualized approach should mean benefits to all types of hardware.
Does Windows Sonic provide a noticeable difference?
While the effect Windows Sonic has on audio is subjective, several of our staff have noticed some significant improvements when using headphones with the technology. Sound can often much more present with various accessories, with a much richer directional output. Audiophiles may hear a more noticeable improvement than others using the technology, but with the experience only a switch away, it's worth a try.
Not only will games and movies sound more immersive – Windows Sonic also has the potential to give some gamers a competitive edge. 3D sound can help hugely with positioning and situational awareness in shooters, even if the difference might not be as noticeable at first.
Have you tried Windows Sonic for Headphones with your Xbox One? Let us know what you think of the improvement in the comments.
Matt Brown is Windows Central's Senior Editor, Xbox & PC, at Future. Following over seven years of professional consumer technology and gaming coverage, he's focused on the world of Microsoft's gaming efforts. You can follow him on Twitter @mattjbrown.
Does it offer "significant improvements" with the headphones shown in the picture in this article? I ask because those are the ones I own.

Yes, you see Windows Sonic doesn't improve the actual sound quality (for instance, it won't make music sound any better), what it really does is take multichannel audio from movies and games (that support surround sound), and simulate having a bunch of different speakers (like a home theater kind of setup) through neuroacoustics, but using only the two speakers that your headphones actually have (which is exactly what most expensive 'surround' headphones do). In other words, it tricks your ears into believing that the sounds you're hearing are coming from different directions and distances, by using tricks such as adding a delay (of a few miliseconds) between when you hear noises in each of your ears and adding subtle echoes. This makes the content feel much more immersive and can, for instance, provide a tactical advantage in certain games, by for example allowing you to hear where enemies are coming from.
So how does all this relate to your question? Easy. As long as you have STEREO headphones, even if they're not particularly good, you should be able to hear the difference.

Why have the Xbox connected to an excellent sound system only to resort to headphones? Whatever.

Because you cant alway use an excellent sound system when you have a family or others living with you.

And because people you are playing online with can't really hear you through your television. "Whatever".

Sometimes you don't want to disturb others in your household (my gf would kill me if I didn't use headphones). Not to mention that compared to most surround setups there's a kind fo immersion that you get with headphones.

Playing Bioshock, Outlast, evil within or RE7 in the dark with headphones is an entirely different experience.

I for one play in the morning or in the evening when me wife and kids are asleep.

Who says everyone has an excellent sound system? Oh, I forgot! It's all about you!

Scuba!!!! Kinect gestures are dead...LET IT GO!!

is Windows Sonic also available on W10 for the Surface products?

Here you go! https://www.windowscentral.com/how-use-windows-sonic-windows-10-creators-update

It would be nice if you could click links in the Windows Central app...

I don't use headphones, so this is kind of useless to me unfortunately.

Does this do anything for the basic chat headset?

I'm assuming by your comment all the game audio comes from your TV or audio entertainment system. A stereo headset is required for Windows Sonic to work. The chat headset is mono and only for chat.

There are additional settings for Windows Sonic on headphones which were not shown or mentioned in your article. After selecting Sonic the surround virtualization can be turned on or off. What is the purpose and effect of that? There is little information from MS on this feature.

When I created this guide, that option wasn't available, despite it previously being there. When a developer uses APIs you still get spatial audio when surround virtualization is turned off. Microsoft has previously said they were planning to simplify the UI in a later update to force the option on, and as this was captured on a console running a pre-release update, that option may have already been removed.

Windows Sonic? Sounds faster...

Sorry bro, dead meme LOL.

So I have Turtle Beach 800X DTS 7.1 headphones, I'm assuming I shouldn't use Windows Sonic with those since they're already a hardware solution to the spatial audio. I am using the Dolby Atmos driver on my new Surface Pro and my Bose stereo headphones and am impressed with the results.
Windows Central Newsletter
Thank you for signing up to Windows Central. You will receive a verification email shortly.
There was a problem. Please refresh the page and try again.