How to listen to your own music in Spotify
If you moved your streaming to Spotify it's easy to use the app to also listen to your own local music, too.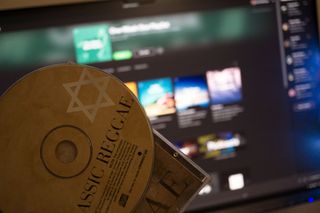 Unless you're still using OneDrive to stream your own music from the cloud, the reasons to keep using Groove Music on Windows 10 got a lot less compelling with the death of the streaming service. If you moved your streaming over to Spotify and still have local music on your PC you want to enjoy, you can do both in the Spotify app on Windows 10.
Here's what you need to do.
In the edit menu, select preferences.
Scroll down until you come to the section labeled local files.
By default you can enable the default music folder on your PC, music files in your downloads folder or anything you currently have in Windows Media Player.
To add a different folder, first click add a source.
Navigate to the folder on your PC where you keep the music you want to import.
Click OK.
The location you just selected will now be added with a toggle switch like the standard options for you to enable and disable as you see fit.
There are some limitations, though, over what files can be played in the Spotify app.
If you have lossless audio files such as FLAC you'll still need to use a different app for the time being. But if your music is in the formats listed above then you can listen to it alongside your Spotify streaming library.
Download Spotify from the Microsoft Store (opens in new tab)
Windows Central Newsletter
Get the best of Windows Central in your inbox, every day!
Managing Editor - Tech, Reviews
Richard Devine is a Managing Editor at Windows Central with over a decade of experience. A former Project Manager and long-term tech addict, he joined Mobile Nations in 2011 and has been found on Android Central and iMore as well as Windows Central. Currently, you'll find him steering the site's coverage of all manner of PC hardware and reviews. Find him on Mastodon at mstdn.social/@richdevine
Spotify claims you're unable to use/add music that has been "illegally obtained" - any idea how it would distinguish these kinds of files and not get mixed up with legitimately obtained files from the likes of own ripped CDs and less popular music stores such as Bandcamp?

I always assumed it was just their disclaimer in case the labels ever got antsy and that you're trusted to obtain your music in the proper fashion.

Late response but thanks for the reply! Assuming your response means there's no compatibility issues which is great to hear.

It's a shame Spotify won't let you stream your local files from the cloud, like Groove does.

Secretly I'm hoping that this new found BFF relationship with Microsoft will allow this to happen down the line.

Guess it's not a secret anymore. 😉

This is why I still have to use Google Music. Just so I can stream my own music.

I used to use Google Play Music before making the full switch to Xbox Music/Groove. -_-

Waiting for this feature to come to mobile. So many great songs I have that aren't on Spotify (mostly remixes).

You actually can. Just do this How to on a PC, create a Playlist with local music you just add, then sync your mobile app with your PC app. Now you just have to offline that playlist on mobile. It's a mess, but it works.

Microsoft's endorsement of Spotify is a great illustration of how MS views their "continued support" for (but no more development of Windows 10 Mobile. Spotify's W10M app is in "maintenance mode," which means they're messing with the backend and don't care if it affects users. My wife and I couldn't reach the service for over a week, and Spotify simply said "sorry, we don't support Windows Phone." (And then suddenly it worked, so apparently they *did* look.) And that's the kind of service that Microsoft recommends for their former Groove Music users? A bit strange.

But we know Microsoft has killed Windows 10 Mobile, I'm not sure what your point is? I know it doesn't help you but the facts are (sadly) the facts. Have you tried Deezer? Last time I used that the Windows 10 app wasn't bad.

I just use Groove together with Spoticast. No need for that awful Spotify app. Deezer's alright, but the deal is nowhere near as good as the Spoticast model of a single payment.

"Continued support" for Windows Phone at this point just means they will patch security holes that come to light. Its basically like Windows RT at this point. Nothing new is coming to WP/W10 Mobile, and all the 3rd party devs like Spotify know its only a matter of time before there are no users left, so no reason to put any effort into maintaining the apps.

There is when a universal app means it can be a W10 app with a few UI changes that will be needed for the coming not-Phones anyway. C-Shell will need the same app tweaks anyway. The problem with Spotify is that they don't support UWP apps, so why did MS back a company very ready to continue the snub rather than Deezer who have committed to UWP? MS love to support Google, Apple, Spotify, basically any company who doesn't like to support Windows or MS much. HP? Nokia? They liked to support MS properly and so got punished for it. Ol' Nads does like to follow a pattern.

Doesn't explicitly say it does support that, but I don't have any of those files to check I'm afraid. All my music is either ancient MP3s or FLAC files.

Ocean man, take me by the hand, lead me to the land that you understand Ocean man, the voyage to the corner of the globe is a real trip Ocean man, the crust of a tan man imbibed by the sand Soaking up the thirst of the land :)

"Unless you are still using onedrive"..... why the hell wouldn't We? That's all this brain dead CEO has been preaching...cloud, cloud, cloud. So now we are preaching cloud, but without actually using it? Absolutely nothing he does makes any sense. What a complete mess.

Personally I don't keep my own music in the cloud. If I need to stream it I may as well just do it from Spotify. But each to their own :)

If it works for you, fine. I keep all our media on the cloud. Spotify can't see it. And Spotify's app is horrible at best (rarely connecting, etc.) anyway. I only listen to our music, I don't care about random picks some stupid algorithm tries to figure out. So, Groove remains the best option for my household.

After using Spotify for a month now I've figured it out just tad better now. It's not Groove but it works. I use Spotify on my 8.1 Lumia device and rarely have I had any issues. Once I realized I can just to ignore the "random picks" and just search for the artist it was a breeze. Also, just hitting the "Your Music" tab by passes that Browse tab that shows all my playlist. And you can view all your music if you did the transfer from Groove to Spotify. I don't care for anyone's Playlist other than mine. You can download music to be played offline too. It's not Groove but it will do for now. I have it synced with my Sonos system and it all works. For the most part it works. But still rather the look and feel of Groove. Now, the app for the XBox totally sucks! But the Spotify program for my computers works great! I wish they could bring that version to the XBox.

I still use Groove to play my local music files. Groove is so ergonomic and beautiful. But I have a question : when I stream my own music on Spotify, without a Spotify subscription, does it plays my files in high quality ?

Spotify doesn't stream your files. It just plays them from your PC in whatever form they inhabit.

Yes, this technically adds local files into Spotify, but to play them you have to go to Local Files, where you are presented one big list of all the tracks you've imported. You can sort the list and search it, but its not an organized library of your music. Groove is a billion times better at navigating a local library, or even VLC or other 3rd party players - and they can play more formats.

Yes. Spotify has a terrible library interface. Worst ever.

The issue with that is that Cortana doesn't support playback from VLC. I am NOT on board with $9.99/monthly Spotify subscription. As long as Cortana will play music off OneDrive, I'm okay. Most of what I want to listen to, I just buy, so the files are local.

Absolutely. Library management of Spotify is so bad it series description. Let alone try to search if offline... It is just so crap in every way. I'm on Deezer, which has a lot of limitations as well.
Groove way superior to both....

Laughable, Spotify as a local music player fails all common selection functionality.

Any idea how to make Spotify the default app for audio files? When I select the spotify.exe file I get a message that it is not available (or some such wording).

There is not an efficient way to do it. Even if you manage to set Spotify as the default player, it fails to launch when opening an mp3. Spotify was better before Groove caught up. It's much easier to hop in the car and let Groove stream from OneDrive than fumble through Spotify. Going back to buying music this year.

Local files can be added to a playlist, and any matches can be streamed. This only works if your collection is less than 10K songs. https://community.spotify.com/t5/Desktop-Mac/10-000-song-limit/td-p/794887

Really love how it stops playing once screen times out. Still theyve only had 4 years to fix it, so its a pretty fresh problem... Hopeless fwits.