How to log in and tweak Netgear router settings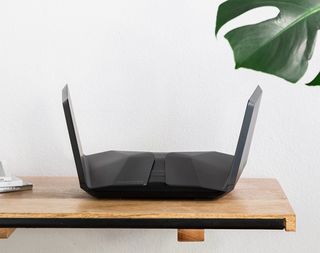 (Image credit: Netgear)
Whether you're a brand-new owner or already have a Netgear router, you might want to dig into its settings and change some things. With a few simple steps, you can get into your router and change settings for your Wi-Fi and enable things like security features to improve the functionality of your router. Here's exactly how to log in and tweak Netgear routing settings.
How to log into your Netgear router
The first step to logging into your router's user interface to change settings is to take a look at the router itself.
On the bottom of your router it should say the router login info for both the username and password.
Write both of those things down or have them at the ready for the next step.
On your computer or mobile device, make sure you're connected to the router via an Ethernet cable or a Wi-Fi connection.
Once, you're connected open an internet browser.
In the address bar, type 192.168.1.1 or routerlogin.net.
A screen will pop up asking you to put in your username and password or the Netgear genie page that helps you set that up. If you have the latter, just follow the prompts.
If the Netgear genie setup doesn't show up, enter in what you saw on the bottom of your router. If those don't work, check the manual for that information.
Click Sign in and you've successfully made it into your router settings.
How to tweak Netgear router Wi-Fi settings
On the landing page, you'll see options like Internet, Wireless, Attached Devices, and Parental Controls.
Choose the Wireless option.
Inside Wireless, you'll see a list of options and numbers.
You can enable Smart Connect here which will turn on both your 2.4GHz and 5GHz Wi-Fi bands and allow devices to automatically connect to the faster one.
You can also change the SSID to something more specific.
The channel option allows you to change how your router broadcasts its Wi-Fi. Auto works best for most people.
Security options are important. Here you can change the default password for how you connect to your router.
When you're done, hit Apply.
How to upgrade the firmware of your Netgear router
Back at the landing page, select the Advanced tab at the top.
From there, click the Administration section on the left column to drop it down.
Within the Administration column, select Firmware Update.
On the Firmware Update page, you can select Check for new version via the internet.
If it finds a new version, you can install it from here by clicking Yes.
Otherwise, you can also manually upload a file by clicking the Browse button.
Once it runs through the process of installing the update, the router will restart.
Custom firmware
If you're looking for custom router firmware, OpenWrt is ideal

Your Netgear router can do a lot more if you install custom firmware such as OpenWrt. OpenWrt in particular allows for easy customization of options your router won't otherwise offer in its default settings.
OpenWrt is made for power users. If you want to install custom firmware on your router, this is the best choice. It has better VPN and QoS support than most stock router settings, allowing you increased access to tweaking your router's speed. On top of that, OpenWrt is regularly updated, so you won't have to worry about it going out of date and missing features so that your devices like the LG gram 17 will always stay connected to the internet.
Solid router
(opens in new tab)
Netgear Nighthawk R6700 AC1750
Fast and reliable with both a 2.4GHz and 5GHz band

The Netgear Nighthawk R6700 has both 2.4GHz and 5GHz radios to serve all your devices, and fast Wi-Fi speeds for big households.
Windows Central Newsletter
Get the best of Windows Central in your inbox, every day!
Tyler Colp is a freelance writer for Windows Central. He's written about tech, games, and the culture around them across the internet. Ask him anything about Dark Souls or just follow him on Twitter.