5 tips for maximizing your Storage space on Windows Phone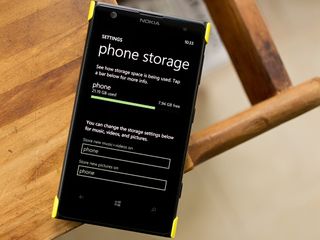 Some will argue that you can never have enough storage memory on your Windows Phones. It seems to take no time at all to fill up the eight, sixteen or even thirty-two gigabytes of storage on our Windows Phones. We often install apps and games that begin to collect dust after a few days, never delete photos, and often have several music albums worth of songs. All of which take up valuable memory space.
Some Windows Phone models have expansion card slots to help with storage needs but even that relief has restrictions. So, how do you manage your Windows Phone storage memory? For those who struggle with keeping enough storage space free on your Windows Phone, we've got a few suggestions that might help you manage your memory better.
#1 Sizing up your storage space
First, if you are curious how much memory you have left and what is occupying it you can easily find this information out by going to your Windows Phone settings. Every Windows Phone will have a Phone Storage setting that will display how much memory is being used, how much memory is free and you can also see how the used memory breaks down. Tapping the memory bar, you will pull up a category break down that shows how much storage is used for apps and game, music and videos, pictures and documents.
Going back to the main page of the Phone Storage settings, if you have a Windows Phone with a micro-SD card expansion slot two options will be available to redirect music, video, and picture files to the expansion card for storage. This is a handy option to let you free up on-board storage for apps and games.
If you own a Nokia Windows Phone, you will also have a Storage Check setting that essentially serves the same purpose as the Phone Storage setting with a few exceptions. The Nokia Storage Check will present you with a graphic of how much storage is available, in use and how it's being used. You also have a details page in the Storage Check settings where you can pull up a more detailed listing of how this memory is being used. This will include a detailed view of all your apps and games with the memory they require, a listing of any maps installed, and the ability to delete any temporary files. Most of the time these temporary files are deleted automatically but you can clear them up manually if you need the space sooner.
For the most part, neither the Phone Storage nor Storage Check settings menu will let you delete items from within. Storage Check will let you delete those temporary files and maps but otherwise, you'll have to delete apps/games from the App List or Gaming Hub, delete photos from the Pictures Hub, and delete music and videos from the Music+Videos hub, etc.
Managing your Memory
Here are just a few suggestions on how to better manage your Windows Phone storage memory and avoid running out of space. Some of this may be second nature for the seasoned Windows Phone users but it may be different for those new to the platform.
#2 Backup those photos and videos
Everyone will have either photos that haven't seen the light of day in months or photos of the ground, your thumb, or other unwanted subjects. How about those five second long videos where something messes up the shot and you have to start from scratch?
For those unwanted photos and videos the solution is simple, delete them.
For those older photos videos that you just cannot bring yourself to delete, back them up to your OneDrive or transfer them to a Windows PC. You can set your camera to automatically upload photos to OneDrive in the Settings>Application>Photos+Camera menu or use the Windows 8 Windows Phone app to transfer them to your home computer hard drive. In using OneDrive you can delete your photos and videos locally and still have them accessible from your Windows Phone while on the go.
There are other cloud based solutions available (such as AT&T Locker) but with your Windows Live ID you get 7 GB of free storage on OneDrive, why not take advantage of it? Personally, I back up my photos and videos to my computer and keep a decent collection of images available on my OneDrive. I still have trouble deleting the images from my Windows Phone but if I need to, I know the images are backed up somewhere.
#3 Uninstall rarely used apps and games
Quick show of hands? How many have apps and games installed on their Windows Phones that haven't been launched in weeks? We all have some. These are often free titles that spark our interest, we tinker with the app or game for a few days and then we let it collect dust. These dust collecting apps and games are taking up storage space and about once a week, you should scan your game and app lists and delete those you haven't used in a while or will never use again. I install probably a dozen or so apps and games on my Windows Phone weekly and constantly are reviewing the ones I can live without and those I use with regularity.
The plus side is that if you decide you want to play a deleted game again, the Windows Phone Store will remember the purchase and you can re-install it as much as you'd like. The downside is that often when you delete a game you lose any progress you've made. Our suggestion is if you are hoping for an update that will add more levels to the game, you might want to keep it installed for that very reason.
#4 Cut back on Music + Videos or stream them instead
Confession time. I rarely use my Windows Phone for music and videos. If I'm in the mood for listening to music, I have the car radio (XM Satellite) or get connected to my laptop. But for those who do, there really isn't a need to download your complete music library to your Windows Phone. Create playlists and import them to your Windows Phone to minimize the storage space.
With the Windows Phone 8 app, you can easily manage your music where you can keep a decent selection of tunes on your Windows Phone while minimizing the amount of storage needed. Also keep in mind that some music files can be stored and played from your OneDrive account.
Likewise, if you're near Wi-Fi a lot or have a big data plan, you can stream music from Pandora, Songza, Spotify and more. Not only will you discover new music, but you can save space too.
#5 Use expansion cards and Cloud accounts
Simply put, use them if you have them. A 32 GB MicroSD card runs in the neighborhood of $20 and is a simple way to free up on-board memory. As we have mentioned, you can currently route image, music and video files to the expansion card and you can store documents on the card as well.
With cloud accounts such as OneDrive, you can send files to the cloud and still have access to them from your Windows Phone, all of which will free up your Windows Phone on-board storage.
Unfortunately there is no silver bullet with regards to managing your Windows Phone storage. The likelihood of us seeing a 500 GB hard drive installed in our Windows Phones is slim. Then again, 32 GBs used to be a dream.
The bottom line is that to make the most of your 8, 16 or 32 gigabyte storage, you are going to have to do a little work in managing that limited space.
Bonus #6 – Sneak peek at Windows Phone 8.1 and installing apps to the SD card
Keep in mind that with the Windows Phone 8.1 we will get Storage Sense. Storage Sense falls in line with the current Phone Storage settings but expands what you can shift to the expansion card. With Storage Sense, you can download and run apps/games to your expansion card as well as photos, videos, music, and downloads from the browser. That should help greatly for those with low-memory devices, or even high end ones like the Lumia 1520.
We've tossed out a few ideas on how to make the most of your Windows Phone storage. There's more than one way to skin a potato and you've got a suggestion on managing your Windows Phone storage, sound off below in the comments.
George is the Reviews Editor at Windows Central, concentrating on Windows 10 PC and Mobile apps. He's been a supporter of the platform since the days of Windows CE and uses his current Windows 10 Mobile phone daily to keep up with life and enjoy a game during down time.
Does installing apps on sd card only supported by class 6 or more ??

class 10? can you more elaborate.. I m from India

There will be a number written on the surface of your SD card. The higher the number the faster the SD card.

They're the expensive ones. If you get a class 4 8gb for INR 300, a class 10 would be about INR 900-1000.

ok now I get it but I checked class 10 sandisk 16 GB around INR800 on flipkart. As I want to buy 16GB card when wp8.1 officially OTA available so I checked, thats mean I have to spend 800Rs.

Sandisk Ultra microSDHC UHS-I 16GB Class 10 Memory Card @ Rs 665 http://www.amazon.in/Sandisk-Ultra-microSDHC-UHS-I-Memory/dp/B007XZL7PC/... PS: This is the one that I bought 3 months ago for my Lumia 720.

ok now I got the price so when wp8.1 offcially OTA then I will bought card

Better buy it now. Who knows the price may rise later.

For a little extra money you get a significant boost in performance... I would recommend to go for a 32 GB class 10 microsd as it costs only INR 1300

Pffff.....class 10 16gb 700-800

Get SanDisk ultra class 10, HC 1, red and grey colour microsd... Get from snapdeal, its cheaper than flipkart

Bad thing is that regular people aka none nerds, won't know this. They'll buy a SD card from Walgreens for $14.99 and wonder what the heck is going on.

So how do I know whether a card is class 1, 2,6,10,50 or 1000?

It will be written on the SD card inside a small circle.

Look at the class indicators. It was presented by a 'C' and number inside it. C6 will be class 6, and C10 will be class 10, etc.

Also,the classes are just up to C10, nothing higher. And could be wrong on this, but I believe it is only even numbers.

Learning how to read what's on a box or packaging is key to this 'superpower'.

I'll be honest: I went to Best Buy and a few other places. It's damn hard to find a Class 4 micro SD card these days. You really have to go out of your way. BB only had Class 10 (with normal SD cards, it's easier to find Class 4, but micro are mostly Class 10 or Class 6). At least, that's been my experience.

That's in the USA, where its damn hard to find 2g using people (most Americans here seem to be on 3g/LTE), but here in India seeing a 3g using person is a rarity, and LTE isn't even a well known term.
Here we have majority class 4 cards, class 6 are gaining popularity, and class 10 is very rarely seen.

3g is common these days dude because there is no difference in cost of 2g/3g internet.

3G MAYBE common but only in few cities (Most people I know usually use 2G for data when outside their home or workplace otherwise Wi-Fi in home) but not as common as Class 4 SD cards. I myself had to filter for class 10 cards as flipkart search results for 64GB SanDisk Ultra was showing all the class 4 cards initially. So yes, there's a big chance people here in India with their class 4 cards may be bewildered.

Yes. You're right. My dad had a hard time looking for a class 6 sd card when he wanted to buy one. He'd get very few results on eBay, flipkart, amazon, and all were priced more heavily than they should have been.

Yep, but the good news is that prices for high class SD cards are also falling almost every other day in flipkart with more and more brands coming in and for more sales point of view!

Thank god they're coming, I'm going to have to buy a faster card when 8.1 comes out. (till the time i 930 comes to India, I'm picking that one surely)

Get sand disk ultra from snap deal, 16gb class 10, HC 1, ₹357 only...hehe

Personally I don't trust Snap Deal anymore! I got faulty products two times from them while never from flipkart in my last 2 years purchases :)

Thanks for sharing your experience. I was about to consider buying that card. It's too cheap at ₹357 IMO.

No problem! Yup its cheap but MAYBE faulty ;)

hey bro, may I ask which format of micro sd cards is better for using in our windows phones ? fat ? ex fat ?

Ex fat should be used if you view large sized videos on your card. Also helps with 1080p recording. Infact ex fat is better in all regards, especially when handling larger files.
But proceed with caution, power failures etc while formatting are risky. You should check online about risk of changing format, i have no idea about it.

Sadly, that's mainly for metros. I live in big city (which is not a metro) and have got a plan which gives me 500mb of 2g/3g data every month. Sadly, i dont get 3g signal in many parts of the city, including my house. Btw my plan is a super duper bargain, so dont suggest me to change it, you wont believe it i told ! ;) (Rs 21 a month, 500mb 3g, 1/2paisa/sec call to any number)
Anyway, even 3g here is useless, i hardly ever get good speeds ever, never ever even comparable to my 200 KBps WiFi.

Your plan made me uncomfortably excited, really. Looks like you have threatened the call centre executives! (kidding!) And I agree even my Vodafone 3G sucks! Never got above 135kbps even here in a Metro city!
I use my airtel 7mbps Wi-Fi for downloads and when im in home. It gives me around 2mbps download speed in my location at Rs.1199 monthly plan for 15GB unlimited (512kbps after using 15GB).

That's a great plan on broadband ! Sadly we don't have airtel broadband in my city, i have a Rs 900/month, 2mbps (implying max down speed=256KBps) till 8gb and then 512kbps. I usually use up 30-40 GB a month (have 3 win8.1 laptops and 2 win8 phones, takes up a lot of data).
P.s. My cellular plan is on Aircel, its a 3 monthly pack for Rs63 which gives me 2g/3g internet for the first 2 months (subtle catch, but not a deal breaker) and very cheap calls for 3 months. In case you wanted to know ;)

3 monthly pack for 63?? Bhai kaha rehete ho?

Punjab ;)
That's a rate cutter plan, very less known and cant be done online. You need to go to Aircel office. But its worth it, trust me ! ;)

Haan Punjab :)
Lol have a nice day ! :)

That still is a good plan. What else can we get for Rs.900. On the other hand MTS is fast but it costs too much. I use it on lappy when I'm outside my home like during this vacation. Rs.498 just for 3GB of 3G data for one month at 3.1MBps (takes 300kbps). I finish it like in one day LOL! Then get stuck with 56-128kbps speed...

Lol ! They know people going out for vacations like to splurge big, that's why they can charge heavy amounts for portable 3g internet.

Well, I have Aircel 3g and Airtel 3g in Chennai. Airtel 3g sucks but Aircel 3g is awesome. If I want to make downloads, I recharge for ₹67 and I get 1gb of 3g with 5days validity. Speed comes like 300kBps

You're lucky with speeds. I cant say how my Aircel would fare, i dont get any signal here, but on my 3g dongle which uses a BSNL sim, i get just about 60-70 KBps max. Very slow ! You people are lucky you can get 300 KBps in metros.

here in hyderabad, aircel 3g download speed 500 kbps

I use a Reliance 3G connection for my phone here in Delhi. For Rs.156 a month I get the usual 1GB 3G Data averaging around 600 KBPS (4.8Mbps) during peak hours. I'm very happy with it :)

Hmm ₹30 more than what other carrier charge. But 4.8mbps is really good

Many regular people won't even know how to install an sd card. Many people get talked into buying a card at the store and probably pay about 50% more for the card. However, the salesman will install the card for you.

Yes you need class 6 or higher

Hey guys... I have a 16gb class 10 micro sd card in my L625, and i have changed my music n videos to sd card, my sd card under phone storage app, shows 84.67gb of music+videos... N what the hell is that? Plz help

Shows 84.67gb??? Wtf? O.o

Will we be able to transfer installed apps on SD card ?

If the developer has included the ability to do so.

+720
And I wish current apps are also updated for the sole purpose other than for WP8.1

I'm fairly sure the build talk on storage said it was opt out rather than opt in so they'd have to put in a line of code to not let you install on sd

Would like 500 GB on my 1020 :P

That would be nice to have built-in :P I have like 700gb of SkyOneDrive space right now, so I'm using that for my photos and videos - might as well take advantage of it right?

If we could just get 8.1 my storage problems will be solved. Question is how long att will take?

Depends... If you are not using the Developer Preview App that Microsoft released to everyone, it will depend on when your carriers send out the app, if you are using the developer preview app then expect windows phone 8.1 around April 14th (hopefully)

Bonus #6 is all that we need to free up internal storage space. Just waiting for WP8.1 to roll out so that I can install apps and games onto the SD card.

- 920 - 928 - 930 - Icon - 8x - 1020

That's upto the app developer if he/she allows it.

Want to store maps on SD card but not able to delete old maps that is already stored in phone. This itself will save 842 MB. Can anyone help

How to clean up others it increases slowly...its now 1.8gb now on my 720..how do I get rid of it

1.9GB here :( I don't know if it has anything to do with Nokia Black but it jumped from 1.3 to 1.9 ever since. Never taken up that much space before...

Hey bro.. I Have a solution.. Just change ur date to next month(more than 20 days) for some hours.. See the magic..

This can only clear temp files but not others, which is 1.3gb on my phone.l720

In WPs there is a default setting that all the temp files remain in system for 20 days.. At least on my 520 it worked.. My temp went from 857mb to 6mb..

or change year from 2014 to 2021 then go to storage check then clear temp file then again change your year from 2100 to 2014 and voila

Can anyone at least tell m what the hell is in other storage??

I am going to start utilizing my onedrive. I have pics on my phone/SD CARD that I never look at from thanksgiving dinner 2013 not to mention crap photos of myself and others I took, hated but never deleted

I delete my whole camera roll every night after my phone has synced photos to OneDrive. I have 10s of thousands of photos stored on OneDrive and my Lumia1020 is never short of space. I highly recommend utilizing OneDrive sync in high quality for your photos. :)

To maximize it, simply fix the "other storage" bug...freaking 13gigs on my 920.

I know! I have 14gb of other storage on my 920. That's more gigs than I do of anything else including apps AND games combined. #EDIT ....nevermind. I just checked again today and I have almost 19 freakin gigs of Other!!!!!!!

change year from 2014 to 2021 then go to storage check then clear temp file then again change your year from 2100 to 2014 and voila

I dont know how this works but it gave me back a lot more space, thank you :D

Just change your date, better select next year and clear the other storage.

How can we clear others. I cant delete. Changing dates only helps in clearing temp files. On my 8gb l720, others has taken 1.3 gb.

I did a hard reset. But app data (such as game saves) are gone. Better wait till 8.1 comes out, by then we will have our app data backups. Or better, the other storage issue might be solved!

or they should add a fuckin file explorer to manually delete the unwanted files

This. Posted via the WPC App for Android!

Anybody else seeing close to 5GB taken up by the system? Looks like I'll need to reset to factory settings if I want to upgrade to 8.1

If you reset to factory settings it installs the latest software for your phone... (im sure of it anyways as I've reset my phone before and not had to update after) so that wont do any difference :P

Simplest way is to use a microSD card (or several). Oh wait...no flagship Windows Phone has expandable storage and if you want a high end WP with it you have to buy a Dinner Tray 1520. Nop. There's no practical solution for high end users after all...I guess on WP it compensates more to have a cheap phone like the 525 than a high end one...

There is always Samsung "awesome" ativ devices. They have SD cards. Though I will take my "dinner tray" 1520 over a Samsung. The size is really exaggerated by people.

Yeah...I rather go back to a dumbphone than to use Samsung. And no, the size isn't exaggerated by people. It was exaggerated by Nokia. Many of us don't like phones we can't manage with one hand and that don't fit in our pockets. ;)

Lol I can manage with one hand and skinny jeans haha but I definitely share your sentiments about Samsung :)

Just you wait for 8.1 and that Action Centre on top and you'll see if you can manage it with one hand ;D

Pretty sure that #6 should be Sneak 'Peek' and not Peak.

What a shame i can't do these thing, my Lumia 920 went for service today.

Luckily for me I have a 64gb Sandisk memory card for my Lumia 820, the 128gb card is to expensive for me and i would never use all that space anyway also I don't have the same storage problems I used to have and I have over 100 apps and 10 games intstalled, can't wait only a few more days till windows phone 8.1 :), I think we should see if there are any improvements in 8.1 first I am sure a few things must be tweaked...

Most people equate Plex with videos but on my phone I have found I use it more for audio. It is nice to not have everything I may want to listen to on my phone and has saved me a lot of storage space.

I use an app called "freespace" It reminds of how much Space i have left.. The app's live tile doesn't update automatically so I have to open it manually for it to display my changes, but still worth it :)

Uninstall and reinstall whatsapp it's a good idea.

Did it save the history ?

Love my HTC 8x but this is the biggest issue. Only 16gb to start with and I keep running out of room. The phone storage tool doesn't do me much good because the majority of my fat memory useage is in 'apps'. Since it's not a Nokia I have no idea how much space each app is using. I use Rhapsody and have quite a bit of 'offline' music. This is accounted for under 'apps', not 'music' so I really don't know if that's the biggest culprit or not. Hoping for better detail of space useage with 8.1 and my next windows phone will need to be at least 32gb if no sd card like this one. Can stream unlimited at home but now that carriers all limit data, caching for offline playback is going to be important for a long time.

Being able to delete apps cache would help a lot.... WP is great, but its storage management is awful..

Any suggestions on how to clean others in storage check ?

Uninstall and reinstall whatsapp. I got almost 600mb of free space after doing this

Uninstalling and reinstalling is the only way around a ton of other apps like Instagram, Vine, Tumblr etc that accumulate way too much cache.

I really, really, really hope 8.1 addresses the Other Storage issue. I'm on my FORTH hard reset of my 1520 since November (that's only like 5 months ago). I reset it yesterday, and I'm already over 1 gig in Other. In ONE day. And for everyone saying "it was fixed," no it wasn't. My phone runs for about a month and half before it becomes unusuable because of lack of space, requiring a hard reset. And yes, I've tried every trick in the book.

Me too in my 8gb lumia 620 and i don't want hard reset, because i had apps nowadayas are out of the store :(

change year from 2014 to 2021 then go to storage check then clear temp file then again change your year from 2100 to 2014 and voila

Mine's at 6.9Gb and will not go down unless I hard reset. I don't want to do this and had to delete stuff to be able to use phone without crashes and constant nagging.

Since getting my Lumia 925, I've been relying on streaming for my music (Nokia MixRadio is AWESOME!!!). I also did the tip about uninstalling unused games. I got rid of a few from my 925 but kept them on my 920 since that phone obviously has double the storage space.

Tip 6: Wait for Nokia to get its head out of its arse and offers 64gb.

Hey friends can u help me ? If i install software update from preview for developers, can i shift the apps to sd card?

Yes u can... Only on class 6 or higher class sd cards

Just clear internet explorer cache..... You get around 400 mb of store available....

Yellow spark hav u tried shifting apss to sd card?

I think what yellow sparks means is with the preview for developers installed he can get 8.1 early and then install apps on SDcard

How about finally fixing Other Storage problem ? Mine is occupying 6.9Gb. Lumia 925 here with the latest updates (GDR3).

Exactly! Mine had 13gb. I did a hard reset. Now is cumulating again. 920

#7 Delete your IE history.

With 2.9GB of System, 700 MB (and counting...) of undeletable Temporary Files and < 3GB of essential photos, emails and apps, there is no way you can have your own music in a Lumia 925. Specialy when streaming content is not an option for 3G joke networks like Brazil's. Either I have to pay for a Xbox Music account and stream it over wifi or have no reasonable amount of music in my phone. Also to keep changing which Artist, Genres or playlist I wanna sync every day or week is another pain since WP takes around 5 seconds per song to throw it on the phone (summing up some 30 minutes to upload less than 1 GB of music). Above all we have no realy good native music player, since the app Music is a complete mess and works like **** on Windows and WP. Third party app "Listen" is the best i've tryed so far, but is still a 3rd party app, which means that, if it is not made by the 3 or 4 guys who are specialist in WP apps, it willl crash and not work well like a 2009 Android app.

For the 8S I'm just holding out till 8.1 next Monday... None of these methods are valid for me personally...

This other storage issue is abominable, I wont be buying any more windows phones unless its PROPERLY fixed. Because not gdr2 or gdr3 fixed it and I dont care if they say they did, its not fixed. I have 14 gb of space wasted in other, absolutely ridiculous. And I have never even turned on auto upload. Has anyone else had such a huge other storage problem?

Same here.. i hope it will get better on 8.1.. Till there use this tip... Turn off auto date&time in settings, change the year one year ahead from now, change lock screen time out in 5 mins and finally go to phone storage and click delete temporary...and wait.... It will remove enough space..

Seriously we can transfer to sd card?

After you update to WP 8.1 you will be able to yes. My question is, is there really a notable, perceivable speed increase between say a micro SD rated 4 and one rated 6 or 10? Or is it more of a stability issue? This doesn't help me any as I'm using a 1020 but my girlfriend has a 820 with 8gb micro SD and I think it might be rated 4.... P.S.... The Other storage issue is a F%£#@UV*%@

And also some apps do collect data over time, and the data also
Feeds on available space, so uninstalling and reinstalling them helps free a bit space( the down part is that the app feels new ie just like the downloading the app for the first time)

I m using 1320 and my storage check says Media and file size is 1.8 GB but literally I hav not saved any file on phone storage. Other storage is taking 1.7 GB of space on my phone. Can someone tell how to clear this other folder space? I have already tried changing year but it did not free up other storage. Plz help

Just wanted to point out one thing - on the Lumia 1020 you can't back up your full resolution photos to OneDrive, but you can to ATT Locker and some other services, so there's at least one use case where you wouldn't want to use OneDrive.

Miss your phone review's George,bring them back:)

Hey guys... I have a 16gb class 10 micro sd card in my L625, and i have changed my music n videos to sd card, my sd card under phone storage app, shows 84.67gb of music+videos... N what the hell is that? Plz help me

One Solution: delete everything :)

Any update for kids corner in Windowsphone 8.1

SanDisk 32gb 10 class micro sd card on my Lumia 620 hell yeah c'mon asphalt 8
and so much more))))

I'm assuming no USB OTG just yet right? Think it'll ever happen at some point?

This article is conspicuously silent on certain things, namely 'Others' ocupying in storage Check and how to reduce them even though you don't know what it is ' Temporary Files ' can never be fully deleted, why ? '' Settings ' occupy around 100mb and any way to reduce it. All the above mainly concerns with Phone memory Reducing SD card memory is not much of a deal, so article could have emphasised more on the pro's and con's of Phone memory

Lumia 525 with interal memory 8GB out of which ~7GB is available.WIth regular updates, it has now ~4.5 GB consumed.What to do in case phone hung consistently as we cant delete this memory used by system. Thanks
Windows Central Newsletter
Get the best of Windows Central in in your inbox, every day!
Thank you for signing up to Windows Central. You will receive a verification email shortly.
There was a problem. Please refresh the page and try again.