How Microsoft Teams changed my football team during the pandemic
Canceled practices forced us to online classrooms, and now we plan to use them even when things are back to normal.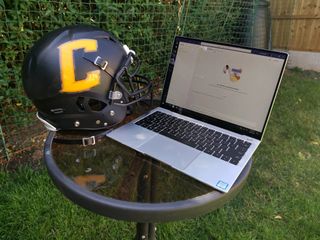 (Image credit: Windows Central)
As the head coach of a football team, or American football as they call it here in the UK, I'm always looking for ways to improve our team and to become a better coach. The current health crisis forced me to use a tool that has now worked its way into our permanent workflow, Microsoft Teams. With practices and team activities shut down due to the global pandemic, we moved to virtual classrooms to continue coaching our team, the Nottingham Caesars Juniors. While shifting to Teams had a learning curve, I think using it is one of the best decisions I've made as a head coach.
The tools it provides have greatly enhanced our practices and provided a way to communicate with players and coaches that we never had before the pandemic. While nothing can replace getting reps on the field, the classroom time we get online allows us to install our playbooks and teach players now to prep for when we're back on the field.
Tools for teaching
While I cover Microsoft Teams regularly and am aware of its features, using it to coach the Caesars was the first time I made it part of my regular workflow. Giving a concrete reason to use Teams made me grab all the features I've written about and to put them into practice. After setting up our organization, I created channels for offense, defense, and special teams. I also have private channels for our coaches, captains, and our social media team. The first thing that I took advantage of on Teams is organizing files. I added our playbooks to their respective channels and added the PowerPoint app to our offense, defense, and special teams chats, so our playbooks are always easy to find. I've printed out physical playbooks and shared digital copies before, but I found it easier to organize them in Teams. We can update them whenever we want, and players always have a place they can go to see the most up to date information.
Our defensive coordinator, Matt Barnard, dove headfirst into Teams and figured out ways we could use it. He's built up a wiki in the defensive channel so players can always refer to the rules we follow. Defense relies heavily on understanding the game and the entire unit, knowing what they're doing on any given play, so having guides, slides, and information is vital for the unit to do well.
Barnard is a bit of a maestro when it comes to PowerPoint presentations, which we've found easy to use on Teams. During a call, you can share a PowerPoint presentation without sharing your entire screen. The presentation includes the effects and animations you put in it so that we can illustrate plays and concepts. For example, when installing a cover 1 defense, a defense which has one player start away from the ball to cover an area, it's essential for each player to know their assignment. If an offense lines up with a bunch of players on the left side of the field, we have to shift our defense to match. This isn't as simple as people moving over a few yards and often involves an assignment shifting from one player to another. During calls on Teams, Barnard uses PowerPoint animations to move X's and O's around to show players what they need to do.
Barnard shared his thoughts on Teams, including how PowerPoints are easy to use during calls,
On offense, I've also used PowerPoint presentations and saved our wrist coach that we use within the Excel app in our offense channel. A wrist coach is a cheat sheet that has plays and signals to communicate to players on the field without having to have a player run a play in (we don't have headsets like pro teams). This allows players to study and print out the wrist coach at home.
I'm a big film study guy. I use film to study plays, the form of players, and formations. Both my defensive coordinator and I use film during calls. To do this, we share our screen. I sometimes use Epic Pen to mark up the film as well while sharing my screen. We've found film to be a bit janky when streamed through screen sharing, but it's good enough for most of what we're doing. I think a team with a bigger budget could use a paid version of Teams with Microsoft's Stream technology that would also record all of our sessions. For us, though, the tools included in the free version of Microsoft Teams have been extremely helpful.
One tool that we've used more and more throughout our time is the collaborative whiteboard that's built into Teams. We can draw up a formation and ask players to draw up their assignments or have one coordinator draw up different formations to provide a diverse range of looks. I'd like the ability to control who can write on the whiteboard at any given moment since bored players sometimes doodle on the screen, but it's a handy tool. I'd love the ability to call on a player using the raise hand feature and then give just that player control of the whiteboard.
A bumpy start
While we've generally found Microsoft Teams useful, it hasn't been perfect. The beginning of our time with it was bumpy and a bit awkward. Learning to manage organizations and channels took some time since I was used to Slack, which works a bit differently. The interface of Microsoft Teams also took some getting used to, but it's fine now that we've acclimated.
The biggest issue we ran into was adding players to our Team. There were times I had to send the same invite multiple times or add someone's email address repeatedly to get it to work. Once someone was added, they had full access, and everything worked fine, but we continue to have to jump through hoops to add players at times.
Some of the other issues I've had with Teams come down to limitations of the free version. I'd love to have all of our sessions recorded automatically, but that feature is only available with select paid versions. There are also some apps such as a calendar and Microsoft To Do integration that seem to be limited to paid versions. I understand that Microsoft has pricing tiers, though, and that's totally reasonable. If I ever coach at a school with Teams, I'll test out the paid features.
Putting the hours in
Our team isn't attached to a specific school or college (colleges in the UK are for students roughly the same age as American high school), so we have limited practice time, even during normal circumstances. Usually, we practice for three hours on Sundays and two hours on Wednesday nights. We only practice twice a week for several reasons, including player availability, coach availability, and the cost of renting facilities. Even football teams connected to universities usually don't practice more than three times per week in the UK. As a result, we have limited coaching hours with our players. Every minute we spend explaining something on the field is a minute we can't use for practice reps. After shifting to Microsoft Teams due to the pandemic, we've decided to keep it as part of our normal workflow. We'll hold our virtual classrooms on a night between games and practices so that we can study film and prep for our next practice and game.
We've found that not only do virtual classrooms allow us to shift teaching time off the field, they also provide a wide array of tools to teach players and coaches. Additionally, players can attend without having to pay for transportation costs or allotting time for commuting. We also don't need to rent a classroom for sessions. The end result is more time to coach players, a better teaching experience, and better optimized time usage when we're on the field. While we were forced to use Microsoft Teams during the pandemic, we'll continue using it going forward.
Get the Windows Central Newsletter
All the latest news, reviews, and guides for Windows and Xbox diehards.
News Writer and apps editor
Sean Endicott brings nearly a decade of experience covering Microsoft and Windows news to Windows Central. He joined our team in 2017 as an app reviewer and now heads up our day-to-day news coverage. If you have a news tip or an app to review, hit him up at sean.endicott@futurenet.com.