How to pair the Microsoft Band 2 with Windows 10 Mobile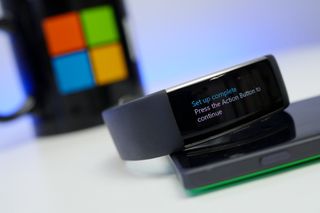 Just got the Microsoft Band 2 and need help pairing it with your phone? We'll show the process of how to pair it with Windows 10 Mobile. As a reminder, while we are Windows Phone and Windows 10 Mobile fans here, the Microsoft Band 2 also works with Android and iOS. Ready to go? Follow the steps to pair the new Band 2 with Windows 10 Mobile.
1. Download the Microsoft Health (opens in new tab) app on your phone from the Windows Store.
2. On your Band 2, press the power button and choose your language.
3. When it asks for your phone's operating system, swipe left and select Windows Phone.
4. Swipe left and tap Pair now.
5. Open the Microsoft Health app on your phone and create/sign in with your Microsoft account if it doesn't automatically sign you in.
6. If the app doesn't automatically try to add your Band, go to the hamburger menu on the top left corner and tap Add a Band.
7. Choose the Microsoft Band 2 in the selection screen.
8. Tap the name of your Band, which is likely some variation of "MSFT Band."
9. Hit OK on your phone and Accept on the Microsoft Band 2 to pair the devices.
10. The Microsoft Health app will check if there are any updates available for the Band 2 and then you can tap the Finish button.
11. On your Band, press the action button to finish the process.
That's it! Now you're all paired up. You can start using it right away, but we recommend personalizing your Microsoft Band 2 next. We'll talk more about that in an upcoming post.
Did you have any issues pairing the Microsoft Band 2 with Windows 10 Mobile? Let us know in the comments below!
Download Microsoft Health from Windows Store (opens in new tab)
Buy the Microsoft Band 2 (opens in new tab)
Windows Central Newsletter
Get the best of Windows Central in your inbox, every day!
I want it!! I want it!! I want it Badly :(

I have it. Feels very responsive and I love the new smart alarm

When in ... Continental Europe? It's a shame as there were rumors about release in all Surface countries!

Same process for windows phone 8.1

Working flawlessly so far. Loving it after being without my Band 1 for a couple months!

Text messaging on the keyboard is giving me slight issues but nothing to go crazy over. The health app has to be open for the keyboard to function (w10m)

Did you disable letting Microsoft Health run in the background? Band ferries virtually all its work off to Microsoft Health.

Huge improvement from band 1. Love the new screen and the fit and finish are miles ahead of the original. Sync and setup were easy. Still need to check battery life but so far. Awesome.

I had no luck getting my Band 2 to work with my L1520 on WP8.1. The band says it's paired but the Health app doesn't see it. I've tried all the recommended fixes to no avail. The large size turned out to be just a little to big so I'm returning it for a medium. Hopefully I'll have better luck with it.

Hmm... I have no problem with the Band 2 functioning with my Lumia 1520 (Windows Phone 8.1). As a matter of fact, everything functions as it should, but my wife's Band 2 has a problem receiving text/email notifications from her Lumia 950 (Windows 10​ Mobile). In case you haven't tried already, you may have to enter the top left menu in the Microsoft Health app and select the band under "Device Settings". Also, take a tape measure to your wrist to get the best fit. My wrist is about 7" in circumference, which fits either Medium or Small, so I went with the Medium size. Fits great and I have room for adjustments.

Wish I could do that. The Band 2 I preordered is still stuck in China.

I haven't been able to use Cortana or the keyboard on my band 2. Syncing and other notifications seem to work alright (notifications are sometimes delayed). This is on a Lumia 1020 with latest build of Windows 10 Mobile

Same story re: Cortana on Lumia 920 on latest Windows 10 build... although Cortana queries do sometimes get through, most of the time it's a completely broken experience. If you haven't already you might give or upvote existing feedback in the Windows Feedback app.

Notifications and the keyboard don't always work... Very spotty

What is with the red bird?

Yea, was wondering about that too.

It's on all the pages for pairing a Band. I asked @microsoftband on Twitter but haven't heard anything back yet.

it does seem like you wouldn't have something iconic like that bird without intending to use it more broadly ... whatever that would entail

Microsoft hit the ball out the park with the Band 2, I love it, this does not mean that it can't be improved on, but it's a winner as it is.
I slept with it twice and I did find that I would like them to make it thinner.
Here are my thoughts on what I would want Band 3 to bring to the table. Make the band of the watch replaceable (Why? Check below) Use the latest technology and place the battery in the band of the watch. (can will them be able to choose between a band with battery or the band as it is now) Increase the screen size (less bezel) Thinner Waterproof (not a big deal but some people seem to want it). If the band for the watch are interchangeable then you can sell the watch band separately.

NFC pairing would have been too convenient.

NFC pairing is a waste unless you're going to use that NFC for more than just pairing. Maybe next generation if mobile payments actually take off.

Lumia 1020 with latest 10 build has terrible Band integration. Notifications (including calls!) come through minutes later. Only really a standalone device and fitness tracking. Really going Band 2 works better!

I've ordered mine for Christmas.