How to pay for coffee at Starbucks with your Microsoft Band 2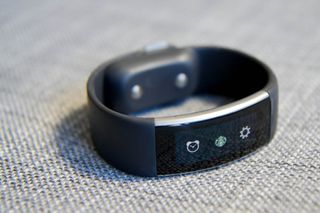 One of the cool features of the Microsoft Band 2 is the ability to use it for payments at Starbucks. You don't need to take out your wallet or phone to pay at the cashier. You'll just need to bring the Microsoft Band up to the barcode scanner when it's time to pay. We'll show you how to set it up.
How to add your Starbucks account to the Microsoft Band 2
Before you can start using the Microsoft Band 2 to pay at Starbucks, you'll need to add the Starbucks tile to the Band.
On your phone, open the Microsoft Health app.
Scroll all the way down and tap Add and manage tiles
Swipe the Starbucks slider to On position and tap the pencil next to it.
Select Add Card
Enter the 16-digit code on the back of your Starbucks Card when prompted.
Tap Save to sync these changes to your band.
If you do not have the actual physical card with you but have a Starbucks account, here's how to get your card number:
Log in to Starbucks using a web browser and go to the Cards page (starbucks.com/account/card)
Tap Pay with this card
Take note of the 16-digit number and add that to the Starbucks tile using the steps above.
How to pay at Starbucks with the Microsoft Band 2
When it's time to pay at the cashier, press the power button on the Microsoft Band 2 and tap the Starbucks tile. A barcode will appear. Place your Band 2 in front of the cashier's scanner to make the purchase.
That's it! Are you planning to pay for for coffee with your Microsoft Band 2? Have you done it already? Let us know in the comments!
Download the Microsoft Health app (opens in new tab)
Buy the Microsoft Band 2 (opens in new tab)
Windows Central Newsletter
Get the best of Windows Central in in your inbox, every day!
Does this work in the UK?

SHould work. THe barcode is probably the same as we have on our third party win 10 mobile apps

Yep it works in UK. Have been doing on my Band 1 since Dec 2014

Do you prefer this to an NFC option like Apple Pay since touch is pretty much everywhere? Do you need a secure SIM or special account with RBS?

It's a bit inconvenient compared to NFC as you need to swipe to the tile and then the barista scans the barcode - so there is no touch involved. Also there's no SIM or account needed as it doesn't connect with your phone - the Band basically shows a barcode

Will it help pay their tax bill as well?

Unfortunately they have the same tax lawyers as Apple

No. To change that you'll have to get your legislators/MPs to actually change the laws they're totally following.

Can we have an official starbucks app? Or wallet please. It's been way too long and they disabled buckstar's ability so see stars and etc

i did this the other day. people in line were like omg jellyyyyy!!!

I get asked all the time why does your Apple watch work and mine doesn't. and I kindly tell them that's because my Microsoft Band is nothing like the crapple watch :)

Haha if they cant even tell the difference, why own an apple watch? lol.

How pay????? maybe How To Pay.. Title lol

I wonder if I'm the only person who returned the Band 2. I really wanted to like it but having the battery on the clasp is just not good design. ( not to mention the easily scratched metal) It might be improved over gen 1 but it's still not comfortable, especially when exercising. My Ambit 3 is miles ahead in terms of functionality and comfort.

I'm on the fence about getting one for UK release - It's the aesthetics of the clasp that I don't like - I need to see more photos of somebody actually wearing it, but the clasp looks huge and in silver stands out quite a bit - One good thing about the original Band was it's subtle black clasp - The Band 2 clasp looks huge in comparison, but I've not had a chance to see one in person yet. Probably will end up getting one (and fully replace v1) mainly to have one for testing existing and possibly future apps. I've worn my Band 1 almost every day since the UK launch so I know I'll get my moneys worth

The clasp is definitely large, and it scratches easily. You basically can't rest your wrist on anything without fear of scratching the clasp. I tried mine for only a few days and it was already showing wear signs on where the clasp connects together. Posted via the Windows Central App for Android

The Band2 is miles ahead in comfort and the clasp is smaller than a watch face so it's not as bad as I was thinking from seeing it at the Win10 event. it does scratch easier but the battery placement is a lot more comfortable

Thanks for the heads up, I'll probably just brush the metal to get the look I want rather than the look I don't... ;p

Hmm. While I'm not crazy about the color of the clasp (unpainted silver metal), I dont see how scratching would be a concern. I would prefer that it was painted black--even though it would make scratches more visible. Another thing I wish is that MS had done away with the useless (IMO) UV sensor, which explains in part the design of the clasp. However, I strongly disagree that the B2 is uncomfortable. In fact, at least when compared to the B1, you can hardly tell that you're wearing it. I find it quite comfortable. To each his own.

If you don't like the unpainted silver metal clasp grab a ArmorSuit Militatry Shield at amazon. While it doesn't show it in the picture it has a black carbon fiber protector for the clasp. I got mine to day and it looks good.

You should submit a review on Amazon and post pictures so everyone can see the clasp picture you say is missing.

I love how everyone who doesn't find value in some part of the Band always describes that feature "useless." You did include the "IMO" so points for that. What you apparently mean is that you see no value to you from the UV sensor. I get that. I could make the same point about the golf apps because I really don't like that game nor understand its popularity, but I wouldn't call the feature "useless", but just something I won't use. The Band is packed with 11 sensors to make it versatile and appealing to as broad an audience as possible. UV is an important health factor and one that I am really pleased the Band 2 does much better than Band 1, where the UV sensor was actually "useless" because it didn't work. I get the aesthetic complaints because colors matter to people. I like the look of Band 2 and so far haven't had problems with scratches on the clasp. With a bit more experience in this field, I expect Microsoft to begin to add some flexibility in colors and finishes as well as sizes. I doubt that there are many Band owners who use all of the features and capabilities of the device. I know I don't. Besides the golf apps, I also don't use guided workouts and I turned off e-mail. I want notifications and texts, Cortana, running/walking (with and without GPS), biking, Starbucks, sleep, UV, weather and alarms. That's it. The other stuff isn't useless, but just not important to me. Allowing users to customize the Band as much as we can is one of its greatest strengths.

Wish we had something similar for Café Nero, but I don't think they even do a card you can top-up with credit. Starbucks is okay and has nice premises, but if all that mattered was the quality of their coffee I don't think they'd be around very long

Um...this works on the original Band, too. Posted from this here device.

Now if they would only give us an apl for our Windows phones.

Does payingwith phone work in europe too?

If you can pay with your stuckbucks card in the shops, it for sure works also with WP. I've never been in an European Starbucks, because we have real coffee, and in every bakery you get better coffee than from SB. Of cause, in U.S. Starbucks is still the best choice, because it at least is closest of how coffee should taste.

I use it everyday even at Starbucks and get oohhsss and ah comments Everytime, lol. In my opinion the band 2 fits better than my band 1...

Why just Starbucks and not Costa or Nero? Why MS, WHY!??

Ask Costa or Nero not MS, they don't own those businesses...doy! =p

Yeah I know, but MS would have pushed for 3rd party adoption/integration. I'm just annoyed as I don't use Starbucks :-)

Maybe because the band team does? :P.

The Starbucks crowd LOVE it when I buy by band... ;]~)

Same here. It (paying with the Microsoft band) gets lots attention...

Im on windows 8.1 and it works fine w my Band 2

How can we use the app on the band 2 when in the drive thru?

SB has a portable scanner they use

Does this work In India ?? Will checkout tomorrow ... Thanks for the article

At the MS event, they showed a lot of companies logos that will support the Band 2. Any ideas on when we will see that supported? It would go a long way in showing even more people the Band, plus I hate carrying around cards

I actually get a lot of attention at Starbucks when I use my band to pay. It is nice... Especially when in drive thru , I can just hand my arm out the Window vs a phone... Or when I walk to the neighborhood Starbucks with no wallet required. It would be nice for nfc in the band to unlock doors.. Future idea :)

What about subway? Some of us rather make our own coffee instead paying for it :P.

Subway is disgusting. Make your own sandwich!

Which subway(s) do you go to lol?


It should work with costa coffee too.

I'm going to do this only to see the confusion in the Barista's face: "huh? what Apple watch model is that?"

That's silly. If Starbucks hasn't added a watch app to their iOS app they will do it soon enough. They're also adding support for Apple Pay, which works with the watch as well (and that will work a lot better than the Band, no need to point the screen at the scanner). On our Band it's just a barcode display. On the Apple Watch they can show the card balance and offers or whatever else they want. There are advantages to each device but thinking a little barcode display on the band (which I've had on my Band 1 from day one and used only once since it's really not that convinient) makes it better than the Apple Watch is just ridiculous

When I get my band I will be paying for my Starbucks this way.

If only timcard was supported

I did it with the Band 1 (they did give a $5 Starbucks gift card with it so I had to try), but when wearing the Band on the inside you need to twist you arm in unnatural ways to face the scanner. It's usually easier to just use the phone

Can you add a tip? I'd guess probably via the Starbucks cashier. . . . Posted via the Windows Central App for Android

Thankfully, you gave instructions (copied below) to get your Starbuck's card number off the web. But I can't find the card number with this method. Anyone else? "If you do not have the actual physical card with you but have a Starbucks account, here's how to get your card number: Log in to Starbucks using a web browser and go to the Cards page (starbucks.com/account/card)
Tap Pay with this card
Take note of the 16-digit number and add that to the Starbucks tile using the steps above." Posted via the Windows Central App for Android

Yeah, that's great and all, but how about MS getting with the program and coming out with some form of payment like Apple Pay, Android Pay, Samsung Pay, etc., etc., etc., which can then be used with the MS Band 2. I mean how many other companies need to have this before MS comes out with it,... so they can once again be in last place? I just don't understand why they are always behind everyone.=

Whether an app works or doesn't work...paying for your Starbicks coffee it is a rdiculous app. Another of MANY unnecsessary apps that out there. Just because it can be done, doesn't mean it needs to. Just another app opening yest another risk. Dig in your pocket for loose change, it really isn't gonna hurt, be any slower or put you at any risk. When you install an app that wants all sorts of access to your phone, tablet, computer...think it out and question WHY! Then...decide if that app is really something you want putting you at risk.

I love my Starbucks coffee...ever so grateful the new Band 2 has this app!!!

If it's so easy to get Starbuck's working on a Band, why don't we have a proper Starbuck's app on Windows Phone?

I just started this... The baristas were like "meh." One was surprised, and he was like "you have this much left on your... watch."
Windows Central Newsletter
Thank you for signing up to Windows Central. You will receive a verification email shortly.
There was a problem. Please refresh the page and try again.