How to play Windows Store games offline on Windows 10
Start gaming on the go with offline play for Windows 10!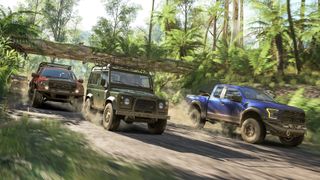 Following the recent focus on the Xbox Play Anywhere initiative, Microsoft has continued to develop its framework for Windows 10 apps, known as the Universal Windows Platform. Over the past year, we've seen several drastic changes to improve both the performance and functionality of these apps and provide a better experience for gamers.
In the wake of this year's Xbox One fall lineup, the ability to play Windows 10 titles offline has been introduced. While this makes it easier to play games on the go, you'll have to do some preparation ahead of your outing.
What are the limitations of offline play?
Before you set up your games for offline play, here's a closer look at the restrictions you'll be put under:
When playing supported games offline, Xbox achievements will be disabled until a connection has been re-established with Xbox Live. While achievement progression will still be tracked will in an offline state, any form of unlock confirmation will be held back.
Cloud saves are also inaccessible without an internet connection, preventing save syncing with Xbox One consoles or other Windows 10 devices. To prevent yourself losing progress, make sure to download the latest save data before playing offline.
Other online features will understandably not work, including online multiplayer, leaderboards and any other interconnected storefronts.
How can I play my Windows 10 games offline?
Before you can start playing any Windows 10 games offline, your PC needs to be prepared while still connected to the internet. These changes can only be made will still online, so make sure to follow apply the following changes before taking your games on the go!
Navigate to Start > Settings > Update & security > Windows Update to check your device is up to date.
Open the Windows Store.
Click the 'Me' icon in the top right of the screen (your profile picture)
Ensure Offline Permissions is enabled under the Settings menu.
This will set your designated offline device, which allows supported games to be played offline on this PC only. Your offline device can only be changed three times per year, so choose wisely!
After setting a PC as your dedicated offline device, you'll next have to configure the games you're looking to play. Ahead of being played offline, Windows 10 games must have been played at least once, using a valid Xbox Live account.
To prepare each title, simply start each game up using an active Xbox Live account and sign into Xbox Live. While there's no requirement of playtime before going offline, the game must be linked to your Xbox account.
And with that, your Windows 10 games should now work offline! Are you planning to use this feature? What games are you hoping to play? Make sure to let us know in the comments!
Windows Central Newsletter
Get the best of Windows Central in your inbox, every day!
Matt Brown was formerly a Windows Central's Senior Editor, Xbox & PC, at Future. Following over seven years of professional consumer technology and gaming coverage, he's focused on the world of Microsoft's gaming efforts. You can follow him on Twitter @mattjbrown.
What a ridiculously convoluted system.

Well they learned it from Valve.

What do you mean? Its the exact same restrictions on xbox

Yeah, which is ridiculously convoluted.

Is pretty much the same with downloaded movies you buy from the store Which is not fun had rest but movie files but who is it get back online just to actually get to play them again

No it isn't. Just a few months ago I watched a movie I purchased on a plane. Refused to pay for internet access on the plane so I didn't have any.

Thank god i stayed on Windows 7 this is ridiculous. Every game should be playable offline no matter what instead of this nonsense

If you are on Windows 7 then you are missing out on these games anyway so as a Windows 7 user, lacking a Windows Store and UWP games, it doesn't affect you at all.

Will this work for Asphalt Xtreme

Hence why I make my first stop GoG whenever possible. No DRM, which means your games are yours.

They are not yours anyway

Technically they still aren't yours, you just have more control over what you can do with them.

A lot of games would sure be boring in offline only mode.

Especially those offline games like ReCore.

Cherry picking doesn't make your logic anywhere near correct, nor does it even begin to dispute my point.

Name a few then, I could name a game on my side, you didn't. Problem is that your opinion is subjective and not everyone will agree with you which is why you just said "some games", it's actually a great debate technique for when you are trying to get people on your side. Unfortunately its also very transparent.

Actually no, my statement is factual and not subjective at all. There are many multiplayer only games that would be horrible without, well, online multiplayer. League of legends, Cs go, titanfall. Just to name a few.

I'm kind of amazed I need to point this out but none of those are Windows Store games.

Not nearly as amazing as the fact I have to point out the OP (who I replied to) said ALL games.

Wow i didnt realize this was such a big deal to let us play games offline. 3 devices a year?? Pretty ridiculous

I've already been playing games offline on all computers including Minecraft... Am I missing something?

I read this article and I was surprised because I had never heard of this feature - I don't see this option... has this been changed in RS2? (I'm on build 14959)

7 years and I'm still on windows 7 and I'm a very happy gamer.I got ps4.

So Basically thie article is irrelevant to you, yet you decided to comment anyway. Got it.

TL;DR Download offline games only.
LOL

I find myself a little puzzled by this article. I play numerous Windows Store games offline all the time without doing making any changes in Settings at all, and in fact it's the norm. So obviously, those aren't the Windows Store games this article is about. Can anyone clarify? Thanks.

It's only certain games with limited licenses - this mostly affects titles such as ReCore, Forza Horizon 3 and Gears of War 4, which all released with Xbox Play Anywhere support this fall (:

Thanks! Makes more sense to me now.

im not portable with my pc. but this may be good for some.