Here's how to do a screenshot in Windows Phone 8.1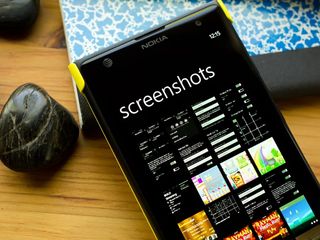 One of the many welcomed features with Windows Phone 8 was the ability to capture a screenshot from your Windows Phone. For those of us who write about Windows Phones it was a fantastic feature to allow us to better illustrate what we write about.
For the average consumer, having the ability to capture a screenshot can come in handy in the same manner. You can share a screen capture of your high score, a glitch in the programming or for those times you just want to share screens that appear on your Windows Phone.
While screen captures will still be available with Windows Phone 8.1, how we go about capturing them will change.
The current method for capturing a screenshot from your Windows Phone is to simultaneously press the Start Screen and Power button. The screen image is captured and saved to your Pictures Hub in the Screenshots Folder.
With Windows Phone 8.1, this process changes ever so slightly. Instead of pushing the Start Screen and Power buttons, you now press the Volume Up and Power Button at the same time. The screenshot will still find its way to the Screenshot Folder of your Pictures Hub. This change is likely due to Microsoft allowing for on-screen Start Screen buttons in lieu of the physical buttons we enjoy now.
Screenshot in Windows Phone 8.1
Press Volume Up and Power Button at the same time
When Windows Phone 8.1 hits the open market and you go to capture that screenshot of a record high temperature this summer, just remember to use the Volume Up button instead of your Start Screen button. For some, this change may take a while to get used to.
Get the Windows Central Newsletter
All the latest news, reviews, and guides for Windows and Xbox diehards.
George is the Reviews Editor at Windows Central, concentrating on Windows 10 PC and Mobile apps. He's been a supporter of the platform since the days of Windows CE and uses his current Windows 10 Mobile phone daily to keep up with life and enjoy a game during down time.
Not bad, I'll practice more lol

Power and camera would have been better choice.

No because some devices dont have a camera button.

Fail. (wish they didn't make this change)

No because phones like the 630 and 635 don't have a camera button.

With OEM's not being forced to have camera buttons now (Lumia 630 & ATIV SE), that's not an option.

Volume and windows would be better. Lock is awkward.

A bit more cumbersome to do, but makes sense.

I thought it was like this before. Posted via the WPC App for Android!

Wait I'm an idiot Posted via the WPC App for Android!

Amazing Posted via the WPC App for Android!

Not sure why they didn't use the same combination (Win+Volume Down) as Windows 8. Consistency would be nice instead of remembering which is for which device.

Because the new windows phones won't have capacitive windows buttons like our current one. It has nothing to do with consistency.

it will still have the virtual one

If Im not mistaken, the virtual ones has the option to autohide.

Okay, but power and volume down is closer and easier to remember.

Its because you can capture the screen shot using one hand, Which will be more easier I guess...! ;)

That's actually my one gripe with this; you can no longer take screenshots with your right hand! (depending on which side your buttons are on, of course; I'm talking L920)

do a hard reset after installing 8.1 but make sure your region,speech and language is set to us.

Setting -> About -> Reset Phone ....


I think its hold volume down, power and the camera button at the same time til the phone beeps or does somthing dont exactly remember.. Bing is your friend!

volume down + power only restarts (soft resets) your phone.

I said volume down+ power+ camera button its on the Nokia forum and it worked for me a while back. Erases all you files fyi.

Try setting to US region then launch Cortana from the app list. Do this first before trying the hard reset option.

I like this. I kept finding screenshot images in my pictures hub. This will reduce those inadvertent screenshots. (Just downloaded WP 8.1 preview. Merry Christmas!)

my volume keys are broken? is their another way around

Fix them? get a new Phone? Don't update yet to 8.1? 3 choices pal

1 other option is to use another camera to take a pic of your screen

I wonder if you can ask cortana can to do this.

My up volume key is broke too :(

Do you have the Lumia 620? I do and my up button has broke, I looked up stuff about it and it seems to be a fault with the phone.

i like the old way of taking screenshot.

Why not just hold windows key. That does nothing now right?

Holding window key brings up voice controls

I thought that was all done by search key?

On my 1020 if I hold the windows key this comes up "what can I say?" and a list of phrases then a speak button.

Hahahaha, that's what this article and what I am talking about.

Im new to this internet thing.. So I'm supposed to read the article before commenting... Got it!

Now, if you try to take s screenshot the old way, it tells you.

+925 Glad they added that, because I still don't have Volume Up + Power stuck in my head yet. I am having trouble getting the the timing right for the new combo to work reliably.

This is soooo much better. 8.1 in general. I can't stop messing with the phone!! I should be working!!!

Thanks for the heads up !

I've changed the region finding where is cortana

Change Region to USA and Idiom to English-US.

The Xbox music got fucked

Still not able to use share with whatsapp on a screen shot. Very annoying.

Should have made it like hold or double/tripple tap the home button since search moved

hm, not sure how I feel about this one, it seems a bit more awkward to press those two keys on the L920

You press volume up on Windows 8 tablets also to take a screenshot so this makes sense in my opinion.

I hope that works better on the phone than it does on my tablet...... Well at least it will now be consistent

Anyone know how to sync screenshots to OneDrive? Used to be able to do it on 8.0 - but now I can't find a way.

Where you seriously able to do it in 8.0? Can you explain me how?

I don't have any 8.0 devices to check, but I think I was referring to the Save to OneDrive option in the context menu, not automatic syncing. Updates to the OneDrive app on 8.1 got that functionality back via the share button.

I didnt read this article to discover the history of screenshots, just to learn the new way of doing it. How unnecessarily long.

Why did they change this??? I have to relearn this all over again!! I'm so done with WP...

Fuck it. My volume up button is broken. I hope we can choose the shortcut soon. Or I'll throw my 620 into the toilet when screenshot'd be necessary.

it might just short circuit and take a snapshot of your toilet :D :D

Windows 8.1 is support Lumia 720 ??

If you're asking whether the 720 will support WP8.1, then your answer is 'yes'. All phones - even the little 520 - are able to get WP8.1, this has been said a number of times.

Yeah it does bro,im downloading it right now when im replying to your post.have to uninstall apps and make free space up to 4gb

Oh well too bad my volume up key broke long time ago on my 620 :(

Joeffery Baratheon is dead..... Windows phone 8.1 out....Life is cool eh

At least it gives you a little motivation notification to remind you it's changed.

I m unable to access to store after update

Give it a few minutes that's what I did.

Does it still make a sound effect even when volume is set to zero? This is an odd bug in WP8 or maybe it's a problem specific to the HTC 8X.

Yep, bug fixed no more shutter noise if volume is muted

Not used this so will give it a chance but my first impression is that this will WP8 way of taking a screen shot is better....

Get used to it #whiners lol

Keystroke is calling "Annnnnndroiiiiiiid". Power and VolUp during boot puts it into Recovery Mode.

Update is pushing out to my ICON!

The old way of power+windows was better than trying to press down two buttons at once. Why change it?

how can i share my screenshot images to twitter?
first, the phone ask me install the official twitter app. so i installed it (usually i use tweet it! app)
but after that twitter button in sharing options is gone! WP8.0 had a way to twitter via onedrive, but i cannot find any way like that. help me..

This should be a choice, and set as default on phones without the button

interesting.... 925 here.

I preferred the old combo, it was much easier. Though volume up and the window key would is just a tad quicker than the old combination. Now its really awkward (even more so if you have the 1520 or 1320) as your left hand has to reach across the phone.

Thank you ever so much for this... recently updated my Nokia Lumia 820 to WP8.1 but every time I tried to take a screenshot, the "Something's Changed" message wasn't as helpful as this article :)

All this seems to do on mine is send the phone into Standby Mode. Up Volume Key and Power Button at the same time, right?

The key is to do them at the same time, if you hold down VOL UP and then press Power it doesn't work, or vice versa.

Why did it have to change because my volume up button doesn't work anymore so could you change it back to the same on on windows phone 8. PLEASE!?!?!?!?!?!?!?!?!?!?!?!!!!!?!!!!!!?!!!!!!!!!!!!!!!?!!!!!!!!!!!!?!!!

in my lumia 525 the buttons for taking a screenshot is not working properly , so is there any app or other methods through which i can take a screenshot.....