Advertisement Feature
How to send and receive faxes online by email or computer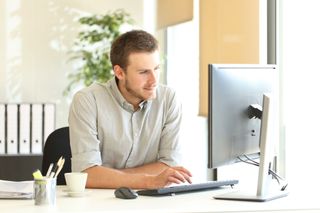 (Image credit: Shutterstock)
Yesteryears, it was impossible to walk into offices without being greeted by the noise of bogus fax machines whirring into action, shiny filmy fax paper scattered across several tables and the nauseating sight of messy toners. At the time, it was the best option, at least, more promising than mailing via a courier service with a turnaround time of several hours, days or even weeks.
Several decades later, evolutions in communication technology have blessed us with better options of faxing documents – computer and email methods. Just like it was with fax machines, you can send confidential documents over long distances through these methods.
The most significant perks of sending faxes via email or using computers are that they are less stressful and can be done in record time. You can now send faxes on computers from Google, Microsoft with online fax services like CocoFax, among others.
Jump right to the info you need:
Part 1: Sending and receiving faxes
Frankly speaking, fax machines are so 1980s, if not medieval times. The troubles associated with them and the rolling out of more improved technology has dissuaded a lot of individuals from its use.
Online fax services are the new black and the most commonly explored method of faxing documents and images these days. The reasons are not far-fetched. As earlier highlighted, they are less stressful and faster than traditional fax machines.
CocoFax, for example, has these characteristics and even more. Using this online fax service, you can fax documents to anyone at any time of the day without using any hardware or equipment.
You can also fax documents via your computer using the windows fax and scan feature present in the Windows 7/8/10 operating systems. In addition, you can still fax documents using Google Docs and Sheets with online-fax service add-ons and Gmail, among others.
Part 2: How to send and receive faxes online by computer
Many people still believe faxes can only be sent via fax machines. Is that the case? Let's cut to the chase – no! You can send and receive faxes through computers. If you are like most others seeking answers on this subject over the web, it'll be confusing to see how this is possible considering that computers and fax machines work on different languages.
This is where online fax services come in. They have algorithms responsible for translating these languages and communicating documents between a computer and a fax.
One of the best free fax online services available is CocoFax. With CocoFax, you can fax documents on-the-go to a recipient at lighting speed using your mobile phone or a computer. Perhaps, most importantly it is a free service.
All you need to get started on CocoFax is an internet connection, a CocoFax account and a fax number. You can simply sign up on CocoFax platform and subscribe to the 30-days free trial option. Then, attach the documents to be faxed, add a subject and send. A confirmation message is then sent to you if the document gets to its destination. The platform allows you to send documents of various formats including pdf, jpg, jpeg, png, doc, docx, xls, xlsx, tiff.
It is even comparatively easier to receive faxes through CocoFax web platform on your computer. Your computer receives the fax for you even if it is not switched on. You will have to log into your CocoFax account to see the received fax.
Another viable option is going through Microsoft Windows fax and scan application. However, this method seems to be more complicated than using an online fax service. That's because your computer must be connected with a phone line. In other words, you will need a dial-up fax modem. You also need to have a landline telephone connection, as well as inform people to stay off the phone when you want to send faxes.
If you are going to be sending faxes often, you can pay for a dedicated telephone line. This eliminates the need to tell others to stay off the phone.
Though a good alternative, it is less ideal than using an online fax service in today's world. This is particularly true for brands and organizations that send faxes in and out often.
Other methods of faxing documents from computer include fax from Google Docs, Sheets and from Microsoft Word.
Part 3: How to send and receive faxes online using email
You can send fax online via email using CocoFax. So also can you receive them whether you are using a Mac, tablet or your smartphone. However, it is impossible to send faxes directly to your email client without the presence of a translator technology. This is where online fax services come in. A very reliable email translator technology is that provided by CocoFax.
Using this online fax service, you can send faxes to virtually any email client including Gmail, Hotmail, Yahoo and brand personalized email clients. Here's how:
Register a CocoFax account.
After registering, click the compose new mail button.
Draft your fax in the pop-up window.
Enter the recipient's fax number followed by @cocofax.net in the 'To' field.
Write the subject of the fax in the subject field. Then, attach the documents you want to fax by clicking the attach button.
Finally, click send.
What else to expect in online fax?
Delivery report After successful delivery of your email, you get a free delivery report that notifies you that the email has been delivered.
Portability You can send faxes from any place in the world and are not limited or confined to a particular space.
Permanent storage The free fax service stores permanently all faxes you send. This affords you a clutter-free storage experience.
Security Faxing involving phone lines is not entirely secure because someone might be snooping on the line. Online fax service provides a more secure gateway from the sender to the recipient since it eliminates the need for phone lines.
Final Take
Faxing has gone beyond machines. You can now fax documents on the go using the plethora of options available to you. Indeed, you can fax documents using online fax services, Gmail, computer, Google Docs and Sheets (using CocoFax add-ons) and Microsoft services. These are better options than the traditional fax machines, hassle free and do not necessarily need phone lines.
Windows Central Newsletter
Get the best of Windows Central in in your inbox, every day!
Windows Central Newsletter
Thank you for signing up to Windows Central. You will receive a verification email shortly.
There was a problem. Please refresh the page and try again.