How to set different wallpapers on multiple monitors in Windows 10
By Mauro Huculak published
It's possible to set a unique wallpaper on each of your monitors, but Windows 10 doesn't make the option easy to find.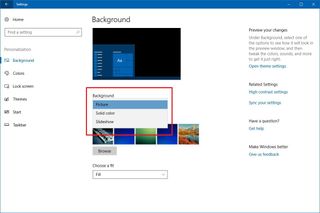 Although Windows 10 has been improving its multi-monitor support with every release, if you have a dual-monitor setup or one with even more displays, the OS still doesn't offer an easy way to pick a different wallpaper for each of your monitors.
However, you don't need to resort to third-party tools because the option to set a different wallpaper is there, it's just not obvious to find.
In this Windows 10 guide, we'll walk you through the easy steps to customize your multi-monitor setup with a different wallpaper on each display.
How to customize each monitor with a different wallpaper
Personalizing monitors with different wallpapers on Windows 10 is a straightforward process, just follow these steps:
Open Settings.
Click on Personalization.
Click on Background.

Quick Tip: You can always right-click on an empty space on the desktop, and select Personalize from the context menu to get background settings more quickly. Also, you can always type the control /name Microsoft.Personalization /page pageWallpaper path using the Run command (Windows key + R) and clicking OK to access the background settings.

Using the "Background" drop-down menu and select Picture.
Click the Browse button.
Browse to the location with your images, pick the wallpaper, and click Choose picture.
Right-click the image and select the monitor you want the wallpaper to show.
After completing the steps, you can repeat step No. 5, 6, 7 to set a different wallpaper on each of your monitors.
More Windows 10 resources
For more helpful articles, coverage, and answers to common questions about Windows 10, visit the following resources:
Windows 10 help, tips, and tricks
Mauro Huculak is technical writer for WindowsCentral.com. His primary focus is to write comprehensive how-tos to help users get the most out of Windows 10 and its many related technologies. He has an IT background with professional certifications from Microsoft, Cisco, and CompTIA, and he's a recognized member of the Microsoft MVP community.
Thanks, interesting tip.😊

Good tip, Mauro. This is helpful. Thanks.

Nice tip Mauro! And how does Windows 10 handle these wallpapers while changing setups? For instance: I'd like to have some different wallpapers on my external monitors, but I'd like my Surface to always have the same one (the synced one). Does it revert to that and "remember" the external wallpapers for these displays only? Or does everything get garbled up? :)

Well I'll be! I swore they just removed this option - it was so much more prominent in Windows 8 and I've really missed it. Thanks!

Windows 10 was such a step backwards in desktop customization. For a while if you knew the control panel shortcut you could get to the old control panel customization screens but that was removed with Creators Update. Now at least themes are back and those saved in the old control panel theme screen are still there and kept the 10sec wallpaper rotation if was set like that but I cannot set new wallpaper slideshow for shorter than 1min now... Love my 10 sec rotation...

Indeed it maybe so but overall i think it is all on the focus of removing old systems/files and replacing them with newer systems/code, that is more efficient in the long run, features will return but i don't think Microsoft intends to keep running on old code anymore due to all this old code/clutter is what makes/made Windows a heavy platform and less flexible when it came to running on various devices so by doing such adjustments, it is done simply to create a more portable system.

I don't mind progress and optimization, but before removing the old code, the new one should be on par with the old which is something Microsoft don't do. They cut fully functional features to give us half-baked stuff and slowly add on it. The desktop personalization is not yet on par with the old one yet but almost, only took them over two years...

i however wish there was the same for slideshow on both monitors

I would def like to know you can have different pictures on slideshow again. A feature I loved.

Aaa! So this is where they hidden it :D Thanks!
Windows Central Newsletter
Get the best of Windows Central in in your inbox, every day!
Thank you for signing up to Windows Central. You will receive a verification email shortly.
There was a problem. Please refresh the page and try again.