How to change Microsoft Edge's default search engine in Windows 10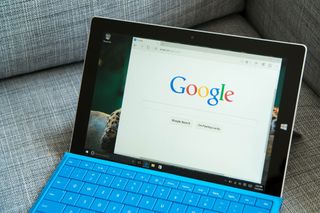 The default search engine on Microsoft Edge that comes with Windows 10 is Bing. Whenever you type a search term in the address bar, it automatically does a query on Bing. Want to use a different search engine instead? We'll show you how. Watch our quick how-to video.
In this example, we'll change the default search engine to Google.
Go to the google.com.
Tap the three dots on the top right corner and select > Settings > View advanced settings.
In the list under Search in the address bar with, choose Add new.
Select Google and then Add as default.
That's it! Now, whenever you type a search term in the address bar, the results will come from Google instead of Bing. You can add other search engines as well, but Microsoft says only search providers that support the OpenSearch standard will appear in the list.
Are you keeping Bing as your default search engine, or will you be changing it to something else? Let us know in the comments!
Why would anyone do that? Thanks but, no thanks!

Go ask why 70% of desktop and 90% of mobile searches are made through Google.

Because someone that thinks they are helping the user changes it to Google for them,or they have chrome,Firefox

so where's the 30% and 10% respectively? why not ask them too while your at it.

Because they're the minority of people, either using Bing only for some extra advantage, or people from China who trust their own search engine, Baidu.

then you just proved that there are other choices out there. why do we always have to ask the majority. do your majority answer for those poeple that google search won't work for them?

@emma0 "Why would anyone do that?" Here, "anyone" is expected to be someone from the "majority" of a group before considering the "minorty", by following the logic of something we've developed over years called common sense. Hence, it's better to ask the majority why would they do that.
Is it so difficult for you to understand? I mean, really?

lol, yea, common sense. anyone can be anywhere if you got common sense. lol *what's up with the personal attacks? hahaha

Didn't mean to sound rude, really. Just got a bit frustrated :P

If Xerox copiers weren't expensive everyone would be buying and using only Xerox copiers. Thanks to competition we don't have a monopoly in copiers.. @kwajr: Very true. All my clients and friends and family have stuck with Bing because I set their browsers to Bing.

You shouldn't use google search because it tracks you and breaches privacy norms. I would recommend using duckduckgo for educational and information purposes and bing for other purposes.

My answer: I've used Bing solely for almost 3 years now and have been completely satisfied. Did I answer your question?

It's like these comments come from a parallel universe or something.

Some crazy people like to have actual reliable search engines...

This I just not a fair statement both are very very good

True that's why I have exclusively used Bing for almost 3 years now and have been completely satisfied.

I will! Because Bing search sucks for my region. Simple as that.

Why and for what, who needs Google and all spying.

Actually, its nice to know. Now I can change it back to Bing after some annoying third party app changes it to Google. :)

Seriously lol, wish they wouldn't tell people how to intentionally betray microsoft. Pretty ironic.

Because face it, Google is the best search engine ever :D

This is a joke lol. Google used to be awesome, but it seriously has gone down hill. If you don't think Bing is the best you must not live in the u.s. Here in the U.S. Bing is far superior for ever single type of search over google lol.

I live in the U.S and never ever gonna change Google for Bing or anything like that LOL xDDDD

Doesn't make sense, but alright. Go ahead fanboy.

Never going to change. Fine. Be stubborn fool. For me, I will use bing since it does an equivelent job and I get bing rewards which is worth real money. If the choice is use google, don't be paid, and have a significant amount of personal data collected by Google or use bing, get paid, and get basically the same search results, I will use bing. In the rare case when bing doesn't find what I need, I can always try Google to see if it has better luck.

You replied to the wrong person :) I'm all for Bing. I got your email notification and was like... Well that's a little confusing.

The notifications have always been fucked up... Great for entertainment though...

Have you given Bing a fair chance

Hey man I love Bing. Just got the notification saying you replied to me, you replied to the wrong person!

That's just the Google systems intercepting and rerouting the mail so when you get enough you'll be like "screw it now I'm going to use Google" ;)

I assume this was replied to the wrong comment...? I have no clue what you are talking about.

Try BingItOn at www.bingiton.com, i.e., the blind test comparing Google Search and Bing. Then let's talk. You might actually prefer Bing!

Why would I do such a thing?! Lol

Because you took bath salts

Because the Bing search sucks. When I want to find something simple I always have to scroll down for ages without finding When I use google whatever I want is always on the top.

Stop lying, Bing search brings up the topic you search for first than compared to Google which brings up searches for higher ad revenue than relevant topic.

Much needed guide. Did not find it anywhere on the internet. The Add new option was greyed out for me.

You must have been using Google. Completely serious...Using Bing over the last few days, to search for news and articles on Edge, two or three other articles just like this came right up.

Ya may be. But I am kind of used to Google. I know how to deal with it and it's features and other Google services like maps or translate rather than learning how Bing functions. It's one of the very few components of Microsoft I don't know much about.

If you need a guide to learn how to change.you need the easy to use and colorful results from Bing
You are the primary target for bing

I think I'll keep Bing. It's been getting much better.

What happens to "Ask Cortana" if I do that?

She'll tell you that ur sleeping on the couch tonight

Here's a secret. It seems that Cortana is cheating on us with both Apple and Google.

She must be on Ashley Madison

Did you know that the default search on ios is Bing?

Wouldn't dare to change it

Well Google has stolen all my preferences in search, so I'll be changing it ASAP

I'd love to keep Bing but living outside the US Bing is not so cool unfortunately. Changing browser settings to US indeed means finding more and better regional things than using your own region...crazy

When logged into bing to to settings and then web. Try picking your own language and maybe results will be better.

I will never Need this info! It is blasphemy!!

Duckduckgo - why use a search engine that tracks everything!

Because of Bing Rewards. I earn quite a bit of money just doing what I was already doing.

That should be ad why use Bing?.....cash in your bing rewards done and done

I'd love to start using Edge, but even in the latest build, it's loading times are unacceptable. In Chrome, Firefox, etc... you can almost immediately start scrolling up and down the page, even if not fully loaded. With Edge, even after a page appears to be fully loaded, you still have to wait before you can scroll.

I haven't experienced this

Yeah I'm trying to like Edge, but I keep going back to IE as a bunch of Microsoft stuff still uses Silverlight and that don't work with Edge...

yup, feels you man. This has been a thing since Internet Explorer and you know what stops it? Adblocker or EasyList w.e its called for IE. The moment I enabled EasyList I was able to instantly scroll down websites while they loaded, so what this also tells me is Microsoft is doing something wrong with their handling point clicker events because if Firefox without any adblocker can still scroll, then Edge should be able to do it as well. I've complained about this for sometime through feedback and idk if its something in their plans or its simply certain websites that aren't applying ads correctly. Cause there are some sites on Edge that scrolling works right away.

Perfect for those that want to search for illegally posted revenge porn.

Google is far more restrictive on porn than Bing is.

Bing is way better than Google when it comes to porn. I love that video rollover / preview feature. Microsoft deservese a medal.

Lol. You are Cray dude :P.

Bing is fine... No google please

Gone with Google, to do evil

"in Windows 10"
As opposed to all the other OSs that have Microsoft Edge

Well windows 10 is the only OS with Edge. Although if Microsoft really wants it to succeed they need to release it for iOS, android, and osx as well. Just like chrome, friefox, and safari. Which are on all OS's.

Now I use ie11 and Firefox with Bing. Bing almost finds every fucking official site I search for it. But one thing Bing needs to improve is local information around us where google is still the best preferred. Microsoft specially in India can collaborate with companies like justdial which has rich data with them regarding any address or phone number u require. Microsoft has a good chance for Bing if they partner with just dial in India.

That's the only reason I use Google.
Bing sucks outside the U.S. and Microsoft doesn't seem to improve on it for years. Local search results are meh.

That's y Gautam I want Microsoft to partner with just dial.

Agreed. At least they'd be able to show up the local services and search results.

Who on earth still uses Firefox or w/e I have never not used i e

Over 50% of users worldwide use IE.

On PCs and laptops, this is still true; however, many people around the world now use their phone or tablet as a primary search device.

Why would you want to do that??

Nah... I still use google because bing outside US is kinda shit; not following any "cult" or fanatics that only use THAT certain services and deem others as sins. LOL. Anyway great guide Mark!

Change your language to English, Worldwide. Yes, in most locales It is hampered by lack of support. With Cortana slowly expanding, that will change.

I will wait till cortana reach my country, maybe i'll consider to use bing. Even more sweet if bing reward expand to outside US and into more regions

Why can't the same be done in windows 10 mobile?

Bing is deeply integrated because of Cortana in the OS and the browser. Mobile devices don't need to allow changing of search engines.

I dont know... I want IE back... So much better then edge... ( my opinion ). Hope ms will deliver a google search engine option till launch. Other wise yet another big minus

There is google search engine, they just explained how to access it. But it isn't needed on edge for mobile because cortana is integrated into it so that's what you have to use. And Cortana is greater anyway.

you can change it to google by roll back to 8.1 and change the IE search engine to google, and go on insider again to update into win10mobileTP. You'll find ur search engine on Edge is using google.

This guide was not needed, this is a Microsoft site lol, no need to promote switching search engines! :( Bing FTW.

I love Windows and XBox but prefer Google's services to MS. Win for me :) Posted via the Windows Central App for Android

Then don't use edge lol. Simple as that. There is no reason to be posting on a microsoft based forum if you are an android /google person.

Except he just said he is a Windows person.

Bing in germany is crap. First thing I did was changing the search engine to Google.

Not really. I use it daily here. No Problem. Maybe you have to look closer the results you get.

Why would you give a article like that? I'll keep Bing thank you, it's far superior than Google

Nice to know, but to be honest, Bing has grown on me. Less intrusive advertising, nicely laid out images, etc. And I can trust what rises to the top without the biases Google plumbs. The portal does a nice job of laying out tends and headlines.

This information is irrelevant, we don't need Google, Bing is faster and smoother and looks waaaay better. Windows central should be informing users about the new video option in Bing. Here goes: If one type in an artist name and press video in Bing they will get all the artist albums and songs nearly lined out, far better than using YouTube in my opinion.

this is MUCH BETTER LOOK, google yahoo etc http://www.tekrevue.com/tip/google-default-search-engine-microsoft-edge/

Keeping Bing. I've slowly managed to detach myself from all google services, except Youtube, and gmail, which is my trash email account.

Same! My gmail is just my trash email.. For acquaintances.. For websites that uhh... Not so popular... Just to keep away from my personal info..
I use youtube though... If MS has a YouTube competitor..... I might take the boat slowly... Vimeo????

Please use Vimeo and Vevo as those guys supported us for awhile.

If I do this with a Windows device I might as well sign up with Ashley Madison

Whenever I have to go back to Google now after using Bing, I feel handicapped. Google just looks so old fashioned after using Bing.

Just another feature of Win10/Edge I will never use or show anyone I know.

Well.... Mine has a diff story.. My friend immediately fall in love with them. Srsly.

Why would you show this? - Rhetorical. Bing for life! Bing is my friend. Que Turtles - So Happy Together.

Seriously dude why the F* i want to do that?

Haven't used Google since uh? Can't even remember.

Same thing! Haven't use google since... Idk.. Even facebook!! Haha!

Thnx Bing is just pathetic in India. The Bing bot is very slow in indexing sites :/

I've been using Bing for almost 5 years now and find it to be very good. The only place where it needs more work is local results. Also, for things like news, Bing's interface is so much better!

I'll use the search engine that pays me instead of an engine that takes my personal data, sells it and gives me nothing back. Bing rewards is a great program. I know it's US only, but if you are in the US and don't take advantage, you are a fool. The search results are basically the same. Added bonus is that I don't provide info to google that will allow it to create more targets ads toward me.

All these fan boys are hilarious haha. Posted via the Windows Central App for Android

I'm using Bing all the time.

Thanks but I'll keep Bing.....

I introduced my friend to Edge and Windows 10 last night.. And today when i asked him if he will install chrome on his PC with Windows 10 insider build 10162 (not activated, still waiting)-- he definitely said "No!! I wont! I already love Edge! Faster and smoother!" : )

I prefer Bing so no need to change.

Now why can' they do this on WP10.... :(

No such thing as wp10 its w10m or windows 10 mobile

I like options but I'll stick to bing

Seriously? Wasn't the tutorial enough? You need a PICTURE too? WHAT THE FREAK!

What's next?? How to synch your iPhone/iTunes with your Windows 10 PC?

Man that looks just like Chrome.

He asked. We answered. Thanks for playing.

Yeah why would anyone switch from Bing? I'm confused

I love Windows, but Google > Bing Posted via the Windows Central App for Android

Too bad we can't do that with Cortana Posted via the Windows Central App for Android

I still can't get Google to work...

Need this option for phone version too.

I use Bing as my daily driver... I mean Bing used to suck big time... I hated it. I would always go google. Then Bing was enhanced with vvery good photo searching which displayed sources and such. After that, Bing just kept getting better. I used it more ans more, but when it failed it failed hard where I would still go back to google mad... Fast forward a year or two sns I rarely use google. Bing is it for me. Clean reliable searches... Plus Bing rewards. I get paid rather than scroogled, lol.

No thanks. Bing all the way. Google does to much evil.

Can it be done do on Windows Mobile 10?

How to change on win10 mobile default search

Most people use google.com just to see, if their internet works. LOL..

I would very much like to use Bing only but I don't think it's possible yet. I use web search for my work and I wanted to use BIng but verified searches on Google on a few occasions. Unfortunately the results from Google were more complete and I missed out on things when using Bing.

Sorry if I missed in in reviewing the other comments here, but didn't see anyone else ask about this: Was it necessary to browse to the Google site before making the setting change, or does it always offer Wikipedia and Google as alternate search options? Or, to ask it another way, if you to say, Yahoo or IMDB, before opening the settings, would the current open window have been an option to add as the new search engine?

I would rather stay on the msn page.

I am changing my browser to Chrome. Can't change my default search enging in Edge to Google. All the buttons are greyed out. Really disappointed Microsoft is forcing Bing on us!!!
Windows Central Newsletter
Get the best of Windows Central in in your inbox, every day!
Thank you for signing up to Windows Central. You will receive a verification email shortly.
There was a problem. Please refresh the page and try again.