How to factory reset the Microsoft Band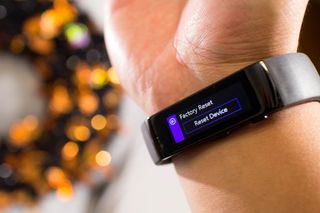 If you need to start over, switch phones, or trying to solve a problem, you'll have to factory reset the Microsoft Band. Don't worry. The process is very simple. You also won't lose the data that you've already synced to the cloud. Follow these steps to bring your Microsoft Band back to how it was out of the box.
Prerequisites: Unregister and remove pairing
On your phone, open the Microsoft Health app, and tap the Band icon
Tap My Microsoft Band, tap unregister this band, and then tap ok.
On your phone, remove Microsoft Band from the list of paired Bluetooth devices.
Reset Microsoft Band
On your Microsoft Band, tap the Settings Tile, and then tap Power
Swipe left, and under Factory Reset, tap Reset Device.
Under Erase All Data, tap Yes.
Another way to reset
If your Microsoft Band is unresponsive, there's another way to perform a factory reset. Hopefully this doesn't happen to you, but my Band got stuck in the pairing screen and I didn't know what to do. I called Microsoft Support and they shared this nice little trick.
Press and hold the Power and Action buttons on the Microsoft Band for about 10 seconds. The screen will turn off.
Connect the Band to the USB cable to turn it back on.
That's it!
Multiple Devices
It's a little inconvenient that you need to factory reset the Microsoft Band when switching phones. We don't imagine many people complaining about this, but it would be nice for the Band to be able to switch phones easily. Perhaps have a switch option in the settings? Nevertheless, a factory reset is quick and you don't lose data you've already synced to the cloud. Just don't forget to sync before you perform the reset.
We'll have a full review of the Microsoft Band very soon. Have any questions in the meantime?
Windows Central Newsletter
Get the best of Windows Central in your inbox, every day!
Yes, the Band. Now for something completly different: Wireless Display Adapter now on sale in de US store.

I want one very much. Never did before. However, seeing the capabilities and being in love with my 1520, its a match made in heaven. Worse, I live 15 minutes from a store in Orlando, FL. Must harass/convince wife I need another toy. I'm running out of excuses.

If you do find one, please let me know. They are out of stock here in the Seattle area. Went to 4 locations(2 big stores and 2 kiosks) and they don't have any left.

Thank god it wasn't there when I went to pick my band up yesterday. I would have so impulse-bought that haha (I don't really need it)

I almost picked up an 8" tablet while the MS Store rep went to the back room to retrieve a Band for me. Fortunately, she was very efficient. Still, I'd love one for use as a more portable reader and casual game machine. Someday... Someday.

OT: Where? It still says 59$

More than 36 hrs talking about MS band, we need more about next WP update, we need rumors, news, images

Lol, they won't make up rumors just to write more articles.
The Band is a whole new type of product for Microsoft, so it's normal everyone is curious about it.
Can't wait for the review of the wearable!

The Band is practically a blank canvas for Microsoft, there's a host of possibilities so get used to the stories as it improves over time.

Maybe if this were Windows PHONE Central, I could maybe sort of see your point, but now you're just uselessly complaining.

Warms my heart to finally see this comment, lol

I didn't know you have a heart Daniel ;)

My Band is shipping as we speak. Thanks for all the great "how - to" articles. With that said,I see a lot of rumors (Music locker), games, etc articles sprinkled in as usual. Keep up the good work.

Windows Central for the win

Some of us are actually keen to get the band, so actually want to know this stuff before we buy.

If only I can downvoting you... But I can't

The Band news was a good surprise happening overnight without warning. That's wonderful. Now we need another one for Lumia 1030.

I got two overnight surprises this week. First, Cyan with OS update to 8.1.14192.280 hot on its heels for my Lumia 925 on TMoUS. Then, Windows Central telling me Band was announced AND available for sale AND by the time I finally trekked to my closest MS Store an hour before closing they still had one in my size. Really, the multiple Windows Central articles covering multiple aspects of the device sold me on it over the alternatives. And at the MS Store, I made sure to tell the store rep I was there because of Windows Central.

Think about NO rumors was good to the band =D

hya kol l nas fasha5etak kda leeh :D :D :D

Wnta mal koss ommak, khallik fe 7alak

yalla ya 3el2 yabn l metnaka kosmeen omak yabn l labwa
ana ghaltan eny bakallem ashkal wes5a zayak

Some news I assume Mr. Thurrott is attempting as we speak.

Lumia 735 and 830 reviews would be welcome. The band reveal was unexpected and intriguing but it's not for all regions just yet whereas the new Lumias have been out for a while now.

Those were supposed to be here yesterday/today, but the Band threw us for a loop. No worries, they're right around the corner.

Not such a big deal not being able to pair with multiple phones. My jawbone can only sync with one device at a time, and I've got to go in to the app and essentially forget the device before it will let me sync it with a other one. I assume it would become a bit of a nightmare with what's synced and what hasn't, what's gone to the cloud and what hasn't if you could sync with multiple devices at once

Can only sync one FitBit and currently need proprietary dongle. My Aria can only set to metric or imperial so while I originally had it set for pounds, when I added my wife she insisted on kg. I got so many weights screwed up on HealthVault making conversions I gave up. The limit on switching phones should be no problem if one thinks ahead.

I could use the switching between the phones settings. I've suggested it to the Cortana team. My work phone I want stock info as I have it with me all day but don't want the same Cortana on my personal phone for after work hours

It really need to be plugged to go to live again after the reset? Looks bad if it hang when you are out.

I've switched between iPhone and Windows Phone without needing to reset the band. Other than dropping the Bluetooth pairing from my phone I haven't had any trouble. Just me?

That's good! Is this your first "fitness band" to use?

Yup. I've tried some of the pebble capabilities that are similar, the band is bulkier, but the idea of GPS without phone when I run is huge to me.

I have been switching between multiple windows phone devices (920,1020 and 1520) and haven't had any issue as well. Just need to go into pairing on band and re-pair the band to device you want to use. You do need to delete the band from the device you want to pair it to first.

Omg man, if wCentral don't stop talking about this Microsoft band I'll end up buying one

Do it! You know you want one!

Well worth it, and that's after just 30 hours of ownership :-D

That's what happened to me. Granted, I've been considering some kind of fitness tracker for over a year, but none of them really did it for me. Almost got a Fitbit, but they all seemed overpriced for what little they did. After checking out all the features Band offers, nearly all of which are exactly what I have wanted in a wearable device, the $200 price tag became much more reasonable.

How come DJCBS and Rodney haven't been commenting on the band articles?

Oh, they did. And on and on. When have they never been longwinded?

Guess there's nothing obnoxious for them to say

Please get the band back into the stores immediately, this waiting game is bs . Your loyal customers.

If I wear this band while involving in sports/activities that full of actions (eg. playing football/soccer), do I need to bring along the phone paired with the band in my pocket?

No need to have your phone in your pocket while you play. Band will auto-sync the data it collected when it finds itself back within range of your phone.

Really??wow,I'm waiting for a worldwide sale. Must buy!!

Edit to my comment above: Just tried a few things, and auto sync appears to be somewhat periodic and not necessarily whenever you go out of range and later go back in range of your phone. The Band page in the Microsoft Health app shows when the last sync occurs. A non-constant sync is a good thing, as it greatly conserves battery power for both the Band and your phone.

So,this mean that I just sync this before a game. When in the field/court,maybe I'm out of range. Then when I finish the game,I return to my dressing room and it will sync automatically. Is that right?

Haha not even one day.. U want to reset it??

I actually do not think it is necessary to reset the Microsoft Band every time you switch phones. I did it a few times and all I did was del it from the phone's Bluetooth and pair with another phone. I think you would only need to unregister the device if you are not going to use that phone anymore, selling it perhaps. Other than that, the Band will sync to both devices, you just wont receive notifications from the unpaired phone on the Band, and the unpaired phone cannot access the Band settings in the app directly.

I wonder if the ability to pair with more than one phone can be done via fw update? I'd love to try this with my 5s as well to see how it is on that phone

Microsoft stores are taking back order requests. If you want one, but are having issues finding one, go into a store and place your back order. This will be your best chance in getting one before the holidays.

My Windows Phone Lumia 930 had a HW issue that forced me to reset the phone and for some reason I lost the Microsoft Health App, which I had to reinstall ... I also factory reset my Microsoft Band since it could not reconnect to the App. Now, the App is telling me that "This Band is not registered to You. If you want to use it, go to My Microsoft Band to register it". But I don't seem to find where this "My Microsoft Band" is and how to go to is. Any idea?