Got a new Windows Phone for the holidays? Here's where to start!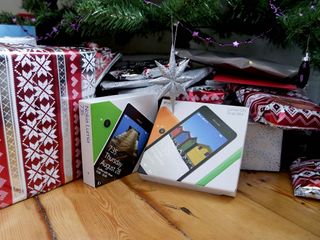 Happy holidays to everyone! At this time of year gifts are given and gifts are received, and that includes smartphones, tablets and all manner of other techy products. If you were lucky enough to be gifted a new Windows Phone, then we're here to help you get the best out of it. If it's your first, then welcome!
But whether you're new to the platform or returning with a newer device, here's everything you need to know to get up and running with the best experience on your new Windows Phone.
The basics
Everyone needs to know the basics. If you've never held a Windows Phone before then you're potentially going to need a few pointers to get up and running. Check out the links below to see how to take care of some basics on getting your new Windows Phone working for you.
How to speed dial on Windows Phone 8.1
Those are just but a few of the things you might want to know, but they'll help many get up and running. If you want to go digging for more, and even explore some more advanced tutorials, be sure to stop by our How-To hub.
Help & How-To from Windows Central
Cortana
Worthy of breaking out separately, if you're in a supported region then you'll be able to use Windows Phone's very own voice assistant, Cortana. And just like her Halo namesake, Cortana can do a whole lot for you. From setting reminders to singing Christmas carols and a whole lot in between, check out our dedicated Cortana page at the link below for everything you'll ever need to know.
Download the best apps for your Windows Phone
The Windows Phone Store is full of great apps to suit all needs, but, finding them can still be a task. Fortunately we're here to help you wade through and separate the wheat from the chaff. We've rounded up all kinds of different best apps for different situations, and you'll find them all available to browse at your leisure at the link below.
The best Windows Phone apps
Download the Windows Central app, of course!
You knew that was coming, right? But seriously, the Windows Central app (created by the amazing Jay Bennett) is something you should absolutely download. We'd love you to, but besides that it's a great way to keep up to date with everything happening in the world of Windows Phone (as well as Microsoft in general, Windows and Xbox) on the go. We've got a live tile, a lock screen, forums access, it's all there. We're immensely proud of it, so we hope you like it, too!
Join in the discussions in the Windows Central forums
The Windows Central forums are a buzzing, vibrant community filled with enthusiasts from across the globe. There's a wealth of knowledge, dedication and enthusiasm in there and any new members will be made to feel most welcome. Want to shoot the breeze about the latest, rumored devices? Got a question that you can't find the answer to anywhere? Just want to chat with some like minded folks? Jump in, there's something for everyone.
Hopefully that little lot will help you on your merry way. Here's to enjoying your new Windows Phone!
Windows Central Newsletter
Get the best of Windows Central in in your inbox, every day!
Managing Editor - Tech, Reviews
Richard Devine is a Managing Editor at Windows Central with over a decade of experience. A former Project Manager and long-term tech addict, he joined Mobile Nations in 2011 and has been found on Android Central and iMore as well as Windows Central. Currently, you'll find him steering the site's coverage of all manner of PC hardware and reviews. Find him on Mastodon at mstdn.social/@richdevine
Happy Holiday's everyone. I did not get any Windows Phone gifts. I'm waiting for a 1030 to replace my 1020.

also waiting for 1030 PPPLLLZZZZ!!!!!!!

I was going to say something along the same lines but it looks like everyones got it covered.

I'm waiting too, but only because I want it to become old and cheap so I can buy it, in cash (I don't lock myself into contracts on phones anymore - phones are fast enough to last two or three years these days). I'm happy to save up money without a "loan" from the carrier.
Oh, and, look at Lumia 920, still going strong.
// 920 and 1020 owner

I'm still happy with my L920 after two years.

I wish I never gave up my 920...

Happy holidays to all of you as well. I haven't got new Windows phone but wireless charger DT-903 in orange color, but waiting for Denim to make it fully working. But so far it is a beautiful piece of hardware. :) It is charging, but does not maintain Bluetooth connection and therefore no "smart" functions are working. It just drops after few seconds. Waiting for next wave of Denim deployment. :)

Best apps... Even non windowsphone users will believe

Tell that to Spotify users on Andy or iOS. Or Facebook. Or Twitter. Or Instagram. Oh and that WP music player is just a beast. I mean all those bugs. Reminds me of those pesky little Xmas trees that Western sheeple use.

I use Facebook on "Andy" and WINphone and I think the groupthink that ours is so bad is just comments being repeated until accepted as truth.

I'm sure this is meant to be a day off guys... >_>

These guys just love their work don't they.
Its good to take a break guys.

FWIW we have an auto-post scheduling system on hand. So it's definitely a day off for most of us. This post was written 2 days ago :)

But you are still posting here...

I got the new green Lumia 930 and I'm happy with it! No more android

Glad you like the 930. Have to say I've grown to love mine over the last couple months. The OS is great. May 2015 bring us loads of updates and new stuff, too.

I love mine as well... :)

Welcome to the club, got the exact same!

Nobody had a Windows Phone for christmas

I did, which kinda proves you wrong. Sorry, you were almost hilarious with that comment

just two comments over yours somebody got green 930 ;-)

So... Welcome to the WP world thrn ;)

thanks for your help merry christmas to all windows central writer and microsoft fans hope to have a great christmas holidays

Jay, how's work going on the new WP app ? :D

He's getting into it in January :) he had to take a brake from it

Lumia 735 for £129, fantastic phone, nothing better at this price...

If moving from an older wp8 handset I find its much nicer to start from a clean slate instead of recovering from a backup as moving in between OEMs it can get messy

My wife broke her Lumia 820 and I'm poised to replace it. I'm so confused between getting the Lumia 925 or the 830. She's ok with any but then 925 design, camera & SoC is really appealing to us. I'm not sure the 830 has enough to convince us other than quad processor and maybe mmc slot. Can anyone advice?

She will not be disappointed with the 830. The 930 may be too heavy and not that great for a lady's hand. The 1520 may be too big (that's what she said ;-) ). But the 830 is certainly smooth, weight good and performance will surprise you both.

The only thing that I don't like about the 830 is the display. It's mediocre for me. But if your wife is not that particular with the display, I think you can go for it!

If I had to choose ! It'd be the 830 with a better camera, SD card and 8.1 with denim on board. Posted via the WPC App for Android!

I have the the 925 and love it. But as of now...the 830 is a bit better in all regards except for the display quality!

Windows Central seems to be dead now........!
my brother updated his new Microsoft Lumia 535 which is of 414MB in size and none of WPC guys have mentioned it .
Is only Sam Sabri said goodbye or all others went

Mentioned it a couple of days ago when it happened...you know, because we're good ;)

You have told that Microsoft will push updates but better to inform that update is being pushed

Then tip them about it? What do you think, they can read your mind?

Tipped them 10 hours before I posted in comments here

@Abhishek1320 Calm down dude. Christmas time!!

Hello, Question, Will I lose my "Windows Central App" (freely aquired) if I reset my WP-Lumia ?

You can just reinstall it. Even paid apps will be reinstallable, as the app is connected to your account, not your device.

I'm at work right now and just convinced a co-worker to get the Lumia 1320 on Cricket Wireless.
Merry Christmas Windows Central and the entire Windows Universe.

I got no Windows nor a phone :P Merry Christmas & Happy Holidays to all !! :)

Was lucky enough to get a gorgeous black Lumia 930! Absolutely stunning phone! :) Had the 1020 prior to that - loved that phone - such an awesome camera! Now I'm gonna enjoy this one until the 1030 comes out! ;)

Love my new 1520!!! Keeping my old Titan II wp7.5 for music in the car, since it fits the console. Still gets email on Wi-Fi, too, so it's nowhere near obsolete. Wife got her new iPhone6. Very happy, too. Merry Christmas and happy holidays to all!

How can my apps be displayed in The best Windows Phone apps? Merry Chrismas and happy holidays to everyone!

Merry Christmas everyone!!!

Welcome to Windows Phone. Learn to embrace the words "Just wait until...". Santa is there Denim under the tree from ATT? No not the Levis I wanted. The firmware kind

That forum pic... Good way to mention Sam! Also, good luck Sam at Microsoft.

Who is Jay Bennett? I've never seen any of his writing on WinCentral!

He writes on rare occasions but he's the app developer for Windows Central.

No offence but I didn't know Jay Bennet was a guy until now. I always acknowledged Jay as a girl for some reason :O

Ha! They deleted my comment! Classic!

Windows Central App is the best! I read it every single day. Its almost all you need! Happy Holidays to all :D

I check it every hour!! Even on weekend's!!

I gave a L1520 as a present :)

Got a Lumia 930 imported from expansys for Christmas. Could not be happier with the phone, one of the best phones if not the best I've ever used and held. Compared to Samsung's plastic designs, I'm in love.

This article is devoted to new WP users converting from other smartphones. I gave a 635 to a friend who had a feature phone. Best source of info is windowsphone.com. Great tutorials, intro demos, step-by-step how-to's, big screen app shopping, and links to PC connection software, if needed.

I received a black Lumia 830 for Christmas and I'm very impressed by it. This is what the Nexus 5 should have been, and despite it having a 720p screen rather than 1080p, it sure looks alot better, not to mention the camera also. I've read every review out there about the 830, and I'm happy to say that most of them were wrong. Perhaps it's just what I use my phone for that matters though, as I don't live on my phone and I still am able to have dinner or a conversation without flicking it out constantly. If it had a Snapdragon 10000 in it, I still wouldn't care to play games like asphalt or need for speed....I have a tablet for that. Appwise, they are all there and functional, and for those apps that aren't in the store, Webapps works pretty well giving me mobile versions, some of which are equal or better looking that what I had on Android (I enjoy reading the news). That new CBS News app is awesome, and I really like the MSN News app also, as it has a lot of Canadian stories in it. My first smartphone was an LG Optimus Quantum. I didn't care for the slide out keyboard, but it was the only windows phone device available on my carrier at the time. I was impressed at how easy the 830 was to set up because of my prior experience, and it's nice to get back to Windows Phone. Good riddance to kitkat!

Deserves a cookie for the article .
Happy holidays!

No cookies please, I've eaten way too much turkey and treats the past couple of days! :)

What app is that in the last picture?
The Photo Contest one

Welcome any new Windows Phone users!!

Happy Holiday everyone. Currently using Lumia 520 and I'm ready for an upgrade this coming week. Which is the better option? Lumia 730/735 or iPhone 4s? I don't have enough budget yet so that's my choices. Please help me

The 730, because: 1. It's newer and more powerful 2. It has a larger screen with better resolution while still remaining manageable 3. Supports external storage 4. Much better selfie camera if you're into that 5. Comes with Gorilla Glass, which is really becoming good. All the best!

I love windows but I need the banking apps updated before I can consider using one for a business line. No updates from TD Ameritrade, Chase, Bank of America, or AMEX in a while. Please Microsoft convince a fix.

Speaking of the Windows Central app, how come we have to pay a dollar for it while on Android it's free?

My freind in the Philipines is having problem finding serivce in tht country. Doe anone know if ther isa problem with Win BLU in the Philippines?
Windows Central Newsletter
Thank you for signing up to Windows Central. You will receive a verification email shortly.
There was a problem. Please refresh the page and try again.