How to set up a Wallet PIN for Windows Phone Store purchases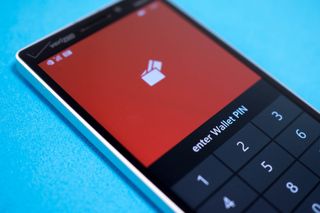 You have a lock screen password on your Windows Phone, right? It's the smart thing to do in case you misplace your phone. Another layer of security is the Wallet PIN. This one is a little different. It's not required, but it's a good way to prevent accidental or unauthorized purchases by children or anyone else who has access to your phone. We'll show you how to set it up in our how-to video.
Go to your apps list and tap Wallet.
Tap the three dots on the lower right corner and select Settings + PIN.
Turn on Wallet Pin and check the box that says 'Use Wallet PIN to protect music, app, and in-app purchases.'
That's it! Every time you try to buy something from the Windows Phone Store, you'll be required to enter the Wallet PIN. If you forget your Wallet PIN, you're allowed to try three times until you get locked out temporarily. If you need to reset your Wallet PIN, you'll need to reset your phone to its factory settings.
Will you be using a Wallet PIN? Let us know in the comments!
had this set up since day 1 and is a must if you EVER hand your phone to a child....

Ikr me to
Lucky no one can remember my password

I don't hand mine to any children, but I also enabled this straight away because it's all too easy to hit a button by mistake on a touch screen. Remember to set this up on your Win8 PC devices as well.

Given three strikes and you need to do a total refresh, I wont be turning this on. When enabled, the lockout should behave the way it does for the lock screen password.

What happened to the windows 10 for phones build that was supposed to come out right about now??

Friday?? For some reason I thought it was today...

Hah. I wish. I'm so excited for it :D When they announced it for Friday I was so giddy that I told everyone I talked to xD

Can anyone Point me in the direction of the changelog or new features? Wanna see what the hype is about. haha Posted via the Windows Central App for Android

I wish I knew this last week. My nephew spent all the Windows Phone gift card money saved up with Bing Rewards.. Lol

Be aware that this DOES NOT prevent purchases in Xbox Video. Don't ask me why they refuse to fix it. I've reported it several times.

Is it supposed to prevent xbox video purchases? Last time I had windows phone it was only for the app store. Posted via the Windows Central App for Android

I have set this up while ago. But my issue is I get a Store error whenever I try to purchase an app!!! I have done everything outlined in the MS forum and still no luck! I am hoping Denim would fix this issue. I am reluctant to reset the phone and lose everything.

Do you get the error if you use your PC to access the store?

Yes, unfortunately the same Store error on my desktop PC!

I can download apps but I cannot purchase them.

I had the same problem and to make a long story short, I reset my phone (930) and all is fine again

:-( All Wallet does for me is go back to the main app list. It stopped working when I upgraded my 928 to 8.1 tech preview. "Well mine works fi.." Good for you....

Is there a way to protect downloads even when they're free? My son keeps downloading stuff on my phone and my wife's, and I've haven't found a way to put a password for downloads (only purchases).

Maybe Apps Corner or Kids Corner?

Lol! I'd forgotten about it. Just set it up. Btw, what's the difference between kid's corner and apps corner?

Not sure really as I haven't had to use either one yet but was just reading up about them. See this article: http://wmpoweruser.com/wp8-1-update-1-app-corner-a-better-kids-corner/

I'm not positive if this still works or not but you could log onto your Microsoft account on line, under security they used to have a family option that allowed you to manage your kids ( or your ) phone accounts to restrict certain actions such as downloading, ECT. Not sure if this is still a security feature but I used this feature a couple years ago on my nieces phone before she got her own account

Pass-word your son instead of worrying about a pass word There are many things in life that are not password protected but still off-limits for sons, he will surely understand that, How about locking our phone?

This used to happen to my wife. After the third time, I asked her why she kept letting the kids use her phone.

Lol. Tell me about it... And I gave him an iPod so he wouldn't play with my wife's phone. Anyhow, I've already set up kid's corner on both our phones. Thanks, guys!

So there is no other way to reset a pin number

Was temped to set the sim pin

what if we forget wallet pin?

If that happens, you read the entire article. How about that?

Is there another way to purchase apps without using MS Wallet?

So why can't this work for contact payments. Why can't it use the NFC already in my phone to pay at contact terminals. I have a secure SIM already. I used softcard on the same phone.

I use sim pin, I use lock screen pin when I go out any where and wallet pin I have in use since I got my Phone it's a must.

Resets your phone back to the factory settings?? Is that really necessary?

What's the use of wallet...its not at all a necessary app....

Wallet PIN is awesome. No worries if our 2yo gets a hold of our phones. Wish Xbox One had this. The passkey for purchases also requires it be entered to log in. Super annoying. More annoying than the $18 charge he racked up buying Denzel Washington's Equalizer.

Why have you not turned on parental controls? Problem instantly solved.

Good how-to article and video, Mark.
Wallet PIN is a good feature, and definitely helps prevent accidental purchases.
.
Since they are multiple operating system features (Wallet, Lock Screen) and apps (OneDrive, etc) that have a pin/password options, perhaps Microsoft can consider a system-wide Windows Phone Setting or Control Panel to provide a shareable common pin/password for system features and apps (vs. each one having it's own pin/password).

Hey, how can i add barcode wallet Barcodes to my wallet ?
Windows Central Newsletter
Thank you for signing up to Windows Central. You will receive a verification email shortly.
There was a problem. Please refresh the page and try again.