How to stream Youtube videos from Windows Phone to Google Chromecast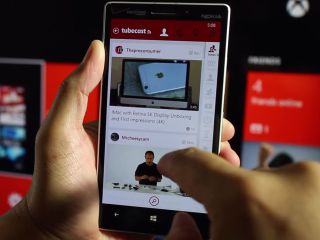 We know Google doesn't develop apps for the Windows Phone platform, but Windows Phone developer community fills in quite well. While we don't have an official YouTube app for Windows Phone, we've got terrific third-party YouTube apps like MetroTube and myTube since quite a while.
But my latest crush is Tubecast because it offers the ability to cast the YouTube video onto your TV screen using a Chromecast. Watch our video to see it in action.
Chromecast is a digital media player by Google that allows you to play audio/video content on a high-definition display by directly streaming it via Wi-Fi from the Internet or a local network. There isn't a native Chromecast app for Windows Phone users but Tubecast offers Chromecast support, along with Apple AirPlay.
All you need to do is, use Tubecast like any YouTube client, and while watching a video, hit the cast button and choose the Chromecast you wish to stream to. And that's that. You'll have the video from the app, playing on the external display. We've also shown you how to stream videos to the Xbox One.
While Tubecast is a free app, the support for casts is a paid in-app purchase for $1.99. You can of course try it out first since the free trial offers 20 casts. It is a fine app, and even supports budget Windows Phone 8.1 devices with 512MB of RAM.
Tubecast is a pretty versatile app, and is now available as a universal app for Windows 8 devices as well. Give it a whirl, and share your YouTube dope with family and friends!
Download Tubecast for Windows Phone (Free, with in-app purchases)
Windows Central Newsletter
Get the best of Windows Central in in your inbox, every day!
Just buy a Miracast or the Microsoft adapter

I'd love to get one so I can develop using my TV lol. My TV is HDMI input whereas my PC is VGA output

Chromecast is a better idea and is much more fluid than Miracast and doesn't drain battery while also allowing you to continue to use your phone while the content is streaming without interruption or privacy concerns. Chromecast blows away Miracast.

Agree, Miracast might seem good to anyone who has never used Airplay or Chromecast. Miracast is just too clunky and a pain to use. IMHO, the ability to easily stream A/V at a system level to another source is the biggest lag behind on WP compared to apple and google.

@Michail71 Eh? I have this: http://support.netgear.com/product/PTV3000 and the MS adaptor. Both work flawlessly with no lag. What does the Chromecast or Airplay do that Miracast doesn't do? On the Miracast on Windows 8, its not even add on software, you just hit DEVICES, and PROJECT and select which screen type you want. Couldn't be simpler.

Try watching a movie on Netflix through Miracast with your wife and try to open an email or reply to text without interrupting the movie and without sacrificing privacy to your audience. You can't period. You guys are really not understanding how the chromecast works. You can cast a movie then do whatever you want on your phone without anyone seeing what you are doing because the chromecast is streaming from the network not from your phone. This also saves the phones battery since you are not streaming your phone you are simply sending commands to your chromecast from your phone. If you don't understand what I am saying then you need to do your research on chromecast before commenting because chromecast smokes Miracast. You can also mirror your device with chromecast if you want to for presentations but I use it more for entertainment than anything else. Chromecast is the single most important thing I miss switching from my LG G3 to my Lumia 1520.

Chromecast is better for other platforms that have Chrome browser. On WP it's only good for youtube videos through Tubecast. At least until google blocks this kind of activity. Cheap solution though considering that the Microsoft adapter costs $40 more. But the Microsoft adapter can do a whole lot more with WP. Wish it was cheaper and I'd pick one up.

I got an Actiontec Screenbeam Mini for $40 on Amazon, works great with WP.

eBay. I found mine for $35 there. ;)

simple hdmi sticks with full Win 8.1 and 32gb/2gb specs are available off ebay for about 100 dollars. U dont need any chromecrap !!

Why must you call it "chromecrap"? No need to be rude.

Chromecast is more painful. U need to connect via internet connection bothe the devices. Whereas miracast can be connected via nfc

More painful? Lol. You only have to connect the chromecast to wifi once during setup then you forget about it. Then any other device connected to the same network can see the chromecast and stream to it. I have never used an easier device in all of my years as a tech enthusiast.

you have definitely never used a chromecast just trolling.

i sue cloud for chromecast lite, its work. please follow : www chromecastapps dot net/chromecast-app-for-windows-phone/

Except a) it's a google product so there is always privacy concerns and more importantly unlike Chromecast Miracast has a much wider range of functions. I use it for doing presentations / wireless second screen much more than I do for streaming videos.

Why would i buy/use anything that said Google or had anything to do with Google?

Because they have services we need.

Because the ChromeCast is probably one of the best products Google has ever put out and it's a far better streaming tool than the overpriced Microsoft Miracast dongle?

Have to agree, Chromecast it's the best choice, today. Hope MS build a better M Miracast version later.

I have the Microsoft Wireless Adapter...and I can't honestly say that is a perfect solution, particularly with Tubecast. Tubecast constantly get stuck caching payback...always at 50%, it magnifies the issue when duplicating the screen to my TV. (This is when using my Win 8.1 laptop.) The latest update helped, but it still isn't reliable enough to depend on for day to day playback. Much easier if I play back Youtube videos in my browser in full screen. Its smooth & reliable. That said...I'd much rather have this app working 100% over the having to use it in the browser so I'm hoping they can get this fixed in future releases. I have purchased the app as it is a good one, despite its minor issues.

Yeh doesn't miracast use superior Wifi Direct whereas Chromecast goes via your WiFi. So Miracast is much more portable ( eg use in a hotel tv without paying for their WiFi ).

"My latest crush" Which one you liked earlier..? MyTube..?

Can these be sent to any screen? I've never understood this whole casting thing. Still paid the devs £5 but all I do is watch video on my phone. What am I missing? Should I buy a smart TV? I just have ordinary screen.

For this specific app, you need a google chromecast, a device that plugs into the HDMI port of a TV or monitor. Or you can use another Miracast (that's the name of the standard) receiver and project your whole screen. But yeah, you need either a smart TV which supports Miracast or buy a dongle for it if not.

You don't need a dongle if your tv supports dlna.

BEST YOUTUBE APP, on any platform - better than Google's youtube app on both IOS, and Android.

We need MetroTube and MyTube to do this also but more importantly Netflix!

The big question is why aren't other apps like Netflix and Plex building support for chromecast in the Windows apps? Tubecast shows its clearly possible. Is it because the sdk/api forbids it in writing? Or would they lose access to such sdk/api if they decide to reverse engineer it? Not exactly a fan of Google, but google cast is really convenient, making transferring content easy.

the question is why are you not able to project your screen via miracast.. you know.. which is a standard for those things besides the inhouse apple play stuff

I'm glad you've asked that question. I'll be able to use miracast to watch videos on 1080p lag free from every Wi-Fi capable Windows Phone device like every Wi-Fi capable Android devices can cast with chromecast. Oh wait...

Cast to Roku? Ya know Roku.. The devices with the largest market share for streaming devices over chromecast and apple tv and fire stick combined.....

Still, nothing beats iPhone to apple TV but that's a closed system.

My whole house is set up with rokus. >_>

The PS4 STILL doesn't have the streaming capabilities back. It's actually the main reason I, for the first time, went to the Xbox One instead of the PS4. So this will do no miracle for you.

Crap hope that Sony bring DLNA protocol to the PS4

They said they would...over a year ago. They've been sitting on their arses when it comes to updates to the PS4. Since they're winning the new generation console war, they apparently think they don't need to improve anything. It's really infuriating (specially for me, 'cause I use an Xperia Z3 Compact and could be streaming games to my phone...but no. They couldn't simply put features the PS3 has back into the PS4. Arghhh).

Ohh its a shame to Sony, my main phone is a L1520 but i use the Xperia Z1 for my work phone and especially for the PlayStation app, i never use the damn camera on this phone because the cam crash down every 5min for overheating, my friends got the same problem with his Z1 so i do a quick search on the web and i discover that 95% on the ppls who own this version of the Z1 got this problem too and there is still no fix about this... So iv got a 21mp on it and i cant use it more than 5min... At least my main phone is a L1520 so i take better pictures with it but i need to bring 2 big phone every time, so im going to replace my Z1 for the Z3 soon

Curious, I have a few friends with the Z1 and none of them have that problem with the Camera. Have you contacted Sony? It can be a software problem. At any rate, you'll enjoy the Z3 far more than the Z1, of that I'm pretty sure ;)

yeah i have already contact Sony and they said "After so many report of this problem we are working on a fix in the next update" but it was in awhile, i have receive so many update since than and i have even hard reset the phone but the problem his still there !! the Z3 seems so good i sure i will like it too :)

MS should just release a $30 SpartanCast dongle later this year that works though Spartan browser and can do everything that chromecast can.

Yes, you can stream video to Chromecast, but it's impossible to add to the TV queue. See, all your friends, sending videos to the TV queue with their phones, and I can't add video to the queue, if I start to stream with TubeCast my video instantly begins to play, erasing all videos on the queue.

Does chromecast have its own protocol and not uses miracast or dlna

I used to love this app. But lately the sub box is broken. I moved on to tubify.

Are there any more app for casting videos, mp3 now?

Good to know WP users have some app available that can cast to ChromeCast. It sucks you have to pay for it, but hey, it's better than nothing. And the ChromeCast is probably the best streaming device I've used so far. It works better than current Miracast solutions and my LG smartTV has MiraCast built-in so I wouldn't technically even need a ChromeCast. Besides, it provides your TV with a nice screensaver of gorgeous photos (and you can have your own photos showing up, by linking it to one or several of your photo albums on Google+. Yup. Google+ is useful for ONE thing! :P)

Roku support coming soon?

Tubecast is awesome as it works with almost every smart tv. Funny story, I sometimes have to use my phone (tubecast) to start up screen mirroring then my brother's s6 works.

I use the Microsoft adapter and it works great. To each is own but Microsoft adapter is awesome for me as I can wirelessly steam everything on my phone and not just certain apps. No issues here

I use tubecaste daily to streame youtube videos on chromecaste and wd tv live.Only missing thing on tubecaste is 'add to queue' feature found on andorid youtube app which allows to caste multiple videos in a row. Workaroud on tubecaste is to create playlist and caste it.

I had this casting to my xbox one a few weeks back. And it would play through xbox video. This no longer works??? Helppppp

Dear RJ, I already answered to you, you have to launch first XBOX Video without casting, and then it will purpose to update the app. Then you could cast like before ;)

I replaced my Actiontec ScreanBean Pro Miracast for Chromecast. It is better. Last version of Tubecast is working very well with Chromecast,

If this app has some neat features it lacks some basic stuff. Videos don't save to HISTORY, you can add videos to watch later, but cant remove from the list, the counter on the subscriptions keep increasing when a video is uploaded by the channel, but the counter doesn't go back when u have viewed all the videos. It only keeps adding up. Shows 4 new videos when there actually aren't any...I tried the app, was willing to buy also but only if these issues were solved, but the developers wont accept feedback from Trial Users... So I'm not buying an incomplete app... ​ ​ ​

We are working on a better version about news subscriptions. We use Youtube API (have we another choice ?) and have to handle a lot of request in the same time (and API are limited, if we exceed, the service shut down fo every users) so we have to make the best choice to handle all users. So it's not an incomplete app, it's an intelligent way to handle all the requests without all the features.

Can you make it work with the nexus player please?

Please re-add the Search's (Upload Date/Sort By) button. It went missing after the last update. Thank you!

We did it for reduce the API consumption, because a lot of people use Tubecast, and if we exceed the API quota, the service shuts down...

Tubecast works flawlessly casting to our Chromecast enabled TVs. another app that works real well is AV Remote. I use that to cast local content. Wish there were more chromecast apps for windows.

Friggin thing doesn't work with my chromecast enabled nexus player.

I have the Xbox One, Chromecast & Netgear Push2TV PTV3000 and my Chromecast is collecting dust. Xbox One is used for Tubecast from my Lumia 1520 & Netgear PTV3000 for my Win8 tablet (Dell Venue 11 Pro). Miracast lets you beam any screen, chromecast doesn't unless you're using an Google device/site, i.e. (Android/YouTube).

It's great approach on stream Youtube videos from Windows Phone to Google Chromecast. We use Team Yatko's free app to streamlive from Windows device to Youtube channel and it works great. Would recommend you members to use it for once, you will love and enjoy this yatko.com/goLive Thanks
Windows Central Newsletter
Thank you for signing up to Windows Central. You will receive a verification email shortly.
There was a problem. Please refresh the page and try again.