How to use an old router as a Wi-Fi extender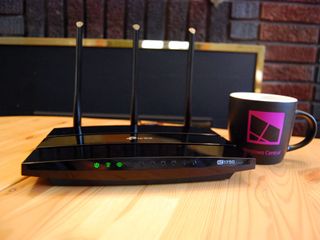 (Image credit: Windows Central)
Your old router can widen your home network with a few easy tweaks. If you find that your Wi-Fi or wired internet connection doesn't spread out wide enough, a single router can take your signal and spread that out even further. This could help a ton, especially if you want to utilize internet-hungry devices like the Dell XPS 17 9710. What else were you going to use the old router for anyway? Here's how to use an old router as a Wi-Fi extender.
How to prepare your old router
First, you should restore your old router to factory settings.
Visit your router's settings page via typing 192.168.0.1 or http://www.routerlogin.net into a web browser.
Sign in with your username and password. If you don't know these, look up the default ones in a manual or online.
Once you're in, look for advanced, system tools, or administration options.
Within that, you'll likely see an option that says something like restore to factory settings. Click that!
Let the router reboot.
Head back into the router settings and look for the administration option again.
Update the firmware either via the router's automatic option or by searching for it online.
How to use your old router as a Wi-Fi extender
Plug an Ethernet cable into your old router's WAN or internet port.
Plug the other end of that Ethernet cable into any of your newer router's ports.
Head to a browser and open your old router's settings.
Within its settings, look for internet, bridge, or repeater settings.
For TP-Link routers, the option you need is under Operation Mode. Click Operation Mode.
For Netgear routers, Bridge mode is under Advanced and Advanced setup.
For Linksys routers, Wireless Bridge mode is under Internet Settings.
Change the Network name (SSID) if prompted.
Save settings.
With these settings in place, your old router will successfully take the Wi-Fi signal from your new router and spread it out where it's located. Unlike a mesh router network, you will have to manually connect to the old and new router separately. But even so, it's a great way to use both an old piece of technology and give you more coverage in areas your Wi-Fi wouldn't otherwise reach.
Our top equipment picks
Customizable router
A cheap, reliable router that provides solid internet speeds

The TP-Link Archer A7 is a good, cheap router that you might already have or could afford to use as a Wi-Fi extender. It's one of the easiest routers to set up as an extender and will spread your signal wide.
The TP-Link Archer A7 is a great router to use as a Wi-Fi extender. Whether you already own one or can afford one, it offers an incredibly simple process for setting it up as an extender. If it's an upgrade to your current router, it would also be a great option to extend your connection out from.
Custom firmware
OpenWrt is the top pick for custom router firmware

OpenWrt is an alternative option if your router doesn't have easy settings for turning it into an extender.
Get the Windows Central Newsletter
All the latest news, reviews, and guides for Windows and Xbox diehards.
Tyler Colp is a freelance writer for Windows Central. He's written about tech, games, and the culture around them across the internet. Ask him anything about Dark Souls or just follow him on Twitter.