HP's CES 2017 releases are truly gorgeous PCs
By Derek Kessler last updated
HP's newest releases are hands-down beautiful, which still feels weird to say.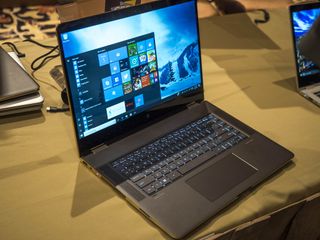 HP brought a slew of new and updated PCs to CES 2017, but there was one unifying them between all of them: HP has gotten really good at creating beautiful computers at great price points. CES marked the arrival of the updated Spectre x360 15-inch convertible, an all-new Envy 34-inch all-on-one, and a slew of spec bumps.
HP Spectre x360 15-inch
HP's 13-inch Spectre x360 is our favorite convertible ultrabook, but if something bigger would happen to tickle your fancy, it's hard to deny the appeal of the updated 15.6-inch edition of the convertible. It's a truly sexy design, seen here in the "ash gray and copper" color combo, and HP's embraced what their customers demanded from the laptop and given it a spec bump update less than a year later.
The previous edition sported a 15.6-inch IPS display in Full HD or 4K resolutions, but for the new version HP's ditched the lower-res panel and is only offering 4K while also shrinking the bezels dramatically o the sides (and a bit up top). That's driven by updated internals, including a new 7th-generation Intel Kaby Lake Core i7 processor, 16GB of RAM, up to 512GB of SSD storage, and an Nvidia GeForce 940MX GPU.
Image 1 of 6
Image 2 of 6
Image 3 of 6
Image 4 of 6
Image 5 of 6
Image 6 of 6
HP's also added an IR-equipped Windows Hello-capable webcam and a pair of USB-C/Thunderbolt 3 ports (through which the laptop charges, including HP Fast Charge to get to 90% in 90 minutes), while still maintaining a single full-size USB-A port, HDMI, and a full-size SD card reader. Also joining the party is Windows Ink-compatible pen support on that 4K display, but alas without a pen silo to store the stylus.
Everything else you know and love about the 15.6-inch Spectre x360 has remained the same, though with one slight change: bucking the trend towards increasing thinness, HP opted to make the Spectre x360 just under 2mm thicker than last year's model, allowing them to cram in an enormous 79.2Whr battery that can last an advertised 12 hours.
HP Spectre 13t
Image 1 of 4
Image 2 of 4
Image 3 of 4
Image 4 of 4
HP's Spectre 13t has been impressing us with its thinness and drop-dead gorgeous design since it first landed, and now with a Kaby Lake processor upgrade it's an even more capable machine. It's never been a computing powerhouse, nor was it ever meant to be, but it's no slouch for how thin and light it is.
While the processor update was nice, there was a problem still facing the Spectre 13t: the color scheme. Personally, I love the dark gray and copper combination — it's gorgeous without being gaudy, flashy without being ostentatious. But it's not for everyone, and that's okay, and HP recognized that. So they're also introducing a "natural silver and chrome" color combination that's still glitzy but not as out-there as the original color. It's super classy.
HP Envy 34 All-in-One
There's only one way to do an ultrawide display at 34 inches, and that's as a curved panel with a 3440x1440 resolution and barely any bezel. I could stop there, but HP decided to take it a step further and built a whole PC into the display's wide, blocky base. There's a 7th-generation Intel Core i7 Kaby Lake processor in there, along with 16GB of RAM, a 256GB SSD, 1TB HDD, and AMD RX 460 GPU.
Because that 34-inch panel is great for movies and this is likely the kind of PC you'll put in a common space in your home, HP built in an impressive audio array into the base: four speakers with dual passive arrays, all tuned by audio partner Bang & Olufsen. There's a touch-sensitive dial embedded on the right side of the base for controlling volume and playback, plus a Qi wireless charging pad on the left side.
Image 1 of 6
Image 2 of 6
Image 3 of 6
Image 4 of 6
Image 5 of 6
Image 6 of 6
If the the HP Envy 34 All-in-One performs anything like its flat-screened 27-inch cousin, then we're looking at an impressively capable machine that's both practical and beautiful enough to set up in the office or the living room.
Derek Kessler is Special Projects Manager for Mobile Nations. He's been writing about tech since 2009, has far more phones than is considered humane, still carries a torch for Palm, and got a Tesla because it was the biggest gadget he could find. You can follow him on Twitter at @derekakessler.
x360 15inch is gorgeous. Love the new Ash silver.

"truly gorgeous PCs" We must have a hugely different opinion of gorgeous, imo they look rather ******, definitely not my kind of design and the new HP logo does not help. But for each their own I guess.

The only company to have ever made asthetically pleasing computers is Apple. HP has never make anything other than generic looking PC's. And I'd never buy a machine with a crappy 16:9 ratio screen. Only Apple and Microsoft seem to have got this right with 16:10 & 3:2. And a silver/grey keyboard on a silver/grey chassis is just a massive NO. Unsure why HP do this and I can't believe Microsoft thought this was a good idea for the Surface Book.

Asthetically pleasing is not what we all want, we want to be productive 1st, i have the orignal HP 360 and the 34" curved screen, would not change them for and asthetically pleasing Apple.

Apple's stuff isn't that nice anymore. Just metal boxes. Anyone can and does do that.

No they can't. There still isn't a single manufacturer who can build the same quality of hardware as Apple. Probably because they can't justify the exra cost? Who know's.

Been an Apple guy since 2002 and yes they build fine machines. So does Lenovo - Thinkpads are tanks, and even the Yoga 710 I'm returning has build quality on par with Apple. Apple has had its share of duds too. Heck, my 27" iMac just had to have its hinge replaced because they used plastic for a critical part. Good thing is Apple picked up the tab. That being said, I've got the x360 15" on preorder and, IMHO it's a goregous looking machine. Hope it's built as good as it looks.

If the 13" Spectre x360 is any indication, the 15" model will feel great, and should look even better in person. It's probably the most Apple-like laptop out there as far as design and construction goes.

I've got the 15" Spectre on pre order and I must say it looks goregous and ticks all the right buttons for me. Hoping it will be a winner. Apple does need to get their butts in gear as they seem to be getting outclassed by the PC folks where in the past it was the other way around.

Apple? Give me a break. Have you seen the build quality on the Surface Book? No you haven't, because you're in a caffeine daze at your local starbucks with all the other Apple fanatics

they look pretty neat, but the keyboard design at the laptops didnt seem to fit in for me...
The all in one tough, looks way nice!

They do look fantastic, but UGH the poor trackpads have scarred me for life.

All new laptops have to use precision trackpads for Windows 10 certification.

Just because a laptop uses a Precision trackpad doesn't mean they're any good. A perfect example of this is the ASUS Q324UA. Precision trackpad, but extremely frustrating to use, and was actually worse to me than the Synaptics-based HP Spectre x360 from late 2016.

My biggest gripe about the laptops of all brands, Apple included is that they have the speakers on the sides of the keyboards. Drop them down and widen the keyboard or add a number pad. I have large hands and the keyboards feel great but are too small. Bad design in my opinion. Most people don't even use thier laptop speakers when I see them at work or out and about, they use headphones.

Apple products appear bland with PC vendors taking design seriously now.

I think what Apple mostly appears is antiquated and knockoffish. They're still fighting against touch when it is CLEARLY the paradigm driving new devices; they're avoiding the stylus anywhere but in the iPad Pro line, which is overpriced and underpowered; and they're now rehashing Microsoft Research concepts from more than half a decade ago in their product line with the new touch strip Macbooks. It's absurd. The worst thing that can happen to a tech company happened to Apple thanks to the success of iPhone: they learned to *play it safe*. They haven't released a single innovative product since 2007.

that HP Envy 34 All-in-One​ is pretty sweet
Windows Central Newsletter
Get the best of Windows Central in in your inbox, every day!
Thank you for signing up to Windows Central. You will receive a verification email shortly.
There was a problem. Please refresh the page and try again.