The HP ENVY Curved All-in-One runs Windows 10 on a huge 34-inch display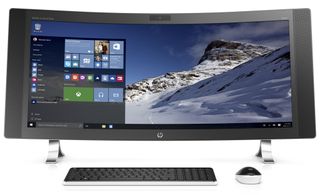 People who want to impress friends and co-workers at the office or at home might want to look into the latest all-in-one PC from HP. The just-announced ENVY Curved All-in-One runs Windows 10 on a huge 34-inch display with a resolution of 3440x1440. It's the widest such display for any curved all-in-one PC.
Inside that screen, there's an Intel Core i5-6400T processor running at 2.2 GHz, along with 12GB of RAM, a 1TB hard drive, and a NVIDIA GeForce 960A graphics card. It also includes an Intel RealSense Camera that supports the Windows Hello security sign-in feature in Windows 10. It will go on sale on November 8 with a starting price of $1,799.99.
Source: HP (opens in new tab)
Does it have video input ports? I'd love to set this up as a server device and use the screen for my video editing rig.

Yep, I hunted down the press release on the intranet. It has HDMI in and out. I could use it to record to take that load off my other rig.

How do you capture hdmi in?

Why install a server on this? usually, you're not supposed to be doing much on a server. Just slap Windows Server on a dusty old laptop/desktop and thats it. This is a toy, a god damn beautiful mothertrucking toy.

Raw media server. Use this to record video from another device and then store it until accessed by my video editing rig.

How's you internet connection?

They'll be close enough to be wired.

I want this as a Dell XPS in 4k

Indeed. It's a beauty. I want

Could I just use it as a huge curved tablet?

Of course you can. Good luck on carting it around though.

If you brave strong enough xD

I want that for office! Hehehe

You know what? Starting at 1800$ isn't so bad considering what's out there right now. Good price.

Now THIS is the right place for a curved screen! I've never understood the concept of having a curved screen sitting across the living room. It just seems to me that you're limiting the "good seats" in that arrangement. But having a curved 34" inch PC screen? I'm all over that!

Agree. Nice. I am normally not a fan of a curved screen...but for individual needs, nice.

This looks so awesome... But I feel the temptation to punch a hole into the screen

Can I use it as a snowboard instead of wasting money on renting?

That looks awful, IDK why. I've yet to figure out the point of curved displays.

On a tv it wouldn't matter much because of distance. I could see sitting up straight with this thing in your face it could help with viewing the sides properly. Especially in multiplayer gaming. The bigger the monitor the further the edges will be and you may miss things easier.

Maybe, but what self-respecting gamer is going to use an all-in-one stuffed with laptop parts?

It has HDMI in so for gaming they could use their desktop. Just get rid of their old monitor and keep both. It was merely one example. Even at work people with 3 monitor configurations typically have the one centered and the other 2 wrap inwards. It makes sense because your limited by distance at the edges. You're not going to bend forward to get details on the edge. It's a great design in my opinion. "The 34 inch diagonal HP ENVY Curved All-in-One gives customers the option of NVIDIA® GeForce® 960A graphics for video editing or gaming​" That's actually a really nice graphics card. Comparable to desktop rivals.

I've always wondered what that A after the GPU name means. ASUS has used it for a long time now but I've never found much info about it. Is it a mix of a regular desktop GPU and a mobile GPU, or what the heck...

I've been looking at getting an aio, this would be awesomeness. Posted via.........deez nutz!!!!!!

That's actually not too bad. 109 PPI on a 34" screen, $1800. There's a million faults people will find, but if you wanted a ridiculously big all in one general purpose PC, this does it.

Amazing, must be a joy to use!

The future is here folks. Doesn't it look like the kind of computer seen in futuristic movies? Oddly big screens...now a present-person's option in the PC world. Pretty awesome.
Windows Central Newsletter
Thank you for signing up to Windows Central. You will receive a verification email shortly.
There was a problem. Please refresh the page and try again.