HP officially reveals its Surface Pro clone, the Spectre x2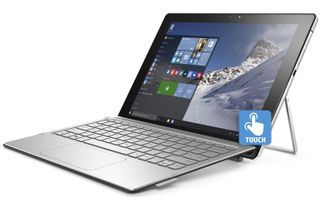 As previously rumored, HP has now officially revealed the Spectre x2. The 2-in-1 tablet resembles the Surface Pro 3 visually, but has some differences as well.
While HP's own press announcement doesn't have much in terms of details, Engadget got some hands-on time with the Spectre x2. Buyers can pick either the Intel Core m3, m5 and m7 processors to place inside, along with either 4GB of 8GB of RAM and choices of 128GB, 256GB or 512GB for internal storage. The 12-inch display will have a resolution of 1920x1280. The built-in kickstand is U-shaped which allows the tablet to be thinner, and it also allows the kickstand to be adjusted for any angle.
The HP Spectre x2 weighs 1.85 pounds with just the tablet, but increases to 2.69 pounds with its included metal hardware keyboard. Pricing will begin at around $800 and it will be released on November 8.
Source: HP (opens in new tab), Engadget
Get the Windows Central Newsletter
All the latest news, reviews, and guides for Windows and Xbox diehards.
Am I the only one who tried to touch the hero image?

It says - November 8 "HP Spectre x2 is expected to be available in the United States at hp.com and Best Buy on November 8, 2015 starting at $799.99"

Isn't this more of a surface competitor, rather than the pro line, with full i5&7?

I think they were comparing its look to the Pro, not the internals.

I'm not sure where the perception started, but Core m is much, much closer to core i than Atom in benchmarks and real world performance. The microarchitecture is fundamentally the same, just at a lower TDP. So, while it IS still a bit of an in between, it's still perfectly reasonable imo to compare with the pro line. Skylake core m should cut that gap even more. Posted via the Windows Central App for Android

Especially since the SP4 entry model users the m3.

So, txDrum, is this HP a piece of shit or not? Would you buy it?

Well... If I have the budget, those prices are keyboard included, maybe I'll buy it. I still need to compare it with Miix 700 though since Miix 700's price is keyboard included.

That kickstand looks very weak..

It would be interesting to test.

Then why is it called the KICK stand at all? Hint: I have a bicycle

Should be called a...flickstand?

All these spectre's,ipad pro's r just carboncopies of the Surface......we want to see something new please

HP,Dell,Lenovo and all the other windows manufacturers are allowed to copy Surface and Surface Pro line are only ment to show these manufacturers that these devices are liked by consumer and they should create some thing like this. But all the other I.e Apple and Google have actually created copy's of Surface with their iPad Pro and etc.

Microsoft started that revolution. They did it for others to follow

I hope people mistake it for, and call it, a Surface.....

Lol, yeah that would be cool.

Why do you call 16:9 tablets Surface clones? Just because they have flat attached keyboards?

Because the design us nearly identical

Are you implying that a ever so slightly different aspect ratio on a device that copies nearly all the remaining form factor makes it not a clone? O.o Nothing against HP. I'm fine with competitors finally catching up to the surfaces fantastic design, but that's what this is.

Yes, I do. Basically all devices have 16:9 ratio. The only thing that interesting in Surface for me is display. So I still don't see any competition (except iPad and few Android tablets, except they are useless)

What is difference between Intel I and m series processor??

M is mobile, I is desktop. Desktop processors are more powerful and use more watts to power to put it simple.

Nay. There have been i-series mobile chips for YEARS. The SP4 has an m3 base model, and everything above it is i5 or i7. The difference is that the m-series stuff puts the focus heavier on the power consumption. So look up the i3 and m3 mobile chips, where the i3 is around 15W and the m3 is under 5W. The desktop stuff is not in the 80W range (I think my Haswell i5 is 84W).

The entire point of surface was to be a reference design to PC OEMs. The surface's existence is based off of people copying it. So calling it a clone is kinda pretentious.

Why? It's great that competitors are following and it isn't a huge knock against them, but call it like it is. Even if the design was meant to be copied, it is still an apt name for what is happening. It is being copied.

But since Surface is now a $3 billion business, Microsoft might want to start competing a bit. Way I see it though, no other OEM can even come close to beating the Surface line right now.

If they compete, they piss off the OEMs though. That's the problem, and something they don't want to do.

Ha! At first the surface was a flop and now that it's making a killing everyone else wants to play follow the leader. Too funny.

Just in time for the new Jamew Bond flick (btw, how cool would it be if Microsoft snags Sony's product placement deal with the spy series and we start seeing 007 sport a Lumia 950XL and a Surface?

The issue is that MS blew the competition away with the Surface. Now, everyone is copying that. Seems like if MS isn't there to lead these horses to water, they'll all just stand around and make redundant, iterative junk. In that case, what purpose do these OEMs serve long-term? MS should do like Google and its Nexus phones and get one of these bigger hardware makers to partner to make future devices, to increase global availability. Otherwise, they have to lead the way with hardware in limited markets, while waiting for the rest of the world to get the benefits 3 years later, when the global OEMs just copy and paste the MS design.

No pen. That is one of the surface defferentiators.

I like this design. Besides, HP reaches more places in the world than Surface (Brazil, for instance) so I can't wait to get it.

UGH Core M and no stylus... no thanks.

I returned my Surface Pro 4 and bought this just because it had a sim card slot and i need something like the sp4 but with a sim slot battery life is alot better dont see the flickering screen deleted the hp free stuff wasnt alot feel good in the hands screen is excellent at 1080p 6th gen core m runs just fine, im happy with it.