Hands-on with HP's new beastly OMEN gaming desktop and laptops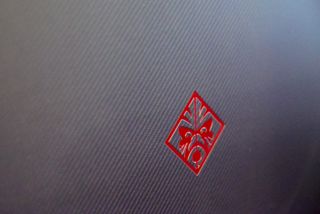 HP unveiled its new OMEN products today for gamers. OMEN isn't a new brand for HP, but it's been fallow for a few years now — they're reviving it for mid-range gaming rigs, placed under the more expensive Phoenix family. We got our hands on the new OMEN laptops and desktop, so make sure to watch the videos.
OMEN by HP Laptops
The HP OMEN laptop is available in 15.6-inch and 17.3-inch models. They both feature a red-backlit keyboard, OMEN branding on the keyboard deck, and OMEN badge on the lid. The black shadow mesh material featured on these laptops remind us of carbon fiber, but HP has assured us, it is not.
For those who crave performance, the HP OMEN laptops can be spec'd up to NVIDIA GTX 965M, up to 6th Generation Quad-core Intel Core i7 processors, up to 16GB of memory, and up to 512GB PCIe SSD. There's also a dual storage option with up to 4TB HDD and 128GB SSD on select models.
For visuals, you have the option to go with the Full HD display or 4K IPS display. There are also dual speakers tuned by Bang & Olufsen. Intel Realsense Camera is also optional for 3D experiences, gesture controls, and Windows Hello authentication.
Image 1 of 7
The HP OMEN laptops will be available at HP.com and Best Buy starting July 10th. The 15.6-inch model starts at $899.99 while the 17.3-inch model starts at $979.99.
OMEN by HP Desktop
The OMEN Desktop features a collaboration between HP and HTC to deliver a certified VR-ready desktop PC for gamers. It has a brushed-metal chassis and customizable LED lighting. The design is upgradeable with tool-less access to the hardware. The OMEN desktop was designed to be VR-capable from the start and is already tuned for the HTC Vive right out of the box. Options include upgrading to Intel Core i7 processors and to NVIDIA GeForce 1080 or AMD Radeon R9 Fury X graphics cards. You can pack in up to 32GB memory, as well as a 512GB SSD with 3TB HDD for plenty of space to store all of your games. There's even optional liquid cooling to keep the PC cool and quiet.
Image 1 of 3
The HP OMEN desktop is planned to be available on HP.com and select retailers in August, though we have no details yet on pricing.
Which of these products from the HP OMEN lineup are you most excited about? Let us know in the comments!
Windows Central Newsletter
Get the best of Windows Central in in your inbox, every day!
Youtube videos are marked private/unavailable

That's odd. They are now working for me. --------------------------------------------------------------------------------------
Motorola Q9H, Samsung Focus, HTC Titan II, Lumia 925, Lumia 640, Lumia 950
--------------------------------------------------------------------------------------

White led is soo much better!

GTX965m is a JOKE for such a "gaming" laptop

Would have loved to seen a version with an edge to edge, glossy screen

Yeah, I was hoping to see a place to do fingerprinting on criminals as a side hobby as well.

OMEN desktop PCs sound awesome! Again, no laptop can come close to desktop pc when it comes to real professional gaming.

Ok, but these aren't targeted to professional gamers. That would be the Phoenix line. These would be for people like me that like the occasional PC game but don't need bleeding edge specs. Posted from Windows Central for Windows 10

What do you think a Skylake i7 and a Fury X or GTX 1080 is, if not the high-end? You don't need a dual-card setup for top performance in most games, unless you're dying for 4K (which not a whole lot are). Even then, CFX and SLI have never gotten 100% support in PC gaming, so that investment can be sketchy. Also, I don't expect that too many "professional" gamers are even bothering with pre-built stuff.

I think he's referring to laptop specs. Posted via the Windows Central App for Android

No, he responded to someone's statement that focused on desktops, then cited a desktop line of products (Phoenix).

That Cabinet looks awesome and with customisable LED, it'll be really cool.

Gaming laptops should have a 980M at least as an option, that 965M is mid end even for a laptop, I'd expect to play mid-to-high with a gaming laptop. They look good for somecasual gaming when travelling though.

That's the point. It's supposed to be mid-range. Posted via the Windows Central App for Android

At least? The 980m is the most you can expect out of a reasonable mobile gaming notebook. Next step up is desktop grade hardware, and that has very questionable portability and fairly difficult thermals to manage. At the least I was expecting a 970m... then again for the price, this seems reasonable.

Best to stay away from HP gaming laptops if you want any driver support, which is critical on a gaming PC; because HP's support is non-existent when it comes to drivers for their expensive laptops. Just do a simple search of how they abandoned their laptops with the Intel/AMD HD 6770M setup.

Yeah I agree hp has never been good from my experience there computers are designed to break went and bought me a Lenovo since

Yeah the build quality on my Pavilion dv7 was not great, had to replace the keyboard twice because the letters rubber off. The ram failed after few months. Had to replace the cpu/gpu fan twice as well, which is a pain as you had to take the whole thing apart. On a more positive note during warranty the hardware replacement service by HP was excellent, they replaced the keyboard, and the ram even when I was overseas by using their local service. [Unfortunately the fan broke right after the 2y warranty ended.] but if they had their driver support on par with my experience with hardware support they would still have a chance, but as they will never release the drivers as needed this is my last HP product.

Could you not just do a clean Windows 10 install from an ISO to free yourself from HP and get direct drivers? Posted via the Windows Central App for Android

You can't because HP has a custom Intel/AMD driver they modified to work with the swichable graphics; if you install the AMD or Intel generic drivers it breaks lot of the funcionality. Spent months trying to make it work when Win8 first came out, but it never did, so had to stick with Win7 ever since, which is rather annoying as I would love to get Win10 on my main laptop, just as I have on my Surface Pro.

Not sure what your problem is. I am running a HP Envy M6 with the AMD processor. I use the video drivers from AMD and am on the Insider Slow Redstone slow ring and have absolutely no problems. Lately I have been reliving Dragon Age Origins with maxed out graphics without a hitch.
Posted from Windows Central for Windows 10

But wasn't the 6770M from, like, 2010? MAYBE 2011? If you're saying HP doesn't do driver support now because they didn't 5-6 years ago, that's not a fair assessment.

Bought the laptop around October 2011, no new GPU drivers were ever released, not even for Windows 8 which came out less then a year after I bought the laptop; considering it cost $1.8k I expected lot better and at the very least full driver support for the duration of the warranty, which would be the bare minimum. It might have been a while back, but stuff like this sticks with people, and I for one don't care what they do now, as they screwed me once before and unless they rectify that, they lost a customer for life, and you can be damn sure I will let others know about the poor experience I had with HP.

I partly agree with you as even Dell provides crippled support. I still remember how difficult it was to find 32 bit drivers for my Dell laptop which I finally got from another site.
Imo it shouldn't be a big factor for not choosing HP as major manufacturers somewhat lack in doing the same.

Only brand id deal with for them is aw & thats sort of driving me away

But can it run the "Rift"? Posted via the Windows Central App for Android

Not bad, depending on the desktop's price. The Fury X might not even be relevant by August, if we're lucky. Personally still wouldn't touch these with a 10-foot pole after HP screwed me on the one laptop I did buy from them, but these seem like solid devices. No mention of additional hardware specs, though. I assume you get touch on both the 1080 and 4K displays. Any pen support? Still nothing in the vein of a hybrid device in the HP high-end?

Cable management is atrocious in the Omen desktop - definitely not something HP picked up from their VoodooPC acquisition years ago. :( Posted via the Windows Central App for Android

The heat vents in the back is something all laptops should have, never understood why my HP notebook has a vent pointing lava exhaust onto my mouse hand.
Windows Central Newsletter
Thank you for signing up to Windows Central. You will receive a verification email shortly.
There was a problem. Please refresh the page and try again.