HP Pavilion x360 announced, an affordable touch convertible PC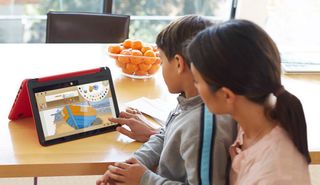 HP has announced at Mobile World Congress the HP Pavilion x360. It reminds us of Lenovo's line of YOGA machines. The Pavilion x360 features a 360-degree hinge that lets you convert the notebook to stand or tent mode, or to tablet. Use the x360 as a notebook to work, rotate into a stand to watch videos, convert into a tent to play, or transform it into a tablet to go anywhere. The starting price is $399.99, which is close to the prices of entry-level notebooks.
HP Pavilion x360 specifications
Windows 8.1
Intel Pentium N3520 or N2820 Processor (up to 2.17GHz, 2M L2 Cache)
Up to 8GB 1600MHz DDR3L SDRAM (1 DIMM)
Up to 750GB (5400RPM) hard drive or 500GB hybrid hard drive (500GB 5400RPM + 8GB NAND)
11.6-inch diagonal HD LED-backlit Display (1366x768) Touchscreen
Intel HD Graphics
802.11a/b/g/n WLAN and Bluetooth
Beats Audio - Dual speakers
(Front-facing) HP TrueVision HD Webcam with integrated digital microphone
Connectors: SuperSpeed USB 3.0, USB 2.0, HDMI, Ethernet, Headphone-out/mic-in combo jack)
The Pavilion x360 is also part of HP's announcement of the expansion of HP DataPass broadband service. Twelve countries have been added, including the United States. This means x360 owners can connect to the Internet with two years of free 3G+ or 4G mobile broadband service powered by Fogg Mobile. Customers receive up to 250 MB per month at no cost and can purchase additional monthly data packages at low rates and without a contract.
The HP Pavilion x360 is expected to be available in two colors: Brilliant Red and Smoke Silver. The Brilliant Red color will go on sale in the United States on February 26th.
DataPass is expected to be available on the HP Pavilion x360 in select regions starting this summer.
We're looking to spend some time with the HP Pavilion x360 while we're here at MWC, so stay tuned for our hands-on and first impressions soon. Does the HP Pavilion x360 look interesting to you? Let us know in the comments!
Source: HP (opens in new tab)
Windows Central Newsletter
Get the best of Windows Central in your inbox, every day!
Interesting, but hopefully a 13" version on the way

Will it support hyper-v to run wp8 emulators?
as I was thinking of upgrading my pc but it cost me more than 600$.
I found this cheap as well as stylish.

I would doubt it on a Pentium, but searching for the processor number on Intels website should get you to the spec sheet

Honestly I think that would be a poor investment. With virtualization you want three things: Hardware virt support (don't think this will have it)
Lots of memory
Lots of cores/hyperthreading This doesn't really have any of that. I really suggest 8gb ram minimum and a quad core CPU with hyperthreading. You're best off with a basic desktop or a decent i5 laptop. Many can be had for under $600 especially when you find refurbs or deals from time to time. Oh! An ssd if you can afford it.

This was released a while time ago...
Also 4 hour battery life is expected -_____-

Dont really like thick hybrids like this.. The surface seems like the only perfect mix of tablet laptop

What about the Sony tap 11?

Cant help but think of an xbox 360 with that name

That X360 name, something is wrong here.

Pc market is amazing and has range of beautiful devices. Now we are just excited what app is coming for wp8. Maybe candy crush, or the cam app which was announced by nokia earlier. Etc etc

why is there no digitizr i cant see myself using it much as a tablet if there is no active stylus? sam goes with all of these hybrids that lay flat. there is no point of having a laptop that can go flat if there is no support for an active stylus?

Seems a little bulky for my taste, but that's fine since I personally swore off HP/Compaq computers. I do like the color though.

No ips display, not interested

We know you have more money than God. You wouldn't be purchasing entry level computers anyway. This price point is for those who live on main street. Not for those of you on Wall Street.


Lol dude I live in Bangladesh and there are notebooks which have ips displays at a lower price than this. Viewing angles really matter for me that's why. It has got nothing to do with affordability or rich vs poor shit you're talking about.

Again, not for you. Which is the point rehsak. smh