The HP Spectre x360 convertible laptop is simply gorgeous
Announced yesterday at MWC 2015 was the HP Spectre x360, the latest in HP's line of high-end high-design Spectre portables. The previous Spectres have been very nice machines, but the x360 might just take the cake.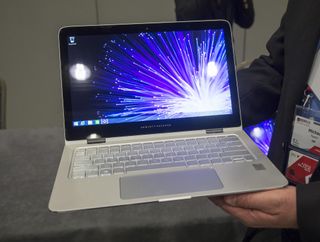 The Spectre x360 sports, as the name might imply, a 360° hinge mechanism that allows you to pivot the screen all the way around and close it onto the backside to use it as a tablet — a tablet that just so happens to have a 13.3-inch display (in 1080p or QHD) and a high-powered Intel Core i-series processor.
This is, of course, not even remotely the first convertible Windows laptop we've seen with a display that swings all the way around, but it is certainly one of the nicest. That comes down the the body, which was machined out of aluminum with crisp corners, lightly-polished sides, and measures just 15.9mm thick and weighs 3.3 pounds. Even with the Core i7 processor pushing 3.6 million pixels on that QHD display, HP still rates the Spectre x360 for up to 12.5 hours of battery life.
But let's just talk about the hinges. In lieu of a traditional friction hinge, HP's opted for a gear-driven hinge that they claim stands up to long-term repeated wear better than a friction hinge. These gears are encased inside a polished silver shell, adding a bit of bling to the otherwise understated design.
We will, of course, need to spend some quality time with this Windows 8.1 machine before we can give any conclusive judgements. But in our brief time with the HP Spectre x360 we came away impressed. Regardless of how things shake out, this is just beautiful and solid piece of design.
The HP Spectre x360 is up for order now on HP.com (opens in new tab) and projected to ship starting March 15, priced from $899.99 to $1149.99, depending on which options boxes you tick.
Image 1 of 11
Windows Central Newsletter
Get the best of Windows Central in in your inbox, every day!
Derek Kessler is Special Projects Manager for Mobile Nations. He's been writing about tech since 2009, has far more phones than is considered humane, still carries a torch for Palm, and got a Tesla because it was the biggest gadget he could find. You can follow him on Twitter at @derekakessler.
Hope it'll be more reliable than other laptops they make...

I have had friends and family that use HP laptops and have never had any issue with their reliability. Other brands, such as Toshiba, not so much.

My 6 years old Pavilion 3510nr with dedicated Nvidia graphics is still fully functional with Windows 8.1, except for the card reader that died two years ago. I still use it as my main computer for photo editing, webdesign, research, 3D modeling, etc, and personal use. Dell on the other side... All Dell desktops (XPS) on my job had severe problems... This year this old pavilion shows signs of failures and lags, but refreshing the OS usually always brings it to life again. But I plan to finaly change it to a Surface, or maybe one of those new laptops (Spectre or XPS 13)... Still not decided.

The Elitebook and Probook range has ALWAYS been very solid. You buy a £300 machine and that's what you get

i have a HP, 8 years old laptop with AMD 64 Turion CPU running WIn8.1Pro, and its been working GREAT, and never had any issue running Win8pro, and now Win8.1Pro. one thing MANY MANY people for get of don't even know to do , is to CLEAN THE FAN once ever 3 months or so. When Fan builds dust, it does not properly cools down the CPU/Motherboard and that takes the life of everything. I take my laptop in the garage, and blow it with my air compressor. I even do that with my Desktop PC's. Keeping those fans nice and clean is very very very very...................important. Every time, i get a laptop to repair, the fan is so freaking dirty, it does not even turn, which kills the CPU,.........

My hp Pavilion died recently at the young age of three years. Mobo fried. It happens a lot. And it wasn't a cheap one, it was more expensive than this elite book. Before that it had major heat problems. Sounded like a just engine with nothing open.

Every HP computer I've owned (and I say this with no exagerration) has failed in three years or less and no, these were not the cheap products. Two desktops have died around the three year mark; one right after the extended warranty and HP wanted almost half the cost to fix it even thou, among other things, the Mobo fried. One laptop, I shit you not, died after only 18 months. I spent the next year going back and forth with HP to fix it properly or replace it and they dragged their feet with useless repairs until my warranty ran out. Yet, I have a five year old Asus laptop and a three year old Asus laptop that are still going strong. Promised myself I would never buy HP again. Stopped buying their printers as well.

It should be sweet with the Microsoft experience edition or whatever the name is (I don't remember). I am talking about the edition without bloatware :)

There is no Signature Edition for this device as Microsoft worked with HP on the software from the get go. You can read more here: https://www.thurrott.com/hardware/1689/the-hp-spectre-x360-is-what-happens-when-a-pc-maker-collaborates-with-microsoft

I wish there were more hybrid laptops that also had a good dedicated graphics card too

Do they have a cover for the keyboard in tablet mode?

Exactly. Keyboards are delicate. The are a large openning to the inside of the machine. They are an array of over 40 small mechanical and electrical devices where the failure of any one means the entire device fails. Even if the electronics are sealed behind a membrane, the mechanics cannot be. The take enough abuse from normal use without being used as foot. The upside is everytime it is used as a tablet, the accumulated dirt and dust falls out.

HP put little rubber feet on the sides of the keyboard to raise it up from resting on surfaces when in tablet or presentation mode.

Loving this new HP-Book Air

No RIVAL mixing in names plz. :D

can we expect a lot of articles to this machine now? Just like the Dell XPS 13?

Hmm.. Intriguing but I think I like my 15.6" HP Envy x360 (i7, 1TB HDD, 8GB RAM). Though the QHD touchscreen looks really nice. Only complaint with mine is the 1080p display isn't all that sharp, and the viewing angles flat out suck, especially in portrait mode. Posted via the Windows Central App for Android

Too bad HP lost me forever as a customer after the last high end HP I purchased turned out to be garbage. Various keys stopped working, the speakers stopped working, it constantly overheated, the screen hinges were shite, etc. Let's hope they've gotten their act together with their latest devices.

This is the first windows laptop ive ever wanted. Quality looks to be on par with apple.

Would love to see how this thing rates against the XPS 13. I was about to buy the XPS, but I'm willing wait and see what this baby can do.

That hinge....my last two HP laptops had broken hinges, almost made me buy a Dell. Can this pull me back? I've been loyal to HP for as long as I remember.

After woeful hp experience, motherboard failures,wifi card failures in the past I'm fearful of spending £1k or more on an hp product especially as spectre xt screen hinge issues reported. I don't think apple are good value, though I'm torn between x360 full hd and importing a us model- in fact I believe uk buyers are being ripped off as ssd only models. Much as I hate to say it mac book pro and bootcamp look likely or wait till w10 and see how early adopter's fair with spectre x360

I7 8gb ram quad hd and 512ssd for £949, I hope I don't regret it
Windows Central Newsletter
Thank you for signing up to Windows Central. You will receive a verification email shortly.
There was a problem. Please refresh the page and try again.