A second look at the Spectre x360: the best laptop HP's ever made
How much better can a 13-inch convertible laptop possibly be than this?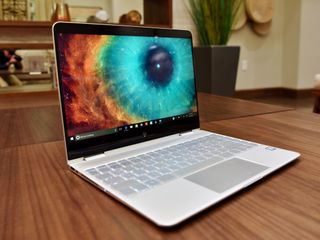 The HP Spectre x360 is arguably the best convertible ultrabook released this year. That's a huge compliment considering the competition has been fierce throughout 2016. HP hit it out of the ballpark with the Spectre x360, bringing a super premium and thin design to the convertible form factor, offering high-end specifications at a relatively bearable price.
See at HP (opens in new tab)
As our very own Daniel Rubino claims, the HP Spectre x360 is the best 13-inch laptop this year. I agree with him, but best doesn't necessarily have to mean perfect. I'm definitely not the first to admit that the Spectre x360 has some drawbacks, some of which might not actually be drawbacks to everyone. They are to me however, and I think it's a good idea to address them first.
So let's talk about the trackpad. It's not great. It feels great, and it's definitely big enough, but it's using Synaptics for the drivers and technology, rather than Precision which Microsoft recommends. Laptops like the Surface Book and Dell XPS 13/15 use Precision touchpads, whereas HP continue to use Synaptics even on their most premium devices.
It's a shame, because when compared side-by-side, Precision touchpads are just better in every way. They're very similar to the trackpads found on the Macs, which is basically the best a trackpad can be. Synaptics is not at this level, nowhere near in fact. It's unfortunate, because it's my biggest gripe with the Spectre x360 — I just cannot get used to the trackpad.
There are much more configuration options with a Synaptics trackpad over a Precision one, and a lot of people say with enough tuning, you can get the Synaptics trackpads to feel relatively similar to Precision ones, but it's still not perfect. I'd rather give up configurability in exchange a much better experience overall. I know many will disagree with me in this regard, but Precision touchpads, in my opinion, are the best and the only trackpads hardware makers should be using in their premium devices.
Second, and again this probably isn't much of a problem to everyone, but the lack of an SD card reader is also a bit of an issue for me. I use SD cards a lot, and there isn't a slot for one here. The Surface Book and XPS 13, both laptops which I have owned previously, have a slot for an SD card. The Spectre x360 does not.
I understand the Spectre x360 isn't exactly playing in the same ballpark as the Surface Book or XPS 13, but it's super difficult not to compare them. The Spectre x360 is an amazing laptop, even if it's a convertible first and foremost, so it's a shame to see some of these things that I've come to know and love on other laptops omitted from the Spectre. That said, the SD card reader issue can be bypassed by using some kind of adapter, something Apple fans are already accustomed to.
The final issue that I think is worth mentioning is the speakers. They're okay, but they aren't anything special. That's the case with a lot of ultrabooks, but the Spectre x360 has speakers tuned by Bang and Olufsun. I was expecting these speakers to be better, but they're at best, average.
What's more, I continue to run into a bug that I assume is more related to Windows than the hardware itself, but sometimes Windows won't listen to the volume controls. I'll turn the volume down, but the audio will continue to output at wherever it was before. Muting will mute, but I can't adjust the volume even though the UI is telling me that I have. A fix for this is to restart, which is fairly simple, but frustrating. It's an issue nonetheless.
Now, let's move onto what I absolutely love about the Spectre x360. I probably love the keyboard the most, being very tactile, clean and sexy to type on. It's a pleasure typing on the Spectre, so much so that I actually prefer the typing experience on my Spectre over the Surface Book or XPS 13. That's a huge compliment, considering the Surface Book is considered to have the best keyboard on an ultrabook.
I admit, there are some quirks with some key positioning. I dislike how the Page Up, Page Down, Insert, Home, etc. keys are positioned down the very right hand side of the keyboard. I expect to find the backspace and enter key buttons at the very edge of a 13-inch laptops keyboard, but on the Spectre 360 that's not the case. It's a little disorientating at first, but it's something you get used to quite quickly.
I also love how the Spectre x360 includes a Windows Hello camera that uses facial recognition just like the Surface Book and Surface Pro 4. More often than not, hardware makers will implement either some kind of fingerprint reader or iris scanner on their devices for Windows Hello, but the best Windows Hello is facial recognition. I'm so glad the Spectre x360 has facial recognition, because it works great and is something I simply cannot live without now that I've been using it so long.
The screen is another thing HP has done tremendously well. It's touchscreen, which is always nice, but it's also sort of bezel-less. Not at the top, like on the XPS 13, but on the sides. It's enough to make it look great, whilst maintaining a camera up to that's good enough for Windows Hello. I'm also a big fan of the 1080p display, rather than 4K, at this screen size. It's 13 inches, so 1080p looks fine if you're using the device at a normal distance. I've had no issues with screen quality whatsoever, and actually prefer it over other devices 1080p screens too.
The only issues I have with the screen are mostly Windows 10's fault. Out of the box, Windows sets its display scaling too high, making elements too big and giving you real estate similar to that of a 1366x768 screen. I simply lowered my display scaling setting in the Settings app to 125%, which makes it far more bearable, but Windows 10 isn't great at 125% scaling. Some elements look weird, such as the Action Center that display notifications in an odd manner. And some Win32 apps don't scale correctly at 125% either. Because of this, apps like Photoshop either look too small or too big on the Spectre x360. Just something to keep in mind.
Finally, let's talk hardware design. I think I speak for everyone when I say the Spectre x360 is a beautiful device. It looks great, it's super thin, and it's made of metal which gives it a premium edge over plastic/carbon-fibre. It's obvious that HP has paid a lot of attention to the design on the Spectre, from things like the straight-cut metal along the sides of the device all the way down to the smooth curves of the corners and the incredible geared hinges that just looks and feels phenomenal.
I think the design is the best part about the Spectre x360. It's just a classy, sexy, thin, and light device that will have even MacBook users turning their heads. It's superb to see HP building devices like this — it was only a few years ago that HP, Dell, and their PC compatriots were building utter rubbish laptops. I'm glad HP is now focused on building premium devices that are a joy the use, and I honestly think the HP Spectre x360 is the best laptop HP has ever made.
See at HP (opens in new tab)
Windows Central Newsletter
Get the best of Windows Central in in your inbox, every day!
Zac Bowden is a Senior Editor at Windows Central. Bringing you exclusive coverage into the world of Windows on PCs, tablets, phones, and more. Also an avid collector of rare Microsoft prototype devices! Keep in touch on Twitter: @zacbowden.
I agree with this entire article. One thing I will add that I dislike about my new Spectre x360 is the screen brightness. Seems like you need to have it at 85-90% brightness for the display to look it's most vibrant. Just mostly a minor gripe about it. Also wish there would have been a 1440p option from release. Other than that it's amazing!

Yup, screen brightness is 'ok' for most rooms, but doesn't push boundaries for outside or bright situations.

Is it normal for the brightness to change very slightly in stages?
.
Apps that have a dark theme makes the brightness go low (like the settings app) and file explorer makes the brightness go up but that too in steps. Like, its not a smooth transition. The way our phones change brightness automatically.

No active pen. Incredible for me. If I buy a convertible, I want to use it seriously also as a tablet, i.e. not just surfing and watchin a video. Microsofts OneNote is so great at taking notes, and especially also a sketch, a small diagram, etc. You can't do this in the heat of a meeting with mouse or touchpad. It's just such an incredible thing that they didn't include active stylus capability. Not even for additional money. AFAIK the older versions had this, which makes the decision even worse. For me: Fail. Total fail of a convertible. What a shame for the otherwise great device.

I read something about you just having to download the latest drivers from hp to be able to use it...

That's for the 2016 Skylake version (this is the one I just bought, myself). It seems the Kaby Lake version has completely dropped pen support altogether.

I agree, active pen support is a must have.

I'm rather happy with it, except two points related to charging and battery: first the annoying hiss (sort of coil whine) when battery is fully charged and laptop turned off; secondly, the approx. 10% of battery lost every 24h when the laptop is turned off (and not on power plug)

If HP could at least make the trackpad better via software, I'd be so happy. I'm still on the fence about returning it, solely because of the trackpad. I can deal with the standby battery life (fixable via software) and the coil whining (only an annoyance if I focus 100% on it). Here are my impressions. Trackpad I completely agree. While it's usable, the cursor should not move when I'm using the physical click. My MacBook Air never once did this. With the Spectre, it results in clicking on something you aren't even aiming for. Tapping - whether it be a regular single-finger tap or 2-finger-tap-to-right-click - has a small yet noticeable delay. If they can manage to release updates to solve the first issue, I'd be so happy. Until then, a $1,050+ ($1,300 for my config, before the recent $150 Best Buy discount), laptop should not have such a subpar trackpad. Hell, there are <$300 laptops that have precision trackpads that check nearly every box better than this Synaptics one. SD Card Slot I'm personally fine with this, as I don't use the SD card slot very often. While having an integrated slot would be more convenient, there are plenty of compact adapters to choose from (both USB-A and USB-C) like you mentioned. Of course, if you lose or forget one, you may get screwed at an inopportune time. Speakers Coming from a mid-2012 MacBook Air, I couldn't be any happier with the Spectre x360's quad-firing speakers. I don't really have standards for laptop speakers, however. Keyboard I also absolutely love the keyboard. I've found the keys to be a tad stiff, but the tactile feedback during the keystroke feels just right to me, making the entire thing quite comfortable and fast. Windows Hello I actually forgot all about this feature, but hope to set it up sometime. My initial concern would be any delay in the necessary cameras to start up, making simply typing a password or PIN faster. Display Again, coming from a mid-2012 13" MacBook Air (1440x900), anything new is an improvement. Display density - as you've mentioned - is fine for a 13.3" display. I just wish it wasn't so reflective. Side-by-side with the MBA, reflections with the Spectre are much worse. The MacBook Air basically darkens the reflections so that they're hardly there. Scaling is a minor issue for me, though it's a disaster with Photoshop CC 2017. Everything is either massive (resulting in sidebar buttons and controls moving below the screen), or microscopic. I also have Windows set to 125% scaling, and only Photoshop is a problem for me. Design I don't think anyone would deny that this is a stunning machine, possibly only second to a MacBook. Battery Life Standby and shutdown / hibernation battery life is noticeably bad. A 6% drain over 9 hours when it literally should be doing nothing seems like a bit much. The HP forum has a Thunderbolt controller firmware upgrade tool that supposedly helps a lot, but I'm waiting for HP to officially push a fix out themselves. Coil Whine When plugged in, off and charged to 100%, there's a very noticeable coil whine coming from the top-right portion of the Spectre. It's definitely enough to fill a small room. If you turn the laptop on, it calms down quite a bit, and if it's not plugged in anymore, it's practically gone in an instant. Still, like the Kaby Lake XPS 13's, the coil whine is certainly there and might be an issue for some.

You really should set up Windows Hello. On my Surface Pro 4, at least, it is amazingly fast.

Update: I'll be returning my Spectre to Best Buy today. I finally experienced the stuck volume level bug and restarts didn't fix it. I completely removed the audio driver and re-installed it, but who knows when the problem will happen again as it definitely left me with a sour taste. I also cannot stand the trackpad. When I first got it, light taps didn't make a sound at all, but like the HP Envy x360 that I used before the Spectre, it now does. Basically, light taps will make a sound as though there's a gap between the trackpad and the bottom of the laptop. Interestingly, unlike the Envy, this only affects the left half of the trackpad, but I assume that only time will make the right half do the same thing. Regardless, quality is a severe issue with the trackpad, and is what drove me to return it.

Wish there were 2 full size usb ports. I use one all the time for my mouse dongle. Can be inconvenient when plugging in a flash drive and having to remove the dongle.

Agreed. I see no reason to replace my Logitech mouse that has a dongle. I just live with it for now on my surface.

I think it can be better in terms of design. The bottom bezel look way too big, my 2008 HP Pavilion Laptop had slimmer bezels all around ( https://is.gd/FLUbKO ), I don't think they should be getting bigger on "upgraded" tech.

Trackpad is horrible on this machine.. Was a dealbreaker for me. Went with Lenovo 910. The trackpad is way better and also the screen. I am ok with fringerprint scanner.

I don't know why HP doesn't release a driver update that turns the trackpad into a precision unit. I suspect the hardware is the same.

As long as HP doesn't use motherboards that die within 8-14 months. Like most of the consumer based notebooks.

I was actually trying to decide between this and Surface Book only a few weeks ago. HP had a great deal that included the Spectre, mouse, & 1TB external HDD for much less. The lack of pen support was a deal-breaker. I used to draw a ton growing up, got back into it with the first gen Surface from work, and wanted that for my next PC. Couldn't believe it wasn't supported (fully supported?) on the new Spectre

Yeah. And in all these overwhelming reviews, no one mentioned that fact as a negative point.

Contrary to what everybody is saying about the trackpad, for me the Spectre's trackpad is absolutely the best I have ever used in a computer. Very smooth, and I love the fact that I can use one finger scrolling on the right side of the trackpad and adjust the size of the scrolling zone. I use my middle finger for cursor control, and my ring finger is always on the scrolling zone ready to scroll! So natural to me at least!

So many articles that are basically sales related. I know that you guys have to make money but there might not be a reason to visit very, very soon.

Nah, not sales related. I sent Zac the Spectre x360 on his request, he's been using it, he's a full-time writer, wanted to share his thoughts on it. It's our site, we write about things that interest us and what we think some people will want to know/learn about. Feel free to skip articles that do not interest you. Thanks!
Windows Central Newsletter
Thank you for signing up to Windows Central. You will receive a verification email shortly.
There was a problem. Please refresh the page and try again.