HP Sprout Pro is an enhanced version of its 3D scanning PC with Windows 10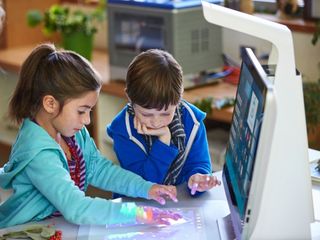 In October 2014, HP revealed a unique looking Windows 8.1 PC called the HP Sprout. The 23-inch all-in-one PC included an overhead projector which projected an interactive image to a touch mat that provides some new ways to interact with the device. Now HP is launching the Sprout Pro, an enhanced version of that consumer PC that's targeting the business and education markets.
The HP Sprout Pro will come with Windows 10 out of the box and will also include the 3D object scanning feature that was added to the original Sprout in 2015, via a software update. Here's what users can expect from the HP Sprout Pro:
The Sprout Companion for Skype for Business enables a new level of remote sharing and collaboration including the ability to share a Sprout 2D capture during a Skype meeting, as well as easily annotate on the Skype whiteboard using the Sprout pen and mat.
HP External Display Mixer allows users to share what's on the Sprout dual screen, video from the webcam, or the downward facing camera - or all at the same time.
HP Scan provides added professional-level document scanning and optical character recognition with features like custom resolution, exposures, color or grayscale and scan destinations for pro-level results.
HP Magnifier replaces a document camera and allows users to share live physical objects or documents with an audience, including zooming and capture.
Microsoft Windows 10 Professional provides a safer, innovative and updated experience while helping you to manage your devices, apps, and identities.
The new generation Intel Core i7 processors with DDR4 memory for additional processing power and integrated graphics performance.
Trusted Platform Module for enhanced security.
The HP Sprout Pro will be released in February for $2199.
Source: HP (opens in new tab)
Windows Central Newsletter
Get the best of Windows Central in in your inbox, every day!
Why do companies think the TPM is so important? It's like advertising vPro as a good thing (which it's not because who knows if you're being watched behind your back.) I mean, I know that the TPM is used to generate and store encryption keys.

Nobody's watching you behind your back

Let's just say that companies like to protect their stuff. TPM gives that option. And bashing vPro? Really? I guess remotely updating turned off system is a bad thing for the same companies, right? xD

I bought the original Sprout for my wife. I wonder if I will be able to upgrade any of those pro level apps and software on it....better then buying new one.

What do you guys think about it? It looks so clever.

It's interesting to say the least. We are using to scan vintage photos of my family from the 1940s. Definitely scans incredibly well. As far as the 3d scanning its good. But I think hp needs to update the software more often.

Useless. Noone asked for this.

I have to admit, this is a very ​interesting PC.
Windows Central Newsletter
Thank you for signing up to Windows Central. You will receive a verification email shortly.
There was a problem. Please refresh the page and try again.