Eyes-off with HP's Sure View active laptop display privacy filter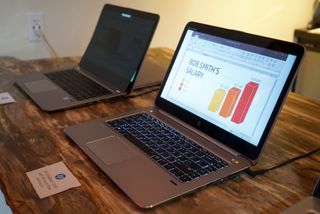 In order to help protect sensitive info from prying eyes, HP has a new option for laptop customers called "Sure View". Available for the HP EliteBook 840 G3 and EliteBook 1040 G3 Sure View is an integrated privacy screen will make the display's content appear dark to those around the laptop. Users simply press the fn + f2 keys to immediately transition the PC to privacy mode, which reduces up to 95 percent of visible light when viewed at an angle. Watch our hands-on video to see it in action!
HP Sure View helps users work more confidently from public locations without fear of data on the screen being exposed to others. There are existing solutions which let you add a separate layer on top of displays for added privacy, but Sure View is more convenient since it's already built-in and can be switched off when not needed. This solution will be handy especially in the healthcare, public sector, and finance industries.
We like that the privacy mode can be enabled or disabled with the function keys. Since the screen noticeably gets darker (even when viewed straight on) when Sure View is enabled, you can easily turn it off when heightened security isn't required.
Sure View was developed in partnership with 3M, which has more than 20 years of optical films technology experience. It is expected to be available in September as an option on the HP EliteBook 1040 Full HD touch and non-touch versions and the HP EliteBook 840. They will be the world's first PCS with integrated privacy screens.
See at HP (opens in new tab)
How do you feel about HP Sure View? Would you want an integrated privacy screen on your next laptop? Let us know in the comments!
Windows Central Newsletter
Get the best of Windows Central in in your inbox, every day!
Protecting the sensitive eyes V Protecting sensitive info from the prying eyes. Mind the 'V'.

Damn, I wish my salary moved like Bob Smith's.

This is actually pretty fantastic. At my company you're supposed to use a privacy filter when traveling, as well as at the office if you're working on a "top secret project" (e.g. if your at another facility, where the project hasn't been disclosed, or are working on an unannounced aquisition/merger/partnership). However, most people never use the filters, because of direct visibility issues, or their filter was damaged at some point which causes issues, or they forgot the filter to begin with. There are also those who leave it on all the time, as on some of our machines it's a bit of a pain to constantly install and remove the filter. Being able to quickly enable the privacy filter just by triggerign a hotkey would be fantastic. I could see HP opening this up, so that systems running a VPN automatically enable the filter when the VPN is triggered.

Just incase someone sees they're about to get fired.

It would be nice if all devices had an option like this.

If it would come to New phones in the future

This is a very welcome addition. Thanks HP. Your products seem to be getting better and better.

It was a pretty low bar to start with.

Oh, great. Just what we need. More people watching porno on airplanes. :P

I wonder how different is this technology than just to reduce a regular device's brightness settings to the lowest level. From what I could see they seem to work pretty much the same way... :-/

This reminds me of my old lcd laptop so crappy screens make a comeback?

I don't think you understand what's going on. Lol

Because neither the video or associated text says whats going on.

It should be a polarizer inserted in the screen, which stop light rays to fly at certain angles, leaving the more perpendicular rays to come out from the screen (visible staying in front of tbe screen).
Nice implementation HP!
This is the opposite way of the Lumia screens high visibility mode, when you are under the sun. The polarizers in the screen of Lumia 930, for example, remove part of the reflected rays which fall from the screen from external sources, at certain angles.
I hope I wrote correct how they works. Fell free to correct me in case I'm wrong ☺
Windows Central Newsletter
Thank you for signing up to Windows Central. You will receive a verification email shortly.
There was a problem. Please refresh the page and try again.