HTC Windows Phone 8X Review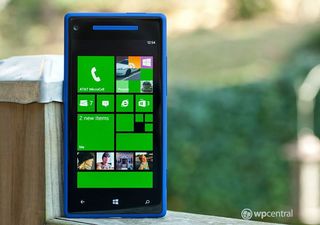 Windows Phone Central's review of the HTC 8X - a powerful yet sleek Windows Phone 8 device
While the Windows Phone 8 launch spotlight has shined brightly on the Nokia Lumia 920, there's another Windows Phone that has been lurking in the shadows. The HTC 8X launched over at AT&T on the same day and is a respectable Windows Phone within its own right.
The 8X is fitted with a 4.3" Super LCD screen, NFC (Near Field Communication), BEATS Audio, and an 8MP camera with BSI sensor (helps with low-light performance. The 8X is noticeably narrower than the Lumia 920 and reminds me of how the Samsung Focus Flash compared to the Focus S.
If you prefer a more compact Windows Phone, the HTC 8X isn't a bad choice.
Swipe to scroll horizontally

The weight, slim profile, Super LCD screen, BEATS Audio, NFC Support, healthy battery life, respectable camera with BSI sensor.

Random resets, new aspect ratio that isn't ideal for older apps/games, battery drain present with some devices, capacitive buttons can be overly sensitive, and occasional lag with the front facing camera.


While there's room for improvement with the 8X, HTC has produced a nice Windows Phone to add to a long line of quality Windows Phone devices. The slender, light weight design feels comfortable in the hand and well suited for pocket carry. The camera captures quality images and video and as far as a phone goes, call quality was loud and clear. If the larger Windows Phones aren't your cup of tea, the HTC 8X may be right up your alley.
Video Overview of the HTC 8X
The Body
The HTC 8X measures 5.21 x 2.61 x .39 inches and weighs in at 4.6 ounces. The 8X has a unibody design that essentially means you won't be able to remove the 1800mah battery.
The 8X comes in two varieties at AT&T. You have the 8GB version that is currently being offered in California Blue or Limelight. You also have a 16GB version that is currently available in California Blue.
The 8X's design has the volume rocker and camera button along the right side. Up top is the power button and 3.5mm headphone jack. On the left side is the micro-SIM card slot and at the bottom of the 8X is the micro-USB port.
The buttons on the 8X are really flush with the body, raising up just enough to be distinguishable. This gives the 8X a sleek feel to it but some may find the buttons hard to manipulate.
Speaking of sleek, the HTC 8X's back side and sides are curves to give the Windows Phone a comfortable feel to it. The matte finish is smooth but not slick and looks nice. The finish looks really good on the 8X but we've heard rumblings from others that the paint has begun to chip on the 8X. We haven't experienced such and with the 8X being as thin and light weight, it should handle a skin case nicely.
On the face of the 8X you'll find the customary capacitive back, start and search buttons. They are backlit when the 8X is in use and are very receptive to the touch. However, the search and back buttons may be too responsive. In just barely touching the sides of the 8X's face would activate the search feature. If you grip the 8X and your fingers barely wrap around the bottom of the 8X, you'll activate these buttons.
Another nice feature on the face of the 8X is the LED indicator. The indicator light is a nice touch by HTC and on the 8X it rests in the right corner of the ear speaker. It acts as a charging indicator (red for charging, green for fully charged) but doesn't flash on missed calls.
Overall, the 8X is designed well. It may not feel as solid as the Titan or Titan II but with the smaller screen, HTC is able to offer a more slimmed down, sleek looking Windows Phone.
The Display
The 4.3" Super LCD screen is protected by Gorilla Glass II giving the 8X a solid level of durability. Image quality on the 8X's Super LCD 2 screen is really nice. Colors are vibrant with just the right amount of contrast.
Outdoor performance was decent, along the same lines as other Windows Phones. The more direct and brighter the light, the harder it is to view the screen.
The screen's touch responsiveness is on par with other Windows Phones. The only nit we could find is that with the narrower screen, you lose a bit of elbow room for typing. It's the price you pay for the more compact 8X. If you do a lot of typing on your Windows Phone, you may want to take test out the keyboard before signing on the dotted line.
The 8X's screen has an aspect ratio of 16:9 which is something new. It allows the 8X to make the most of the 1280x720 screen. The downside to all of this is that with older Windows Phone 7 apps and games you get a small black bar at the top of the screen to make up for the difference in the older app's aspect ratio and the 8X's. As more apps transition to Windows Phone 8, this issue should take care of itself.
The bottom line, as far as the HTC 8X's screen is concerned, it's hard to find much to complain about. It's sharp, has great viewing angles and color representation is accurate.
Hardware
Under the hood the HTC 8X offers you Bluetooth 3.1 (+EDR), GPS, WiFi, NFC and can be updated over the air. All fairly standard with Windows Phones these days.
HTC partnered with BEATS Audio about a year ago and offered the new audio technology on a handful of Android devices. BEATS Audio (think of a hip hop version of Dolby) can be turned on/off in the 8X's settings and is only available through headphones. BEATS is an acquired taste and is probably best suited for matching headphones. With regular headsets, I found it to be basically a bass booster. In addition, the 8X has a pre-amp out for the speaker--one of the first of its kind in a smartphone. As a result, the 8X easily produces some of the best audio we've heard for a Windows Phone. It's loud but never distorts, which is an impressive feat.
The 8X is driven by a 1.5Ghz Qualcomm dual core processor and is powered by a 1800mah battery. Both the 8GB and 16GB versions are fitted with 1GB of RAM.
Battery life with moderate to heavy use is on par with other Windows Phones lasting throughout the day. We should note that some have experienced shorter than normal battery life (opens in new tab) (4-6 hours) when the NFC is enabled. We aren't sure if there is a direct relationship between crummy battery life and NFC but with NFC disabled, battery life improved dramatically.
HTC 8X, the phone
As capable as our Windows Phones have become, it's easy to lose sight that these devices are also phones. In that regard, the 8X performs well with call quality. Volume was ample with the ear speaker and back speakerphone. Voice equally was excellent with no complaints from those on the other end.
The phone aspect of the 8X is on par with any other Windows Phone out there. The vibrating alert is still on the weak side but then again, I haven't seen a solid vibrating alert since the days of the HTC Tilt days.
The Camera
The HTC 8X has an ultra-wide angle front facing 2.1MP camera and a 8MP rear facing camera with a 28mm f2.0 lens. The rear camera utilizes a backlit sensor (BSI) that pulls in more light than the more traditional front lit sensor. Combined with the brighter f2.0 lens, the BSI sensor makes the 8X an excellent indoor or low light camera. The 8X lacks any image stabilization so it won't pierce the shadows the way the Lumia 920 will but the 8X's camera isn't a push over either.
The front facing camera, while jittery compared to the Lumia 920, produces very good image quality ideal for Skype users or those who like to do group shots with friends. That's due to its high end hardware: 2.1MP with an F/2.0 lens and a whopping 88 degree viewing angle. That means compared to every other smartphone out there, you see more with this camera. It also prevents you from being "too close" during a Skype call.
We should note that the HTC 8X has a dedicated imaging chip. In a nutshell this means the 8X processes images a little faster and the camera won't bog down the main processor. Much like a dedicated graphics processor helps take the load off a computer's processor. It's a decent feature and does give the 8X a teeny bit of speed when compared to Windows Phones without the dedicated chip but doesn't leave them in the dust.
As far as menu controls are concerned, the 8X gives you a healthy settings menu to allow you to tweak the camera's performance as needed.
The 8X gives you control over effects filters (gray scale, negative, sepia, solarize), resolution (VGA to 8MP), white balance, exposure compensation, contracts, saturation, sharpness, ISO and face detection (on/off). It's a nice selection of controls and if you don't like messing with a cameras settings, each has an "auto" setting. Sadly, there isn't a panorama or burst setting on the 8X.
HTC 8X Outdoor Photo Sample (6MP)
HTC 8X Indoor Photo Sample (8MP)
Image quality is solid with slight over exposure noted on those bright sunny days. I would have liked to have seen better color saturation and temperature with the 8X but it's nothing that can't be corrected with post-processing/editing software. Low light pictures came out well but with the lack of any stabilization, you can see softness due to motion blur.
HTC 8X Night Photo Sample (6MP)
HTC 8X Outdoor Photo Sample (8MP)
Video quality is good, maybe a touch better than what we've seen from HTC in the past. The 8X can capture video from 1080p to QVGA. We did note a little lag at times when using the front facing camera. Nothing to pull your hair out over but worth noting. While it was a blustery day when the sample video was shot but the microphone seemed to struggle a little.
Overall, the 8X has a respectable camera. We've got a closer look at the camera coming up tomorrow but for now, if you opt for the 8X as your Windows Phone of choice you'll be pleased with the camera's performance. I just wish HTC hadn't gotten rid of the panorama and burst modes.
The Software
Asides from all the Windows Phone 8 goodness, the HTC really has a limited amount of bloatware. What is present can be useful and if you feel otherwise, it all can be uninstalled.
The 8X has the obligatory AT&T software that includes Family Map, Radio, Navigator, and such. Along with the AT&T software, you will also find the HTC Hub installed (weather, news, stock pages) as well as a flashlight app, a converter app and HTC's Photo Enhancer.
We'll go ahead and approach the elephant in the room as far as exclusive software is concerned. While HTC's app store is nice it pales in comparison to the Nokia Collection which continues to grow. Understanding that it's still early, we had hoped to see HTC take more of an aggressive position in supporting their Windows Phones. We can only hope that things pick up or the 8X might go the way of the Titan II...a great Windows Phone that had promise but was quickly overlooked.
Wrapping it up
The HTC 8X is somewhat of a dramatic departure from the HTC Windows Phones of the past. From the slimmer body to the splash of color, the departure brings HTC in line with competitors who are offering not only the black, conservative look but also options for the not-so-conservative. In a nutshell, the 8X is a comfortable, light weight, slimmer option for those not wanting a titan of a Windows Phone.
There's little to complain about with regards to the 8X's build and design. The capacitive buttons on the face of the 8X can be a little sensitive and the flush buttons may be touch for large hands to manipulate but neither are truly deal breakers.
As far as performance goes, the 8X moves along nicely but we did find two oddities. First, the battery does seem to spring a leak when NFC is enabled. Second, some are experiencing random resets. While I haven't seen such yet on my 8X, Daniel Rubino and Rich Edmonds have sat and watched their 8X's restart spontaneously. We even have a WPCentral Forums discussion on this mystery. (opens in new tab) (A loose SIM door may be the culprit for some).
Not sure if this is a deal breaker with the 8X but HTC needs to jump on these things and figure out why their flagship Windows Phone has a mind of its own at times.
We are a little concerned about the lack of HTC apps available for the 8X. Sure, it would be great to see HTC step up and throw some support behind their Windows Phone but even the lack of HTC apps isn't a deal breaker with what all you can find in the Windows Phone Store.
The 8X has a solid perform of a camera and call quality was excellent. BEATS Audio may not be everyone's cup of tea but it does give Metallica and AC/DC a bit more gusto.
The Nokia Lumia 920 Comparison (short version)
All in all, the HTC 8X is an enjoyable Windows Phone. Better than the Nokia Lumia 920? That's really a subjective question. I think the 920 has the better camera and a more solid build quality. However, with the solid build quality comes a slightly larger and heavier package. By no means is the Lumia 920 overweight and cumbersome but the HTC 8X is slimmer and lighter.
Feature wise, the wireless charging on the Lumia 920 will spoil you and I like the extra elbow room the larger screen offers. You also have the intangibles to consider with manufacturer support. We've seen Nokia support the Lumia line of Windows Phone commendably and hopefully HTC will follow suit and make this a non-issue. The bottom line is that I don't think you can go wrong with either Windows Phone. It's just deciding which meets your personal tastes and needs the best.
All told, the HTC 8X is an excellent Windows Phone that will appeal to many. HTC really needs to address the random resets and battery issues though. Should you be in the market for a slim, light weight Windows Phone, the 8X is worth considering.
Related
Windows Central Newsletter
Get the best of Windows Central in in your inbox, every day!
George is the Reviews Editor at Windows Central, concentrating on Windows 10 PC and Mobile apps. He's been a supporter of the platform since the days of Windows CE and uses his current Windows 10 Mobile phone daily to keep up with life and enjoy a game during down time.
Loong overdue.. But appreciated

Just wish it was 32gb. Great phone though.

It's a downgrade for me, since I'm coming from the iPhone 4S to this phone. It's a big disappointment, but the rest is so much greater.

Not since. I went to a lower end Windows Phone 7.5 device (HTC Arrive) from my iPhone 4S and I still prefer my Windows Phone. Now that I moved up to the HTC 8X I am even more please. That is a subjective comment. Please understand the difference when making such comments.

Long overdue review, as others have said. I actually find the colours coming through the camera to be oversaturated - I was actually considering making a thread about it, as I think the saturation needs to be somewhere between default and the next lower setting.

I want to exchange my 920 for the 8x. I find using my headphones the volume to be really low on the Lumia and music is very important to me. Also the 8X has a nicer design and feel than my glossy white 920 which is a tad bit to weildly for single hand use when compared to the 8X. In fact today my 920 slipped out my grasps and is now dented on all 4 corners. Meh. I also find the 8X has a more saturated screen which I personally love since the live tiles really pop. I mean cyan theme on the 920 looks like light blue. Lastly HTC has that great wide angle ffc. While Nokia camera is great the 8X also takes comparable daylight shots if not night time shots. I think I'll be ok with the 8X

I like hTC but I have to say choosing Nokia is a no brainer. Nokia is getting exclusive applications and full support to the OS. I had to change carriers to get my 920

It sounds like his issues are more because of hardware preference though, as opposed to software issues.

Cyan theme on 920 is light, which is why I picked Cobalt theme that has darker blue. Loudness is depend on your headphones. Both of my IEMs are loud on 1 out of 30. There is also an Equalizer for you to increase the volume.

I feel you dog I always like what HTC has done. I have a 900 and I like what they have done but audio is also important to me. Plus I love that form factor that HTC has.

Nice unbiased review. Impressive. Don't care if it was overdue. Its better then something that was rushed.

Unbiased? in this review they mentioned some of the same issues that the 920 is having like randome rest,,,that they didn't mention in the 920 review,,,also the 920 is having issues of totally bricking,,,they never mentioned that in the 920 review either. This might be a good review but far from unbiased. BOTH the 8X AND 920 are having random reset issues but they only mentioned it in the 8X review.

Had a 920 for a while now and got my dad one too and have not have even the slightest of issues so far. **knock on wood**

Verizon 8x seems to be least buggiest phone. I only had 1 reset since December ownership.

I haven't seen it in person but im 100% sure it's a beautiful phone..
But like what I said im skipping wp8 phones..im already looking forward to slimmer,darker bigger lumia..with all the complaint about the weight of the 920,im sure the next lumia will all be skinnier lighter..over all the 920 is a solid piece same as the 8x

Great review. Have noticed a little paint chipping myself on the power button. No random resets for me. Was thinking about holding out for the Nokia but after hearing it was exclusive to EE and then seeing there prices and data caps couldn't wait and went for the 8x. Moved from the HTC Desire HD and after having the phone a week now am glad i went for the 8x over the Nokia. The light sleek design is much more comfortable and easier to get out my pocket. I found the Desire HD to be cumbersome and I was always spilling money and receipts from my pocket. Though the shining moment for the Desire HD was when I went swimming with it in my pocket. Though for 2 days it didn't turn on... After that it was fine. Even went strong for another 18 months and was still going when I traded it in. My only worry is with the 8x being a sealed unit, if I do it again I cant take it apart to dry it out easier.

You've got two openings to dry it if unfortunately you need, USB and Audio.

My wife just recieved her blue 8X from Verizon. So far she is very excited.

Just wondering are the HTC Location and Watch apps available for the 8X? The Locations free, turn by turn navigation works great on my HTC Titan and as far as I know, Watch is the only app that allows Windows Phone users to rent up to date movies directly on the device as opposed the Zune/XBox Videos. Those two apps alone could either help or hurt the case for the 8X.

HTC Location and Watch are not available for the 8X. It may be a case where HTC hasn't migrated them to Windows Phone 8 or dropped them all together. Just looking at my Titan II, other HTC apps present on Windows Phone 7 and not the 8X include Connected Media, Tango, Dock Mode (don't need it), Lists, Notes, Compass, Calculator, and Love.

I mean where else are you gonna get .66 cent rentals every week? That's one of the features I really love.

I have had my 8X for one week now. Not 1 random reset and I'm loving it. Also my battery lasts around 20 hours with normal use

Try disabling Beats Audio to see if that clears up the random reboots.

Doubt it since the Nokia is having the same issue.

Ever feel like this site can not go without mentioning the 920 every other paragraph? For all the problems I have read and all the poor user reviews on the forumson the 920 I can not help but think there is a severe bias here. I have tested the two phones side by side and in my opinion I prefer the 8x. Some people will choose the 920, others are turning into fanantical apple like fan boys. I find myself not checking this site as often as I used to due to the "Nokia Central " feel. Rarely is there any news of anything else aside for apps. How about testing Beats audio accessories, verizon's wireless features of at least anything non nokia related.

Absolutely agree on this. It's like the 920 is the only windows phone available on the planet. How about more articles to do with the 8x?

You'll find that our staff have both phones and have been putting them through their paces equally. Personally I am more than happy with the 8X and am strongly considering using it as a the daily driver over my 920. The really exciting fact is that the 8X genuinely rivals the Lumia in so many ways, in the wp7 days that wasn't always the case

True! I'd say the 920 and 8X references are neck and neck. And why wouldn't they be? They are the flagship devices of this release cycle! I remember when people were talking about zero Windows Phones. Now we have a site like WP to count on and people still complain... Ah well, Keep up the great work!

I think it has more to do with the way the reviews on this site are written,,,when a 920 is reviewed its shown in the best possible light and little if any negative things are mentioned but when the 8x was reviewed you could tell it was more scrutinized. Even though both phones have been having reset issues and the 920 being bricked by some users none of these problems were mentioned in the 920's full review.

There was a whole article on how to unbrick your L920, so they're not completely ignoring the issue.

In general it does seem that Nokia can do no wrong on this site... But it's hard not to pull for Nokia and WP8 to be successfull together. I would buy a L920 tomorrow if it was on my carrier:(

@romeze and @hipporama We're not here to please you two on what we should and should not cover. We write on where there is news. You want to talk bias? You sound like you don't like our opinion on the 8X--that is you don't like our outcome because you happen to prefer that device over the 920. *That is bias*. This isn't about balance. We don't count how many stories we do on one device over another and we're not about to start because of your comments. But to accuse of being more into Nokia than HTC (or Samsung) simply because you prefer the HTC 8X more is not exactly a strong argument.

I agree with you, though you have to see that WPCentral wants to encourage the development of WP and Nokia has done this wholeheartedly, making a wonderful phone to use with great features that rival not just the best Windows Phones but top iOS and Android phones.. HTC hasn't gone all in. I think they have a great phone, I like the feel of their soft touch backs but don't like how narrow the phone is. Also how limited the storage is. Most people agree.

agree~ this site should change name !! WPcentral >> NOKIA Fanboy Central
plus Lumia 920 users are also complaining of poor battery life and some attempts to remedy that with a factory reset have simply 'bricked' the device, leaving it stuck on a Nokia splash screen.

Agree, you're not a very thoughtful commentor here.

WOW! This is usually said about sites and Apple. Get real ya'll. The Lumia 920 and HTC 8X are the only comparible Windows Phones sporting WP8 at the moment. Should they compare it against the iPhone or maybe the HTC OneX?

You know what, the only problem that I have had with my 920 was the battery issue. Either because of the factory reset I did, or disabling drive beta I haven't had a single problem with the battery life since then. The WiFi issue is present on all W8 and W7.5 devices, it's how the OS was designed to help conserve battery power. I haven't had a single freeze or reboot on my device. So I'm inclined to think it's a random issue that comes up in manufacturing.
With all that said, I would be concerened if I had the 8x. While it seems to be a great device, HTC seems to have an issue with random reboots. I had a G2, along with 2 office co-workers. All of us expierenced this on Andriod. So I don't think it's an OS issue, but more of a hardware problem. That was one of the reasons why I choose to stay away from the 8x and 8s. I truely hope it's a firmware or software issue that will be solved with an OTA, but even after my co-workers and I went from Gingerbread to ICS it didn't seem to fix the problem with random reboots.
I've been following the 920 forum and issues of reboots/freeze doesn't seem to be the big issue. The real problems with the 920 appear to be the battery life, WiFi (which is a problem with all W8 devices since it's designed to shut off when the phone goes to sleep), phones being bricked when a factory reset is done, and the daylight photo issue which Nokia admits can be fixed with a firmware update. So the only real issues are the factory reset and battery life that could be unique to the 920 that have not been addressed yet by either Nokia or Microsoft.
Do users experience a lockup or reboot on the 920? Yes, but how many? And under what circumstances? And how many reports have there been versus the number of units sold (We all know happy users don't post no problems in the forums, and any time a user has a problem they post to a forum) I've seen many posts on the issue for the 8x on several threads. We won't know for sometime how many 920's have been sold if ever. But, there are more threads about the reboot issue for the 8x then there are for the 920. So IMO it seems to point more towards HTC then the OS. Guess we'll find out when Sammy comes out with te ATIV in a month or so.
The 920 is the first Nokia phone I've ever owned. I've had a Motorolla feature phone (and old flip phone), A motorolla Razzor, a Sammy (flip Phone) feature phone, a Sammy Behold, and an HTC G2 (andriod). Of all those phones, I'm the most happy with the 920 at this stage of ownership. It does everything I ever wanted of a phone and then some. And the problems I've had with this phone are linked to the carrier or individual applications and not the phone or OS itself. I had a dropped call while calling customer support from work the other day.
So yeah, this site might be a bit 920 centric, but it is an awesome phone and is well deserved. I swithced from T-Mobile to AT&T and will be paying more per month, but it's worth it for such a great phone.

My HTC Radar has never done a random reboot. I'm just saying.

You report on what you are "paid" to report on. It's very easy to "sway" the technology media and industry "experts". I have been selling Microsoft-related hardware and software for +20 years. To say that I have seen some questionable products endorsed is an understatement. It's the way the techno-world works and there are always sell-outs.

However, it is also fair to say that the bar has been set and set high by Nokia. While their exclusive relationship with AT&T is bull-s, you have no leg to stand on if you want to say that there are other WP8 devices out there that are better than the 920.

Let the 920 bask in the glow for the few months that the device will be on top. Soon, you will see the Surface Phone, the Nokia 922 @ Verizon, and a better device from HTC. By March 2013, the 920 will be as valuable as my Verizon Trophy and the WP8 masses will flock elsewhere.

In the mean time, it would be nice if the industry experts would simply define what the market has to offer. Let the customers do their own due diligence based on facts and not biased comparisons. I enjoy reading what my fellow readers decide to purchase and use. Their feedback on "why" is invaluable. I look to WP Central to inform and not sway.

Agree... Here's an article about the L920 having SERIOUS reset issues as well. Seems it is a WP8 issue rather than an WP8X HTC issue as the artlcle makes it sound

http://wmpoweruser.com/how-to-soft-reset-the-nokia-lumia-920/

The reason there's a lot of Nokia articles on this site right now is because Nokia is doing a lot of things to keep their name in the media and build a hype around their newest devices.

HTC will obviously be less active in that regard because they're currently pushing a variety of new phones. Besides, from a hardware standpoint the flagships for them right now are the One X+ and the Droid DNA, not the 8X.

And, on the random resets issue - it's not just the 8X. I have had it happen 3 times on my 920. All 3 times I was streaming on Xbox Music Pass - and two were when I was hooked up with bluetooth to my SYNC system in my car. In both of those cases I hit the next button on the car and the phone reset. Based on my experiences with that I don't think it's a hardware issue but rather some issue in WP8 itself.

They mention the 920 because the 8X is in direct competition with it. Keep in mind they only mentioned it to compare the cameras (standout 920 feature) and apps (standout Nokia feature). They are not wrong in saying that more apps will help them against Nokia. They also said that the 8X is better for those looking for a more compact feeling phone. The compliments go both ways.

I think it's actually very practical to compare products with similar price points. It gives context to the review and it certainly helps those of us considering an expensive upgrade. The more information/comparisons the better. Frankly, I am impressed by both phones... and I think the writers of WPCentral are as well...


I don't think HTC is to blame with the random resets since the Nokia has it too and even freezes which the 8X doesn't.

I've had my 920 for over week and haven't seen any locks or freezes.

I almost forgot that one person's experience can easily be applied to all those who own a device. Thanks for reminding me!

Chill out punk. I'm just giving m experience with my device. Put the cat claws away.

Sure seems snarky to me, lol. ;)

LOL you caught it GoodThings ;)

I have a Nokia Lumia 810 and I don't have any problem.

Always bound to be bugs with a new OS

Deal Breakers? Here are a few of my personal concerns...
HTC copied Nokia form factor. Shame on them. -2 No SD Card Slot. Limited Memory. Less Memory than most of the Nokia devices. -3 No Gyroscope. (Promoting "misleading" comments about Gyroscope in press.) -5 Battery not much larger than my Trophy. Battery not replacable. (Tell me about your battery life in 12 months.) -4 Poor HTC software offering. Ranks as lame compared to Nokia. -6 Poor Customer Service and very few device updates. As per my Trophy experience. -4 Limited to no accessories promoted with 3rd Parties. -4 Average rear camera. Less than average compared to Nokia. -3
I count HTC out of Round 1 of the WP8 devices. Rumor is that they are going to step it up in early 2013. Let's see what they can come up with. Nokia and Microsoft Surface will also be raising the bar. Calendar Q1 2013 will be big for WP8 devices. Based on what is out there today - well worth the wait.

And this is based off of what? Try the device before judging it, stop being so unfairly judgmental

1) So Nokia has copywrite on any phone made using Polycarbonate and that has a few colour choices, Stupid comment.
2) Same as Nokia not everyone needs alot of Storage.
3) Haven't yet found a use for one anyway ? Its not a big deal.
4) I actually get very good battery life and by the way ain't the Nokia's suffering problems as well... Yep!
5) Not HTC's strong point but then WP is not exactly the best platform for apps anyway.
6) Your experience is the general rule? Hmm as for device updates ha its no different to Nokia and yes i have owned both.
7) There are plenty of cases for this phone including Otterbox.
8) Probably your most pathetic comment. The camera is not bested by the Lumia 920 in daylight and in fact i would say its alot better at macro's Nokia is only better at lowlight.


1) No and yes. But since when HTC ever used colorful Polycarbonate on their phone? NOKIA start it all.
2) No comment but expandable storage would be better for both phone.
3 Not a big deal for you, but what about the other? Each to their own.
4) No comment.
5) Well they can try to attract developer the way Nokia did if they really want too, no? But, hey. This is HTC. They don't care about WP anyway.
6) No comment but customer service is always vary.
7) This apply to all WP phones I think.
8) Say who? 8X has a pretty uninspiring camera just like One X. Do you know that HTC has bad reputation as far as camera concerned? I don't know why WPCentral and everyone in here thinks that HTC has one of the best camera and they bash Nokia's camera when the truth is the exact opposite. HTC camera is crap. Period.
http://allaboutwindowsphone.com/features/item/16087_PureView_shootout_Nokia_808_vs.php

Thank you Xiao Ti.

The HTC 8X is a total and absolute copy of the Lumia form factor for this generation of WP8 devices. IMO, HTC should have simply slapped WP8 in their HTC One for their first WP8 device and improved upon that start in 2013.

I have owned an HTC device for a few years now. Support is lame. Updates are rare. And I do not have any "apps" on my current device that HTC has created.

I appreciate that HTC has been in the mix with Windows Phone since the start. Unfortunately, their culture does not improve on the phone investment once you are an owner. That has to be a serious consideration.

The 8X is a copy-cat at best. The only advantage I can find would be the Beats Audio and weight. No one should get too upset about what HTC brought to the show. Hell, at least they showed up. It's "buyer beware" with the 8X. Do you really want to be stuck with this device for 18+ months? By March 2013, the quad-core devices will be out, the OS will be cleaned up (no random reboots), and you will be able to invest your hard earned money in a device you will be happy to have and use for 2 years. Until then, engage in your due diligence, learn what you can, and make a smart purchase. NO ONE said you have to buy the 8X or 920 today.

True! I think HTC is in it more than they've been because they've never given more than a passing thought to WP, but now that they're not doing well with android they need a new focus. I give credit to them for putting more focus on WP but not for only bringing their current features to the WP world. Camera advantage is currently owned by Nokia, screen technology is on par with Nokia but not distinct enough to stand out and sell units. They need to include SD slits in their next generation phones as well as some really fresh designs. Ultimately I think HTC stepping their game up will push Nokia to deliver their best efforts. In the end we all win.

ACTUALLY if you want to start pointing fingers at companies for stealing "form factor" then I'd say that Nokia stole their single body design for the Lumia 900 and 920 from Apple, who had a similar body on their earlier iPod Nanos!

Oh look! A bunch of iPod Nanos!
http://www.conrad.se/Mobiltelefonbatterier,-NOKIA.htm?websale7=conrad-sw...
I hope this stolen design BS stops. HTC didn't steal the Nokias design, and Nokia didn't steal the nano design. It's just as if some people think form factors were invented yesterday. /RANT

1. HTC copied nothing. The 8X does not resemble a Lumina at all.
2. So... HTC can release versions with up to 64Gb latter.
3. HAHA. Who told you that one? That is BS. The App "Clinometer" uses the gyro's and the 8X has Gyros. Works perfectly on my 8X HSPA+. Before you say things, test the apps that use the gyros.
4. In tests the battery of the HSPA+ model exceeds the Lumia 920... don't believe me, read the tests on Chip.de The US LTE and CDMA versions have 20% more battery than the HSPA+ version.
5. Yeah... Nokia is digging its tomb by monopolizing apps that should be available to all WP8 users. Like Bloomberg, games etc. HTC makes some of the best Android devices to, Nokia does not... we shall see who will survive here.
6. If it works, why update? Kind of a Nokia thing to patch for years and it never gets fixed.
7. We have all we need, like Beats Audio headphones and the Verizon 8X might work with the JBL speakers.
8. The rear camera is good, better in sunlight than the Nokia. Just not a night shot camera. The front camera on the 8X is better for Skype.
The 8S is low range, the 8X mid range. HTC is working on a high end device based on the OneX+ but using a Quad Core S4. You shall see... Peter Chou said that HTC would concentrate on high end WP and Android devices and that the mid range will be dropped. So I think HTC will have 1 new model and 1 upgraded model for 2013.

@romeze - I agree that the HTC 8X review seemsa little more critical than the 920 review, but I disagree about this being NokiaCentral. There is a natural tendency to cover the OEM that is doing more with the platform. What HTC news is there beside the device? Nokia are actively courting developers, building apps, bringing new devices, new price points, $49.99 black Friday deals here in the US etc. I don't know how much HTC news there is ... HTC seem to have prioritized the Droid DNA and OneX+ launches ... Nokia are out there beating the Windows phone drum, trying to single-handedly save this platform. The 8X is expensive compared to the 920, but I understand if people on Verizon think it's their only high-end choice. Unfortunately for HTC, they are becoming the commendable 'also-ran' in both Android (OneX+) and Windows Phone (8X), being just a little bit behind. Nokia took the plunge and focused on Windows phone and AT&T. The result is the best Windows phone at a killer price. It's also not for everyone, but if they can make it compelling for 10% of the market, then that's a HUGE win for the platform. In saying that, I hope the 8X does really well, more device sales, more apps.

Like the old saying, "can't serve two masters at once". I bet HTC didnt know about that. Look at Samsung, they know where they should put their priority. HTC seems to be half hearted jumping back to Windows phone. While HTC's busy with their DROID DNA.
this review got something i dont know how to explain. it's obvious that 8X don't have something special compared to the REAL windows phone star. i feel like, they dont like 8X not having some dandy features (xcept for the Clock tile and Beats) and this review makes you feel choosing it from LUMIA 920 is ok ( when in fact, you don't get supersensitive touch screen, GREAT sales and after sales customer support, DOLBY, APPS , pureview camera etc ). isnt that quite a few to name??
come on WPCENTRAL, aside from being lighter, having BSI, wide angle front camera - are these features notable for use in the real world? aside from specs sheet that is.
one word - biased. this review is biased to HTC.


Totally agree mate! Looks lke even WPCentral find it hard to justify why you should buy this over the Lumia 920.

Cause in the rest of the world, it is 20% less expensive off contract!
Cause "Made in Taiwan" is better quality than "Made in China"
Cause we don't want to carry bricks, cause there is no way that in business the 920 will succeed, the 920 is too huge to carry in a shirt pocket and it slides out all the time, unlike the 8X.

Who carries their phone in their shirt pocket? ANY modern phone would be sticking out of the top all the time. It's the modern day pocket protector equivalent...

Cause "Made in Taiwan" is better quality than "Made in China" You can't be serious. Not sure which I find more funny, that you think HTC phones are physically made in Taiwan or that Nokia makes all of their phones in China (they have factories in Mexico, S. America and other parts of Eastern Europe).

20% less expensive and 140% less awesome.
Made in Taiwan is better than in China? Say who? Don't be delusional.
Oh please, only in your wildest dream only, no one can beat Nokia's hardware in this planet, even Nokia eat Apple for breakfast.
Brick? You are such a whiny bimbo. Go cry to your mom.

Says a lot of people. Have you seen the doccumentaries and videos on the internet of labour in these Chinese factories making £500 phones and giving thier workers $2 per phone for Apple AND Nokia? When Nokia was soley Finnish made, there phones were 1st class in quality of hardware, those where days gone by. Since Microsoft have held partnership with Nokia there quality has improved but still isn't as good as what is now industry leading HTC. HTC are one of the only manufacvutres in the phone inudstry that manufactuer their own products in thier own factories in their own homeland country, which makes a difference. They desing, test and build them in state of the art factories where perfection sin't quite good enough. think im exagerating? Look up these videos on the internet. Unlike China where money is the only concern, Taiwan have pride in thier country and making a phone that they know is going to be shipped around the wortld, they want to put the "Made in Taiwan" badge a symbol of quality and honesty.

my titan is still on 7720, unexceptable HTC. and thats why i bought a 920 instead this time

HTC had nothing to do with that.

why not? they updated the radar and the hd7 and the titan 2, but never the titan1, seems crazy to me


But they did have something to do with refusing to fix the horrible muffled voice issue on the Titan I. HTC has not supported their phones like Nokia. They acknowledged it as a flaw and then refused to do anything about. They even deleted threads about it on their user community site. I have one and suffered through this.
To be fair, I loved everything else about the phone including big screen, beautiful screen, great camera and terrific speaker on Netflix. I won't say I will never buy an HTC phone again but I will certainly wait to hear user reviews. Actually, I am probaly going to do that for any phone. I more than likely will not buy a Nokia next time because they are almost creating a separate experience AND look. I like the look and feel of the WP experience as MS designed it.

my titan is still on 7720, unexceptable HTC. and thats why i bought a 920 instead this time

For Christ's sake... unacceptable.

Not htc's fault, my HTC Mozart is running latest firmware, its all to do with shoddy carriers, my carrier Telecom NZ has been great and this phones is imported from Australia! So dont dis HTC, im not a fan boy just saying my experience with em. I can't decide btwn 8x or 920 :'(

Just my 2 cents, but I think AT&T did HTC a terible disservice only offering the phone in what amounts to purple. Very few people will want that color. They would REALLY have to want a WP8 phone. Very foolish decision.

The Titan was updated to Tango. Yours wasn't due to your carrier probably.

im thinking the att version never got updated.

Yea it was branded as the AT&T Titan

The reality is that the 920 is going to sell in large volumes and you are pretty much assured it will get an update. Likely the 8X will too though.

I was going to go with the 920 but after feeling it getting a sense of how heavy it is, I'm sold on the 8X. Nicer feel in my hand, colour, I like the LED notifications too.

How does the 8X screen compare to the Trophy in daylight? There was a lot to like in the Trophy, but not the display quality in any kind of bright light.

The only thing 8x is better than 920 is the size, otherwise 920 is in another class completely. My brother has 8x, so I've compared everything since I have 920, no comparison. Lumia battery is better if it's well managed. It doesn't feel too big when holding. Display! Awesome. Q. E. D

8X has better sound and higher pixel density than the 920.

To bad the human eye wouldn't be able to tell the difference.

I'm going from the One X (best large size display on a smartphone to date (before One X+)) to the Lumia 920, you're nitpicking.. I can barely tell the difference, and this is from someone who looks FOR pixels when reading text and viewing pictures.

Why are these phone colours not available with at&t? I would have bought it otherwise...

Man you're absolutely right. Id really like to have a chance to purchase the 8X in red or a non-purple tinted blue. Even Orange or grey would be cool.

does anyone know if at&t will be releasing more colors for the 8x.?

Black, red and gray+neon yellow are exclusive to VZW. So probably not.

That explains why Tmo only has blue. At least offer black as well. TMo's saving grace is scoring 3 lines plus 2 GB unthrottled for about 125/mo. (I've been watching our data usage the last couple years, and none of us has gone over 1.5 GB in a month.)

AT&T has LimeLight yell but only for the 8GB model. Verizon only has an exclusive on "Red". There is no grey 8X.

AT&T must have gimped this phone somehow. My VZW 8X lasts all day with NFC on no problem. Its 10:50 right now. Pulled it off the charge at 8AM and I'm at 40% battery.

That's just a personal experience and isolated. We ccovered the same in a series of 920 articles as well.

I personally think every single Lumia device is fugly. So there's that too.

Nokia 920 vs HTC 8x...no contest. Nokia wins. Better display, pureview camera, ois, haac, app exclusives, etc.

That may be true, but many of us are not going to switch carrier just to get one. As a Tmobile customer I was only interested in the comparison between the 8X and the Lumia 810. I played with each of them for about 20 minutes at my local Tmobile and the 8X was the clear winner for me. Now if I was on ATT there would be no contest, they are offering the 920 for $100 less. If they were the same price I would probably go with the 920. If the 8X was $100 cheaper I would go with the 8X. Its a great phone!

Coming from a Trophy I just got my 8x today so not much time with it yet but one thing I noted right away is the power and headphone jack needed to to swap sides. The power button would be much easier to use if it was on the left side where the jack is.

HTC's website lists the 8x as having a Super LCD 2 screen not Super LCD.

Why don't you people shut up about your Nokia 920's long enough to let us Verizon people enjoy the 8x as a great phone? The 920 is nice. We get it. I happen to be enjoying my 8x so far so stop trying to rain on my parade.

Do you want an umbrella? :-P

My daughter and I are loving our 8X's on Tmo. I love the design and build quality, even more than the 920. However the 920 has more to offer. No random resets or battery drain for us. That wide angle front camera is really fantastic and my head phones never sounded better plugged into a phone. Also, I must say, WP8 is a great evolution in our favorite OS.
Happy Thanksgiving to all my fellow Americans!

What paint is coming off? The plastic isn't painted is it? Or are we talking about the logos?

The 8x has a rubberized coating on top of the polycarbonate shell. The only thing that can come off is the coating. The polycarbonate is the same as that on the Lumias.

@George Ponder:
Are the pictures post-processed? I saw the blue 8X myself and the color of the photos comes not even close to the real ones.
The ones that I saw had more of a purple touch ...

//Edit: The "real" color can clearly be seen in the Video.

Pictures as in the photo samples? The only processing I do with the photo samples is resizing them for publication. I don't touch the sharpness, white balance, exposure, shadows, levels or anything for a sample photo.

I sorta feel bad for HTC... The 8x seems to be a great phone and MS made it a signature phone or whatever, but the 920 still gets the most love and attention from consumers and industry watchers alike. They deserve some love and recognition, too. That said, I myself am a (very) happy 920 owner, but I'd still like to see HTC do well in the wp8 space, too. Come to think of it, I'm a former Palm Pre faithful who then switched to WP (HTC arrive), then a Nokia wp8 device-- I guess I just have a thing for underdogs! Lol

It should be mentioned in the review that the Verizon version does feature wireless charging since that was brought up as a pro for the Lumia 920 over the 8X, which is obviously not the case for all variants of the 8X.

I love my HTC 8X, and it did reboot out of hisself, but just 1 time so I'm nog concerned. But I have a problem more people have, about the attentive phone features. They simply don't work properly. So I turned it off.

I have the int. version. No spontaneous reboots and battery lasts for exactly 2 days with relatively heavy use.

Nice review but the random resets and battery issues affect also some 920s but you make it seem like it's something specific to the 8X. Also the Verizon model offers wireless charging so this should be mentioned.
On a side note I think HTC will be more actively updating their phones now just because they're the official Windows Phones sanctioned by Microsoft. That should lift some worries regarding Manufacturer support.

We have 4 HTC 8X's here and 3 have had random resets compared to zero on staff or the 920. That's our basis. Also, in speaking with various employees at AT&T they've commented ont the resets too, unprompted. So we feel valid bringing it up with the 8X as a concern. Whether it is the software or just making sure the SIM tray is locked in, it is something that is real.

Hey Daniel I know this is a WP site but can U do a comparison shortly of 8x 920 ip5 &S3? Id love to see WP kick android and IOS to the curb :)

I have pretty bad distortion with speaker phone. I tried floor model but same issue and I also so few other people complaining about that on T-Mobile. I wonder why no reviews mention that. Have you set volume to 8/10 and higher?

All this Nokia fanboyism is really starting to ruin this site. I feel like I'm reading the comments on a Engadget or Verge article where all it is is people trying to argue things like what color is better. Obviously an arguemwnt like that is going to go nowhere. I always loved WPCentral because it was a great place for people who enjoy windows phone and I'd hate to see this site go where Engadget went but unfortunately that is wpcentral's trajectory at this point. BTW I think the lumia 920 is a fantastic phone and I would get it but I'm on Verizon so I'm going to have to get the 8X. I do feel like I'm losing a few great features but the 8X in my opinion is better looking and from what time I have spent with it is still a fantastic phone. Can't we all just hold hands and sing kumbaya? :P

"All this Nokia fanboyism is really starting to ruin this site."

Do you come here for our articles, videos, early reports, reviews or the comments? Personally, I don't consider comments here "content" just a way to let people vent. As far as perception, there's not much to do about changing that with people. Nokia has the momentum and while HTC has done a very admirable job with the 8X, the 920 will still get the attention (the fate of Nokia is also a lot more dramatic).


While I do agree that the real "content" on the site is the articles, videos, etc. (Which I do enjoy viewing) the comments do play a role in the "tone" of a site. I find reading comments are a great way to find out about other people's opinions but its a shame how people present said opinions and how extreme they get about them. One can simply say "I prefer the 920" rather than "F*** HTC". I guess what I am trying to say is some civility would make for a better overall experience.

Do we really have to wait 8 seconds for the sample video to start? Come on guys...

The German computer magazine chip.de which is totally pro Android, classifies the 8X screen as the best currently available on any smartphone. They did a lot of test and had to admmit it is the best display. Best colors and excellent sharpness.
Here is the link:
http://www.chip.de/bildergalerie/Die-schaerfsten-Smartphones-Galerie_584...


Nokia already did one thing wrong in my country. They release their Lumia 820/920 over a month later than HTC released the 8X. So I bought a 8X and I am happy with it. No reboots, battery is ok and the looks are beautiful. I don't really care about manufacturer's software, since I hope a lot of developers will release their own apps for Windows 8, that is still my biggest complaint until now.

Glad.to have my 25gig SkyDrive 16gig is fine

LED indicator also blinks if battery is below 20% charged fyi

My HTC desire used to randomly reboot a couple of times a week, I might be concerned its a HTC thing, but people are having it on the 920 so maybe its an OS thing.

Surprised you didn't mention anything about the height of the 8X. It is super tall. One of the main reasons I didn't get it, along with not enough storage.

Depends, in the US, yes, most int'l versions, no, apparently in Australia when they get it it will run on telstras 1700mhz 4g band

I think you should edit review... Atleast part with battrry perfomance which is faaar to good. After the update i get 2 days of moderate usage with no problems (2 emails sync, location, hdspa, wi fi always on) :D
Windows Central Newsletter
Thank you for signing up to Windows Central. You will receive a verification email shortly.
There was a problem. Please refresh the page and try again.