HTC 8X Camera: A Closer Look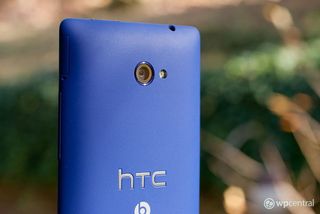 While Nokia has been busy turning heads with the Lumia 920, HTC has quietly produced a decent Windows Phone in the 8X. The Lumia 920 touts an 8.7MP camera with optical stabilization and Pureview technology. And while the 8X's camera may sound meager in comparison, it's not a bad performer in it's own right. If the camera is a factor in choosing the 8X, I think most will be pleased with the results.
We touched on the camera slightly in the 8X's main review and now we'll take a closer look at things with regards to still images.
HTC decide to scale things down a bit with the 8X opting for a 8MP sensor instead of the 16MP sensor from the Titan II. A little surprising that they didn't opt for the higher resolution sensor but it could have been a cost or design issue. In front of the 8MP sensor, the 8X sports a f2.0, 28mm lens. Combine the f2.0 lens (allows for more light to pass through to the sensor) and the BSI sensor and the 8X does a decent job of things indoors.
HTC does give the 8X a dedicated imaging processor which helps take the load off the main processor and can reduce the lag time in between shutter presses. In comparing the 8X to Windows Phone cameras without a dedicated chip, the 8X does acquire focus, capture the image and resets for the next image a tad faster. While the difference in speed is there, it's not so vast many will notice.
HTC 8X Indoor Photo Sample
As far as the camera's menu is concerned, HTC gives you control over effects filters (grayscale, negative, sepia, solarize), resolution (VGA to 8MP), white balance, exposure compensation, contracts, saturation, sharpness, ISO and face detection (on/off). It's a nice selection of controls and if you don't like messing with a cameras settings, each has an "auto" setting. Sadly, there isn't a panorama or burst setting on the 8X. Hopefully HTC will bring at least the panorama feature back in a future update. It was one of the best ways to capture panoramic images, maybe second only to Photosynth.
HTC 8X Outdoor Photo Sample
The sample images throughout this article were taken at the default settings expect for resolution. The 8X's default resolution is 6MP (3264x1836). We bumped up the resolution to the max of 8MP (3264 x 2448) for these sample photos.
As far as image quality is concerned, the 8X is a good performer. Images were sharp and my only criticisms are that images were slightly overexposed and colors were a little on the cool side at times. Neither were issues to cause panic over and easily adjusted for through editing software or tweaking the settings on the 8X. Indoors the 8X performed equally as well making the most of the BSI sensor.
HTC 8X Night Photo Sample
The 8X has a 4x digital zoom. Instead of zooming in on a bottle of sparkling water in a controlled environment, we took the zoom out in the field for a test shot. First the standard photo from the 8X.
HTC 8X standard outdoor photo sample
The results were typical of a digital zoom feature. Digital zoom basically crops the image down on the sensor and then expands it to full pixel dimensions. The result stretches the pixels and causes softness, pixelation, and overall poorer quality images. Digital zoom technology has come a long way over the years but it still has a ways to go.
I did start to see motion blur in images taken in lower lighting conditions. The 8X does not have optical or digital stabilization which bring motion blur into play when slower shutter speeds are used. Night time photos were nicely exposed when ample light was present (as with the above building photo) but the 8X struggled when the light was limited (as with the street lamp shot). The street light photo was shot at ISO 1126 with a shutter speed of 1/13th of a second without stabilization. Give the 8X some form of stabilization and you could probably pierce the shadows more.
HTC 8X Night Photo Sample
One last nit with the 8X's camera is that at times I found it to struggle achieving proper focus. It wasn't a consistent issues and seemed to occur more often with close shots. And that might be due to the lack of a macro or close up setting. Speaking of which, the 8X performed nicely with close up shots once it settled down with the focus. It took a few tries but I could get the 8X to focus nicely up to 6 inches from my subject. The blur you see on the pad lock is from the shallow depth of field the f2.0 lens offers.
HTC 8X Closeup Photo Sample
Overall, the HTC 8X's camera is a respectable performer. HTC allows you plenty of control over the camera's settings but it would have been nice to have seen the panorama feature on the 8X.
Low light performance is nice with the 8X's BSI sensor and had HTC added a stabilization system to the 8X, it would have been an even stronger low light performer. All in all image quality was nice and while I saw room for improvement, the issues I see are minor. Most will be pleased with the images straight from the 8X. And for those who are curious, we are working on a comparison between the 8X and Lumia 920 cameras. If everything falls into place, look for it over the weekend.
Overall, the HTC 8X is a nice Windows Phone that will appeal to many for it's slimmer form factor. You can easily add the camera is another reason behind the 8X's appeal.
HTC 8X Closeup Photo Sample
HTC 8X Outdoor Photo Sample
HTC 8X Indoor Photo Sample
Windows Central Newsletter
Get the best of Windows Central in in your inbox, every day!
George is the Reviews Editor at Windows Central, concentrating on Windows 10 PC and Mobile apps. He's been a supporter of the platform since the days of Windows CE and uses his current Windows 10 Mobile phone daily to keep up with life and enjoy a game during down time.
Love my 8x...still issue prone tho.

My gf is wrestling between the 820 and 8x. 8x would have been a no brainer if not for the issues as you mention

Most of the issue's can be solved with a software update for me it's an easy choice i will take a 8x over the 820 any day, however i already have a 920 wich for me is the best WP8 device.

Why is the 8X being blamed for the issues when the 920 has the same or worse ones?....wow!

I think the difference is Nokia has a track record of releasing fixes, HTC not so much.

I am really happy with the camera in my 8X. Wide angle and very sharp. Good flash though.

Anybody heard of any black Friday deals? I'm on tmo and I'm waiting on the ATIV but if there's a deal on the 8X I'll pick one up.

Of course in darker situations, my 8x doesn't do great, but I didn't buy it for the camera tech so I'm not totally bummed. If I want great pics, I have a Nikon dslr. ;)

Love my 8x. Had it 4 days and not one problem, no reboot. Camera is great. On Verizon.

Was also leaning toward the 8x vs. 822 on Verizon. 8x looks up to date with design & specs. Feels good in hand & lightweight. Does Verizon extend contracts like other carriers? Not due for an upgrade for a few months. HTC Trophy.

Yes, they require you to resign 2 yr deal unless you buy it off contract. Great phone love it so far. You can call and see if they will let you upgrade early.

They told me that you have to be 18 months into your contract in order to extend it.

No issues here with my Verizon Blue 8x either. I've had it for 24 hrs and have really put it through it's paces. I'm very impressed with the video and pictures taken in good light. Love the LTE!

Verizon does offer early contract renewals or extensions. A year ago I ended up doing that. Hope they still have it for your case.

Omnia w has better camera

I've had the 8X well over a week. Love the thing. Never had a reboot yet.

One to note with this camera on the 8x is that HTC disables the flash when the battery drops below 24%. This disabling actually occurs before the critical battery low level message /indicator is shown. This is a bad feature in my mind. You can not change this setting, battery saver does not change this ,having the phone charging at this level does not change it either. I do not like this about my phone at all. There are many time that my phone is low. This only adds to the battery length issues in my mind. Now you have even less usage of the phone.

My 8x will not focus my last phone was stolen and now i got a replacement that will not fucus when taking a pic.
Windows Central Newsletter
Thank you for signing up to Windows Central. You will receive a verification email shortly.
There was a problem. Please refresh the page and try again.