HTC 8X with Windows Phone 8 - Hands on Photo Gallery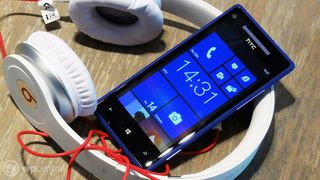 The HTC 8X featuring Beats Audio
Today with the announcement of the HTC 8X with Windows Phone 8, we figured we inundate you with a barrage of hands-on-photos of the beautiful and stylish new devices.
Personally, we're smitten with the Limelight Yellow and California Blue colors, which match their Accent colors perfectly. While The 8X may lack some of the more 'wow' hardware of Nokia's Lumia 920, we're nothing short of impressed with the look of these devices: they're simply gorgeous.
Light to the touch, soft-touch paint, unibody design and a smooth, rounded display? What's not to love. Check out our high resolution photos after the break...
Windows Central Newsletter
Get the best of Windows Central in your inbox, every day!
Daniel Rubino is the Editor-in-chief of Windows Central, head reviewer, podcast co-host, and analyst. He has been covering Microsoft since 2007 when this site was called WMExperts (and later Windows Phone Central). His interests include Windows, laptops, next-gen computing, and for some reason, watches. Before all this tech stuff, he worked on a Ph.D. in linguistics, watched people sleep (for medical purposes!), and ran the projectors at movie theaters because it was fun.
So when is Fisher-Price announcing their flagship phone for TMobile?

>So when is Fisher-Price announcing their flagship phone for TMobile?
They already have announced:
http://www.samsung.com/global/ativ/ativ_s.html

Nice. Lime green I like :-)

this is a nice looking phone

Look at that red one lol awesome I want the red lumia 920 and the red HTC

i agree, the red is looking great. Never thought my self to be lookin at a red phone when i get to buy a new one.

Best HTC phone style very amazed by the look :D

The phone looks very long...not sure if its just the pics..

Wow, sexy phones. Me likey. Price?

200 for the 8x, not seen the price on tue smaller one yet, but I expect 99

These look amazing and I am torn between these and the Lumia 920. I especially like the two tone colours but they appear only on the lower end phone. One advantage over the lumia is that they appear to support an SD card

http://www.wpcentral.com/sites/wpcentral.com/files/postimages/4213/Yellow20Back_594x513.png

i kind of wish that they made the 8s the higher end phone. i think it has a better body and design in my opinion. :3

I agree, I love that two tone setup and the coloured botton edge. However see my latest comment below....bad news.

Nokia has some real competition, I predict Nokia and HTC have started a colour trend that will be copied by many others in the coming year.
Who said only Apple can design good stuff!!
Everything else will look bland and boring now.

looks like they are stealing ideals from Nokia. curved screen, pillow shape, etc..

specs? dimensions? they look amazing. I want to know if they are really as thin as they look. Gorgeous Colours. Great Job HTC

I can't get over the look of the red and the lime im gonna have to grab Nokia lumia 920 and HTC 8x red r lime phone :P

Is this really an HTC? Wow.

BAD NEWS BAD NEWS
OH NO!!!!!! ARE YOU KIDDIN'??????
16GB and non expandable ! I was so in love with the design of these phones I was wondering whether I should continue with my planned Lumia 920 purchase. The decision has now been made. Goodbye HTC.
Its a real shame because I really applaud HTC's design but clearly they are not thinking this through!
THIS MAKES NO SENSE, in a world where date is growing exponentially and Samsung today announced a new ceiling of 128GB for mobile phone storage.
For those that are not after a high end phone you would be better of buying the lower 8s rather than getting the more expensive 8x only to be disabled with two year old storage levels.
Shame on you HTC

Where did you find out it has no expandable memory? I can't seem to find it anywhere.

If you look at the RED photo at the top, there is definately a SIM card slot on top.
Then the GREEN backside photo, you can see an additional slot on the left. I am pretty sure this is a microSD slot.

That's the power button on top, and sim slot on the side. Was seriously considering this over the 920 but 16gb is a deal breaker. Its a shame cos my HD2 was the greatest phone I've ever owned until my two year old introduced it to the toilet bowl.

the 8x looks looks really great but idont like that the speakers are also yellow or blue and a little bit feels like a lumia unibody design polycarbonate, new colours curved glass. it looks really good but the same camera in the one x?? just 16gb non expandable 4,3? and they say its magically thin 10,1mm? worldwide LTE??they didnt reveal any accesorries or somethin and nothing really stands out so i think nokia made a better job

For some reason, WPCentral has decided that the left side of a Windows Phone, is not important.

So nice to see pics of my next phone! Blue for me.

Looks nice, but I'll have an issue with the fact that they're painted. They won't look nice in the long term; Nokia will have an edge.

Due to the dedicated imaging chip, I vote this phone for second best camera on WindowsPhone. Could be a close 2nd once we see photo samples.

Agreed. This camera should easily best the iPhone 5, but the lumia 920 will still easily come out on top with image stability.

I like the 8x but no micro SD card?? That blows it for me. I don't understand why both Nokia and now HTC have their high end models with no sd card support? I believe the samsung ativ s does provide this feature.
I know they're pushing the "cloud" feature but I prefer to have my files with me instead of buring up my data plan getting my stuff from the cloud.
While the 8x is sexy and all I think the Nokia 920 is the better device. But since I'm on t-mobile that might now be an option for me. :(

Sexy phone this one, might make mw think twice about the 920, might ;)

Give me an additional 2-5 inches on the screen size n you have my money

I like that lime/green/yellow one! It's funky fresh! Might just have to look into one of these!

So what other than the OIS and a screen you can use gloves on (kinda neat, not real useful to me, though I see how it could be appealing to others) does this lack that the Lumia 920 has? I think this phone's dedicated photo processor may make it competitive with the 920. I predict the 920 ruling low light and video stability and the 8x ruling all other situations. I've said it before, not everyone wants a giant screen. I'd rather have a 4.3" screen than a 4.5".

>I've said it before, not everyone wants a giant screen
Apparently they do :)
http://www.engadget.com/2012/09/03/shocker-smartphone-users-like-bigger-screens/

I have a 3.7 on the Lumia 710 - and its fine for me.
My GF won't entertain a WP phoen as she can't get one small enough.
I think there should be a "range" of devices.
Either that, or people get over it and condeded that their phone will be big.
Bigger pockets?