HTC Diamond News Roundup: vs iPhone, docking station, cool LED notifications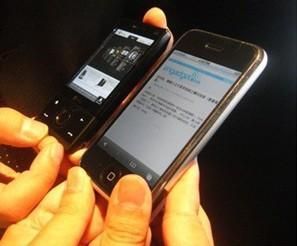 Oh when will the HTC Diamond hype stop? Luckily it's a slow news day so this will fill the gap nicely. As Dieter last week called the Diamond properly an "iPhone killer", it's only fair that some snaps of it next to said phone should appear.
This is all well and good, but what happens on that fateful day in June when that new 3g iPhone drops? Oh well, this will keep the fanboys on both sides happy a bit. Head over to Engadget Chinese for some more shots.
In more tangible news, a nice shot of the Diamond's charger base/dock (extra, not included) has popped up. Sure it's nothing great--USB sync plus headphones, but you have to admit it makes one slick package and would look awesome next to your lava lamp. Expected price is a pretty high $49--guess they really are competing with Apple.
Actually, if you want really cool...check out the quick vid of the Diamond's fantabulous LED notification system. Now that is something some of us have been wanting for a long time. Nice HTC, nice.
Windows Central Newsletter
Get the best of Windows Central in your inbox, every day!