HTC Radar 4G now available to purchase from T-Mobile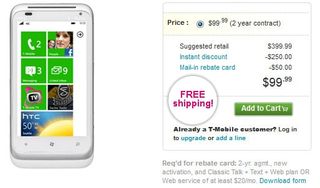 T-Mobile customers looking to jump on the Windows Phone bandwagon or replace an HTC HD7 are in luck, as you can now purchase the HTC Radar 4G from T-Mobile's site. We originally reported that the Radar would launch on November 2nd, which is this Wednesday. Presumably if you were to buy the phone today, it would arrive on Wednesday, so T-Mobile isn't breaking their release date so much as offering release date shipping.
The Radar's store page description:
The HTC Radar 4G is $99.99 after $50 rebate with a 2-year contract. Hop over here (opens in new tab) to order it.
Thanks to Daniyal for the tip!
Windows Central Newsletter
Get the best of Windows Central in in your inbox, every day!
Paul Acevedo is the Games Editor at Windows Central. A lifelong gamer, he has written about videogames for over 15 years and reviewed over 350 games for our site. Follow him on Twitter @PaulRAcevedo. Don't hate. Appreciate!
Should be $100 with no mail-in rubbish.

This is funny. HD7 owners are in luck. If tmo considers this a upgrade to the HD7 "Then they can sell teeth to a rattlesnake" Truth be told this is a cheap entry level phone. HD7 customers are actually S.O.L.

With all ignorance aside. It's not an upgrade cuz if one got the HD7 within the last year chances are one isn't due for an upgrade yet. It's actually rumored to have 16G of space so I may consider it when sprint lets me out of my contract without an ETF.

are they selling them at retail stores yet?

So what are the chances that TMo will offer the Radar's big brother, the Titan, to us stateside?

I have an Android on T-Mobile and I'm taking the plunge into WP7 with this phone. I love HTC phones and their build quality. I thought there was a grey one too. I'm not seeing it on the site. If I get the white one, I'll have to buy a BMW and start liking pointy shoes and Ed Hardy shirts.

Too late! No competitive, and it makes no sense at all!I'm a long time Microsoft's fan, and a WM user. One word for Microsoft's Phone edition: LOSER.I had my eyes on this phone for my wife before it came out. I showed it to my wife, and she likes the appearance of the phone. GREAT, I can still make my wife stay with a Microsoft OS phone while I keep my WM.The HTC Radar comes out, and is now available @ T-Mobile. BUT NO UPGRADE available as of 11/1/11!!! Superb! At the end, I converted my wife to ANDROID with 8MP camera and dual cores.TOO LATE!!!What happened???Since T-Mobile didn't pay attention to existing customers to upgrade phone immediately upon launch and that my wife needed a replacement phone ASAP (though the old one still works), I had to re-organize my plans, to compile my findings, and to make a decision whether to wait or not to get the phone later. Results: HTC Radar is not competitive! It is as big as and HD2/HD7 with similar specs. It doesn't make sense to get and HTC Radar instead of the HD7, if it is for the color of the case. AND, a lot of sites NOW support ANDROID.It's out of hands. Can't play will losing hands. 50% converted.Next year, quadcore phone are coming. I cannot see Microsoft progressing that fast. Oh, well.As I am still taking time to write here, I still got some fate in Microsoft. Otherwise, I would have put things down here. But the way I see it with my second other already converting to ANDROID, there starts to be turning back to Microsoft unless Google is not existent. Thank you Microsoft for all your work. Thumb Down!

Man, people like to RANT!! I did find a great deal on the www.wmdeals.com website.FREE with a new line on the unlimited plan (after $50 rebate) $49.99 on standard plans. FREE activation and $100 garunteed trade in for any working phone when you use the trade in link on the lower bottom right of the front page with code "MSMango"I think I am going to like this phone!
Windows Central Newsletter
Thank you for signing up to Windows Central. You will receive a verification email shortly.
There was a problem. Please refresh the page and try again.