HTC Titan coming to Vodafone Ireland soon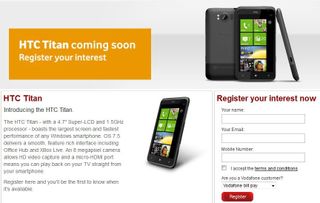 It looks like Vodafone Ireland will be adding the HTC Titan to its WP7 offerings, which currently only consists of the LG Optimus7 (E-900). They have added a "Coming Soon" page for the 4.7" monster where you can register to be notified when it is available. The Titan is available for pre-order on Clove, who says that initial stock arrives in "early October" and we know it will be hitting the Netherlands on October 7th, so it hopefully will arrive in Ireland around the same time.
Source: Vodafone Ireland (Thanks for the tip, Mike!)
ffffffffffffffffffffffffffffffff free??!!!! What? ****

Micro HDMI port on the Titan?? OK, Now I'm really sold!!

Sorry guy I got a titan today but no micro HDMI port

Ever heard of micro-USB to HDMI out? IT's the same way it's done on the EVO 3D and Galaxy S II devices. The Titan has a micro-USB port and that's all it needs.

There was no mention in the manuals that came with the phone.

Since it's going to Vodafone, does anyone think it'll be coming to Verizon in the US any time soon?
Windows Central Newsletter
Thank you for signing up to Windows Central. You will receive a verification email shortly.
There was a problem. Please refresh the page and try again.