HTC Vive Pro Eye VR headset hands-on: A little innovation goes a long way
This nearly invisible update to the Vive platform makes a huge difference.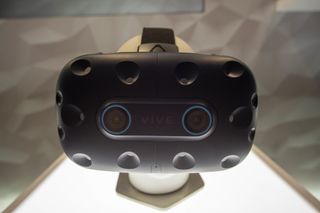 (Image credit: Windows Central)
HTC announced two new additions to the Vive family this week, but the one we could actually touch and explore is a lot more familiar. The HTC Vive Pro Eye is a subtle update to the existing Vive Pro headset, in fact, aside from the two blue rings around the front cameras on the headset, it's not immediately clear what is different. That's because the real update is inside the headset, and those two rings around the lenses have a bunch of sensors for eye tracking.
We took a brief look at this new experience, and the software HTC thinks its partners are eager to see attached to it.
Eyes on the prize
Eye tracking in VR is a big deal for a couple of reasons. The first is called "gaze tracking." VR headsets can already track where your head is pointed in a virtual experience, but there's often a lot going on for you to look at. Maybe it's an instrument panel in a spaceship or text instructions on a page in front of you. Knowing specifically what you are looking at can help creators of all kinds be more effective, either at designing puzzles or helping identify your focus in a training environment.
By adding this tech to the headset directly, HTC is making it easier for its partners to deploy these kinds of things. The first demonstration I was given was an app called Ovation, where I was standing on a stage giving a speech. At the end of the speech, I was able to see who in the audience I made eye contact with, and how much time I spent staring at the prompters behind the crowd. It's not difficult to see how effective this could be in a training environment and even makes selecting things by staring at them for three seconds much more convenient.
The other big reason native eye tracking in the headset is a big deal has to do with a special graphics trick called "foveated rendering." Right now, your VR headset draws everything on the display at the same quality level, which means there's a lot of stuff you're not looking at that was drawn unnecessarily. Foveated rendering allows the graphics card to only draw ultra high quality right where you're looking, with less power spent drawing everything else. This means visually intense games will require less capable graphics cards to deliver the same experience, and at the same time, more powerful graphics cards will be able to deliver even more realistic experiences because there's more power to spend on the stuff you're looking at.
In the other demos offered by Vive today, one of which was a cool Home Run Derby game and the other an impressively realistic flight simulator from Lockheed Martin, the focus was on making the experience feel more real. And in both cases, they succeeded with flying colors. The flight simulator used actual satellite mapping data to make it feel as though I was really flying over Las Vegas, with a photorealistic cockpit that made me gaze around for switches and pre-flight details. This kind of thing has been clumsy at best in previous VR headsets, but it felt much more natural with eye tracking as an assist.
The technical cost of all this tech is fairly small. These two rings around the eyes in the headset should be familiar tech for people following day-to-day VR news. The hardware is made by Tobii, which has been pioneering eye tracking in VR for a while now. As the first major headset with this tech onboard, Tobii and HTC are enabling a huge new world of possibilities. But it's going to take a little while before these ideas are mainstream, even by VR standards.
Stepping into the future
Like its predecessor, the HTC Vive Pro Eye is built more for commercial applications than home use at the moment. We don't have final pricing or availability yet, but you should expect it to be on the pricey side when it drops later this year. That won't dissuade passionate VR fans from picking one up for themselves, but it's unlikely we'll see a ton of immediate support for the eye-tracking features in Viveport or SteamVR just yet.
As VR tech goes, eye tracking is a natural and exciting step forward. Even in less capable headsets, like the Oculus Go, we're already starting foveated rendering being used to deliver more compelling experiences. With eye tracking in the headset, that technology not only works much better but offers a significantly more compelling overall experience.
It's going to be a fun year for VR fans, that's easy to see.
Get the Windows Central Newsletter
All the latest news, reviews, and guides for Windows and Xbox diehards.
Russell is a tech nerd who chases the best of everything, from phones to game consoles to laptops and everything glowing or beeping. He's the Managing Editor of gaming content for Mobile Nations and can be found contributing to all of the Mobile Nations sites. Reach out on Twitter!