HTC Windows Phone Sound Enhancer updated, addresses graphics lag?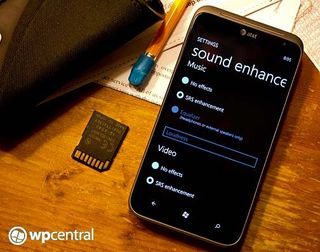 HTC has pushed out an update for their Windows Phone Sound Enhancer. While no change log is available to let us know what all the update accomplishes, it appears to improve the graphics lag.
The graphics lag appears when the SRS Enhancements are turned on in the Sound Enhancer and can be a little on the annoying side. The graphics lag wasn't present in every app, mainly the games that had greater graphics animations (e.g. Fruit Ninja, Line Birds, etc.). We've never received official confirmation that the two are related but after applying the recent update, the lag doesn't appear to be present.
The Sound Enhancer has been updated several times and with each update, the graphics lag issue seems to get a little better. Maybe this update did the trick.
For those who have installed the update, see any changes?
Thanks, Yodani, for the tip!
Windows Central Newsletter
Get the best of Windows Central in in your inbox, every day!
George is the Reviews Editor at Windows Central, concentrating on Windows 10 PC and Mobile apps. He's been a supporter of the platform since the days of Windows CE and uses his current Windows 10 Mobile phone daily to keep up with life and enjoy a game during down time.
There is a "Loudness" option under the equalizer menu? I never knew this, I've been using Bass Booster. My music could always be louder! :D

I don't play any games, so I never noticed that bug. However the one I did notice is that the Sound Enhancer quits out when you hit the search button and it takes you to the bing page. Once you search for something and it leaves the homepage, you're fine. But on that homepage, it doesn't work.

Another sound bug (though unrelated to the Sound Enhancer app itself) is that whenever I slide open or slide shut the keyboard on my Arrive, the music will stop playing. I have to manually restart it. I think this was a firmware bug with the Mango update because it was fine with NoDo.

Neither of which have been fixed. But hopefully the first bug will be fixed with this update. Haven't had a chace to check yet.

I as well have the sprint HTC arrive and also have the same exact issue

I don't have sound enhancer on HTC hd7 neither seeing it in marketplace? Last news from wpcentral was it was pulled. Am I missing something??

Check your settings, towards the bottom. It moved after the update before last

Yeah it used to appear in the app list and also in the Music & Videos applications... Now only in Settings

@Lucas The last update moved sound enhancer and attentive phone into settings. Check there.

yup just updated my windows phone htc arrive of sound enhancer and Skype. Love windows phone have not any problems at all. Great part have not even restarted my windows phone for a month now and still fast & fluid now that's a true smartphone. IPhone & android you have restart twice or more shows you how crappy those phones are. One thing I like fix on htc arrive is text message 140 characters greys out the send button. Hope they can fix this.

I also have Dolby Mobile option on my Trophy. I seem to like that setting better when using my speaker.

I had attentive phone on my HD7 and it did show up in my settings but I had to reset my phone (completely) and now I don't see it in my settings and it's not in the marketplace (along with sound enhancer, which I would love to have, but I can't get it anymore ether). The worst part of it is I realized that all the attentive phone options are actually active! I don't even want to use them but now I can't turn them off because Attentive Phone is not listed in my settings. Why hasn't this been fixed?? HELP! :P

See if you can get it back using the Reinstaller app available in the Windows Phone Marketplace.

Nope graphics lag still there :(

I don't see the app on my HD7 either, nor the reinstaller. What gives?

Not on my gf's Surround either.

Seriously sucks that the Lumia doesn't have these kind if extras. I really want to get the better part of my music, but the Lumia feels like its lacking in quality.

Just buy better headphones, as long as the on board DAC is decent (which it usually is) then the quality of the speaker design determines the experience.

What are some good headphones to use with Windows Phones? And the ones with mics in them, cuz one of my favorite WP7.5 features is talk-to-text while jamming down the street.

Best by far, order the Triple.Fi Pro 10 Ultimate Ears from amazon.com for $180, then order a second cable from Logitech's website that has the mic and a button for $20 and keep the original cord as a spare. That's what I got and they're incredible!

Very good suggestion I own two pairs, and compared to my beats, they're on alot higher of a level.

I will say that with the update the lag was lessoned a little bit, but it is still there, significantly so. An obvious test is if you have the Music+Video Hub up and flick through the songs as they are playing with and without the enhancement. There is a second delay every time you flick a song to pull up the next albumn art and start playing when the enhancement is enabled. That is down from when I first bought my Titan in November. The has been a couple updates to the enhancer, each time lower the lag time slightly, but it is far from gone.

How will I update "sound enhancer" i have it in my applist and in settings but.i can't find it in marketplace to update help pls! That sound lag os so annoying. Tia

The SRS sounds like its playing out of a tin can, I use classical equalizer. Also, the only graphics lag I see is when the phone is trying to connect to zune wirelessly while charging.

Any DSP effects are pretty much crap for music.
Windows Central Newsletter
Thank you for signing up to Windows Central. You will receive a verification email shortly.
There was a problem. Please refresh the page and try again.