HTC's Vive Pro offers resolution bump, wireless adapter, and better microphones
Rather than replace the Vive, HTC is offering the ability to go Pro.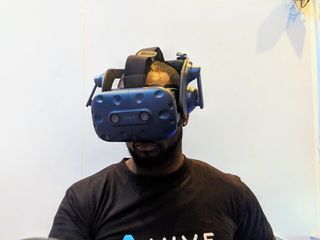 As one of the first major VR headsets to hit shelves, the hardware inside the HTC Vive isn't its most compelling feature anymore. The ecosystem HTC has built through partnerships with Steam and its own Viveport app store, combined with being able to boast the most accurate roomscale tracking system, has kept the Vive at the top of the heap so far. But with a barrage of Windows Mixed Reality headsets offering higher resolution for cheaper, HTC needed to step up its hardware game.
That new headset is called the Vive Pro, and instead of replacing the original Vive it will exist as a "prosumer" option for people who want the best possible experience.
These are the big, important changes you should care about:
Resolution: The Vive Pro packs a 2880 x 1600 resolution display, offering 615ppi to eliminate Screen Door Effect.
Dual cameras: The front of this headset now has a pair of cameras for developers to play in augmented reality as well as virtual reality.
Audio: Dual microphones on the headset help with noise cancellation for online play, but the headset is also packing a lighter, sleeker version of HTC's Deluxe Audio Strap, so headphones are a stock option now.
Trackable Space: The HTC Vive sensors and software can now track a 10ft x 10ft cube.
All combined, these improvements make the Vive Pro an impressive competitor in the current VR space. HTC's boast of improved ergonomics with the tweaked headset design sound promising given how much nicer the headset already felt with the Deluxe Audio Strap onboard.
HTC also announced a slim WiGig adapter for the Vive. It's a separate accessory to enable fully wireless VR, with interference-free 60GHz communication.
Note: We now have pricing details for the Vive Pro. Expect to pay about $800 (opens in new tab) for the headset alone. You can pre-order now, with an expected release date of April 5, 2018. As for full kits, including new lighthouses and motion controllers, we're still waiting.
See at Microsoft Store (opens in new tab)
Expect a full hands-on from us soon, but in the mean time share your thoughts in the comments!
Updated March 19, 2018: We've refreshed this article to include pricing and release information for the Vive Pro.
Windows Central Newsletter
Get the best of Windows Central in your inbox, every day!
Russell is a tech nerd who chases the best of everything, from phones to game consoles to laptops and everything glowing or beeping. He's the Managing Editor of gaming content for Mobile Nations and can be found contributing to all of the Mobile Nations sites. Reach out on Twitter!
As intiruging as this sounds, it's hard to see a way it manages to be acceptably priced...unless the base Vive takes a meaningful price cut. It's already the priciest VR solution, and this is going to be priced as a premium over it? That's going to be rough, if it's priced OVER the $600-700 entry point.

Still needing the tracking devices, I'm not regretting ordering a pair of WMR headsets just yet; such a dedicated physical set-up is simply too intrusive and cumbersome for the average consumer...

Crazy. And they make it even more expensive and complicated. This company is clearly not getting it. Oh well, they chose wrong and they will pay for it.

Yeah I don't see any way in which this is supposed to compete with Mixed reality headsets. The makes mrh stand out are their ease of use, no need for extra trackers and the cheaper price. This is exactly the opposite.