Huawei Ascend W1 spotted at Walmart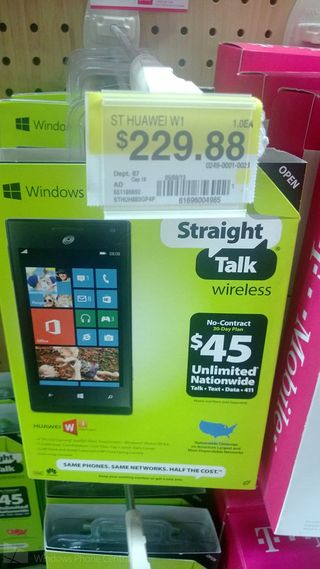 We knew the Huawei Ascend W1 Windows Phone was destined to Wal-Mart and now are seeing signs that the Windows Phone 8 device has arrived.
Listed for $229.88, the Huawei was spotted at the local Wal-Mart in Foley, Alabama (down near the coast). The no-contract purchase is restricted to the $45/30-day Unlimited Nationwide data, text and talk Smart Talk plan.
Checking online the Huawei Ascend W1 hasn't made it to Walmart.com but we have to scratch our heads at the price. It doesn't appear to be very competitive with the Nokia Lumia 520 going for $129.88 and other smartphones under $100. Could Huawei priced themselves out of competition?
Thanks, Max, for the tip and photo!
Windows Central Newsletter
Get the best of Windows Central in your inbox, every day!
George is the Reviews Editor at Windows Central, concentrating on Windows 10 PC and Mobile apps. He's been a supporter of the platform since the days of Windows CE and uses his current Windows 10 Mobile phone daily to keep up with life and enjoy a game during down time.
Real shame this phone has such poor internal memory as it would have been excellent otherwise

Though the 521 is the ultimate phone for the price, its good to see Straight Talk picking up a Windows Phone! :)

Every AT&T phone can run on StraightTalk. My brother is using my old Focus on it as we speak.

No those SIMs are hard to find now

Available in Scottsdale, AZ as well. Nice to see Foley mentioned. My parents live in Fairhope.

This is what Windows Phone needs!

well holy shit...this is the best thing to ever happen to the platform. Windows Phone on Straight Talk is a match made in heaven. I'm only sad that Nokia doesn't have one on ST yet. Maybe the 620?

I can't really blame Huawei for missing the price on this vs the Nokia. They had no idea Nokia was going to drop a price bomb with the 521. They can meet them on price, but I've noticed a lot of Straight Talk phones are overpriced for what they are. I think they know people without credit are willing to pay more for the phone up front.

Every AT&T phone can run on StraightTalk. My brother is using my old Focus on it as we speak.
(copied from above)

I know that as do most informed people, but not the people who just want a good phone and cheap service. Up till now they have had to suffer with cheap shit android phones boxed by ST, now they can get something better.

The Lumia 521 is on T-Mobile and the W1 is on Straight Talk - a totally different carrier.
You can't blame ST for trying to make a little money on their investment?
You can always lower a price, NEVER raise it.

Straight Talk - an MVNO - is not actually a carrier. They purchase minutes,text and data in bulk from the carriers themselves and then resell it people. Straight Talk could have indeed picked up the 521 if they wanted to since one of the carriers they piggyback is T-Mobile. Actually, Straight Talk has deals with all 4 national networks and resells their service.

I know, but no way this is going to sell sitting next to a 521, hundred dollars cheaper with 15 dollars cheaper plan too.

To be fair the plan does include unlimited minutes it seems.

It has the ffc, that will make it expensive, and the proprietary battery tech as well as mentioned earlier in some article

I actually didn't know it had FFC. That might make the difference for some people. Otherwise, I think the 521 at $100 cheaper is a much better deal.

Shame in uk its about $170 with 02

That would be a much more reasonable price. In the States going with the 521 is a no brainer, since it is at least as good if not better.

Windows Phone is exploding, just like we thought and hoped! With Nokia pushing out the hardware and Microsoft pushing out the software and app updates, we'll take over the mobile market in no time lol

I love WP but I think we still have our work cut out for us! We're getting there though.

It is unlocked right, can MVNO lock their devices?

You could just buy the 521 from T-Mobile and use the Straight Talk SIM that runs on T-Mobile's network and BAM! You got a better phone for cheaper on the same plan.

I agree. Although for some people, AT&T's network may be better than T-Mobile

I may be wrong, but strait talk does not sell sims to work with ATT network anymore. So no matter what this would be TMobile network.

No way! Are you sure about that? I think you are wrong Sir.

http://www.talkandroid.com/149593-straight-talk-no-longer-offering-att-compatible-sims/

You can get an att compatible sim on eBay for usually $40, that's what I did with the 920. Unlimited everything for $45 with the 920

Yes they don't... BUT you can buy them on Amazon/Ebay (AT&T Compitable Straight Talk Micro SIM Card). I bought mine for $37, it's pricey but worth it. I'm now enjoying my AT&T Nokia Lumia 920 on Straight talk on 4G.

I have no idea how that rumor got started but it became illegal to unlock subsidized devices still under contract; if you outright own the device you can subsidy unlock your devices for use on another carrier. Straight Talk continues to sell AT&T compatible network SIM cards on their website. I'm not aware you can buy that SIM card in-store. Those of you who use T-Mobile compatible SIM cards, I am also not aware they are provisioned to use the T-Mobile Wi-Fi Calling App that is now available on the 521 and soon 925.

It doesn't appear that the photo was taken with purview camera... LOL!!

I believe it was taken with a 920 I believe he took the picture before it was focused

You are dumb there in America, right? You are comparing a $230 no-contract purchase with a $130 (or $100) 2-year expensive contract, right?
Remind me not to cross the ocean ever again. You're always talking of contract-only prices, and when you see a REAL price (no forced contract, no carrier lock) you simply cannot take the real price. And you keep comparing apples with cider.

No, you are wrong, both phones are off contracts. While most people don't get it here, remember, you are on geek site, be a little respectfull.

Reminder - don't cross the ocean ever again. You're welcome.

Let me know if you ever cross the ocean!

I wonder where he's from...
Obviously some tiny insignificant country not worth mentioning

I've recently bought this phone. It is pretty amazing in my opinion. The phone is of great quality. Especially the screen, which is sharp and has deep blacks. It handles Windows Phone 8 pretty well, feels smooth. I have not yet had a problem with the internal memory of 4GB. I suppose for people who want to run a lot of games on their phone, this will be a very limiting factor, but since I am not really interested in playing games on-the-go, this will probably be fine for me. I am confident that, at some point, WP8 will be given the ability to run apps from the SD card.

So literally EVERYONE has a Windows Phone 8 device out except Sprint. Here I am waiting to upgrade my Arrive and it feels like Sprint is taking forever and a day to give us WP8.

I know the feeling, that's why I went to straight talk with an att compatible sim (from eBay) and a 920, still have unlimited data but att's coverage and the 920

Yup, its here in Victorville, CA as well: http://i.imgur.com/v0HtvO7.jpg

just fyi....huawei w1 now on walmart.com for straight talk.

I wonder if it comes unlocked..

Windows 8 phone for Straight Talk is like a bureaucratic trash can - once it's full you throw it away. I've deleted everything and it's still out of memory.

I live in Eastern North Carolina, & get very poor phone signal, if any at all. Did I spend $300.00 for just a hand held computer? I have a very long drive back & forth to work, on 3rd shift, & I thought AT&T was suppose to be one of the most reliable. What can I do to improve this on the straight talk windows 8?